From The Michigan State University College of Natural Science
At
7.5.22
Michigan State University's renowned Long-Term Evolution Experiment – a remarkable 34-year biological drama in flasks, with bacteria competing for resources and fighting for dominance – is itself evolving.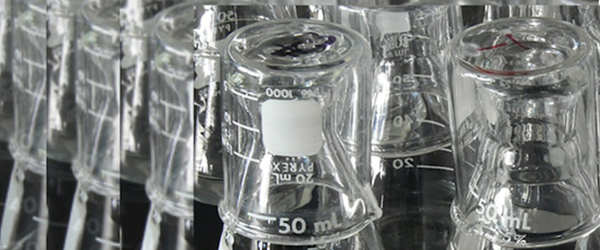 In June, the Lenski lab carefully packed up the latest samples from 75,000 generations of E. coli evolution to ship to the laboratory of Jeffrey Barrick, an evolutionary biologist at the University of Texas at Austin who first worked on the experiment as a postdoc in Lenski's lab from 2006 to 2010. While the daily propagation of the LTEE is moving to Texas, copies of all of the samples remain at MSU. Lenski has lots of plans and ideas for studying them, both in his lab and with collaborators around the world. Credit: Harley J. Seeley.
The bacteria's main stage – frozen vials containing some 75,000 generations– has been moved from MSU's Biomedical and Physical Sciences Building to Texas. Richard Lenski, its scientific founder and game master, is passing its care and feeding on to a former Michigan State postdoctoral researcher.
Yet the bookends of news articles in high-profile international science magazines this month signal that MSU's future with the LTEE is less about glowing obituaries and more about chapters still being written.
Lenski wryly documented the migration of his microbial colleagues on his @RELenski Twitter account: "Bon voyage, #LTEE! Enjoy your new locale, even if your Erlenmeyer flask homes and DM25 diets are exactly the same as you've been evolving in and adapting to for the last 75,000 generations! Now keep on evolving, my friends — bacteria and humans alike!"
The experiment was started in 1988 by Lenski, the John Hannah Distinguished Professor of Microbial Ecology in the MSU College of Natural Science. He began with 12 populations of Escherichia coli (E. coli) bacteria—identical ancestral strains placed into identical environments—to see how similarly or differently they would evolve. For years he and his team fed them and protected their tiny universes from disruptions. In return, the bacteria reproduced quickly, allowing evolutionary-minded scientists to ask questions about evolution that would take many human lifetimes to provide.
The LTEE has resulted in the publication of more than 100 scientific papers documenting changes large and small in the bacteria – their competitive ability, size and shape, and the sequence of their genomes — findings now widely reported in textbooks, popular books by science writers, and in the media.
This month, the Lenski lab carefully packed up the latest samples from 75,000 generations of evolution to ship to the laboratory of Jeffrey Barrick, an evolutionary biologist at the University of Texas at Austin who first worked on the experiment as a postdoc in Lenski's lab from 2006 to 2010.
Nature, a prestigious international science journal, covered the move [below] of what they termed a "legendary" experiment with a Q&A with Lenski and Barrick. A week later, New Scientist published [below] results by Lenski lab postdoctoral researcher Minako Izutsu, crediting a spin-off experiment with "settling (a) long-term evolution mystery."
The latest work addressed the long-standing debate in biology about the relative importance of existing variation versus new mutations in evolution. Izutsu and Lenski put that question to the test in a new evolution experiment with bacteria that ran for 2,000 generations. They found that new mutations began to dominate evolution after only about 50 generations – just a week or so for E. coli – and the effects of the initial variation on the bacteria's competitiveness was erased by 500 generations.
The New Scientist piece underscores that, while some of the day-to-day toiling to feed and care for the storied bacteria has been passed along to the next generation, the curiosity that is the scientists' lifeblood remains strong.
"While the daily propagation of the LTEE is moving to Texas, we've still got copies of all of the samples here, and lots of plans and ideas for studying them, both here in my lab as well as with collaborators around the world," Lenski said.
Then he picks up speed: after admitting to Nature that at 65 it seemed prudent to pass the baton to a younger group, it's clear the ideas aren't slowing.
Lenski said he and MSU instructor Michael Wiser are planning to update their analyses of the fitness trajectories through the latest 75,000-generation samples of the LTEE. And they'll be running computer simulations and analyzing mathematical models to better understand those fitness trajectories with PhD student Devin Lake.
"And we've got lots of other projects going on as well," he said. "We're following up on Minako's latest experiment by sequencing and analyzing the evolved genomes to dig deeper and better understand her exciting results."
Zachary Blount is a research assistant professor in MSU's Department of Microbiology and Molecular Genetics. Blount is examining bacterial strains that use different transporters to take up citrate from the environment. One of the LTEE lines unexpectedly evolved the ability to consume citrate, and that discovery generated public interest as well as lots of new scientific questions.
"Zack is using those strains to study the physiological and ecological effects of the bacteria consuming citrate, and how those effects would change if the bacteria had evolved to use citrate in a different way from the one that actually happened in the LTEE," Lenski said.
Lenski is a member of the Ecology, Evolution, and Behavior program at MSU, of which he previously served as director. Many in his lab – including Izutsu and Lake currently – have been members over the years as well.
The long list of current projects and questions makes it easy to conclude that long-term evolutionary experiments never really go away, they simply keep on evolving.
Science paper:
Nature
Science article:
New Scientist
See the full article here .

five-ways-keep-your-child-safe-school-shootings
Please help promote STEM in your local schools.


Stem Education Coalition
About The College of Natural Science
The College of Natural Science at Michigan State University is home to 27 departments and programs in the biological, physical and mathematical sciences.
The college averages $57M in research expenditures annually while providing world-class educational opportunities to more than 5,500 undergraduate majors and 1,200 graduate and postdoc students. There are 800+ faculty and academic staff associated with NatSci and more than 63,000 living alumni worldwide.
College of Natural Science Vision, Mission, Values
The Michigan State University College of Natural Science is committed to creating a safe, collaborative and supportive environment in which differences are valued and all members of the NatSci community are empowered to grow and succeed.
The following is the college's vision, mission and values, as co-created and affirmed by the College of Natural Science community:
Vision:
A thriving planet and healthy communities through scientific discovery.
Mission:
To use discovery, innovation and our collective ingenuity to advance knowledge across the natural sciences. Through equitable, inclusive practices in research, education and service, we empower our students, staff and faculty to solve challenges in a complex and rapidly changing world.
Core Values:
Inclusiveness-
Foster a safe, supportive, welcoming community that values diversity, respects difference and promotes belonging. We commit to providing equitable opportunity for all.
Innovation-
Cultivate creativity and imagination in the quest for new knowledge and insights. Through individual and collaborative endeavors, we seek novel solutions to current and emergent challenges in the natural sciences.
Openness-
Commit to honesty and transparency. By listening and being open to other perspectives, we create an environment of trust where ideas are freely shared and discussed.
Professionalism-
Strive for excellence, integrity and high ethical standards. We hold ourselves and each other accountable to these expectations in a respectful and constructive manner.
Michigan State University is a public research university located in East Lansing, Michigan, United States. Michigan State University was founded in 1855 and became the nation's first land-grant institution under the Morrill Act of 1862, serving as a model for future land-grant universities.
The university was founded as the Agricultural College of the State of Michigan, one of the country's first institutions of higher education to teach scientific agriculture. After the introduction of the Morrill Act, the college became coeducational and expanded its curriculum beyond agriculture. Today, Michigan State University is one of the largest universities in the United States (in terms of enrollment) and has approximately 634,300 living alumni worldwide.
U.S. News & World Report ranks its graduate programs the best in the U.S. in elementary teacher's education, secondary teacher's education, industrial and organizational psychology, rehabilitation counseling, African history (tied), supply chain logistics and nuclear physics in 2019. Michigan State University pioneered the studies of packaging, hospitality business, supply chain management, and communication sciences. Michigan State University is a member of the Association of American Universities and is classified among "R1: Doctoral Universities – Very high research activity". The university's campus houses the National Superconducting Cyclotron Laboratory, the W. J. Beal Botanical Garden, the Abrams Planetarium, the Wharton Center for Performing Arts, the Eli and Edythe Broad Art Museum, the the Facility for Rare Isotope Beams, and the country's largest residence hall system.
Research
The university has a long history of academic research and innovation. In 1877, botany professor William J. Beal performed the first documented genetic crosses to produce hybrid corn, which led to increased yields. Michigan State University dairy professor G. Malcolm Trout improved the process for the homogenization of milk in the 1930s, making it more commercially viable. In the 1960s, Michigan State University scientists developed cisplatin, a leading cancer fighting drug, and followed that work with the derivative, carboplatin. Albert Fert, an Adjunct professor at Michigan State University, was awarded the 2007 Nobel Prize in Physics together with Peter Grünberg.
Today Michigan State University continues its research with facilities such as the Department of Energy -sponsored Plant Research Laboratory and a particle accelerator called the National Superconducting Cyclotron Laboratory [below]. The Department of Energy Office of Science named Michigan State University as the site for the Facility for Rare Isotope Beams (FRIB). The $730 million facility will attract top researchers from around the world to conduct experiments in basic nuclear science, astrophysics, and applications of isotopes to other fields.
Michigan State University FRIB [Facility for Rare Isotope Beams] .
In 2004, scientists at the Cyclotron produced and observed a new isotope of the element germanium, called Ge-60 In that same year, Michigan State University, in consortium with the University of North Carolina at Chapel Hill and the government of Brazil, broke ground on the 4.1-meter Southern Astrophysical Research Telescope (SOAR) in the Andes Mountains of Chile.
The consortium telescope will allow the Physics & Astronomy department to study galaxy formation and origins. Since 1999, MSU has been part of a consortium called the Michigan Life Sciences Corridor, which aims to develop biotechnology research in the State of Michigan. Finally, the College of Communication Arts and Sciences' Quello Center researches issues of information and communication management.
The Michigan State University Spartans compete in the NCAA Division I Big Ten Conference. Michigan State Spartans football won the Rose Bowl Game in 1954, 1956, 1988 and 2014, and the university claims a total of six national football championships. Spartans men's basketball won the NCAA National Championship in 1979 and 2000 and has attained the Final Four eight times since the 1998–1999 season. Spartans ice hockey won NCAA national titles in 1966, 1986 and 2007. The women's cross country team was named Big Ten champions in 2019. In the fall of 2019, MSU student-athletes posted all-time highs for graduation success rates and federal graduation rates, according to NCAA statistics.