From CSIRO (AU)-Commonwealth Scientific and Industrial Research Organization
5 July 2022
Mr Nick Kachel
Communication Advisor
+61 2 4960 6206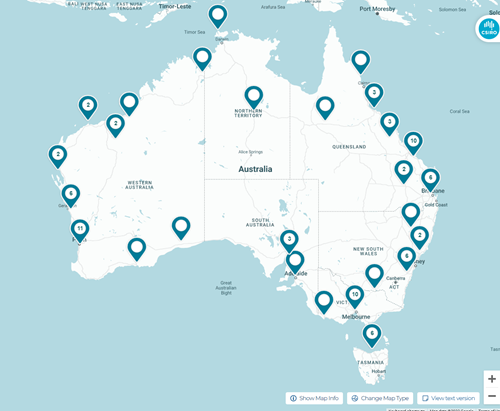 HyResource is Australia's most comprehensive source of information around projects, policies and key organisations involved in the development and deployment of clean hydrogen as a low-emissions energy source.
The Hydrogen Knowledge Centre, part of CSIRO's Hydrogen Industry Mission, has been designed to foster collaboration between the growing Australian hydrogen industry, government and research and development (R&D) ecosystems, by providing regularly updated information on policies, projects, research and resources.
CSIRO Chief Executive Dr Larry Marshall said Australia is well placed to use hydrogen to create billions of dollars of GDP growth through long-lasting jobs, exports and domestic use, while helping drive down emissions.
"CSIRO began research into hydrogen fuel to help catalyse a new industry in Australia that would fill the economic gap being created by the transition away from fossil fuels. Australia is now realizing the potential for hydrogen to reduce its emissions and create new economic wealth thanks to early investment in research," Dr Marshall said.
"With a strong coalition of partners from government, research and industry, we launched our Hydrogen Industry Mission last year – the first of our missions.
"We're seeing the hydrogen industry in Australia go from strength to strength – Australian hydrogen production for export and domestic use could generate significant economic growth while helping drive down emissions."
"The Hydrogen Knowledge Centre will be a central point of critical information for hydrogen R&D in Australia. It will help avoid duplication, and will foster the Team Australia approach needed for Australia to take a world-leading role in developing and exporting hydrogen."
Across the Hydrogen Knowledge Centre, users can access a broad range of information, from interactive modelling tools forecasting the future cost of hydrogen, based on technology deployment and energy use, through to educational resources explaining the basics of hydrogen and its use in the energy mix.
A new module – HyLearning is now accessible in addition to two existing modules, HyResource and HyResearch.
A new industry map [above], also part of the knowledge centre, will highlight all of the current projects across Australia, and allow users to filter searches by project proponents, end-use and development status.
The Knowledge Centre will also feature resources developed by our partners and collaborators in the Australian hydrogen industry.
CSIRO Hydrogen Industry Mission spokesperson, Dr Vicky Au, said the new map showed 85 current hydrogen projects being driven by industry across Australia.
"These resources are being developed with state and federal governments, industry and R&D partners to capture and promote hydrogen projects and industry developments across Australia," Dr Au said.
"The delivery of the knowledge centre is an important milestone for our Hydrogen Industry Mission, because it helps connects the dots for all the players involved across the sector.
"Since launching the existing HyResource page in 2020, it has been visited more than 200,000 times by users from across the globe seeking to learn more about the development of Australia's hydrogen industry, demonstrating a clear demand for hydrogen information.
"As the clean hydrogen industry continues to develop and evolve, it is our hope that the Hydrogen Knowledge Centre can continue to be a relevant and valuable resource in Australia and internationally.
Simplifying access to information for all those with an interest in hydrogen is an important feature of the knowledge centre. We will do this by linking to partner-led modules and collaboratively developing content for the hydrogen community."
"CSIRO's virtual Hydrogen Knowledge Centre will provide support for the growing hydrogen industry to produce energy that meets the needs of businesses and households, and creates jobs for Australians," said Federal Minister for Industry and Science, the Hon. Ed Husic MP.
"The online knowledge centre will be significant in putting hydrogen at the forefront of renewable energy sources, bringing industries, universities and policymakers together.
"According to Australian government estimates, Australian hydrogen production for export and domestic use could generate more than $50 billion in additional GDP by 2050."
The Hydrogen Knowledge Centre can be accessed at research.csiro.au/hydrogenknowledge
Partner modules
HyCapability is Australia's first hydrogen capability finder — a free, online, searchable platform that connects Australian hydrogen businesses with a domestic and global market. Developed by National Energy Resources Australia (NERA) and the Hydrogen Technology Cluster Australia (H2TCA) network, and created with the assistance of EconomX, the platform maps regional hydrogen ecosystems and supply chain capacity, making it easier to identify businesses along the hydrogen value chain that have innovative technology, service and equipment offerings for the hydrogen industry.
Assessments of hydrogen project viability typically focus on evaluating individual sites, or providing generic cost-estimates that are independent of location. In reality, hydrogen project success is intimately linked to the availability of local energy resources, access to key infrastructure and water supplies, and the distance to export ports and energy markets. The Hydrogen Economic Fairways Tool (HEFT) incorporates assessments of these regional factors to identify areas of high economic potential for hydrogen production – the so-called "Economic Fairways" for such projects. The results of this analysis highlight available opportunities for hydrogen development and their infrastructure requirements. HEFT accounts for hydrogen production from renewable (wind and solar) sources, as well as non-renewable sources (steam-methane reformation and coal gasification) combined with carbon capture and storage. In addition, several new capabilities have been added to the HEFT, including break-even price analysis and choice of different export products (i.e. liquid hydrogen or ammonia).
See the full article here .

five-ways-keep-your-child-safe-school-shootings
Please help promote STEM in your local schools.
CSIRO (AU)-Commonwealth Scientific and Industrial Research Organization, is Australia's national science agency and one of the largest and most diverse research agencies in the world.
CSIRO works with leading organizations around the world. From its headquarters in Canberra, CSIRO maintains more than 50 sites across Australia and in France, Chile and the United States, employing about 5,500 people.
Federally funded scientific research began in Australia 104 years ago. The Advisory Council of Science and Industry was established in 1916 but was hampered by insufficient available finance. In 1926 the research effort was reinvigorated by establishment of the Council for Scientific and Industrial Research (CSIR), which strengthened national science leadership and increased research funding. CSIR grew rapidly and achieved significant early successes. In 1949 further legislated changes included renaming the organization as CSIRO.
Notable developments by CSIRO have included the invention of atomic absorption spectroscopy; essential components of Wi-Fi technology; development of the first commercially successful polymer banknote; the invention of the insect repellent in Aerogard and the introduction of a series of biological controls into Australia, such as the introduction of myxomatosis and rabbit calicivirus for the control of rabbit populations.
Research and focus areas
Research Business Units
As at 2019, CSIRO's research areas are identified as "Impact science" and organized into the following Business Units:
Agriculture and Food
Health and Biosecurity
Data 61
Energy
Land and Water
Manufacturing
Mineral Resources
Oceans and Atmosphere
National Facilities
CSIRO manages national research facilities and scientific infrastructure on behalf of the nation to assist with the delivery of research. The national facilities and specialized laboratories are available to both international and Australian users from industry and research. As at 2019, the following National Facilities are listed:
Australian Animal Health Laboratory (AAHL)
Australia Telescope National Facility – radio telescopes included in the Facility include the Australia Telescope Compact Array, the Parkes Observatory, Mopra Radio Telescope Observatory and the Australian Square Kilometre Array Pathfinder.
CSIRO Australia Compact Array (AU), six radio telescopes at the Paul Wild Observatory, is an array of six 22-m antennas located about twenty five kilometres (16 mi) west of the town of Narrabri in Australia.
CSIRO-Commonwealth Scientific and Industrial Research Organization (AU) Parkes Observatory [Murriyang, the traditional Indigenous name], located 20 kilometres north of the town of Parkes, New South Wales, Australia, 414.80m above sea level.
NASA Canberra Deep Space Communication Complex, AU, Deep Space Network. Credit: NASA.
CSIRO Canberra campus.
ESA DSA 1, hosts a 35-metre deep-space antenna with transmission and reception in both S- and X-band and is located 140 kilometres north of Perth, Western Australia, near the town of New Norcia.
CSIRO-Commonwealth Scientific and Industrial Research Organisation (AU)CSIRO R/V Investigator.
UK Space NovaSAR-1 satellite (UK) synthetic aperture radar satellite.
CSIRO Pawsey Supercomputing Centre AU)
Magnus Cray XC40 supercomputer at Pawsey Supercomputer Centre Perth Australia.
Galaxy Cray XC30 Series Supercomputer at at Pawsey Supercomputer Centre Perth Australia.
Pausey Supercomputer CSIRO Zeus SGI Linux cluster.
Others not shown
SKA- Square Kilometer Array.
SKA Square Kilometre Array low frequency at Murchison Widefield Array, Boolardy station in outback Western Australia on the traditional lands of the Wajarri peoples.
EDGES telescope in a radio quiet zone at the Murchison Radio-astronomy Observatory in Western Australia, on the traditional lands of the Wajarri peoples.