Oct 20, 2017
Ingrid Pelisoli
Title: Can magnetic fields suppress convection in the atmosphere of cool white dwarfs? A case study on WD2105-820
Authors: N. P. Gentile Fusillo, P.-E. Tremblay, S. Jordan, B. T. Gänsicke, J. S. Kalirai, J. Cummings
First Author's Institution: University of Warwick, UK


Status: Submitted to MNRAS, open access
Did you know that the bright yellow ball that shines in the sky, which we call the Sun, is also a huge magnet? However, it is huge only in terms of spatial dimensions – the strength of the magnetic field is only about 1 Gauss (G), or 10-4 Tesla (T). This is 10,000 weaker than the strongest magnet you can buy. The strongest magnet ever built on Earth produces a magnetic field of at least 45 T. Meanwhile, there are some other tiny dots in the sky with fields as strong as 108G, or 104T!
Tiny giant magnets
These tiny dots are white dwarf stars, which are about the size of the Earth, but with a mass comparable to the Sun. They maintain their hydrostatic equilibrium thanks to the Pauli exclusion principle: gravity can not further compress the object without pushing electrons into the same energy states, so the electrons push back, causing what is known as degeneracy pressure. The high field observed in some white dwarf stars is probably related to the fact that they are tiny: their progenitors had much smaller fields, but when they are compressed into a planetary size, the field is strengthened due to the magnetic flux being conserved. However, the process of evolution involves lots of mass being lost, and we don't know exactly what happens to the magnetic field during these stages. As a result, we cannot fully understand the origin of such high magnetic fields.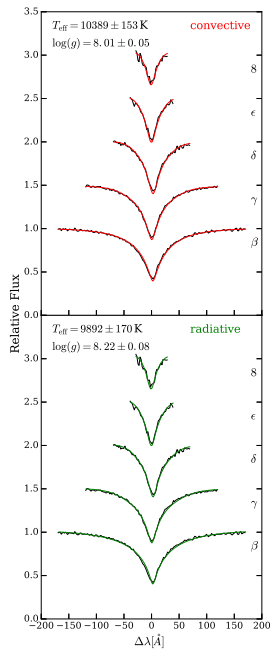 Figure 1: The author's spectral fit to the hydrogen Balmer lines, from H8 to Hß. The top panel shows the best fit using a convective model, and the bottom panel shows the best radiative model. The obtained values of effective temperature and logarithm of the surface gravity are indicated. Figure 1 in the paper
With the data release 2 of Gaia, which has made many astronomers draw a big circle around April 2018 on their calendars, we should identify hundreds of thousands of new white dwarfs. Something between 5 and 30% of them should be magnetic, based on the fraction of known magnetic white dwarfs. So it's about time we start learning more about these objects! One particular problem we currently have is that it is very hard to estimate the mass of magnetic white dwarfs. We usually cannot apply spectroscopic analysis, our main method of estimating masses, because the spectral lines of magnetic white dwarfs are affected by the Zeeman effect. This effect causes an extra broadening which we have not (yet) been able to model together with the other important effects. In summary, no complete model exists! Gaia will give us a hand with that by allowing us to estimate the radius of white dwarfs – which is related to their mass (more about it in this bite). But we still have to know the temperature of the white dwarf to be able to do further cool science, such as estimating the age of stellar populations (like here and here).
See the full article here .
Please help promote STEM in your local schools.
What do we do?
Astrobites is a daily astrophysical literature journal written by graduate students in astronomy. Our goal is to present one interesting paper per day in a brief format that is accessible to undergraduate students in the physical sciences who are interested in active research.
Why read Astrobites?
Reading a technical paper from an unfamiliar subfield is intimidating. It may not be obvious how the techniques used by the researchers really work or what role the new research plays in answering the bigger questions motivating that field, not to mention the obscure jargon! For most people, it takes years for scientific papers to become meaningful.
Our goal is to solve this problem, one paper at a time. In 5 minutes a day reading Astrobites, you should not only learn about one interesting piece of current work, but also get a peek at the broader picture of research in a new area of astronomy.