Title: Detections and Constraints on White Dwarf Variability from Time-Series GALEX Observations
Authors: Dominick M. Rowan, Michael A. Tucker, Benjamin J. Shappee, and J.J. Hermes
First Author's Institution: Institute for Astronomy, University of Hawaii, Honolulu, USA

Status: Submitted to
MNRAS
, open access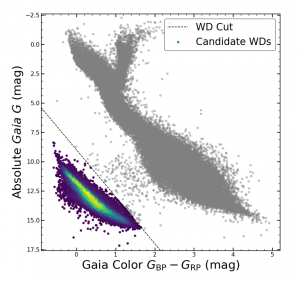 Figure 1: A plot of brightness against colour for stars that were observed by the Gaia satellite. White dwarf candidates that were selected for today's paper are shown by the coloured points. Source: Figure 1 in today's paper.
White dwarfs are stars in their silver years. 97% of all stars will end their lives as white dwarfs. These stars have stopped all fusion in their cores and are powered by left-over heat from their younger lives. It's easy to think of white dwarfs as 'dead stars', doing nothing but hanging in space while they slowly cool. However, these stars have plenty of activity left in them. Some white dwarfs pulsate: instabilities in their atmospheres cause them to shrink and stretch in size. Studying these pulsations can tell us about the internal structure of a white dwarf. Other white dwarfs are in binary systems and undergo eclipses when their companion star blocks their light from reaching us. Studying these eclipses can help us accurately measure the masses and radii of the two stars. And some white dwarfs have their own planetary systems, which collide, rip themselves apart and shower the white dwarf with debris. These can help us study the composition of planets and give us an insight into planetary systems in the late stages of their lives.
See the full article here .

five-ways-keep-your-child-safe-school-shootings
Please help promote STEM in your local schools.
What do we do?
Astrobites is a daily astrophysical literature journal written by graduate students in astronomy. Our goal is to present one interesting paper per day in a brief format that is accessible to undergraduate students in the physical sciences who are interested in active research.
Why read Astrobites?
Reading a technical paper from an unfamiliar subfield is intimidating. It may not be obvious how the techniques used by the researchers really work or what role the new research plays in answering the bigger questions motivating that field, not to mention the obscure jargon! For most people, it takes years for scientific papers to become meaningful.
Our goal is to solve this problem, one paper at a time. In 5 minutes a day reading Astrobites, you should not only learn about one interesting piece of current work, but also get a peek at the broader picture of research in a new area of astronomy.