From Aberystwyth University [Prifysgol Aberystwyth](WLS)
11.17.22
Colin Nosworthy,
Communications and Public Affairs,
Aberystwyth University
ctn1@aber.ac.uk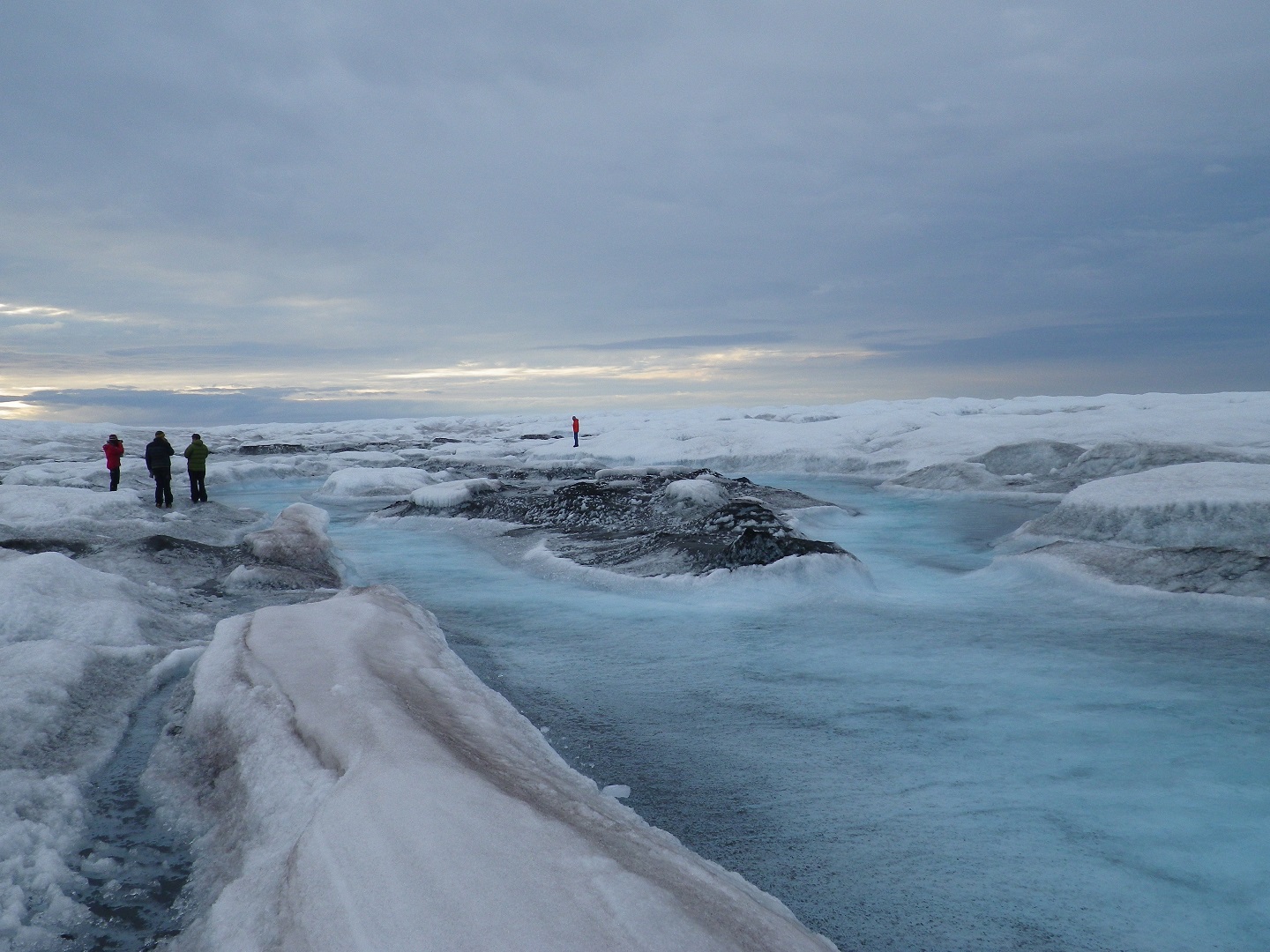 Some of the research team on the western edge of the Greenland Ice Sheet.
More than a hundred thousand tonnes of microbes, including potentially harmful and beneficial ones, could be released as the world's glaciers melt, scientists from Aberystwyth University have warned.
After examining surface meltwaters from eight glaciers across Europe and North America, and two sites in western Greenland, the academics estimate that even with only moderate warming, these microbes will be released to downstream ecosystems.
Assuming a climate scenario where there is a moderate rise in carbon emissions, the study predicts that more than a hundred thousand tonnes of microbes will be released into the wider environment. That would be equivalent to an average of 0.65 million tonnes per year of cellular carbon, which includes microbes, being delivered into rivers, lakes, fjords and oceans across the northern hemisphere over the next 80 years.
Estimates suggest that Earth's glaciers have been losing around a trillion tonnes of ice per year since the early 1990s, mainly driven by further melting of their surfaces.
Scientists believe the impact of further glacial melting, including the discharge of microbes into downstream environments, may be significant.
Dr Tristram Irvine-Fynn from Aberystwyth University commented:
"Melting glacier ice surfaces host active microbial communities that contribute to melting and biogeochemical cycling, and nourish downstream ecosystems; but these communities remain poorly understood. 
"Over the coming decades, the forecast 'peak water' from Earth's mountain glaciers means we need to improve our understanding of the state and fate of ecosystems on the surface of glaciers. With a better grasp of that picture, we could better predict the effects of climate change on glacial surfaces and catchment biogeochemistry."
Dr Arwyn Edwards from Aberystwyth University added:
"These important findings build on much of our previous research here in Aberystwyth. The number of microbes released depends closely on how quickly the glaciers melt, and therefore how much we continue to warm the planet. But the mass of microbes released is vast even with moderate warming. While these microbes fertilize downstream environments, some of them might be harmful as well."
The Aberystwyth academics' findings were published in the journal Nature Communications Earth & Environment [below] this month.
The study was led by former Aberystwyth PhD student and associate lecturer, Dr Ian Stevens, who is currently a postdoctoral researcher at Aarhus University.
Dr Stevens is working on the Deep Purple project and examining the physical and microbial processes which accelerate melting of the Greenland Ice Sheet.
Science paper:
Nature Communications Earth & Environment
See the science paper for instructive material with images.
See the full article here.
five-ways-keep-your-child-safe-school-shootings
Please help promote STEM in your local schools.
Aberystwyth University [Prifysgol Aberystwyth] (WLS) is a public research university in Aberystwyth, Wales. Aberystwyth was a founding member institution of the former federal University of Wales. The university has over 8,000 students studying across 3 academic faculties and 17 departments.
Founded in 1872 as University College Wales, Aberystwyth, it became a founder member of the University of Wales in 1894, and changed its name to the University College of Wales, Aberystwyth. In the mid-1990s, the university again changed its name to become the University of Wales, Aberystwyth. On 1 September 2007, the University of Wales ceased to be a federal university and Aberystwyth University became independent again.
In 2019, it became the first university to be named "University of the year for teaching quality" by The Times/Sunday Times Good University Guide for two consecutive years. It is the first university in the world to be awarded Plastic Free University status (for single-use plastic items).
Aberystwyth University is placed in the UK's top 50 universities in the main national rankings. It is ranked 48th for 132 UK university rankings in The Times/Sunday Times Good University Guide for 2019 and the first university to be given the prestigious award "University of the year for teaching quality" for two consecutive years (2018 and 2019).
The Times Higher Education World University Rankings placed it in the 301—350 group for 800 university rankings, compared with 351—400 the previous year, and the QS World University Rankings placed it at the 432th position for 2019, compared with 481—490 of the previous year. In 2015, UK employers from "predominantly business, IT and engineering sectors" listed Aberystwyth equal 49th in their 62-place employability rankings for UK graduates, according to a Times Higher Education report.
Aberystwyth University was rated in the top ten of UK higher education institutions for overall student satisfaction in the 2016 National Student Survey (NSS).
Aberystwyth University was shortlisted in four categories in the Times Higher Education Leadership and Management Awards (THELMAs) (2015).
Aberystwyth University has been awarded the Silver Award under the Corporate Health Standard (CHS), the quality mark for workplace health promotion run by Welsh Government.
The University has been awarded an Athena SWAN Charter Award, recognizing commitment to advancing women's careers in science, technology, engineering, maths and medicine (STEMM) in higher education and research.
In 2007 the University came under criticism for its record on sustainability, ranking 97th out of 106 UK higher education institutions in that year's Green League table. In 2012 the university was listed in the table's "Failed, no award" section, ranking equal 132nd out of 145. In 2013 it ranked equal 135th out of 143, and was listed again as "Failed, no award".
Following the University's initiatives to address sustainability, it received an EcoCampus Silver Phase award in October 2014.
In October 2015, the University's Penglais Campus became the first University campus in Wales to achieve the Green Flag Award. The Green Flag Award is a UK-wide partnership, delivered in Wales by Keep Wales Tidy with support from Natural Resources Wales, and is the mark of a high quality park or green space.
In 2013, the University and College Union alleged bullying behaviour by Aberystwyth University managers, and said staff were fearful for their jobs. University president Sir Emyr Jones Parry said in a BBC radio interview, "I don't believe the views set out are representative and I don't recognise the picture." He also said, "Due process is rigorously applied in Aberystwyth." Economist John Cable resigned his emeritus professorship, describing the university's management as "disproportionate, aggressive and confrontational". The singer Peter Karrie resigned his honorary fellowship in protest, he said, at the apparent determination to "ruin one of the finest arts centres in the country", and because he was "unable to support any regime that can treat their staff in such a cruel and appalling manner."