From The Swiss Federal Institute of Technology in Lausanne [EPFL-École Polytechnique Fédérale de Lausanne] (CH)
10.18.22
Nik Papageorgiou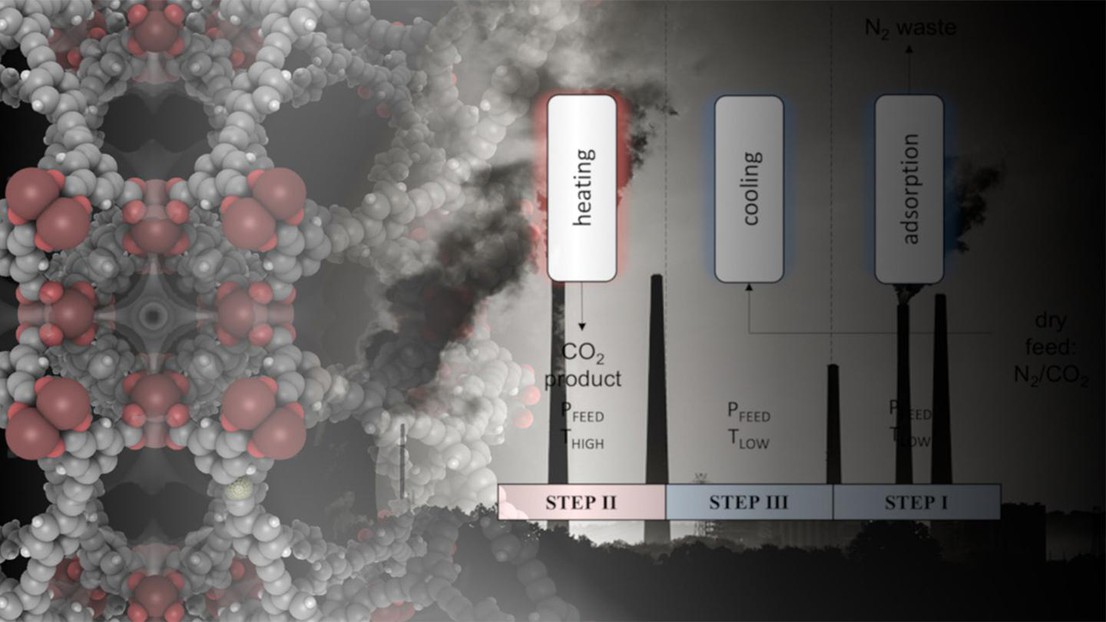 Chemical engineers at EPFL have developed a machine-learning model that can accurately predict the heat capacity of the versatile metal-organic framework materials. The work shows that the overall energy costs of carbon-capture processes could be much lower than expected.
Metal-organic frameworks (MOFs) are a class of materials that contain nano-sized pores. These pores give MOFs record-breaking internal surface areas, which make them extremely versatile for a number of applications: separating petrochemicals and gases, mimicking DNA, producing hydrogen, and removing heavy metals, fluoride anions, and even gold from water are just a few examples.
MOFs are the focus of Professor Berend Smit's research at EPFL School of Basic Sciences, where his group employs machine learning to make breakthroughs in the discovery, design, and even categorization of the ever-increasing MOFs that currently flood chemical databases.
In a new study [Nature Materials (below)], Smit and his colleagues have developed a machine-learning model that predicts the heat capacity of MOFs. "This is about very classical thermodynamics," says Smit. "How much energy is needed to heat up a material by one degree? Until now, all engineering calculations have assumed that all MOFs have the same heat capacity, for the simple reason that there is hardly any data available." Seyed Mohamad Moosavi, a postdoc at Smit's group, adds: "If there is no data, how can one make a machine-learning model? That looks impossible!"
The answer is the most innovative aspect of the work: a machine-learning model that predicts how the local chemical environment changes the vibrations of each atom in a MOF molecule. "These vibrations can be related to the heat capacity," says Smit. "Before, a very expensive quantum calculation would give us a single heat capacity for a single material, but now we get up to 200 data points on these vibrations. So, by doing 200 expensive calculations, we had 40,000 data points to train the model on how these vibrations depend on their chemical environment."
The researchers then tested their model against experimental data as a real-life check. "The results were surprisingly poor," says Smit, "until we realized that those experiments had been done with MOFs that had solvent in their pores. So, we re-synthesized some MOFs and carefully removed the synthesis solvent –measured their heat capacity – and the results were in very good agreement with our model's predictions!"
"Our research showcases how Artificial Intelligence (AI) can accelerate solving multi-scale problems," says Moosavi. AI empowers us to think about our problems in a new way and even sometimes tackle them."
To demonstrate the real-world impact of the work, engineers at Heriot-Watt University simulated the MOFs performance in a carbon capture plant. "We used quantum molecular simulations, machine learning, and chemical engineering in process simulations," says Smit. "The results showed that with correct heat capacity values of MOFs the overall energy cost of the carbon capture process can be much lower than we originally assumed. Our work is a true multi-scale effort, with a huge impact on the techno-economic viability of currently considered solutions to tackle climate change."
Science paper:
Nature Materials
See the full article here .
five-ways-keep-your-child-safe-school-shootings
Please help promote STEM in your local schools.
EPFL campus
The Swiss Federal Institute of Technology in Lausanne [EPFL-École Polytechnique Fédérale de Lausanne] (CH) is a research institute and university in Lausanne, Switzerland, that specializes in natural sciences and engineering. It is one of the two Swiss Federal Institutes of Technology, and it has three main missions: education, research and technology transfer.
The QS World University Rankings ranks EPFL(CH) 14th in the world across all fields in their 2020/2021 ranking, whereas Times Higher Education World University Rankings ranks EPFL(CH) as the world's 19th best school for Engineering and Technology in 2020.
EPFL(CH) is located in the French-speaking part of Switzerland; the sister institution in the German-speaking part of Switzerland is The Swiss Federal Institute of Technology ETH Zürich [Eidgenössische Technische Hochschule Zürich] (CH). Associated with several specialized research institutes, the two universities form The Domain of the Swiss Federal Institutes of Technology (ETH Domain) [ETH-Bereich; Domaine des Écoles Polytechniques Fédérales] (CH) which is directly dependent on the Federal Department of Economic Affairs, Education and Research. In connection with research and teaching activities, EPFL(CH) operates a nuclear reactor CROCUS; a Tokamak Fusion reactor; a Blue Gene/Q Supercomputer; and P3 bio-hazard facilities.
ETH Zürich, EPFL (Swiss Federal Institute of Technology in Lausanne) [École Polytechnique Fédérale de Lausanne](CH), and four associated research institutes form The Domain of the Swiss Federal Institutes of Technology (ETH Domain) [ETH-Bereich; Domaine des Écoles polytechniques fédérales] (CH) with the aim of collaborating on scientific projects.
The roots of modern-day EPFL(CH) can be traced back to the foundation of a private school under the name École Spéciale de Lausanne in 1853 at the initiative of Lois Rivier, a graduate of the École Centrale Paris (FR) and John Gay the then professor and rector of the Académie de Lausanne. At its inception it had only 11 students and the offices were located at Rue du Valentin in Lausanne. In 1869, it became the technical department of the public Académie de Lausanne. When the Académie was reorganized and acquired the status of a university in 1890, the technical faculty changed its name to École d'Ingénieurs de l'Université de Lausanne. In 1946, it was renamed the École polytechnique de l'Université de Lausanne (EPUL). In 1969, the EPUL was separated from the rest of the University of Lausanne and became a federal institute under its current name. EPFL(CH), like ETH Zürich (CH), is thus directly controlled by the Swiss federal government. In contrast, all other universities in Switzerland are controlled by their respective cantonal governments. Following the nomination of Patrick Aebischer as president in 2000, EPFL(CH) has started to develop into the field of life sciences. It absorbed the Swiss Institute for Experimental Cancer Research (ISREC) in 2008.
In 1946, there were 360 students. In 1969, EPFL(CH) had 1,400 students and 55 professors. In the past two decades the university has grown rapidly and as of 2012 roughly 14,000 people study or work on campus, about 9,300 of these being Bachelor, Master or PhD students. The environment at modern day EPFL(CH) is highly international with the school attracting students and researchers from all over the world. More than 125 countries are represented on the campus and the university has two official languages, French and English.
Organization
EPFL is organized into eight schools, themselves formed of institutes that group research units (laboratories or chairs) around common themes:
School of Basic Sciences
Institute of Mathematics
Institute of Chemical Sciences and Engineering
Institute of Physics
European Centre of Atomic and Molecular Computations
Bernoulli Center
Biomedical Imaging Research Center
Interdisciplinary Center for Electron Microscopy
MPG-EPFL Centre for Molecular Nanosciences and Technology
Swiss Plasma Center
Laboratory of Astrophysics
School of Engineering
Institute of Electrical Engineering
Institute of Mechanical Engineering
Institute of Materials
Institute of Microengineering
Institute of Bioengineering
School of Architecture, Civil and Environmental Engineering
Institute of Architecture
Civil Engineering Institute
Institute of Urban and Regional Sciences
Environmental Engineering Institute
School of Computer and Communication Sciences
Algorithms & Theoretical Computer Science
Artificial Intelligence & Machine Learning
Computational Biology
Computer Architecture & Integrated Systems
Data Management & Information Retrieval
Graphics & Vision
Human-Computer Interaction
Information & Communication Theory
Networking
Programming Languages & Formal Methods
Security & Cryptography
Signal & Image Processing
Systems
School of Life Sciences
Bachelor-Master Teaching Section in Life Sciences and Technologies
Brain Mind Institute
Institute of Bioengineering
Swiss Institute for Experimental Cancer Research
Global Health Institute
Ten Technology Platforms & Core Facilities (PTECH)
Center for Phenogenomics
NCCR Synaptic Bases of Mental Diseases
College of Management of Technology
Swiss Finance Institute at EPFL
Section of Management of Technology and Entrepreneurship
Institute of Technology and Public Policy
Institute of Management of Technology and Entrepreneurship
Section of Financial Engineering
College of Humanities
Human and social sciences teaching program
EPFL Middle East
Section of Energy Management and Sustainability
In addition to the eight schools there are seven closely related institutions
Swiss Cancer Centre
Center for Biomedical Imaging (CIBM)
Centre for Advanced Modelling Science (CADMOS)
École Cantonale d'art de Lausanne (ECAL)
Campus Biotech
Wyss Center for Bio- and Neuro-engineering
Swiss National Supercomputing Centre