From CSIRO (AU)-Commonwealth Scientific and Industrial Research Organization
10.5.22
Ms Andrea Wild
Communication Advisor, National Research Collections Australia
+61415199434
CSIRO is building a National Biodiversity DNA Library which aims to deliver a complete collection of DNA reference sequences for all known Australian animal and plant species.
A new DNA reference library which is set to transform how Australia monitors biodiversity was announced today by CSIRO, Australia's national science agency, along with the library's first campaign which is supported by founding partner, Minderoo Foundation.
The National Biodiversity DNA Library (NBDL) aims to create a complete collection of DNA reference sequences for all known Australian animal and plant species. Just like COVID wastewater testing, it will enable DNA detected in the environment to be assigned to the species to which it belongs.
CSIRO Director of the NBDL Jenny Giles said environmental DNA (eDNA) analysis has the potential to create a revolution in biodiversity monitoring.
"Monitoring biodiversity and detecting pests is extremely important, but it's hard to do and is expensive in a country as large as Australia. eDNA surveys could change that by allowing us to detect animals, plants and other organisms from traces of DNA left behind in the environment, but only if we can reliably assign this DNA to species," Dr Giles said.
"People may be surprised to realize that there are tiny pieces of DNA shed by animals, plants, and other life forms left in the air, soil, and water around us.
"eDNA surveys are increasingly being used to detect and monitor species, but only a tiny fraction of Australian species have sufficient reference data available to support this approach. This means most eDNA we collect can't currently be assigned to a species.
"Our National Biodiversity DNA Library aims to provide this missing data through an open access online portal, that will allow Australian state and federal governments, industry, researchers and citizen scientists to take full advantage of this powerful technique to describe and detect changes in our environment," she said.
Minderoo Foundation is partnering with CSIRO to fund the first part of this DNA reference library, focusing on all species of Australian marine vertebrates, including fishes, whales, dolphins, seals, turtles, sea snakes and inshore sea and aquatic birds.
Minderoo Foundation Director of the OceanOmics program Steve Burnell said eDNA approaches will transform how we monitor marine biodiversity and help manage and conserve marine species.
"The NBDL will help our program and other researchers to detect and map marine vertebrate species around Australia, improving the speed, scale and precision at which we can provide information to resource managers," Dr Burnell said.
"We're proud to support this powerful conservation tool – the surveillance of marine ecosystems using eDNA provides an exciting and non-invasive means to measure biodiversity and monitor the health of our oceans."
Dr Giles said the library will be built using unique laboratory techniques developed by CSIRO.
"This technology enables the large-scale generation of DNA reference sequences from preserved specimens of any organism. This miniaturized, high-throughput approach can unlock genetic information from the millions of scientific specimens preserved in Australian research collections," she said.
CSIRO will work with Bioplatforms Australia, enabled by the Commonwealth Government National Collaborative Research Infrastructure Strategy, and Australian natural history collections to rapidly increase the DNA reference sequences available for Australian marine vertebrates. These data will be generated from expertly identified specimens held in collections including CSIRO's Australian National Fish Collection and Australian National Wildlife Collection.
The NBDL collaboration between CSIRO, its partners, and our nation's vast research collections will result in greater understanding of Australia's animal and plant species and will support industries across fisheries, agriculture, environmental management and tourism.
The library's first online data release is expected to occur by early 2024.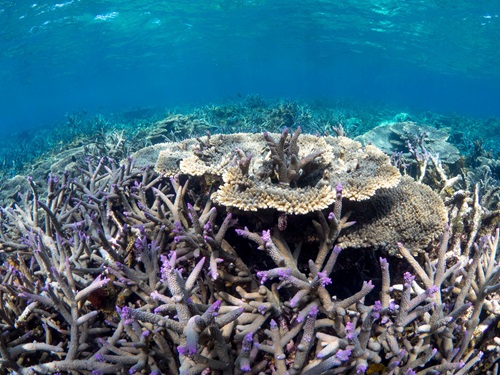 Stag and Plate coral. PHOTO: Minderoo OceanOmics Centre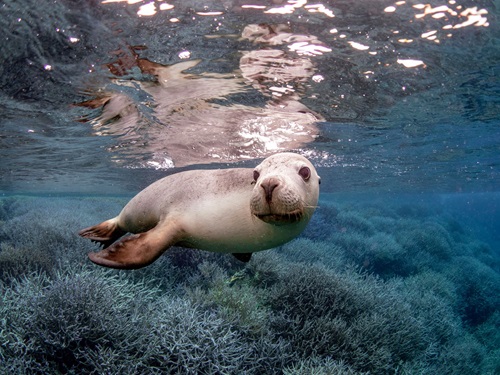 Sea lion (Neophoca cinerea). PHOTO: Minderoo OceanOmics Centre
See the full article here .

five-ways-keep-your-child-safe-school-shootings
Please help promote STEM in your local schools.
CSIRO (AU)-Commonwealth Scientific and Industrial Research Organization, is Australia's national science agency and one of the largest and most diverse research agencies in the world.
CSIRO works with leading organizations around the world. From its headquarters in Canberra, CSIRO maintains more than 50 sites across Australia and in France, Chile and the United States, employing about 5,500 people.
Federally funded scientific research began in Australia 104 years ago. The Advisory Council of Science and Industry was established in 1916 but was hampered by insufficient available finance. In 1926 the research effort was reinvigorated by establishment of the Council for Scientific and Industrial Research (CSIR), which strengthened national science leadership and increased research funding. CSIR grew rapidly and achieved significant early successes. In 1949 further legislated changes included renaming the organization as CSIRO.
Notable developments by CSIRO have included the invention of atomic absorption spectroscopy; essential components of Wi-Fi technology; development of the first commercially successful polymer banknote; the invention of the insect repellent in Aerogard and the introduction of a series of biological controls into Australia, such as the introduction of myxomatosis and rabbit calicivirus for the control of rabbit populations.
Research and focus areas
Research Business Units
As at 2019, CSIRO's research areas are identified as "Impact science" and organized into the following Business Units:
Agriculture and Food
Health and Biosecurity
Data 61
Energy
Land and Water
Manufacturing
Mineral Resources
Oceans and Atmosphere
National Facilities
CSIRO manages national research facilities and scientific infrastructure on behalf of the nation to assist with the delivery of research. The national facilities and specialized laboratories are available to both international and Australian users from industry and research. As at 2019, the following National Facilities are listed:
Australian Animal Health Laboratory (AAHL)
Australia Telescope National Facility – radio telescopes included in the Facility include the Australia Telescope Compact Array, the Parkes Observatory, Mopra Radio Telescope Observatory and the Australian Square Kilometre Array Pathfinder.
CSIRO Australia Compact Array (AU), six radio telescopes at the Paul Wild Observatory, is an array of six 22-m antennas located about twenty five kilometres (16 mi) west of the town of Narrabri in Australia.
CSIRO-Commonwealth Scientific and Industrial Research Organization (AU) Parkes Observatory [Murriyang, the traditional Indigenous name], located 20 kilometres north of the town of Parkes, New South Wales, Australia, 414.80m above sea level.
NASA Canberra Deep Space Communication Complex, AU, Deep Space Network. Credit: NASA.
CSIRO Canberra campus.
ESA DSA 1, hosts a 35-metre deep-space antenna with transmission and reception in both S- and X-band and is located 140 kilometres north of Perth, Western Australia, near the town of New Norcia.
CSIRO-Commonwealth Scientific and Industrial Research Organisation (AU) CSIRO R/V Investigator.
UK Space NovaSAR-1 satellite (UK) synthetic aperture radar satellite.
CSIRO Pawsey Supercomputing Centre AU)
Magnus Cray XC40 supercomputer at Pawsey Supercomputer Centre Perth Australia.
Galaxy Cray XC30 Series Supercomputer at at Pawsey Supercomputer Centre Perth Australia.
Pausey Supercomputer CSIRO Zeus SGI Linux cluster.
Others not shown
SKA- Square Kilometer Array.
SKA Square Kilometre Array low frequency at Murchison Widefield Array, Boolardy station in outback Western Australia on the traditional lands of the Wajarri peoples.
EDGES telescope in a radio quiet zone at the Murchison Radio-astronomy Observatory in Western Australia, on the traditional lands of the Wajarri peoples.