From CSIRO (AU)-Commonwealth Scientific and Industrial Research Organization
9.26.22
Mr Matt Marrison
Communication Advisor
Tel +61 3 6232 5197
Mob +61 4 3878 5399
A team of scientists led by Museums Victoria Research Institute will embark on a deep sea research voyage exploring vast, prehistoric undersea mountains and undiscovered animal inhabitants in the remote waters of Christmas and Cocos (Keeling) Islands.
Investigating the Indian Ocean Territories (IOT) is a 35 day, 13,000km voyage on CSIRO research vessel (RV) Investigator [below] which will depart from Darwin today (30 September 2022). Operated by Australia's national science agency, CSIRO, R/V Investigator will voyage through the remote waters of Christmas Island and the Cocos (Keeling) Islands to conduct deep-ocean surveys of life at abyssal depths more than 5500 metres below the surface.

Christmas Island. Credit: David Stanley on Flickr.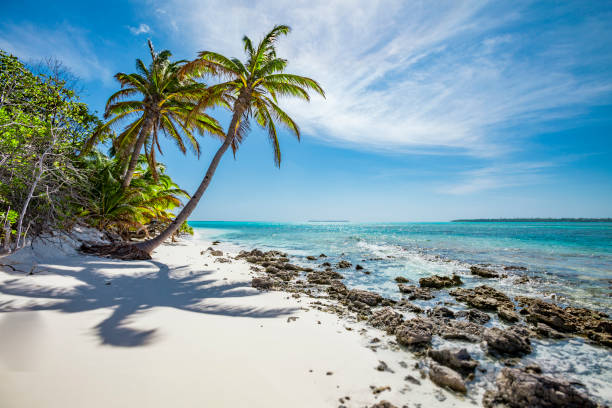 Cocos (Keeling) Islands. Credit: Istockphoto.
Led by Museums Victoria Research Institute, in collaboration with CSIRO, Parks Australia, Bush Blitz and a team of partner museums and universities, this voyage completes a research project that commenced in 2021 with the first biodiversity survey of these remote waters by R/V Investigator.
Scientists expect to discover many new deep-sea species, and outcomes of the voyage will provide scientific data and information to support the management of new marine parks in Australia's Indian Ocean Territories. Announced last year, these parks will help protect an area of up to 740,000 square kilometres.
Voyage Chief Scientist Dr Tim O'Hara, Museums Victoria Research Institute's senior curator of marine invertebrates, is a veteran deep-sea researcher. He explains that while there are not too many places in Australia that are totally unexplored, we know almost nothing about the vast underwater mountains and ridges surrounding the Christmas and Cocos (Keeling) Islands.
"We know the region is covered with massive seamounts formed during the dinosaur era and we know the region sits at a critical juncture between the Pacific and Indian Oceans. We are really excited about the prospect of discovering new species, perhaps even new branches of the tree of life, which until now have remained hidden beneath the waves in this unexplored region," explains Dr O'Hara.
"Surrounding the islands of Christmas and Cocos (Keeling) are a series of ancient underwater mountains and ridges – extinct volcanos which formed 140-50 million years ago. No one has seen these isolated areas before, we have no maps of them and no knowledge of what lives there, and this voyage will provide world-first baseline data of these unknown marine environments and their inhabitants."
The research team will use high-tech multi-beam sonar to map the structure of the seafloor, and cameras, nets and sleds to sample habitats from 60 metres all the way down to 5500 metre depths. The voyage will result in the description of new species from specimens added to the Museums Victoria State Collection and other national biological collections.
Director and CEO of Museums Victoria, Lynley Crosswell, said that the undersea world of the Indian Ocean Territories holds immense value to island communities and the Australian public.
"The research outcomes from this voyage will be invaluable to our understanding of Australia's deep-sea environments and the impact humans are having on them. This type of field activity by Museums Victoria Research Institute, delivered in collaboration with our partner organizations, is enormously important to protecting our unique biodiversity and creating sustainable futures."
Director of the CSIRO Marine National Facility, Toni Moate, said the voyage demonstrates the important research that R/V Investigator delivers to help Australia better manage its marine resources and environment.
"The important collaborative research we help deliver continues on this epic voyage to study marine life around these remote tropical islands, with untold discoveries to be made in this ancient deep sea environment, information vital for managing the IOT marine parks," said Ms Moate.
Parks Australia Acting Director of National Parks, Jody Swirepik, said the voyage includes an outreach team from Bush Blitz.
"Known for biodiversity surveys on land, Bush Blitz will be onboard to conduct their completely underwater survey. They will share discoveries with school groups and the general public along the way," Ms Swirepik said.
The voyage will involve collaboration between some of Australia's most renowned deep-sea scientists and research institutions including Museums Victoria Research Institute, CSIRO, Australian National Fish Collection, Australian Museum and Western Australian Museum. The research has been made possible through a grant of sea time on R/V Investigator from the CSIRO Marine National Facility.
R/V Investigator will set sail from Darwin on 30 September 2022 to travel to Christmas and Cocos (Keeling) Island Territories before returning to Fremantle (Western Australia) on 3 November 2022.
See the full article here .

five-ways-keep-your-child-safe-school-shootings
Please help promote STEM in your local schools.
CSIRO (AU)-Commonwealth Scientific and Industrial Research Organization, is Australia's national science agency and one of the largest and most diverse research agencies in the world.
CSIRO works with leading organizations around the world. From its headquarters in Canberra, CSIRO maintains more than 50 sites across Australia and in France, Chile and the United States, employing about 5,500 people.
Federally funded scientific research began in Australia 104 years ago. The Advisory Council of Science and Industry was established in 1916 but was hampered by insufficient available finance. In 1926 the research effort was reinvigorated by establishment of the Council for Scientific and Industrial Research (CSIR), which strengthened national science leadership and increased research funding. CSIR grew rapidly and achieved significant early successes. In 1949 further legislated changes included renaming the organization as CSIRO.
Notable developments by CSIRO have included the invention of atomic absorption spectroscopy; essential components of Wi-Fi technology; development of the first commercially successful polymer banknote; the invention of the insect repellent in Aerogard and the introduction of a series of biological controls into Australia, such as the introduction of myxomatosis and rabbit calicivirus for the control of rabbit populations.
Research and focus areas
Research Business Units
As at 2019, CSIRO's research areas are identified as "Impact science" and organized into the following Business Units:
Agriculture and Food
Health and Biosecurity
Data 61
Energy
Land and Water
Manufacturing
Mineral Resources
Oceans and Atmosphere
National Facilities
CSIRO manages national research facilities and scientific infrastructure on behalf of the nation to assist with the delivery of research. The national facilities and specialized laboratories are available to both international and Australian users from industry and research. As at 2019, the following National Facilities are listed:
Australian Animal Health Laboratory (AAHL)
Australia Telescope National Facility – radio telescopes included in the Facility include the Australia Telescope Compact Array, the Parkes Observatory, Mopra Radio Telescope Observatory and the Australian Square Kilometre Array Pathfinder.
CSIRO Australia Compact Array (AU), six radio telescopes at the Paul Wild Observatory, is an array of six 22-m antennas located about twenty five kilometres (16 mi) west of the town of Narrabri in Australia.
CSIRO-Commonwealth Scientific and Industrial Research Organization (AU) Parkes Observatory [Murriyang, the traditional Indigenous name], located 20 kilometres north of the town of Parkes, New South Wales, Australia, 414.80m above sea level.
NASA Canberra Deep Space Communication Complex, AU, Deep Space Network. Credit: NASA.
CSIRO Canberra campus.
ESA DSA 1, hosts a 35-metre deep-space antenna with transmission and reception in both S- and X-band and is located 140 kilometres north of Perth, Western Australia, near the town of New Norcia.
CSIRO-Commonwealth Scientific and Industrial Research Organisation (AU) CSIRO R/V Investigator.
UK Space NovaSAR-1 satellite (UK) synthetic aperture radar satellite.
CSIRO Pawsey Supercomputing Centre AU)
Magnus Cray XC40 supercomputer at Pawsey Supercomputer Centre Perth Australia.
Galaxy Cray XC30 Series Supercomputer at at Pawsey Supercomputer Centre Perth Australia.
Pausey Supercomputer CSIRO Zeus SGI Linux cluster.
Others not shown
SKA- Square Kilometer Array.
SKA Square Kilometre Array low frequency at Murchison Widefield Array, Boolardy station in outback Western Australia on the traditional lands of the Wajarri peoples.
EDGES telescope in a radio quiet zone at the Murchison Radio-astronomy Observatory in Western Australia, on the traditional lands of the Wajarri peoples.