From The MPG Institute for Gravitational Physics [MPG Institut für Gravitationsphysik](Albert Einstein Institut) (DE)
June 08, 2022
Media contact
Dr. Elke Müller
Press Officer AEI Potsdam, Scientific Coordinator
Tel +49 331 567-7303
Fax +49 331 567-7298
elke.mueller@aei.mpg.de
Science contact
Prof. Dr. Tim Dietrich
Max Planck Fellow
Tel +49 331 567-7253
Fax +49 331 567-7298
tim.dietrich@aei.mpg.de
Constraining neutron-star matter with microscopic and macroscopic collisions.
For the first time, an international research team, including researchers from the Max Planck Institute for Gravitational Physics (Albert Einstein Institute) and Potsdam University has combined data from nuclear physics experiments, gravitational-wave measurements and other astronomical observations with theoretical insights to more precisely constrain how nuclear matter behaves inside neutron stars. The results were published in the scientific journal Nature today.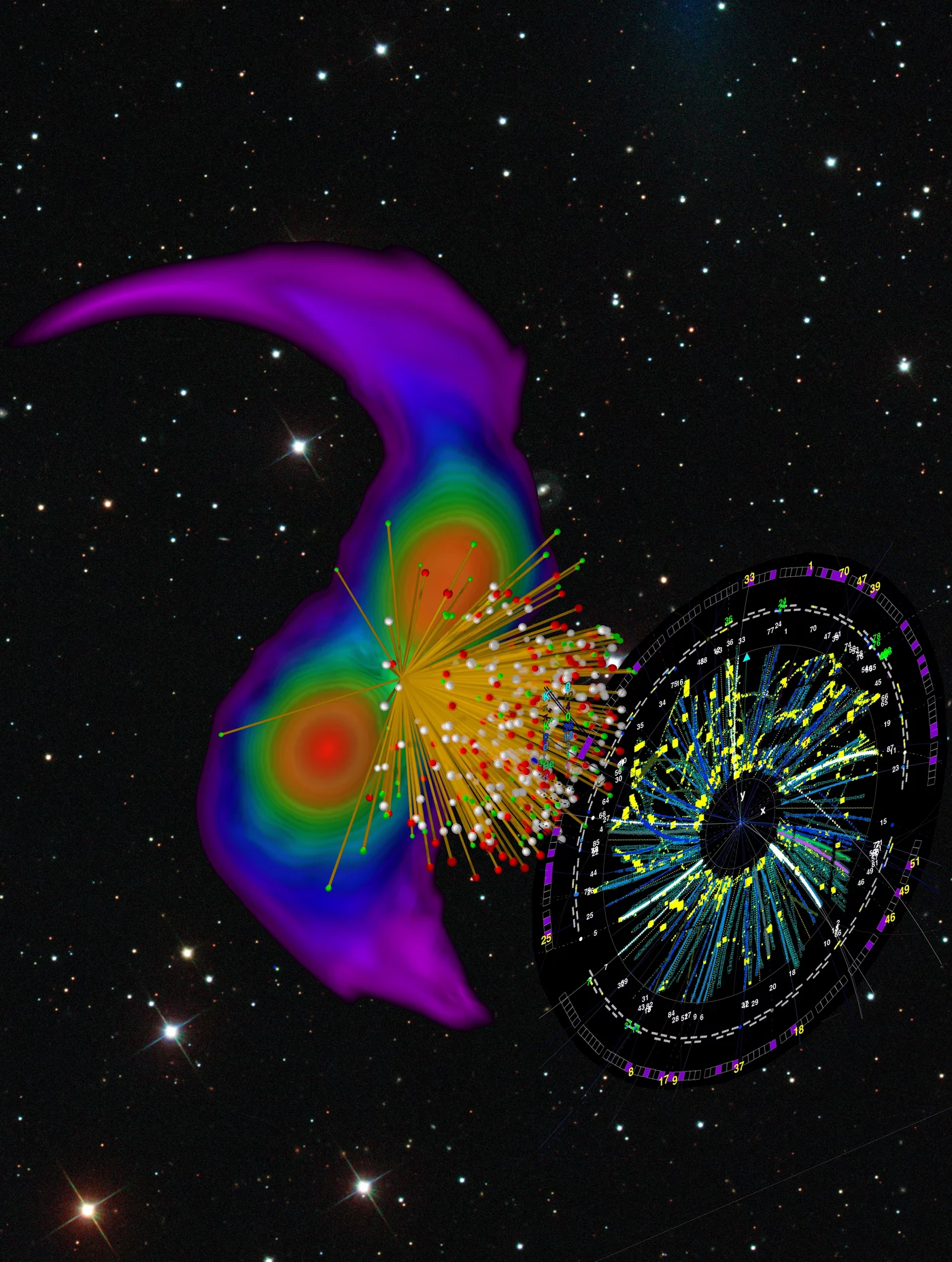 Artist's impression combining a numerical-relativity simulation of a binary neutron star merger with a detection picture of the particles created in an gold-ion collision. The neutron star merger mimics the properties of the gravitational-wave signal GW170817 with two non-spinning neutron stars and a chirp mass of 1.188 solar masses. The gold-ion collision with a relativistic kinetic energy of 1.5 GeV per nucleon is shown by the detection picture of such an event in the FOPI detector at GSI. © T. Dietrich (Potsdam University & Max Planck Institute for Gravitational Physics), A. Le Fevre (GSI Helmholtzzentrum für Schwerionenforschung GmbH), K. Huyser (NIKHEF); background: ESA/Hubble, Sloan Digital Sky Survey.
Neutron stars are born in supernova explosions that mark the end of the life of massive stars. Sometimes neutron stars are bound in binary systems and will eventually collide with each other. These high-energy, astrophysical phenomena feature such extreme conditions that they produce most of the heavy elements, such as silver and gold. Consequently, neutron stars and their collisions are a unique laboratory to study the properties of matter at densities far beyond the densities inside atomic nuclei. Heavy-ion collision experiments conducted with particle accelerators are a complementary way to produce and probe matter at high densities and under extreme conditions.
"Combining knowledge from nuclear theory, nuclear experiment, and astrophysical observations is essential to shedding light on the properties of neutron-rich matter over the entire density range probed in neutron stars," said Sabrina Huth from Technical University Darmstadt, who is one of the lead authors of the publication. Peter T. H. Pang, another lead author from the Institute for Gravitational and Subatomic Physics (GRASP), Utrecht University, added, "We find that constraints from collisions of gold ions in particle colliders show a remarkable consistency with astrophysical observations even though they are obtained with completely contrary methods."
"Over the last years, we have developed accurate models that allow us to extract the properties of the neutron stars from the observed gravitational-wave data. This is a key aspect of a reliable multi-messenger interpretation", says Tim Dietrich, Professor at Potsdam University and Leader of a Max Planck Fellow Group at the Max Planck Institute for Gravitational Physics (Albert Einstein Institute).
Recent progress in multi-messenger astronomy allowed the international research team, involving researchers from Germany, the Netherlands, the US, and Sweden to open up a new field to improve and complete the fundamental understanding of nuclear forces. In an interdisciplinary effort, the researchers included information obtained in heavy-ion collisions into a framework combining astronomical observations of electromagnetic signals, measurements of gravitational waves, and high-performance astrophysics computations with theoretical nuclear-physics calculations. Their systematic study combines all these individual disciplines for the first time.
The authors incorporated the information from gold-ion collision experiments performed at GSI in Darmstadt as well as at the Brookhaven National Laboratory and the Lawrence Berkeley National Laboratory in the USA in their multi-step procedure that analyzes constraints from nuclear theory and astrophysical observations, including neutron star mass measurements through radio observations, information from rapidly spinning neutron stars gained in the Neutron Star Interior Composition Explorer (NICER) mission on the International Space Station (ISS), and multi-messenger observations of binary neutron star mergers.
New information from laboratory experiments, astronomical observations, or theory can easily be included in the framework to further improve our understanding of dense matter in the coming years. New gravitational-wave observations will be possible from late 2022 with the next observing run of the international detector network [LIGO, VIRGO KAGRA below]. "We are living in exciting times in which it becomes possible to directly compare nuclear physics computations and experiments with astrophysical modeling and observations. In late 2022, the existing gravitational-wave detectors will start their next observing runs and we can hope for a few more multi-messenger detections of merging neutron stars.
These data will pave the way for a better understanding of supranuclear dense matter and it will allow us to perform interdisciplinary studies with unprecedented accuracy", says Tim Dietrich.
See the full article here.
five-ways-keep-your-child-safe-school-shootings
Please help promote STEM in your local schools.
The MPG Institute for Gravitational Physics [MPG Institut für Gravitationsphysik] (Albert Einstein Institut)(DE) is the largest research institute in the world specializing in General Relativity and beyond. The institute is located in Potsdam-Golm and in Hannover where it is closely related to the Leibniz Universität Hannover.
The MPG Institute for Gravitational Physics (Albert Einstein Institute) is a Max Planck Institute whose research is aimed at investigating Albert Einstein's Theory of General Relativity and beyond: Mathematics; quantum gravity; astrophysical relativity; and gravitational-wave astronomy. The Institute was founded in 1995 and is located in the Potsdam Science Park in Golm, Potsdam and in Hannover where it is closely related to the Leibniz University Hannover [Gottfried Wilhelm Leibniz Universität Hannover](DE). The Potsdam part of the institute is organized in three research departments, while the Hannover part has two departments. Both parts of the institute host a number of independent research groups.
The institute conducts fundamental research in Mathematics; data analysis; Astrophysics and Theoretical Physics; as well as research in Laser Physics; vacuum technology; vibration isolation; and Classical and Quantum Optics.
When the Caltech MIT Advanced aLIGO Scientific Collaboration announced the first detection of gravitational waves, researchers of the Institute were involved in modeling, detecting, analyzing and characterizing the signals. The Institute is part of a number of collaborations and projects: it is a main partner in the gravitational-wave detector GEO600. Institute scientists are developing waveform-models that are applied in the gravitational-wave detectors for detecting and characterizing gravitational waves. They are developing detector technology and are also analyzing data from the detectors of the LIGO Scientific Collaboration, the VIRGO European Gravitational Observatory(IT) and the KAGRA Large-scale Cryogenic Gravitional wave Telescope Project(JP).
___________________________________________________________________
LIGO–VIRGO–KAGRA
Caltech /MIT Advanced aLigo.
Caltech/MIT Advanced aLigo detector installation Livingston, LA, USA.
Caltech/MIT Advanced aLigo Hanford, WA, USA installation.
VIRGO Gravitational Wave interferometer, near Pisa, Italy.
KAGRA Large-scale Cryogenic Gravitational Wave Telescope Project (JP).
___________________________________________________________________
LIGO Virgo Kagra Masses in the Stellar Graveyard. Credit: Frank Elavsky and Aaron Geller at Northwestern University.
___________________________________________________________________
They also play a leading role in planning and preparing the space-based detector European Space Agency(EU)/National Aeronautics and Space Agency LISA Next Gravitational Wave Observatory; Einstein Telescope » APPEC(EU); and the Cosmic Explorer.
The Institute is also a major player in the Einstein@Home(DE) and PyCBC projects.
From 1998 to 2015, the institute has published the open access review journal Living Reviews in Relativity.
History
The newly founded institute started its work in April 1995 and has been located in Potsdam-Golm since 1999.
In 2002 the Institute opened a branch at the Leibniz University Hannover [Gottfried Wilhelm Leibniz Universität Hannover](DE) with a focus on data analysis and the development and operation of gravitational-wave detectors on Earth and in space. The Hannover institute originated from the Institute for Atom and Molecule Physics (AMP) of the Universität Hannover, which was established in 1979 by the Department of Physics.
Research
The research focus of the Institute is in the field of General Relativity. It covers Theoretical and Experimental Gravitational Physics; quantum gravity; Multi-messenger Astrophysics and Cosmology. The Institute has a strong research focus on Gravitational-wave Astronomy: four out of five departments are working on different aspects of this research field. Central research topics are:
Source modeling (binary neutron stars, binary black holes, mixed binaries, stellar core collapse).
Experimental work on gravitational-wave detectors – both on Earth and in space.
Solving the Two-Body problem in General Relativity.
Analytical and numerical solutions of Einstein's equations.
Development and implementation of data analysis algorithms for gravitational-wave searches.
Follow-up analyses to infer properties of the gravitational-wave sources.
All these efforts enable a new kind of Astronomy, which began with the first direct detection of gravitational waves on Earth.
Scientists of the Institute also work towards the unification of the fundamental theories of Physics – General Relativity and Quantum Mechanics – into a theory of Quantum Gravity.
Max Planck Partner Groups
Max Planck Partner Groups carry out research in fields overlapping with those of the former host Max Planck institute. They are established to support junior scientists returning to their home country after a research stay at a Max Planck Institute.
The Max Planck Institute for Gravitational Physics has five Max Planck Partner Groups:
at the Institute of Theoretical Physics, Chinese Academy of Sciences [中国科学院](CN), collaborating with the "Quantum Gravity and Unified Theories" department.
at the Chennai Mathematical Institute(IN), collaborating with "Quantum Gravity and Unified Theories" department.
at the Indian Institute of Technology Kanpur(IN), collaborating with the "Quantum Gravity and Unified Theories" department.
at Jilin University [吉林大学](CN) collaborating with the "Quantum Gravity and Unified Theories" department.
at the Tata Institute of Fundamental Research(IN), collaborating with the "Observational Relativity and Cosmology" department.
MPG Society for the Advancement of Science [MPG Gesellschaft zur Förderung der Wissenschaften e. V.] is a formally independent non-governmental and non-profit association of German research institutes founded in 1911 as the Kaiser Wilhelm Society and renamed the Max Planck Society in 1948 in honor of its former president, theoretical physicist Max Planck. The society is funded by the federal and state governments of Germany as well as other sources.
According to its primary goal, the MPG Society supports fundamental research in the natural, life and social sciences, the arts and humanities in its 83 (as of January 2014) MPG Institutes. The society has a total staff of approximately 17,000 permanent employees, including 5,470 scientists, plus around 4,600 non-tenured scientists and guests. Society budget for 2015 was about €1.7 billion.
The MPG Institutes focus on excellence in research. The MPG Society has a world-leading reputation as a science and technology research organization, with 33 Nobel Prizes awarded to their scientists, and is generally regarded as the foremost basic research organization in Europe and the world. In 2013, the Nature Publishing Index placed the MPG institutes fifth worldwide in terms of research published in Nature journals (after Harvard University, The Massachusetts Institute of Technology, Stanford University and The National Institutes of Health). In terms of total research volume, the Max Planck Society is only outranked by The Chinese Academy of Sciences [中国科学院](CN), The Russian Academy of Sciences [Росси́йская акаде́мия нау́к](RU) and Harvard University. The Thomson Reuters-Science Watch website placed the MPG Society as the second leading research organization worldwide following Harvard University, in terms of the impact of the produced research over science fields.
The MPG Society and its predecessor Kaiser Wilhelm Society hosted several renowned scientists in their fields, including Otto Hahn, Werner Heisenberg, and Albert Einstein.
History
The organization was established in 1911 as the Kaiser Wilhelm Society, or Kaiser-Wilhelm-Gesellschaft (KWG), a non-governmental research organization named for the then German emperor. The KWG was one of the world's leading research organizations; its board of directors included scientists like Walther Bothe, Peter Debye, Albert Einstein, and Fritz Haber. In 1946, Otto Hahn assumed the position of President of KWG, and in 1948, the society was renamed the Max Planck Society (MPG) after its former President (1930–37) Max Planck, who died in 1947.
The MPG Society has a world-leading reputation as a science and technology research organization. In 2006, the Times Higher Education Supplement rankings of non-university research institutions (based on international peer review by academics) placed the MPG Society as No.1 in the world for science research, and No.3 in technology research (behind AT&T Corporation and The DOE's Argonne National Laboratory.
The domain mpg.de attracted at least 1.7 million visitors annually by 2008 according to a Compete.com study.
MPG Institutes and research groups
The MPG Society consists of over 80 research institutes. In addition, the society funds a number of Max Planck Research Groups (MPRG) and International Max Planck Research Schools (IMPRS). The purpose of establishing independent research groups at various universities is to strengthen the required networking between universities and institutes of the Max Planck Society.
The research units are primarily located across Europe with a few in South Korea and the U.S. In 2007, the Society established its first non-European centre, with an institute on the Jupiter campus of Florida Atlantic University focusing on neuroscience.
The MPG Institutes operate independently from, though in close cooperation with, the universities, and focus on innovative research which does not fit into the university structure due to their interdisciplinary or transdisciplinary nature or which require resources that cannot be met by the state universities.
Internally, MPG Institutes are organized into research departments headed by directors such that each MPI has several directors, a position roughly comparable to anything from full professor to department head at a university. Other core members include Junior and Senior Research Fellows.
In addition, there are several associated institutes:
International Max Planck Research Schools
International Max Planck Research Schools
Together with the Association of Universities and other Education Institutions in Germany, the Max Planck Society established numerous International Max Planck Research Schools (IMPRS) to promote junior scientists:
• Cologne Graduate School of Ageing Research, Cologne
• International Max Planck Research School for Intelligent Systems, at the Max Planck Institute for Intelligent Systems located in Tübingen and Stuttgart
• International Max Planck Research School on Adapting Behavior in a Fundamentally Uncertain World (Uncertainty School), at the Max Planck Institutes for Economics, for Human Development, and/or Research on Collective Goods
• International Max Planck Research School for Analysis, Design and Optimization in Chemical and Biochemical Process Engineering, Magdeburg
• International Max Planck Research School for Astronomy and Cosmic Physics, Heidelberg at the MPI for Astronomy
• International Max Planck Research School for Astrophysics, Garching at the MPI for Astrophysics
• International Max Planck Research School for Complex Surfaces in Material Sciences, Berlin
• International Max Planck Research School for Computer Science, Saarbrücken
• International Max Planck Research School for Earth System Modeling, Hamburg
• International Max Planck Research School for Elementary Particle Physics, Munich, at the MPI for Physics
• International Max Planck Research School for Environmental, Cellular and Molecular Microbiology, Marburg at the Max Planck Institute for Terrestrial Microbiology
• International Max Planck Research School for Evolutionary Biology, Plön at the Max Planck Institute for Evolutionary Biology
• International Max Planck Research School "From Molecules to Organisms", Tübingen at the Max Planck Institute for Developmental Biology
• International Max Planck Research School for Global Biogeochemical Cycles, Jena at the Max Planck Institute for Biogeochemistry
• International Max Planck Research School on Gravitational Wave Astronomy, Hannover and Potsdam MPI for Gravitational Physics
• International Max Planck Research School for Heart and Lung Research, Bad Nauheim at the Max Planck Institute for Heart and Lung Research
• International Max Planck Research School for Infectious Diseases and Immunity, Berlin at the Max Planck Institute for Infection Biology
• International Max Planck Research School for Language Sciences, Nijmegen
• International Max Planck Research School for Neurosciences, Göttingen
• International Max Planck Research School for Cognitive and Systems Neuroscience, Tübingen
• International Max Planck Research School for Marine Microbiology (MarMic), joint program of the Max Planck Institute for Marine Microbiology in Bremen, the University of Bremen, the Alfred Wegener Institute for Polar and Marine Research in Bremerhaven, and the Jacobs University Bremen
• International Max Planck Research School for Maritime Affairs, Hamburg
• International Max Planck Research School for Molecular and Cellular Biology, Freiburg
• International Max Planck Research School for Molecular and Cellular Life Sciences, Munich
• International Max Planck Research School for Molecular Biology, Göttingen
• International Max Planck Research School for Molecular Cell Biology and Bioengineering, Dresden
• International Max Planck Research School Molecular Biomedicine, program combined with the 'Graduate Programm Cell Dynamics And Disease' at the University of Münster and the Max Planck Institute for Molecular Biomedicine
• International Max Planck Research School on Multiscale Bio-Systems, Potsdam
• International Max Planck Research School for Organismal Biology, at the University of Konstanz and the Max Planck Institute for Ornithology
• International Max Planck Research School on Reactive Structure Analysis for Chemical Reactions (IMPRS RECHARGE), Mülheim an der Ruhr, at the Max Planck Institute for Chemical Energy Conversion
• International Max Planck Research School for Science and Technology of Nano-Systems, Halle at Max Planck Institute of Microstructure Physics
• International Max Planck Research School for Solar System Science at the University of Göttingen hosted by MPI for Solar System Research
• International Max Planck Research School for Astronomy and Astrophysics, Bonn, at the MPI for Radio Astronomy (formerly the International Max Planck Research School for Radio and Infrared Astronomy)
• International Max Planck Research School for the Social and Political Constitution of the Economy, Cologne
• International Max Planck Research School for Surface and Interface Engineering in Advanced Materials, Düsseldorf at Max Planck Institute for Iron Research GmbH
• International Max Planck Research School for Ultrafast Imaging and Structural Dynamics, Hamburg
Max Planck Schools
• Max Planck School of Cognition
• Max Planck School Matter to Life
• Max Planck School of Photonics
Max Planck Center
• The Max Planck Centre for Attosecond Science (MPC-AS), POSTECH Pohang
• The Max Planck POSTECH Center for Complex Phase Materials, POSTECH Pohang
Max Planck Institutes
Among others:
• Max Planck Institute for Neurobiology of Behavior – caesar, Bonn
• Max Planck Institute for Aeronomics in Katlenburg-Lindau was renamed to Max Planck Institute for Solar System Research in 2004;
• Max Planck Institute for Biology in Tübingen was closed in 2005;
• Max Planck Institute for Cell Biology in Ladenburg b. Heidelberg was closed in 2003;
• Max Planck Institute for Economics in Jena was renamed to the Max Planck Institute for the Science of Human History in 2014;
• Max Planck Institute for Ionospheric Research in Katlenburg-Lindau was renamed to Max Planck Institute for Aeronomics in 1958;
• Max Planck Institute for Metals Research, Stuttgart
• Max Planck Institute of Oceanic Biology in Wilhelmshaven was renamed to Max Planck Institute of Cell Biology in 1968 and moved to Ladenburg 1977;
• Max Planck Institute for Psychological Research in Munich merged into the Max Planck Institute for Human Cognitive and Brain Sciences in 2004;
• Max Planck Institute for Protein and Leather Research in Regensburg moved to Munich 1957 and was united with the Max Planck Institute for Biochemistry in 1977;
• Max Planck Institute for Virus Research in Tübingen was renamed as Max Planck Institute for Developmental Biology in 1985;
• Max Planck Institute for the Study of the Scientific-Technical World in Starnberg (from 1970 until 1981 (closed)) directed by Carl Friedrich von Weizsäcker and Jürgen Habermas.
• Max Planck Institute for Behavioral Physiology
• Max Planck Institute of Experimental Endocrinology
• Max Planck Institute for Foreign and International Social Law
• Max Planck Institute for Physics and Astrophysics
• Max Planck Research Unit for Enzymology of Protein Folding
• Max Planck Institute for Biology of Ageing