From The Swiss Federal Institute of Technology in Lausanne [EPFL-École Polytechnique Fédérale de Lausanne] (CH)
4.4.22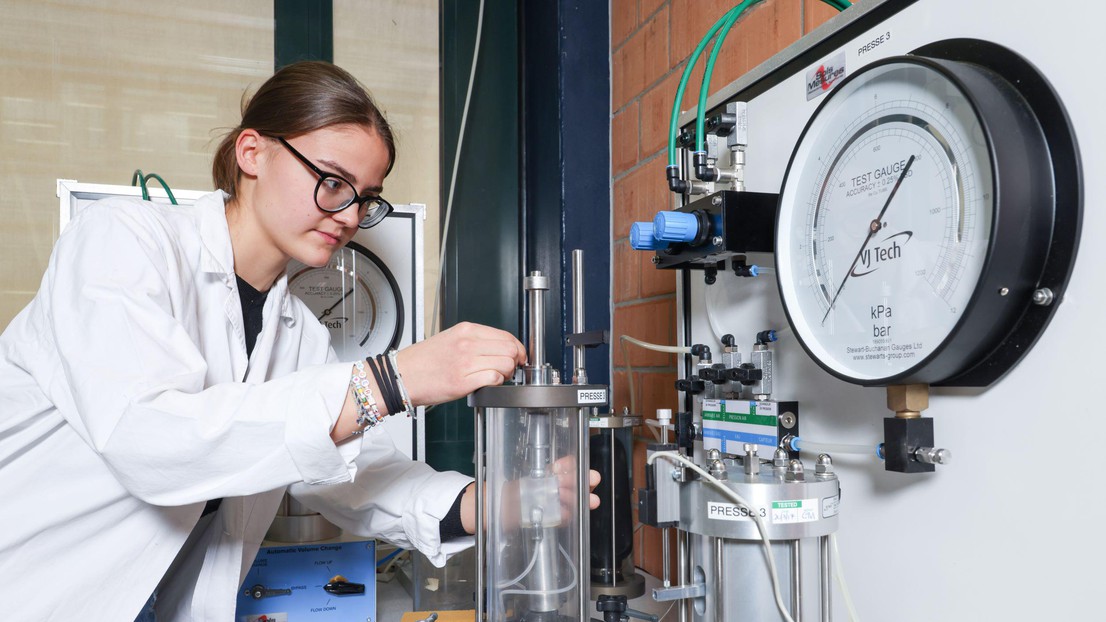 How can EPFL students get a practical and deep understanding of their field of studies? How can we strengthen synergies between education and research? The Summer in the Lab internship program represents the School's first official framework to address these challenges beyond the academic calendar.
With the aim to develop the research culture at EPFL, the Vice Presidency for Academic Affairs (VPA) launched this year a program called Summer in the Lab. Implemented and managed by the School's Education Outreach Department (SPE), this project encourages practical learning from the beginning of the Bachelor's.
The Summer in the Lab program is designed for EPFL students who wish to explore or confirm their interest for research. The objective of these two-months immersions over the summer within one of the EPFL laboratories, is to offer interns the experience of a stimulating research environment. In addition, they can put their polytechnical knowledge into practice and so reinforce their career prospects in Switzerland and internationally. According to Kathryn Hess Bellwald, Associate Vice President for Student Affairs and Outreach, participants can gain a much more in-depth vision of their studies in order to make informed decisions for their future academic and professional path.
EPFL students have welcomed this new internship program with great enthusiasm and interest. For Marion Boissat, co-president of the School's association AGEPoly, the remunerated Summer in the Lab internships fit perfectly into the academic calendar and could have a great success because it allows students not only to gain more hands-on experience but also to step out of their comfort zone.
In response to the suggestions of the student and alumni community to get a more multidisciplinary approach throughout their studies, the organizers also added workshops in science communication and leadership to the agenda.With these complementary courses, the Summer in the Lab program provides a rich and balanced training of scientific and transversal skills.
End of September, this year's cohort will present their research at a closing symposium. This opportunity will also allow them to apply their newly acquired presentation and communication skills. Kathryn Hess Bellwald explains: "It is nowadays essential for future scientists, researchers or pragmatic managers to have the ability to present their projects, to work and to communicate in teams."
See the full article here .
five-ways-keep-your-child-safe-school-shootings
Please help promote STEM in your local schools.
EPFL campus
The Swiss Federal Institute of Technology in Lausanne [EPFL-École Polytechnique Fédérale de Lausanne] (CH) is a research institute and university in Lausanne, Switzerland, that specializes in natural sciences and engineering. It is one of the two Swiss Federal Institutes of Technology, and it has three main missions: education, research and technology transfer.
The QS World University Rankings ranks EPFL(CH) 14th in the world across all fields in their 2020/2021 ranking, whereas Times Higher Education World University Rankings ranks EPFL(CH) as the world's 19th best school for Engineering and Technology in 2020.
EPFL(CH) is located in the French-speaking part of Switzerland; the sister institution in the German-speaking part of Switzerland is The Swiss Federal Institute of Technology ETH Zürich [Eidgenössische Technische Hochschule Zürich] (CH). Associated with several specialized research institutes, the two universities form The Domain of the Swiss Federal Institutes of Technology (ETH Domain) [ETH-Bereich; Domaine des Écoles Polytechniques Fédérales] (CH) which is directly dependent on the Federal Department of Economic Affairs, Education and Research. In connection with research and teaching activities, EPFL(CH) operates a nuclear reactor CROCUS; a Tokamak Fusion reactor; a Blue Gene/Q Supercomputer; and P3 bio-hazard facilities.
ETH Zürich, EPFL (Swiss Federal Institute of Technology in Lausanne) [École Polytechnique Fédérale de Lausanne](CH), and four associated research institutes form The Domain of the Swiss Federal Institutes of Technology (ETH Domain) [ETH-Bereich; Domaine des Écoles polytechniques fédérales] (CH) with the aim of collaborating on scientific projects.
The roots of modern-day EPFL(CH) can be traced back to the foundation of a private school under the name École Spéciale de Lausanne in 1853 at the initiative of Lois Rivier, a graduate of the École Centrale Paris (FR) and John Gay the then professor and rector of the Académie de Lausanne. At its inception it had only 11 students and the offices were located at Rue du Valentin in Lausanne. In 1869, it became the technical department of the public Académie de Lausanne. When the Académie was reorganized and acquired the status of a university in 1890, the technical faculty changed its name to École d'Ingénieurs de l'Université de Lausanne. In 1946, it was renamed the École polytechnique de l'Université de Lausanne (EPUL). In 1969, the EPUL was separated from the rest of the University of Lausanne and became a federal institute under its current name. EPFL(CH), like ETH Zürich (CH), is thus directly controlled by the Swiss federal government. In contrast, all other universities in Switzerland are controlled by their respective cantonal governments. Following the nomination of Patrick Aebischer as president in 2000, EPFL(CH) has started to develop into the field of life sciences. It absorbed the Swiss Institute for Experimental Cancer Research (ISREC) in 2008.
In 1946, there were 360 students. In 1969, EPFL(CH) had 1,400 students and 55 professors. In the past two decades the university has grown rapidly and as of 2012 roughly 14,000 people study or work on campus, about 9,300 of these being Bachelor, Master or PhD students. The environment at modern day EPFL(CH) is highly international with the school attracting students and researchers from all over the world. More than 125 countries are represented on the campus and the university has two official languages, French and English.
Organization
EPFL is organized into eight schools, themselves formed of institutes that group research units (laboratories or chairs) around common themes:
School of Basic Sciences
Institute of Mathematics
Institute of Chemical Sciences and Engineering
Institute of Physics
European Centre of Atomic and Molecular Computations
Bernoulli Center
Biomedical Imaging Research Center
Interdisciplinary Center for Electron Microscopy
MPG-EPFL Centre for Molecular Nanosciences and Technology
Swiss Plasma Center
Laboratory of Astrophysics
School of Engineering
Institute of Electrical Engineering
Institute of Mechanical Engineering
Institute of Materials
Institute of Microengineering
Institute of Bioengineering
School of Architecture, Civil and Environmental Engineering
Institute of Architecture
Civil Engineering Institute
Institute of Urban and Regional Sciences
Environmental Engineering Institute
School of Computer and Communication Sciences
Algorithms & Theoretical Computer Science
Artificial Intelligence & Machine Learning
Computational Biology
Computer Architecture & Integrated Systems
Data Management & Information Retrieval
Graphics & Vision
Human-Computer Interaction
Information & Communication Theory
Networking
Programming Languages & Formal Methods
Security & Cryptography
Signal & Image Processing
Systems
School of Life Sciences
Bachelor-Master Teaching Section in Life Sciences and Technologies
Brain Mind Institute
Institute of Bioengineering
Swiss Institute for Experimental Cancer Research
Global Health Institute
Ten Technology Platforms & Core Facilities (PTECH)
Center for Phenogenomics
NCCR Synaptic Bases of Mental Diseases
College of Management of Technology
Swiss Finance Institute at EPFL
Section of Management of Technology and Entrepreneurship
Institute of Technology and Public Policy
Institute of Management of Technology and Entrepreneurship
Section of Financial Engineering
College of Humanities
Human and social sciences teaching program
EPFL Middle East
Section of Energy Management and Sustainability
In addition to the eight schools there are seven closely related institutions
Swiss Cancer Centre
Center for Biomedical Imaging (CIBM)
Centre for Advanced Modelling Science (CADMOS)
École Cantonale d'art de Lausanne (ECAL)
Campus Biotech
Wyss Center for Bio- and Neuro-engineering
Swiss National Supercomputing Centre