Our Great Seal.
January 14, 2022
John Cramer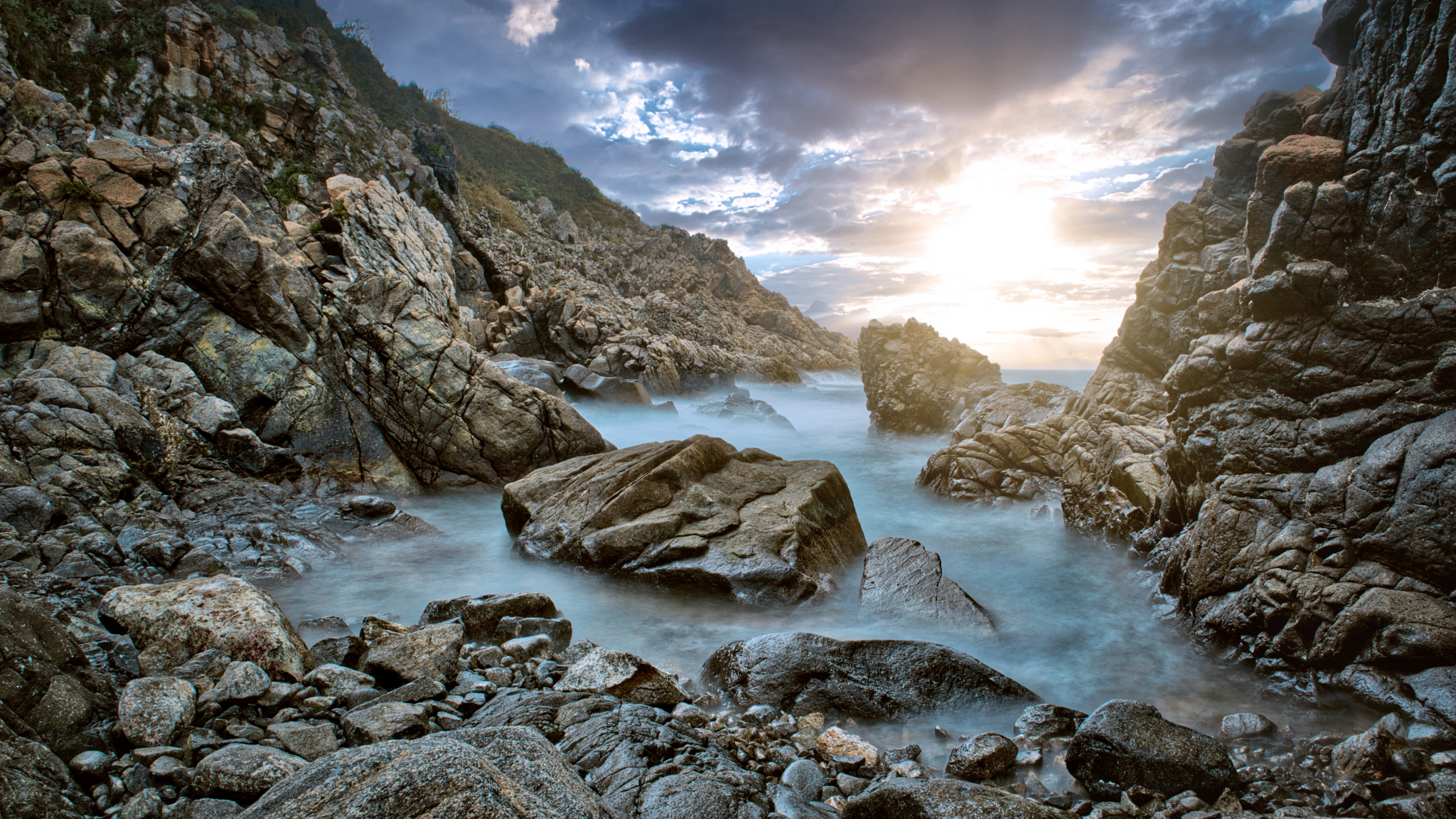 A Rutgers-led team has discovered the structures of proteins that may be responsible for the origins of life in the primordial soup of ancient Earth.Credit: Shutterstock.
Addressing one of the most profoundly unanswered questions in biology, a Rutgers-led team has discovered the structures of proteins that may be responsible for the origins of life in the primordial soup of ancient Earth.
The study appears in the journal Science Advances.
The researchers explored how primitive life may have originated on our planet from simple non-living materials. They asked what properties define life as we know it and concluded that anything alive would have needed to collect and use energy, from sources such as the Sun or hydrothermal vents.
In molecular terms, this would mean that the ability to shuffle electrons was paramount to life. Since the best elements for electron transfer are metals (think standard electrical wires) and most biological activities are carried out by proteins, the researchers decided to explore the combination of the two — that is, proteins that bind metals.
They compared all existing protein structures that bind metals to establish any common features, based on the premise that these shared features were present in ancestral proteins and were diversified and passed down to create the range of proteins we see today.
Evolution of protein structures entails understanding how new folds arose from previously existing ones, so the researchers designed a computational method that found the vast majority of currently existing metal-binding proteins are somewhat similar regardless of the type of metal they bind to, the organism they come from or the functionality assigned to the protein as a whole.
"We saw that the metal-binding cores of existing proteins are indeed similar even though the proteins themselves may not be," said the study's lead author Yana Bromberg, a professor in the Department of Biochemistry and Microbiology at Rutgers University-New Brunswick. "We also saw that these metal-binding cores are often made up of repeated substructures, kind of like LEGO blocks. Curiously, these blocks were also found in other regions of the proteins, not just metal-binding cores, and in many other proteins that were not considered in our study. Our observation suggests that rearrangements of these little building blocks may have had a single or a small number of common ancestors and given rise to the whole range of proteins and their functions that are currently available — that is, to life as we know it."
"We have very little information about how life arose on this planet, and our work contributes a previously unavailable explanation," said Bromberg, whose research focuses on deciphering the DNA blueprints of life's molecular machinery. "This explanation could also potentially contribute to our search for life on other planets and planetary bodies. Our finding of the specific structural building blocks is also possibly relevant for synthetic biology efforts, where scientists aim to construct specifically active proteins anew."
The study, funded by The National Aeronautics and Space Agency(US), also included researchers from The University of Buenos Aires [Universidad de Buenos Aires] (AR).
See the full article here .

five-ways-keep-your-child-safe-school-shootings
Please help promote STEM in your local schools.
Rutgers, The State University of New Jersey (US), is a leading national research university and the state's preeminent, comprehensive public institution of higher education. Rutgers is dedicated to teaching that meets the highest standards of excellence; to conducting research that breaks new ground; and to providing services, solutions, and clinical care that help individuals and the local, national, and global communities where they live.
Founded in 1766, Rutgers teaches across the full educational spectrum: preschool to precollege; undergraduate to graduate; postdoctoral fellowships to residencies; and continuing education for professional and personal advancement.
Rutgers University (US) is a public land-grant research university based in New Brunswick, New Jersey. Chartered in 1766, Rutgers was originally called Queen's College, and today it is the eighth-oldest college in the United States, the second-oldest in New Jersey (after Princeton University (US)), and one of the nine U.S. colonial colleges that were chartered before the American War of Independence. In 1825, Queen's College was renamed Rutgers College in honor of Colonel Henry Rutgers, whose substantial gift to the school had stabilized its finances during a period of uncertainty. For most of its existence, Rutgers was a private liberal arts college but it has evolved into a coeducational public research university after being designated The State University of New Jersey by the New Jersey Legislature via laws enacted in 1945 and 1956.
Rutgers today has three distinct campuses, located in New Brunswick (including grounds in adjacent Piscataway), Newark, and Camden. The university has additional facilities elsewhere in the state, including oceanographic research facilities at the New Jersey shore. Rutgers is also a land-grant university, a sea-grant university, and the largest university in the state. Instruction is offered by 9,000 faculty members in 175 academic departments to over 45,000 undergraduate students and more than 20,000 graduate and professional students. The university is accredited by the Middle States Association of Colleges and Schools and is a member of the Big Ten Academic Alliance, the Association of American Universities (US) and the Universities Research Association (US). Over the years, Rutgers has been considered a Public Ivy.
Research
Rutgers is home to the Rutgers University Center for Cognitive Science, also known as RUCCS. This research center hosts researchers in psychology, linguistics, computer science, philosophy, electrical engineering, and anthropology.
It was at Rutgers that Selman Waksman (1888–1973) discovered several antibiotics, including actinomycin, clavacin, streptothricin, grisein, neomycin, fradicin, candicidin, candidin, and others. Waksman, along with graduate student Albert Schatz (1920–2005), discovered streptomycin—a versatile antibiotic that was to be the first applied to cure tuberculosis. For this discovery, Waksman received the Nobel Prize for Medicine in 1952.
Rutgers developed water-soluble sustained release polymers, tetraploids, robotic hands, artificial bovine insemination, and the ceramic tiles for the heat shield on the Space Shuttle. In health related field, Rutgers has the Environmental & Occupational Health Science Institute (EOHSI).
Rutgers is also home to the RCSB Protein Data bank, "…an information portal to Biological Macromolecular Structures' cohosted with the San Diego Supercomputer Center (US). This database is the authoritative research tool for bioinformaticists using protein primary, secondary and tertiary structures worldwide…."
Rutgers is home to the Rutgers Cooperative Research & Extension office, which is run by the Agricultural and Experiment Station with the support of local government. The institution provides research & education to the local farming and agro industrial community in 19 of the 21 counties of the state and educational outreach programs offered through the New Jersey Agricultural Experiment Station Office of Continuing Professional Education.
Rutgers University Cell and DNA Repository (RUCDR) is the largest university based repository in the world and has received awards worth more than $57.8 million from the National Institutes of Health (US). One will fund genetic studies of mental disorders and the other will support investigations into the causes of digestive, liver and kidney diseases, and diabetes. RUCDR activities will enable gene discovery leading to diagnoses, treatments and, eventually, cures for these diseases. RUCDR assists researchers throughout the world by providing the highest quality biomaterials, technical consultation, and logistical support.
Rutgers–Camden is home to the nation's PhD granting Department of Childhood Studies. This department, in conjunction with the Center for Children and Childhood Studies, also on the Camden campus, conducts interdisciplinary research which combines methodologies and research practices of sociology, psychology, literature, anthropology and other disciplines into the study of childhoods internationally.
Rutgers is home to several National Science Foundation (US) IGERT fellowships that support interdisciplinary scientific research at the graduate-level. Highly selective fellowships are available in the following areas: Perceptual Science, Stem Cell Science and Engineering, Nanotechnology for Clean Energy, Renewable and Sustainable Fuels Solutions, and Nanopharmaceutical Engineering.
Rutgers also maintains the Office of Research Alliances that focuses on working with companies to increase engagement with the university's faculty members, staff and extensive resources on the four campuses.
As a '67 graduate of University College, second in my class, I am proud to be a member of


Alpha Sigma Lamda, National Honor Society of non-tradional students.