From The University of Tsukuba [筑波大学](JP)
Jan 11, 2022
Associate Professor YING BEIWEN
Faculty of Life and Environmental Sciences
University of Tsukuba
ying.beiwen.gf@u.tsukuba.ac.jp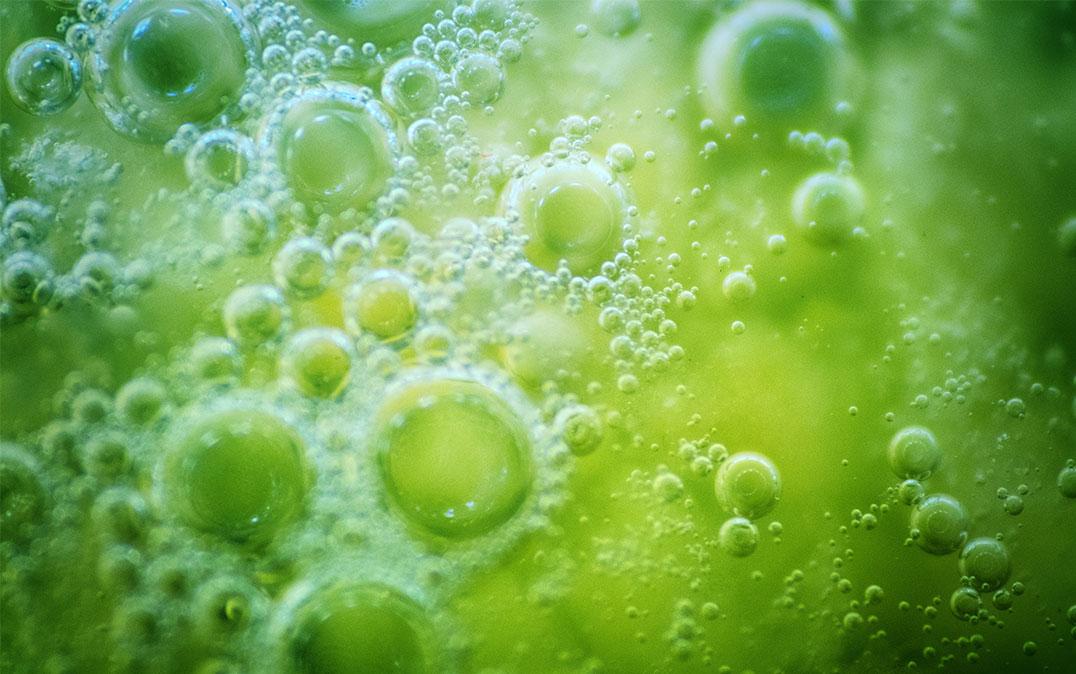 Image by Maximillian cabinet/Shutterstock.

Cell shapes imaged by SEM. A Single-cell images of the Ori in both glucose and OAVs. B The six lineages evolved in either glucose or OAVs (C) are shown on two size scales. Scale bars are indicated. The upper and bottom panels in (C) indicate the lineages evolved in OAVs newly grown in OAVs and glucose, respectively. Credit: DOI: 10.1038/s42003-021-02954-w
Researchers from the University of Tsukuba, in collaboration with The East China Normal University(CN), show that E. coli cells become spherical when grown in conditions mimicking a primordial environment.
The shape of a cell affects its physical and chemical properties. Different cell types have developed different shapes to enable effective functioning. But what shape were the very first cells, as life began to evolve?
Primitive cells are thought to have been spherical, but experimental evidence supporting this belief remains elusive. Now, however, researchers from the University of Tsukuba, in collaboration with East China Normal University, have shown that E. coli bacteria grown in a primordial-like environment become spherical.
The primordial environment on Earth is thought to have consisted of vesicles-or compartments-of fatty acids. Oleic acid is the most common fatty acid in nature and can be metabolized by E. coli. The team therefore mimicked primordial conditions by growing six different lineages of cells in an environment where the only available nutrient was oleic-acid vesicles (OAVs), rather than the more usual glucose sugar.
E. coli's usual rod shape allows rapid growth and nutrient uptake. However, their shape can change in response to their environment, turning into a filament when starved of nutrients. "Our team grew these bacteria in an OAV environment and found that as the cells better adapted to the new conditions, they grew more quickly, became spherical, and decreased in both size and area-to-volume ratio compared with the original parent cells (Ori cells)," says senior author Professor Bei-Wen Ying. "Even when we relocated these evolved cells (Evo cells) to a glucose environment, they maintained their new spherical shape."
The six different lineages of Evo cells all evolved to adapt to the OAV conditions without common mutations. Notably, two distinct strategies were observed: some cells developed mutations that directly targeted the cell wall so that the cell structure became spherical, while others accumulated mutations in other biological processes.
Three of the six lineages developed various mutations in the common crp gene. The protein product of crp acts as a regulator of transcription, the process by which the genetic information in the DNA is turned into a molecule known as RNA. "This implies that transcriptional regulation by crp may be crucial for E. coli to use carbon sources effectively," explains Professor Bei-Wen Ying.
This work is the first to show typically rod-shaped cells shifting to a spherical shape in a primordial-like environment, supporting the theory that when life began to evolve, the earliest primitive cells were spherical.
Science paper:
Communications Biology
The research was supported by the National Key R&D Program of China, Synthetic Biology Research (2019YFA0904500), and the MOE International Joint Laboratory of Trustworthy Software at ECNU and was partially supported by JSPS KAKENHI, Grant-in-Aid for Scientific Research (B) grant number 19H03215 (to BWY).
See the full article here.
five-ways-keep-your-child-safe-school-shootings
Please help promote STEM in your local schools.
The University of Tsukuba [筑波大学](JP) located in Tsukuba, Ibaraki, is one of top 9 Designated National University and selected as a Top Type university of Top Global University Project by the Japanese government.
The university's academic strength is in STEMM fields (Science, Technology, Engineering, Mathematics, Medicine), physical education, and related interdisciplinary fields. It is by taking located in Tsukuba Science City which has more than 300 research institutions. The university has had three Nobel laureates (two in Physics and one in Chemistry, see also "History"), and about 70 athletes, their students and alumni, have participated in the Olympic Games.
It has established interdisciplinary Ph.D. programs in Human Biology and Empowerment Informatics, and the International Institute for Integrative Sleep Medicine, which were created through the Ministry of Education, Culture, Sports, Science and Technology's competitive funding projects.
Its Graduate School of Life and Environmental Sciences is represented on the national Coordinating Committee for Earthquake Prediction.
Research performance
Tsukuba is one of the leading research institutions in Japan. According to Thomson Reuters, Tsukuba is the 10th best research institutions among all the universities and non-educational research institutions in Japan.
Weekly Diamond [ja] reported that Tsukuba has the 27th highest research standard in Japan in research fundings per researchers in COE Program. In the same article, it's ranked 11th in the quality of education by GP (in Japanese) funds per student.
It has a good research standard in Economics, as Research Papers in Economics ranked Tsukuba as the eighth best Economics research university in January 2011.
Undergraduate schools and colleges
School of Humanities and Culture, with separate colleges for the humanities, for comparative culture and for Japanese language and culture.
School of Social and International Studies, including colleges for social sciences and for international studies.
School of Human Sciences, with separate colleges for education, for psychology and for disability sciences.
School of Life and Environmental Sciences, incorporating colleges for biological sciences, for agro-biological resources and for geoscience.
School of Science and Engineering, with colleges for mathematics, physics, chemistry, engineering sciences and engineering systems, as well as for policy and planning sciences.
School of Informatics, incorporating separate colleges for information sciences; for media arts, science and technology; and for knowledge and library sciences.
School of Medicine and Medical Sciences, including schools of medicine, nursing nd medical sciences.
School of Health and Physical Education.
School of Art and Design.
Graduate schools and programs
Master's Program in Education
School Leadership and Professional Development
Secondary Education
Graduate School of Humanities and Social Sciences
Doctoral Program in Philosophy
Doctoral Program in History and Anthropology
Doctoral Program in Literature and Linguistics
Master's Program in Modern Languages and Cultures
Doctoral Program in Modern Languages and Cultures
Master's Program in International Public Policy
Doctoral Program in International Public Policy
Master's Program in Economics
Doctoral Program in Economics
Master's Program in Law
Doctoral Program in Law
Master's Program in International Area Studies
Doctoral Program in International and Advanced Japanese Studies
Graduate School of Business Sciences (programs for working individuals)
Master's Program in Systems Management
Master's Program in Advanced Studies of Business Law
Doctoral Program in Systems Management and Business Law
Law School Program
MBA Program in International Business
Graduate School of Pure and Applied Sciences
Master's Program in Mathematics
Doctoral Program in Mathematics
Master's Program in Physics
Doctoral Program in Physics
Master's Program in Chemistry
Doctoral Program in Chemistry
Doctoral Program in Nano-Science and Nano-Technology
Master's Program in Applied Physics
Doctoral Program in Applied Physics
Master's Program in Materials Science
Doctoral Program in Materials Science
Doctoral Program in Materials Sciences and Technology
Graduate School of Systems and Information Engineering
Master's Program in Policy and Planning Sciences
Master's Program in Service Engineering
Doctoral Program in Policy and Planning Sciences
Master's Program in Risk Engineering
Doctoral Program in Risk Engineering
Master's Program in Computer Science
Doctoral Program in Computer Science
Master's Program in Intelligent Interaction Technologies
Doctoral Program in Intelligent Interaction Technologies
Master's Program in Engineering Mechanics and Energy
Doctoral Program in Engineering Mechanics and Energy
Master's Program in Social Systems Engineering
Master's Program in Business Administration and Public Policy
Doctoral Program in Social Systems and Management
Graduate School of Life and Environmental Sciences
Doctoral Program in Integrative Environment and Biomass Sciences
Master's Program in Geosciences
Doctoral Program in Geoenvironmental Sciences
Doctoral Program in Earth Evolution Sciences
Master's Program in Biological Sciences
Doctoral Program in Biological Sciences
Master's Program in Agro-bioresources Science and Technology
Doctoral Program in Appropriate Technology and Sciences for Sustainable Development
Doctoral Program in Biosphere Resource Science and Technology
Doctoral Program in Life Sciences and Bioengineering
Doctoral Program in Bioindustrial Sciences
Master's Program in Environmental Sciences
Doctoral Program in Sustainable Environmental Studies
Doctoral Program in Advanced Agricultural Technology and Sciences
Graduate School of Comprehensive Human Sciences
Master's Program in Medical Sciences (Tokyo Campus (evening programs for working adults))
Master's Program in Sports and Health Promotion
Master's Program in Education Sciences
Doctoral Program in Education
Doctoral Program in School Education
Master's Program in Psychology
Doctoral Program in Psychology
Master's Program in Disability Sciences
Doctoral Program in Disability Sciences
Master's Program in Lifespan Development (Tokyo Campus (evening programs for working adults))
Doctoral Program in Lifespan Developmental Sciences (Tokyo Campus (evening programs for working adults))
Master's Program in Kansei, Behavioral and Brain Sciences
Doctoral Program in Kansei, Behavioral and Brain Sciences
Master's Program in Nursing Sciences
Doctoral Program in Nursing Sciences
Master's Program in Health and Sport Sciences
Doctoral Program in Physical Education, Health and Sport Sciences
Master's Program in Art and Design
Doctoral Program in Art and Design
Master's Program in World Heritage Studies
Doctoral Program in World Cultural Heritage Studies
Doctoral Program in Human Care Science
Doctoral Program in Sports Medicine
Doctoral Program in Coaching Science
Doctoral Program in Biomedical Sciences
Doctoral Program in Clinical Sciences
Graduate School of Library, Information and Media Studies
Master's Program in Library, Information and Media Studies
Doctoral Program in Library, Information and Media Studies
School of Integrative and Global Majors (SIGMA)
Ph.D. Program in Human Biology
Ph.D. Program in Empowerment Informatics
Master's Program in Life Science Innovation
Doctoral Program in Life Science Innovation
Research centers
Center for Computational Sciences
Shimoda Marine Research Center
Gene Research Center
Plasma Research Center
University's inter-department education research institutes (Research)
Life Science Center of Tsukuba Advanced Research Alliance (Life Science Center of TARA)
International Institute for Integrative Sleep Medicine (WPI-IIIS)
Agricultural and Forestry Research Center
Terrestrial Environment Research Center
Laboratory Animal Resource Center
Sugadaira Montane Research Center
Research Center for University Studies
Proton Medical Research Center
Tsukuba Industrial Liaison and Cooperative Research Center
Center for Research on International Cooperation in Educational Development
Research Center for Knowledge Communities
Tsukuba Research Center for Interdisciplinary Materials Science
Special Needs Education Research Center
The Alliance for Research on North Africa
Academic Computing and Communications Center
Research Facility Center for Science and Technology
Radioisotope Center
Tsukuba Critical Path Research and Education Integrated Leading Center
Center for Cybernics Research
University's inter-department education research institutes (student support)
Foreign Language Center
Sport and Physical Education Center
International Student Center
Admission Center
University Health Center