From The University of Montréal [Université de Montréal] (CA)
01/10/2022
Salle De Presse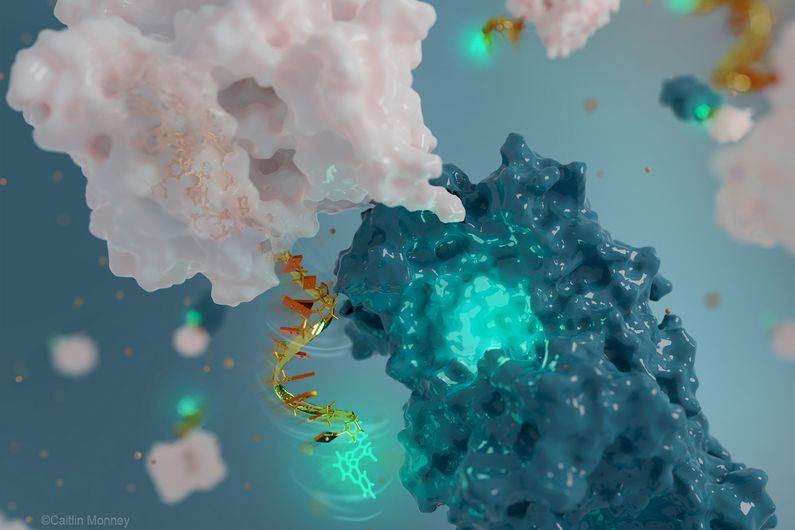 Developed at Université de Montréal, the easy-to-use device promises to help scientists better understand natural and human-designed nanotechnologies – and identify new drugs.
Researchers at Université de Montréal have created a nanoantenna to monitor the motions of proteins.
Reported this week in Nature Methods, the device is a new method to monitor the structural change of proteins over time – and may go a long way to helping scientists better understand natural and human-designed nanotechnologies.
"The results are so exciting that we are currently working on setting up a start-up company to commercialize and make this nanoantenna available to most researchers and the pharmaceutical industry," said UdeM chemistry professor Alexis Vallée-Bélisle, the study's senior author.
Works like a two-way radio
Over 40 years ago, researchers invented the first DNA synthesizer to create molecules that encode genetic information. "In recent years, chemists have realized that DNA can also be employed to build a variety of nanostructures and nanomachines," said Vallée-Belisle, who also holds the Canada Research Chair in Bioengineering and Bionanotechnology.
"Inspired by the 'Lego-like' properties of DNA, with building blocks that are typically 20,000 times smaller than a human hair, we have created a DNA-based fluorescent nanoantenna, that can help characterize the function of proteins," he said.
"Like a two-way radio that can both receive and transmit radio waves, the fluorescent nanoantenna receives light in one colour, or wavelength, and depending on the protein movement it senses, then transmits light back in another colour, which we can detect."
One of the main innovations of these nanoantennae is that the receiver part of the antenna is also employed to sense the molecular surface of the protein studied via molecular interaction.
One of the main advantages of using DNA to engineer these nanoantennas is that DNA chemistry is relatively simple and programmable," said Scott Harroun, an UdeM doctoral student in chemistry and the study's first author.
"The DNA-based nanoantennas can be synthesized with different lengths and flexibilities to optimize their function,""he said. "One can easily attach a fluorescent molecule to the DNA, and then attach this fluorescent nanoantenna to a biological nanomachine, such as an enzyme.
"By carefully tuning the nanoantenna design, we have created five nanometer-long antenna that produces a distinct signal when the protein is performing its biological function."
Fluorescent nanoantennas open many exciting avenues in biochemistry and nanotechnology, the scientists believe.
"For example, we were able to detect, in real time and for the first time, the function of the enzyme alkaline phosphatase with a variety of biological molecules and drugs," said Harroun. "This enzyme has been implicated in many diseases, including various cancers and intestinal inflammation."
Added Dominic Lauzon, a co-author of the study doing his PhD in chemistry at UdeM: "In addition to helping us understand how natural nanomachines function or malfunction, consequently leading to disease, this new method can also help chemists identify promising new drugs as well as guide nanoengineers to develop improved nanomachines."
One main advance enabled by these nanoantennas is also their ease-of-use, the scientists said.
"Perhaps what we are most excited by is the realization that many labs around the world, equipped with a conventional spectrofluorometer, could readily employ these nanoantennas to study their favourite protein, such as to identify new drugs or to develop new nanotechnologies," said Vallée-Bélisle.
See the full article here.
five-ways-keep-your-child-safe-school-shootings
Please help promote STEM in your local schools.
The Université de Montréal is a French-language public research university in Montreal, Quebec, Canada. The university's main campus is located on the northern slope of Mount Royal in the neighbourhoods of Outremont and Côte-des-Neiges. The institution comprises thirteen faculties, more than sixty departments and two affiliated schools: the Polytechnique Montréal (School of Engineering; formerly the École Polytechnique de Montréal) and HEC Montréal (School of Business). It offers more than 650 undergraduate programmes and graduate programmes, including 71 doctoral programmes.
The university was founded as a satellite campus of the Université Laval in 1878. It became an independent institution after it was issued a papal charter in 1919 and a provincial charter in 1920. Université de Montréal moved from Montreal's Quartier Latin to its present location at Mount Royal in 1942. It was made a secular institution with the passing of another provincial charter in 1967.
The school is co-educational, and has 34,335 undergraduate and 11,925 post-graduate students (excluding affiliated schools). Alumni and former students reside across Canada and around the world, with notable alumni serving as government officials, academics, and business leaders.
Research
Université de Montréal is a member of the U15, a group that represents 15 Canadian research universities. The university includes 465 research units and departments. In 2018, Research Infosource ranked the university third in their list of top 50 research universities; with a sponsored research income (external sources of funding) of $536.238 million in 2017. In the same year, the university's faculty averaged a sponsored research income of $271,000, while its graduates averaged a sponsored research income of $33,900.
Université de Montréal research performance has been noted in several bibliometric university rankings, which uses citation analysis to evaluate the impact a university has on academic publications. In 2019, The Performance Ranking of Scientific Papers for World Universities ranked the university 104th in the world, and fifth in Canada. The University Ranking by Academic Performance 2018–19 rankings placed the university 99th in the world, and fifth in Canada.
Since 2017, Université de Montréal has partnered with the McGill University (CA) on Mila (research institute), a community of professors, students, industrial partners and startups working in AI, with over 500 researchers making the institute the world's largest academic research center in deep learning. The institute was originally founded in 1993 by Professor Yoshua Bengio.