From Woods Hole Oceanographic Institution (US)
December 15, 2021
Suzanne Pelisson
SPelisson@WHOI.edu
973-801-6223
Monica Allen
monica.allen@noaa.gov
202-379-6693
Media Relations
Fisheries and Oceans Canada
613-990-7537 or 902-407-8439
Media.xncr@dfo-mpo.gc.ca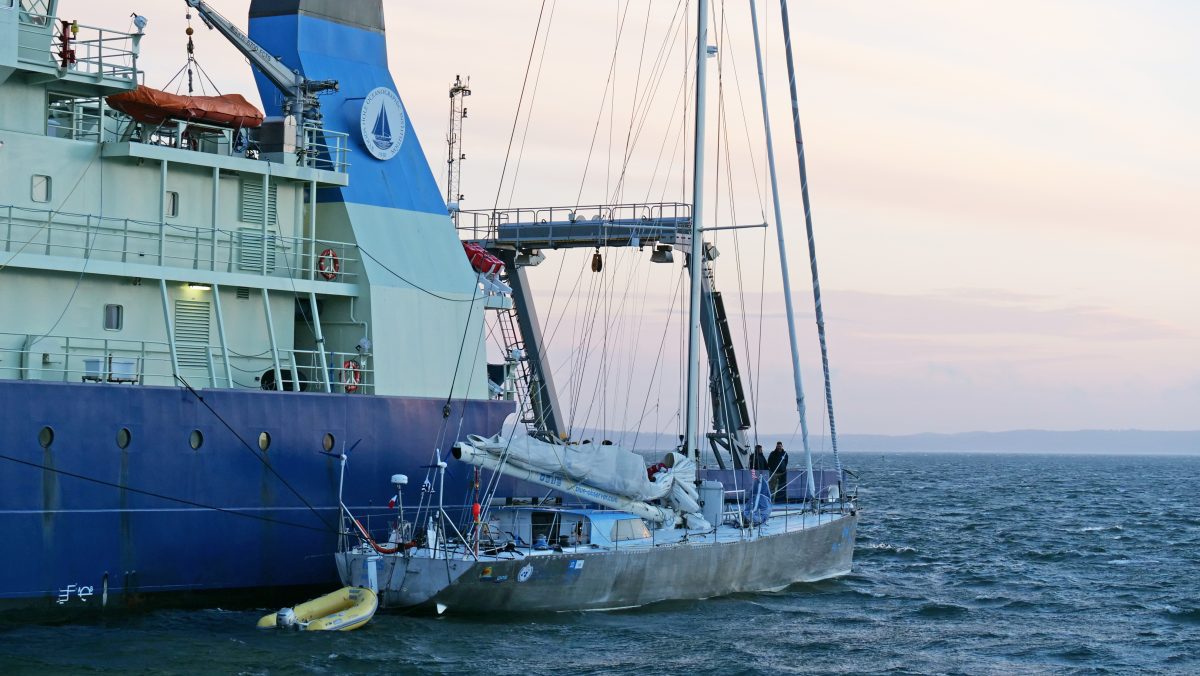 The 82-foot-long S/V Iris arrived at the Woods Hole Oceanographic Institution dock after a three week journey across the Atlantic, and moored next to WHOI's R/V Armstrong. The Iris departed Woods Hole on December 14 and will spend the next two months deploying approximately 78 Argo floats in the South Atlantic, before finishing its epic voyage back in Brest, France. © Woods Hole Oceanographic Institution.
Partners team with low-carbon sailing vessel for major Atlantic Ocean deployment.
Woods Hole Oceanographic Institution (WHOI) and partners have joined together to launch approximately 100 new Argo floats across the Atlantic Ocean to collect data that supports ocean, weather and climate research and prediction.

Argo float. Credit: The University of California-San Diego (US).
These will bolster the international Argo Program, which maintains a global array of about 3,800 floats that measure pressure, temperature, and salinity of the upper 2,000 meters (1.2 miles) of the ocean.
The French Blue Observer sailing vessel Iris arrived in Woods Hole, Massachusetts last week after deploying the initial batch of 17 Argo floats across the Atlantic. The Iris crew picked up the remaining floats, restocked its supplies, and departed Woods Hole this week for the second leg of the voyage in the South Atlantic, towards the island of St. Helena, off the coast of Namibia. The mission is one of the largest Argo float deployments in the Atlantic and is expected to last almost 100 days at sea, filling in crucial observing gaps.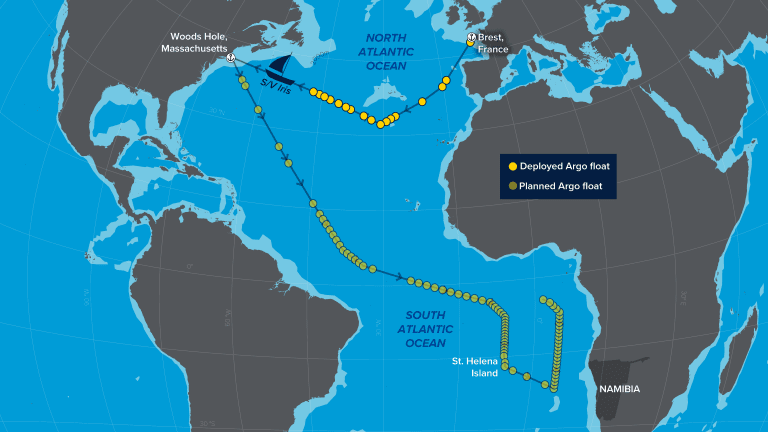 The French Blue Observer sailing vessel Iris arrived in Woods Hole, Massachusetts after a three-week long journey across the Atlantic Ocean where 17 Argo floats were deployed in support of ocean, weather, and climate research and predictions. While in Woods Hole, the Blue Observer crew picked up the additional floats for the second leg of the voyage in the South Atlantic, towards the island of St. Helena, off the coast of Namibia. During what is one of the largest missions by a sailboat to deploy profiling floats, the crew will release Argo profiling floats to predefined GPS positions, to replace those at the end of their life and to deploy floats in under measured ocean regions. This low-carbon footprint research mission was made possible through a new partnership between the private oceanographic company Blue Observer and international Argo Program partners from Woods Hole Oceanographic Institution, The National Oceanic and Atmospheric Administration (US), Fisheries and Oceans Canada [Pêches et Océans Canada](CA) and Euro-Argo ERIC (EU). © Natalie Renier/Woods Hole Oceanographic Institution.
"Coming at a moment when we need meaningful action to tackle the climate crisis, this low carbon emission research mission sets a strong example for future ocean observing research," said Rick Spinrad, Ph.D., NOAA administrator. "This voyage is a model of global public-private partnership that is helping us improve data that drive life-saving weather and climate forecasts."
During what is one of the largest missions by a sailboat to deploy profiling floats, the S/V Iris crew will deliver Argo floats to predefined GPS positions, replacing those at the end of their service, and deploying floats in some new, under-measured regions to strengthen the Argo array. The mission lifetime of each float is about five years. During a typical mission, each float reports a profile of the upper ocean every ten days, transmitting data to shore by satellite.
"Argo has revolutionized our ability to detect and monitor how the global ocean is changing as climate changes," said Peter de Menocal, president and director of WHOI. "The whole ocean warming trends observed by Argo floats is proof positive that climate change is due to greenhouse gas emissions."
Pandemic sparks innovative mission
The initiative was born during the international COVID pandemic, when deployment of Argo floats and other oceanographic instruments by research and commercial vessels was sharply curtailed by COVID-19 restrictions.
"About 1,000 Argo profiling floats must be deployed every year to sustain the Global Ocean Observing System," explained Mathieu Belbéoch, a manager of the Global Ocean Observing System and partner. "Often, they are deployed opportunistically by research ships, but these are very costly, and their trajectories are tied to specific missions and are not able to fill all the gaps or work in all seasons. Collaborations with citizens allow us to reach remote and not yet well sampled areas of the ocean, filling critical observational gaps."
The low-impact journey comes on the heels of the 2021 UN Climate Change Conference in Glasgow, Scotland, with its urgent message of curbing the planet's warming emissions. This innovative collaboration between intergovernmental, public, and private sectors also takes place within the United Nations Decade of Ocean Science for Sustainable Development, and is funded by NOAA, WHOI, Fisheries and Oceans Canada and Euro-Argo.
Argo has transformed ocean science
In more than two decades, the broad-scale global array of floats has grown to be a major component of the ocean observing system and has changed the way scientists think about collecting data and collaborating internationally on data management for the scientific and operational forecasting community.
"Argo's impact on ocean research has been profound: at least one paper a day is published using Argo data. The voyage of Iris will help us track vast regions of the Atlantic over the next few years by replenishing the array in very hard to access regions," said Susan Wijffels, senior scientist of physical oceanography at WHOI and an Argo Steering Team co-chair.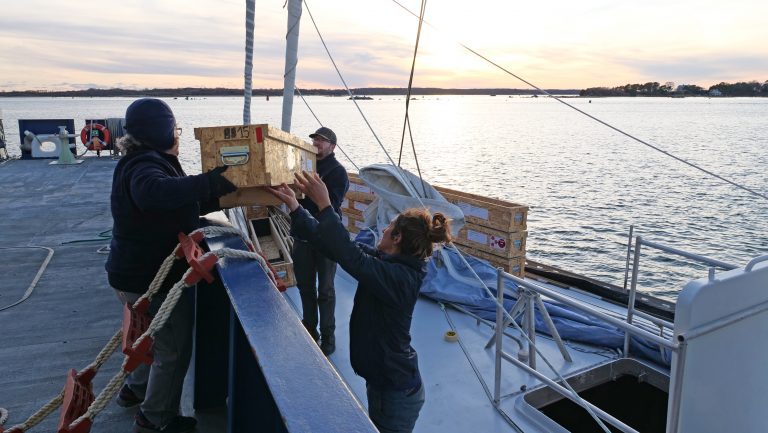 Approximately 78 Argo floats were loaded onto the S/V Iris as it prepares for the second leg of its 100-day mission. © Ken Kostel/Woods Hole Oceanographic Institution.
The Argo program is a true demonstration of the value of international collaboration. Since 2001, Canada has launched over 600 Argo floats throughout the Atlantic and Pacific Oceans. This OCEANOPS Blue Observer Mission is another example of partners working together to provide ocean data to the world," stated Timothy Sargent, Deputy Minister, Fisheries and Oceans Canada.
Follow the journey on Instagram: @blue_observer and Facebook: @blueobserver29.
See the full article here .
five-ways-keep-your-child-safe-school-shootings
Please help promote STEM in your local schools.
Mission Statement
The Woods Hole Oceanographic Institution (US) is dedicated to advancing knowledge of the ocean and its connection with the Earth system through a sustained commitment to excellence in science, engineering, and education, and to the application of this knowledge to problems facing society.
Vision & Mission
The ocean is a defining feature of our planet and crucial to life on Earth, yet it remains one of the planet's last unexplored frontiers. For this reason, WHOI scientists and engineers are committed to understanding all facets of the ocean as well as its complex connections with Earth's atmosphere, land, ice, seafloor, and life—including humanity. This is essential not only to advance knowledge about our planet, but also to ensure society's long-term welfare and to help guide human stewardship of the environment. WHOI researchers are also dedicated to training future generations of ocean science leaders, to providing unbiased information that informs public policy and decision-making, and to expanding public awareness about the importance of the global ocean and its resources.
The Institution is organized into six departments, the Cooperative Institute for Climate and Ocean Research, and a marine policy center. Its shore-based facilities are located in the village of Woods Hole, Massachusetts(US) and a mile and a half away on the Quissett Campus. The bulk of the Institution's funding comes from grants and contracts from the National Science Foundation(US) and other government agencies, augmented by foundations and private donations.
WHOI scientists, engineers, and students collaborate to develop theories, test ideas, build seagoing instruments, and collect data in diverse marine environments. Ships operated by WHOI carry research scientists throughout the world's oceans. The WHOI fleet includes two large research vessels (R/V Atlantis and R/V Neil Armstrong); the coastal craft Tioga; small research craft such as the dive-operation work boat Echo; the deep-diving human-occupied submersible Alvin; the tethered, remotely operated vehicle Jason/Medea; and autonomous underwater vehicles such as the REMUS and SeaBED.
WHOI offers graduate and post-doctoral studies in marine science. There are several fellowship and training programs, and graduate degrees are awarded through a joint program with the Massachusetts Institute of Technology(US). WHOI is accredited by the New England Association of Schools and Colleges (US). WHOI also offers public outreach programs and informal education through its Exhibit Center and summer tours. The Institution has a volunteer program and a membership program, WHOI Associate.
On October 1, 2020, Peter B. de Menocal became the institution's eleventh president and director.
History
In 1927, a National Academy of Sciences(US) committee concluded that it was time to "consider the share of the United States of America in a worldwide program of oceanographic research." The committee's recommendation for establishing a permanent independent research laboratory on the East Coast to "prosecute oceanography in all its branches" led to the founding in 1930 of the Woods Hole Oceanographic Institution(US).
A $2.5 million grant from the Rockefeller Foundation supported the summer work of a dozen scientists, construction of a laboratory building and commissioning of a research vessel, the 142-foot (43 m) ketch R/V Atlantis, whose profile still forms the Institution's logo.
WHOI grew substantially to support significant defense-related research during World War II, and later began a steady growth in staff, research fleet, and scientific stature. From 1950 to 1956, the director was Dr. Edward "Iceberg" Smith, an Arctic explorer, oceanographer and retired Coast Guard rear admiral.
In 1977 the institution appointed the influential oceanographer John Steele as director, and he served until his retirement in 1989.
On 1 September 1985, a joint French-American expedition led by Jean-Louis Michel of IFREMER and Robert Ballard of the Woods Hole Oceanographic Institution identified the location of the wreck of the RMS Titanic which sank off the coast of Newfoundland 15 April 1912.
On 3 April 2011, within a week of resuming of the search operation for Air France Flight 447, a team led by WHOI, operating full ocean depth autonomous underwater vehicles (AUVs) owned by the Waitt Institute discovered, by means of sidescan sonar, a large portion of debris field from flight AF447.
In March 2017 the institution effected an open-access policy to make its research publicly accessible online.
The Institution has maintained a long and controversial business collaboration with the treasure hunter company Odyssey Marine. Likewise, WHOI has participated in the location of the San José galleon in Colombia for the commercial exploitation of the shipwreck by the Government of President Santos and a private company.
In 2019, iDefense reported that China's hackers had launched cyberattacks on dozens of academic institutions in an attempt to gain information on technology being developed for the United States Navy. Some of the targets included the Woods Hole Oceanographic Institution. The attacks have been underway since at least April 2017.