From temblor : "Engaging communities with Canada's earthquake early warning system"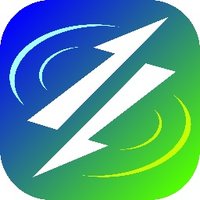 December 16, 2021
By Meghomita Das, McGill University (CA)
For residents of British Columbia, along the west coast of Canada, seeing a road sign that says, 'Entering Tsunami Hazard Zone' is a common occurrence.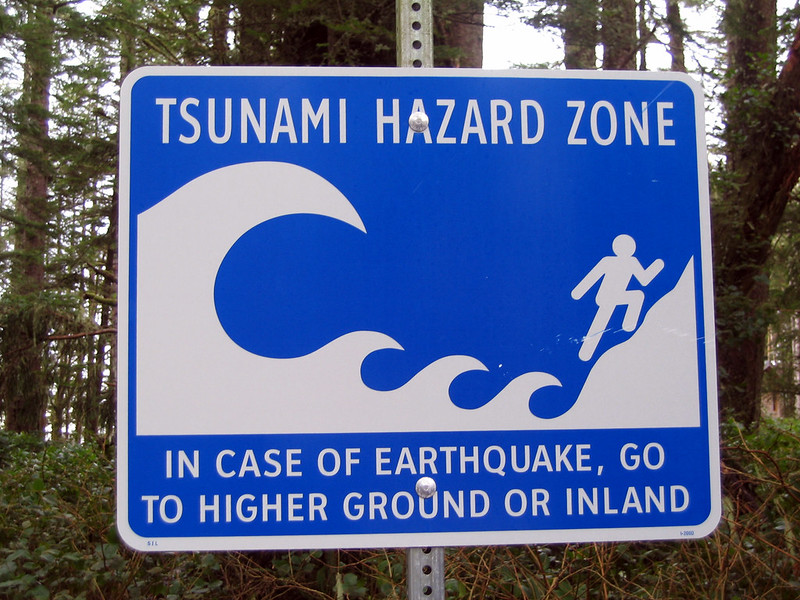 A tsunami hazard warning sign in British Columbia informing people to move to higher areas in case of a strong earthquake. Credit: Ruth Hartnup, via Flickr, CC BY 2.0.
The sign reminds travelers that British Columbia and much of western North America is earthquake country.
Here, the Juan de Fuca tectonic plate is diving under the North American plate. This boundary, called the Cascadia Subduction Zone, extending from British Columbia down to northern California, has the potential to generate very large magnitude earthquakes and tsunamis and is currently primed for the next one.

Cascadia subduction zone
Ensuring Canadians are alerted of potentially harmful earthquakes in the region falls to Natural Resources Canada (NRCan), a federal organization tasked with developing policies and programs to utilize the country's natural resources. Wednesday, at the American Geophysical Union Annual Meeting, a team of researchers at NRCan provided an update on Canada's planned earthquake early warning system and discussed their efforts to engage the public.
Earthquake early warning systems can alert the public; emergency organizations; and critical infrastructure operators of impending shaking. The additional seconds of advanced warning are enough for individuals to take appropriate actions and automated systems to protect sensitive equipment, thus reducing the devastating effects of earthquakes on lives and property. In large countries like Canada with two widely separated seismically active areas, implementing such a system is challenging but doable. NRCan is currently deploying such a system.
Canadian seismicity
Canada is a vast country with diverse tectonic settings. It has two major areas at moderate to high seismic risk: British Columbia and eastern Ontario-southern Quebec. Relevant to the former, the Cascadia Subduction Zone has generated a magnitude-9.0 earthquake roughly every 300-800 years according to NRCan.
Potential future seismicity in eastern Ontario and southern Quebec is more enigmatic. Even though these areas do not lie on an active plate boundary, the St Lawrence Seaway, which passes through these regions, has hosted several moderate to high magnitude earthquakes over the last 40 years. Canada's largest cities are in or close to these high-hazard areas.
A network of sensors to detect quakes
The Canadian earthquake early warning system will be implemented over the next three years. Three hundred land-based sensors will be deployed throughout British Columbia, Ontario, and Quebec to detect ground motions and quickly relay data, says Henry Seywerd, the project leader and a co-author of this study. In the future, NRCan plans to expand this network to northern and Atlantic Canada.
The system will use the same software as the U.S. West Coast's ShakeAlert early warning system [below] to ensure alert detection along the U.S.-Canada border. Alerts will be sent through the country's National Public Alerting System. Additionally, facilities can be programed to open firehall and hospital emergency doors, halt trains and even back up important data servers when an alert is issued.
"We want the people to understand that this system does not have predictive powers. It can only give us shaking alerts after an earthquake has been detected and encourage us to take the necessary actions," says Alison Bird, the liaison and outreach officer at NRCan and a co-author of this study, who is handling the public engagement strategies for the project.
Several workshops with critical infrastructure operators are planned to ensure that they are aware of the system's benefits, Bird says. She will be working with Public Safety Canada, who operates the National Public Alerting System, along with provincial emergency management organizations to develop materials and activities to inform the public about the capabilities of this system, the need to take immediate actions like drop, cover and hold on and the steps to take to prepare for earthquakes at home, school and work.

Testing sensors that will be used for the earthquake early warning system's network. The sensors measure strong ground motions. Credit: Natural Resources Canada and Nanometrics Inc., (shared by Alison Bird.)
A system that works for the people
Coastal First Nations communities of British Columbia have long documented historical earthquakes and their devastating effects as part of their oral traditions. These communities will be stakeholders in the implementation of the system and help NRCan to expand the network of stations on their lands, says Bird. Other partners include Emergency Management BC, The Great British Columbia ShakeOut (Grande Secousse) and Canadian Red Cross through the Inclusive Resilience project.
Challenges encountered
"Designing an earthquake early warning system is a complicated process. We want the main users to know that it is a warning system, but not a prediction system," says Gabriel Lotto, ShakeAlert User Engagement Facilitator for the Pacific Northwest Seismic Network (PNSN), who was not associated with this study.
One major challenge to deploying the system is increasing the awareness of earthquakes among the public and allowing them to interact with such an alerting system. This issue is echoed by Lotto for ShakeAlert. Since Eastern Canada generally experiences smaller magnitude earthquakes, residents may not be aware of their risk. One challenge the group at NRCan faces is ensuring those individuals know what to do if they receive an alert.
Canada's population is unevenly distributed near the east and west coasts and urban centers are located far from one another. The country, therefore, has large swaths where accessibility and communication are somewhat limited. The team plans to ensure the alerts are available across multiple platforms, like radio, television, internet and cellular networks, so that residents in these remote areas can get the alerts in time.
Implementing the warning system
Scientists are currently installing the seismic sensors, and the team hopes to announce the first official station very soon. Over the next couple of years, the system will be tested and fine-tuned before it is launched for the public. As the system is implemented, the team will continue their public engagement efforts and raise awareness about Canada's seismic history and its new early warning system, Bird says.
Further Reading
Bird, A. L., Seywerd, H., Crane, S., Adams, J., & McCormack, D. A. (2021). Outreach and Engagement to ensure the success of an Earthquake Early Warning System in Canada. American Geophysical Union Fall Meeting 2021. https://agu.confex.com/agu/fm21/meetingapp.cgi/Paper/974633
Natural Resources Canada. (2021). Earthquakes in Eastern Canada. https://www.earthquakescanada.nrcan.gc.ca/zones/eastcan-en.php
Seywerd, H., McCormack, D. A., McKee, L., Bird, A. L., Nykolaishen, L., & Crane, S. (2021). Current status of the Canadian Earthquake Early Warning Program. American Geophysical Union Fall Meeting 2021. https://agu.confex.com/agu/fm21/meetingapp.cgi/Paper/950545
See the full article here .

five-ways-keep-your-child-safe-school-shootings
Please help promote STEM in your local schools.


Stem Education Coalition
_____________________________________________________________________________________
Earthquake Network project Earthquake Network is a research project which aims at developing and maintaining a crowdsourced smartphone-based earthquake warning system at a global level. Smartphones made available by the population are used to detect the earthquake waves using the on-board accelerometers. When an earthquake is detected, an earthquake warning is issued in order to alert the population not yet reached by the damaging waves of the earthquake.
The project started on January 1, 2013 with the release of the homonymous Android application Earthquake Network. The author of the research project and developer of the smartphone application is Francesco Finazzi of the University of Bergamo, Italy.
Get the app in the Google Play store.

Smartphone network spatial distribution (green and red dots) on December 4, 2015
Meet The Quake-Catcher Network
The Quake-Catcher Network is a collaborative initiative for developing the world's largest, low-cost strong-motion seismic network by utilizing sensors in and attached to internet-connected computers. With your help, the Quake-Catcher Network can provide better understanding of earthquakes, give early warning to schools, emergency response systems, and others. The Quake-Catcher Network also provides educational software designed to help teach about earthquakes and earthquake hazards.
After almost eight years at Stanford, and a year at CalTech, the QCN project is moving to the University of Southern California Dept. of Earth Sciences. QCN will be sponsored by the Incorporated Research Institutions for Seismology (IRIS) and the Southern California Earthquake Center (SCEC).
The Quake-Catcher Network is a distributed computing network that links volunteer hosted computers into a real-time motion sensing network. QCN is one of many scientific computing projects that runs on the world-renowned distributed computing platform Berkeley Open Infrastructure for Network Computing (BOINC).
The volunteer computers monitor vibrational sensors called MEMS accelerometers, and digitally transmit "triggers" to QCN's servers whenever strong new motions are observed. QCN's servers sift through these signals, and determine which ones represent earthquakes, and which ones represent cultural noise (like doors slamming, or trucks driving by).
There are two categories of sensors used by QCN: 1) internal mobile device sensors, and 2) external USB sensors.
Mobile Devices: MEMS sensors are often included in laptops, games, cell phones, and other electronic devices for hardware protection, navigation, and game control. When these devices are still and connected to QCN, QCN software monitors the internal accelerometer for strong new shaking. Unfortunately, these devices are rarely secured to the floor, so they may bounce around when a large earthquake occurs. While this is less than ideal for characterizing the regional ground shaking, many such sensors can still provide useful information about earthquake locations and magnitudes.
USB Sensors: MEMS sensors can be mounted to the floor and connected to a desktop computer via a USB cable. These sensors have several advantages over mobile device sensors. 1) By mounting them to the floor, they measure more reliable shaking than mobile devices. 2) These sensors typically have lower noise and better resolution of 3D motion. 3) Desktops are often left on and do not move. 4) The USB sensor is physically removed from the game, phone, or laptop, so human interaction with the device doesn't reduce the sensors' performance. 5) USB sensors can be aligned to North, so we know what direction the horizontal "X" and "Y" axes correspond to.
If you are a science teacher at a K-12 school, please apply for a free USB sensor and accompanying QCN software. QCN has been able to purchase sensors to donate to schools in need. If you are interested in donating to the program or requesting a sensor, click here.
BOINC is a leader in the field(s) of Distributed Computing, Grid Computing and Citizen Cyberscience.BOINC is more properly the Berkeley Open Infrastructure for Network Computing, developed at UC Berkeley.
Earthquake safety is a responsibility shared by billions worldwide. The Quake-Catcher Network (QCN) provides software so that individuals can join together to improve earthquake monitoring, earthquake awareness, and the science of earthquakes. The Quake-Catcher Network (QCN) links existing networked laptops and desktops in hopes to form the worlds largest strong-motion seismic network.
Below, the QCN Quake Catcher Network map

ShakeAlert: An Earthquake Early Warning System for the West Coast of the United States
The U. S. Geological Survey (USGS) along with a coalition of State and university partners is developing and testing an earthquake early warning (EEW) system called ShakeAlert for the west coast of the United States. Long term funding must be secured before the system can begin sending general public notifications, however, some limited pilot projects are active and more are being developed. The USGS has set the goal of beginning limited public notifications in 2018.
Watch a video describing how ShakeAlert works in English or Spanish.
The primary project partners include:
United States Geological Survey
California Governor's Office of Emergency Services (CalOES)
California Geological Survey
California Institute of Technology
University of California Berkeley
University of Washington
University of Oregon
Gordon and Betty Moore Foundation
The Earthquake Threat
Earthquakes pose a national challenge because more than 143 million Americans live in areas of significant seismic risk across 39 states. Most of our Nation's earthquake risk is concentrated on the West Coast of the United States. The Federal Emergency Management Agency (FEMA) has estimated the average annualized loss from earthquakes, nationwide, to be $5.3 billion, with 77 percent of that figure ($4.1 billion) coming from California, Washington, and Oregon, and 66 percent ($3.5 billion) from California alone. In the next 30 years, California has a 99.7 percent chance of a magnitude 6.7 or larger earthquake and the Pacific Northwest has a 10 percent chance of a magnitude 8 to 9 megathrust earthquake on the Cascadia subduction zone.
Part of the Solution
Today, the technology exists to detect earthquakes, so quickly, that an alert can reach some areas before strong shaking arrives. The purpose of the ShakeAlert system is to identify and characterize an earthquake a few seconds after it begins, calculate the likely intensity of ground shaking that will result, and deliver warnings to people and infrastructure in harm's way. This can be done by detecting the first energy to radiate from an earthquake, the P-wave energy, which rarely causes damage. Using P-wave information, we first estimate the location and the magnitude of the earthquake. Then, the anticipated ground shaking across the region to be affected is estimated and a warning is provided to local populations. The method can provide warning before the S-wave arrives, bringing the strong shaking that usually causes most of the damage.
Studies of earthquake early warning methods in California have shown that the warning time would range from a few seconds to a few tens of seconds. ShakeAlert can give enough time to slow trains and taxiing planes, to prevent cars from entering bridges and tunnels, to move away from dangerous machines or chemicals in work environments and to take cover under a desk, or to automatically shut down and isolate industrial systems. Taking such actions before shaking starts can reduce damage and casualties during an earthquake. It can also prevent cascading failures in the aftermath of an event. For example, isolating utilities before shaking starts can reduce the number of fire initiations.
System Goal
The USGS will issue public warnings of potentially damaging earthquakes and provide warning parameter data to government agencies and private users on a region-by-region basis, as soon as the ShakeAlert system, its products, and its parametric data meet minimum quality and reliability standards in those geographic regions. The USGS has set the goal of beginning limited public notifications in 2018. Product availability will expand geographically via ANSS regional seismic networks, such that ShakeAlert products and warnings become available for all regions with dense seismic instrumentation.
Current Status
The West Coast ShakeAlert system is being developed by expanding and upgrading the infrastructure of regional seismic networks that are part of the Advanced National Seismic System (ANSS); the California Integrated Seismic Network (CISN) is made up of the Southern California Seismic Network, SCSN) and the Northern California Seismic System, NCSS and the Pacific Northwest Seismic Network (PNSN). This enables the USGS and ANSS to leverage their substantial investment in sensor networks, data telemetry systems, data processing centers, and software for earthquake monitoring activities residing in these network centers. The ShakeAlert system has been sending live alerts to "beta" users in California since January of 2012 and in the Pacific Northwest since February of 2015.
In February of 2016 the USGS, along with its partners, rolled-out the next-generation ShakeAlert early warning test system in California joined by Oregon and Washington in April 2017. This West Coast-wide "production prototype" has been designed for redundant, reliable operations. The system includes geographically distributed servers, and allows for automatic fail-over if connection is lost.
This next-generation system will not yet support public warnings but does allow selected early adopters to develop and deploy pilot implementations that take protective actions triggered by the ShakeAlert notifications in areas with sufficient sensor coverage.
Authorities
The USGS will develop and operate the ShakeAlert system, and issue public notifications under collaborative authorities with FEMA, as part of the National Earthquake Hazard Reduction Program, as enacted by the Earthquake Hazards Reduction Act of 1977, 42 U.S.C. §§ 7704 SEC. 2.
For More Information
Robert de Groot, ShakeAlert National Coordinator for Communication, Education, and Outreach
rdegroot@usgs.gov
626-583-7225
ShakeAlert Implementation Plan
About Early Warning Labs, LLC
Early Warning Labs, LLC (EWL) is an Earthquake Early Warning technology developer and integrator located in Santa Monica, CA. EWL is partnered with industry leading GIS provider ESRI, Inc. and is collaborating with the US Government and university partners.
EWL is investing millions of dollars over the next 36 months to complete the final integration and delivery of Earthquake Early Warning to individual consumers, government entities, and commercial users.
EWL's mission is to improve, expand, and lower the costs of the existing earthquake early warning systems.
EWL is developing a robust cloud server environment to handle low-cost mass distribution of these warnings. In addition, Early Warning Labs is researching and developing automated response standards and systems that allow public and private users to take pre-defined automated actions to protect lives and assets.
EWL has an existing beta R&D test system installed at one of the largest studios in Southern California. The goal of this system is to stress test EWL's hardware, software, and alert signals while improving latency and reliability.
Earthquake Early Warning Introduction
The United States Geological Survey (USGS), in collaboration with state agencies, university partners, and private industry, is developing an earthquake early warning system (EEW) for the West Coast of the United States called ShakeAlert. The USGS Earthquake Hazards Program aims to mitigate earthquake losses in the United States. Citizens, first responders, and engineers rely on the USGS for accurate and timely information about where earthquakes occur, the ground shaking intensity in different locations, and the likelihood is of future significant ground shaking.
The ShakeAlert Earthquake Early Warning System recently entered its first phase of operations. The USGS working in partnership with the California Governor's Office of Emergency Services (Cal OES) is now allowing for the testing of public alerting via apps, Wireless Emergency Alerts, and by other means throughout California.
ShakeAlert partners in Oregon and Washington are working with the USGS to test public alerting in those states sometime in 2020.
ShakeAlert has demonstrated the feasibility of earthquake early warning, from event detection to producing USGS issued ShakeAlerts ® and will continue to undergo testing and will improve over time. In particular, robust and reliable alert delivery pathways for automated actions are currently being developed and implemented by private industry partners for use in California, Oregon, and Washington.
Earthquake Early Warning Background
The objective of an earthquake early warning system is to rapidly detect the initiation of an earthquake, estimate the level of ground shaking intensity to be expected, and issue a warning before significant ground shaking starts. A network of seismic sensors detects the first energy to radiate from an earthquake, the P-wave energy, and the location and the magnitude of the earthquake is rapidly determined. Then, the anticipated ground shaking across the region to be affected is estimated. The system can provide warning before the S-wave arrives, which brings the strong shaking that usually causes most of the damage. Warnings will be distributed to local and state public emergency response officials, critical infrastructure, private businesses, and the public. EEW systems have been successfully implemented in Japan, Taiwan, Mexico, and other nations with varying degrees of sophistication and coverage.
Earthquake early warning can provide enough time to:
Instruct students and employees to take a protective action such as Drop, Cover, and Hold On
Initiate mass notification procedures
Open fire-house doors and notify local first responders
Slow and stop trains and taxiing planes
Install measures to prevent/limit additional cars from going on bridges, entering tunnels, and being on freeway overpasses before the shaking starts
Move people away from dangerous machines or chemicals in work environments
Shut down gas lines, water treatment plants, or nuclear reactors
Automatically shut down and isolate industrial systems
However, earthquake warning notifications must be transmitted without requiring human review and response action must be automated, as the total warning times are short depending on geographic distance and varying soil densities from the epicenter.