From Swiss Federal Institute of Technology in Lausanne [EPFL-École Polytechnique Fédérale de Lausanne] (CH)
10.09.21
Laureline Duvillard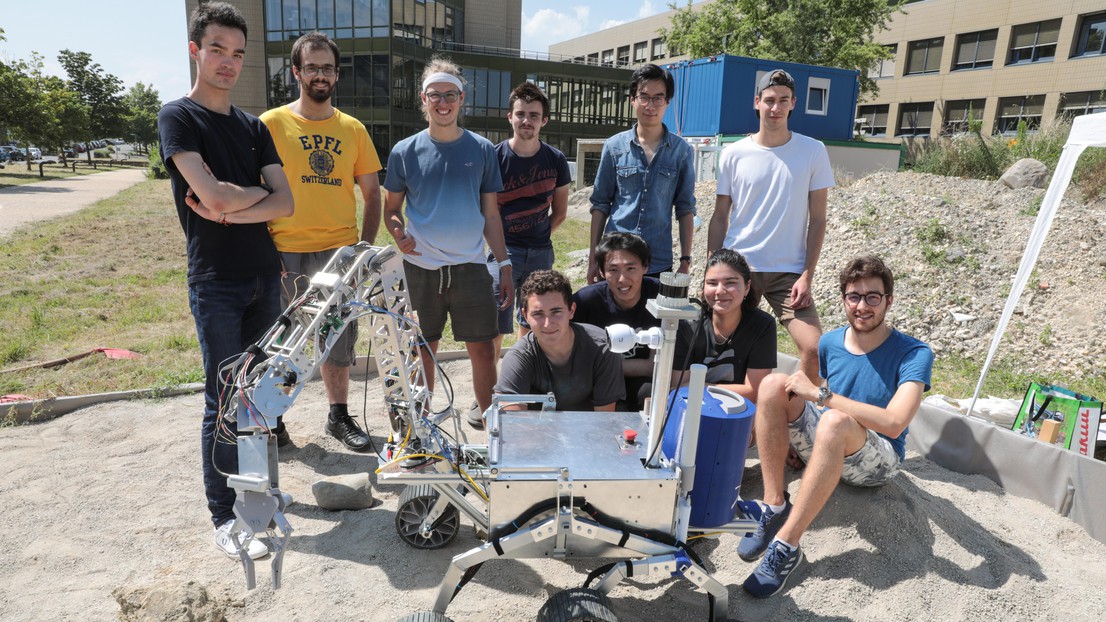 At the start of the 2020 fall semester, a group of EPFL students set up the EPFL Xplore association with the goal of building a rover from scratch. Their vehicle, named Argos, will compete in this weekend's European Rover Challenge – Europe's most prestigious competition dedicated to mobile robots.
Standing tall on its six wheels and fitted with a robotic arm, a LIDAR sensor for scanning the terrain, and a rocker-bogie suspension system modeled after one developed by NASA, the gleaming metal rover is the center of attention. Gathered around it, the robot's engineers present it with gusto. Argos – a nod to the mythological Greek ship Argo in which Jason set sail to recover the Golden Fleece – was built from scratch in the course of a single year.
Selected to take part in the European Rover Challenge, one of the most high-profile international competitions, Argos will be put through its paces on 10–12 September in Kielce, Poland. Competing teams must show that their rovers can assess the terrain, perform certain tasks reliably, move about in an autonomous or semi-autonomous manner, and collect samples.
This is an exciting opportunity for the four students behind the EPFL Xplore project, who decided to design a rover after reading about the University Rover Challenge that's held every year in a desert in southern Utah. Jonathan Wei and Quentin Delfosse, the EPFL Xplore association's president and vice-president, respectively, are first-year Master's students in microengineering and robotics. They are former members of the EPFL Rocket Team and passionate about robotics – and eager for a new challenge.
The third student, system engineer Thomas Manteaux, provides technical coordination for the project. Now in the second year of his Master's degree in microengineering, Manteaux understands the link between robotics and mechanics, and likes the project's cross-disciplinary nature. "It's a great supplement to our classes, where we don't really get hands-on experience. For example, before this I had never touched a machine tool. It also lets us connect with students in other areas."
Arion Zimmermann, the fourth Argonaut, is a first-year Master's student in electrical engineering. He's a whiz at coding, which he has been doing since he was 12. "I really enjoy it, it's a creative act. You can build an incredibly complex application from the ground up, limited only by your imagination," he says. After helping to develop an onboard computer for the EPFL Rocket Team, Zimmermann wanted to use his creativity on another project. Although he started out as a system engineer, he ended up "building those parts of the rover that we couldn't find anyone else to take on." He developed the communication protocol between the rover and the control station, as well as the rover's 600 Wh battery, safety system, main power supply, and simulator for testing how the motors would behave.

EPFL Xplore Presentation.
EPFL Xplore currently brings together some fifty students from different disciplines. As a MAKE project, it receives support from EPFL and students can receive credit for it as a semester project or towards their Master's degree. It is overseen by an academic advisor, Alexandre Alahi, a tenure-track assistant professor who heads up EPFL's Visual Intelligence for Transportation Laboratory (VITA), and David Rodriguez, an engineer at the EPFL Space Center.
"The team is made up of seven groups; each group is responsible for one of the rover's sub-systems. Coordinating communication between the groups and planning out the project proved to be a challenge. We underestimated how much time it would take, and as a result we had to work extremely hard during the final phase to be able to test the robot prior to the competition," says Delfosse.
Above all, developing the algorithms that govern the autonomous navigation took much more time than expected. "Analyzing the rover's surroundings and avoiding obstacles involves a great deal of overlapping data, and we needed algorithms that could run simultaneously," says Delfosse. There was an additional challenge: "we also needed to create an interface between the sub-systems that control the robot's fourteen motors, because we had two communication protocols."
Successful test results
The team managed to overcome these obstacles, which also included getting funding. "We received about CHF 115,000. Fundraising was quite difficult at first, because we had nothing to show potential sponsors," says Wei, who learned a great deal about both sponsorship and project management.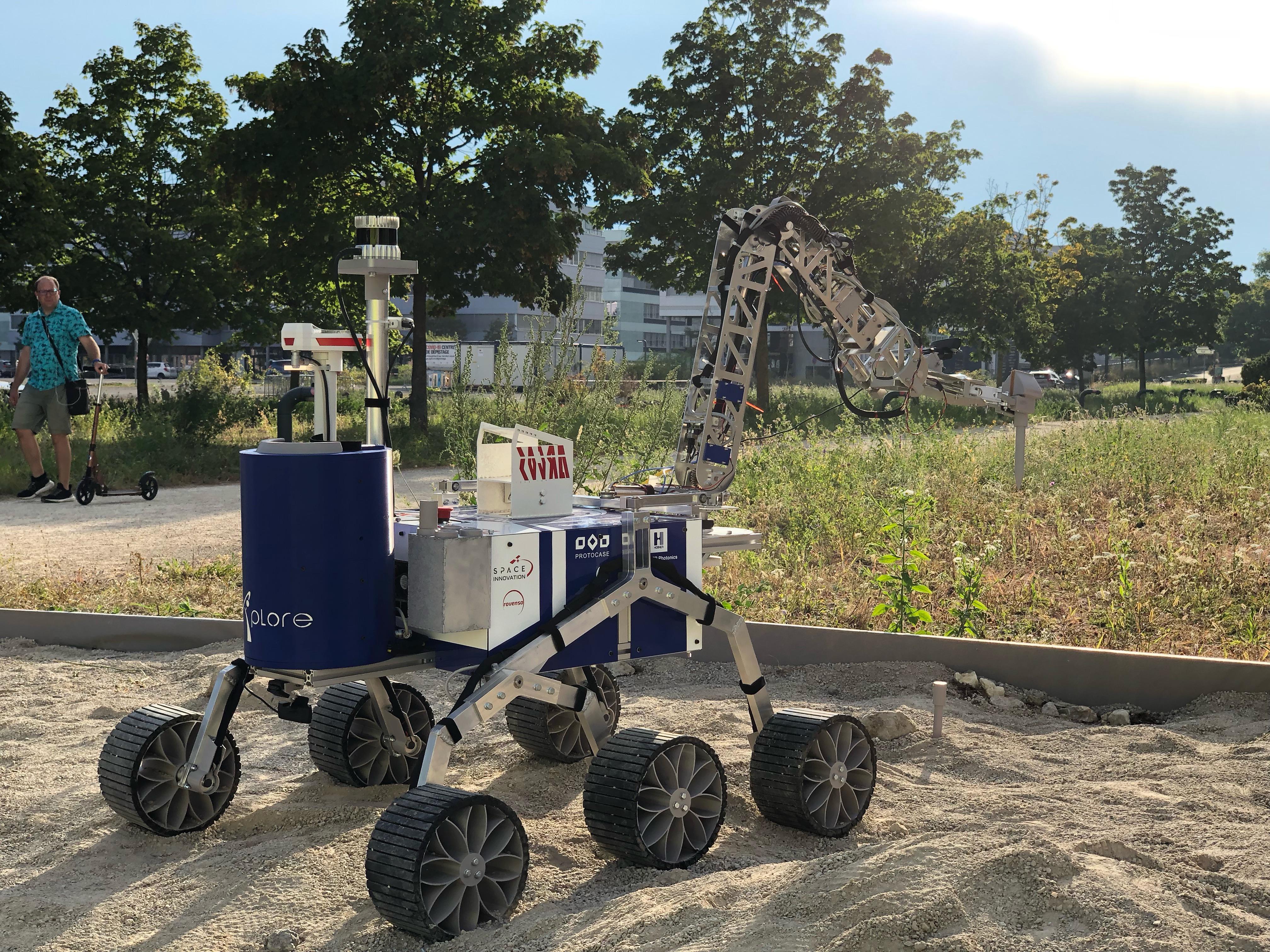 The Rover at the Mars Yard. © EPFL Xplore 2021.
For more than a month, the EPFL Xplore students tested their rover on campus on a special track they built – the "Mars Yard," a rectangular stretch of sand with the occasional rock – and made some final adjustments. "We were quite pleased with the results. We succeeded in creating a stable, high-performance rover – even though it could have been even lighter and more compact. Since the initial tests, we managed to lighten it a bit, but it still exceeds the 50 kg weight limit, and we weren't able to replace certain steel parts with printable ones, since printed components don't have the right mechanical properties. It's a start and we still have room for improvement. The competition is one step in a process and regardless of the outcome, it will have been a rewarding experience," say the four students who spearheaded the project. One day, these Argonauts hope to enter their robot in the University Rover Challenge. In addition, they want to develop a polar robot for scientific expeditions – a first step before shooting for the moon.
See the full article here .
five-ways-keep-your-child-safe-school-shootings
Please help promote STEM in your local schools.
The Swiss Federal Institute of Technology in Lausanne [EPFL-École polytechnique fédérale de Lausanne] (CH) is a research institute and university in Lausanne, Switzerland, that specializes in natural sciences and engineering. It is one of the two Swiss Federal Institutes of Technology, and it has three main missions: education, research and technology transfer.
The QS World University Rankings ranks EPFL(CH) 14th in the world across all fields in their 2020/2021 ranking, whereas Times Higher Education World University Rankings ranks EPFL(CH) as the world's 19th best school for Engineering and Technology in 2020.
EPFL(CH) is located in the French-speaking part of Switzerland; the sister institution in the German-speaking part of Switzerland is the Swiss Federal Institute of Technology ETH Zürich [Eidgenössische Technische Hochschule Zürich)](CH) . Associated with several specialized research institutes, the two universities form the Domain of the Swiss Federal Institutes of Technology (ETH Domain) [ETH-Bereich; Domaine des Écoles polytechniques fédérales] (CH) which is directly dependent on the Federal Department of Economic Affairs, Education and Research. In connection with research and teaching activities, EPFL(CH) operates a nuclear reactor CROCUS; a Tokamak Fusion reactor; a Blue Gene/Q Supercomputer; and P3 bio-hazard facilities.
ETH Zürich, EPFL (Swiss Federal Institute of Technology in Lausanne) [École polytechnique fédérale de Lausanne](CH), and four associated research institutes form the Domain of the Swiss Federal Institutes of Technology (ETH Domain) [ETH-Bereich; Domaine des Écoles polytechniques fédérales] (CH) with the aim of collaborating on scientific projects.
The roots of modern-day EPFL(CH) can be traced back to the foundation of a private school under the name École spéciale de Lausanne in 1853 at the initiative of Lois Rivier, a graduate of the École Centrale Paris (FR) and John Gay the then professor and rector of the Académie de Lausanne. At its inception it had only 11 students and the offices was located at Rue du Valentin in Lausanne. In 1869, it became the technical department of the public Académie de Lausanne. When the Académie was reorganised and acquired the status of a university in 1890, the technical faculty changed its name to École d'ingénieurs de l'Université de Lausanne. In 1946, it was renamed the École polytechnique de l'Université de Lausanne (EPUL). In 1969, the EPUL was separated from the rest of the University of Lausanne and became a federal institute under its current name. EPFL(CH), like ETH Zürich(CH), is thus directly controlled by the Swiss federal government. In contrast, all other universities in Switzerland are controlled by their respective cantonal governments. Following the nomination of Patrick Aebischer as president in 2000, EPFL(CH) has started to develop into the field of life sciences. It absorbed the Swiss Institute for Experimental Cancer Research (ISREC) in 2008.
In 1946, there were 360 students. In 1969, EPFL(CH) had 1,400 students and 55 professors. In the past two decades the university has grown rapidly and as of 2012 roughly 14,000 people study or work on campus, about 9,300 of these being Bachelor, Master or PhD students. The environment at modern day EPFL(CH) is highly international with the school attracting students and researchers from all over the world. More than 125 countries are represented on the campus and the university has two official languages, French and English.
Organization
EPFL is organised into eight schools, themselves formed of institutes that group research units (laboratories or chairs) around common themes:
School of Basic Sciences (SB, Jan S. Hesthaven)
Institute of Mathematics (MATH, Victor Panaretos)
Institute of Chemical Sciences and Engineering (ISIC, Emsley Lyndon)
Institute of Physics (IPHYS, Harald Brune)
European Centre of Atomic and Molecular Computations (CECAM, Ignacio Pagonabarraga Mora)
Bernoulli Center (CIB, Nicolas Monod)
Biomedical Imaging Research Center (CIBM, Rolf Gruetter)
Interdisciplinary Center for Electron Microscopy (CIME, Cécile Hébert)
Max Planck-EPFL Centre for Molecular Nanosciences and Technology (CMNT, Thomas Rizzo)
Swiss Plasma Center (SPC, Ambrogio Fasoli)
Laboratory of Astrophysics (LASTRO, Jean-Paul Kneib)
School of Engineering (STI, Ali Sayed)
Institute of Electrical Engineering (IEL, Giovanni De Micheli)
Institute of Mechanical Engineering (IGM, Thomas Gmür)
Institute of Materials (IMX, Michaud Véronique)
Institute of Microengineering (IMT, Olivier Martin)
Institute of Bioengineering (IBI, Matthias Lütolf)
School of Architecture, Civil and Environmental Engineering (ENAC, Claudia R. Binder)
Institute of Architecture (IA, Luca Ortelli)
Civil Engineering Institute (IIC, Eugen Brühwiler)
Institute of Urban and Regional Sciences (INTER, Philippe Thalmann)
Environmental Engineering Institute (IIE, David Andrew Barry)
School of Computer and Communication Sciences (IC, James Larus)
Algorithms & Theoretical Computer Science
Artificial Intelligence & Machine Learning
Computational Biology
Computer Architecture & Integrated Systems
Data Management & Information Retrieval
Graphics & Vision
Human-Computer Interaction
Information & Communication Theory
Networking
Programming Languages & Formal Methods
Security & Cryptography
Signal & Image Processing
Systems
School of Life Sciences (SV, Gisou van der Goot)
Bachelor-Master Teaching Section in Life Sciences and Technologies (SSV)
Brain Mind Institute (BMI, Carmen Sandi)
Institute of Bioengineering (IBI, Melody Swartz)
Swiss Institute for Experimental Cancer Research (ISREC, Douglas Hanahan)
Global Health Institute (GHI, Bruno Lemaitre)
Ten Technology Platforms & Core Facilities (PTECH)
Center for Phenogenomics (CPG)
NCCR Synaptic Bases of Mental Diseases (NCCR-SYNAPSY)
College of Management of Technology (CDM)
Swiss Finance Institute at EPFL (CDM-SFI, Damir Filipovic)
Section of Management of Technology and Entrepreneurship (CDM-PMTE, Daniel Kuhn)
Institute of Technology and Public Policy (CDM-ITPP, Matthias Finger)
Institute of Management of Technology and Entrepreneurship (CDM-MTEI, Ralf Seifert)
Section of Financial Engineering (CDM-IF, Julien Hugonnier)
College of Humanities (CDH, Thomas David)
Human and social sciences teaching program (CDH-SHS, Thomas David)
EPFL Middle East (EME, Dr. Franco Vigliotti)[62]
Section of Energy Management and Sustainability (MES, Prof. Maher Kayal)
In addition to the eight schools there are seven closely related institutions
Swiss Cancer Centre
Center for Biomedical Imaging (CIBM)
Centre for Advanced Modelling Science (CADMOS)
École cantonale d'art de Lausanne (ECAL)
Campus Biotech
Wyss Center for Bio- and Neuro-engineering
Swiss National Supercomputing Centre