From European Southern Observatory [Observatoire européen austral][Europäische Südsternwarte] (EU)
31 August 2021
Domenico Bonaccini Calia
Physicist in the Laser and Photonics Group at ESO
Garching bei München, Germany
Email: dbonacci@eso.org
Juan Carlos Muñoz Mateos
ESO Media Officer
Garching bei München, Germany
Email: jmunoz@eso.org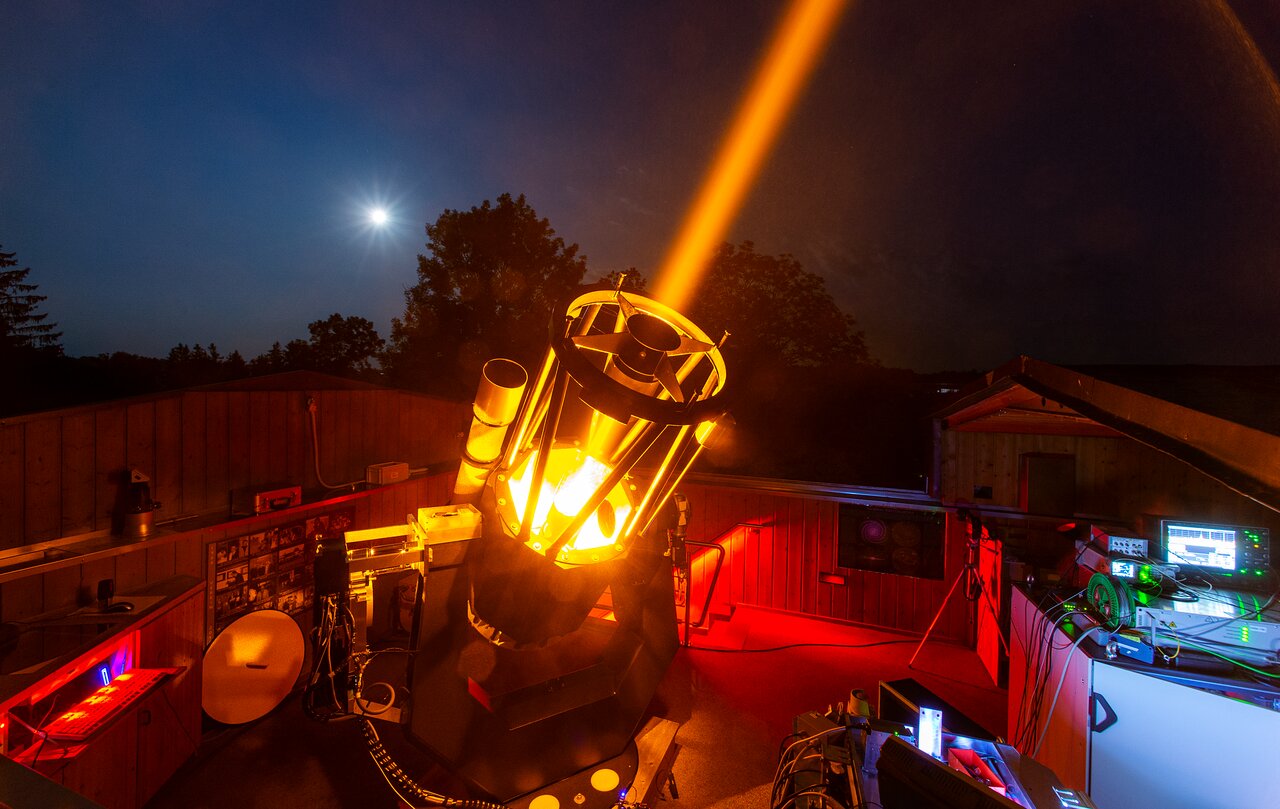 A powerful experimental laser, based on ESO technology, passed a key test last month at the Allgäuer Volkssternwarte Ottobeuren – Startseite (DE). The adaptive-optics laser, developed in collaboration with industry, has important additional capabilities compared to existing systems. It will be part of the CaNaPy Laser Guide Star Adaptive Optics system set to be installed at the European Space Agency [Agence spatiale européenne][Europäische Weltraumorganisation](EU) Optical Ground Station in Tenerife, Spain, in the frame of the ESO–ESA Research & Development collaboration. The higher laser power, nearly three times higher than in current systems, opens the door for developments in laser satellite communication, as well as significant improvements in the sharpness of astronomical images taken with ground-based telescopes.
European Southern Observatory(EU) , Very Large Telescope at Cerro Paranal in the Atacama Desert •ANTU (UT1; The Sun ) •KUEYEN (UT2; The Moon ) •MELIPAL (UT3; The Southern Cross ), and •YEPUN (UT4; Venus – as evening star). Elevation 2,635 m (8,645 ft) from above Credit J.L. Dauvergne & G. Hüdepohl atacama photo.
European Southern Observatory(EU)/MPG Institute for Radio Astronomy [MPG Institut für Radioastronomie](DE) ESO's Atacama Pathfinder Experiment(CL) high on the Chajnantor plateau in Chile's Atacama region, at an altitude of over 4,800 m (15,700 ft).
European Southern Observatory(EU) ExTrA telescopes at erro LaSilla at an altitude of 2400 metres.