From Rutgers University (US) : "Huge Volcanic Eruption Disrupted Climate but Not Human Evolution"

Our Great Seal.
July 9, 2021
John Cramer
jdc268@echo.rutgers.edu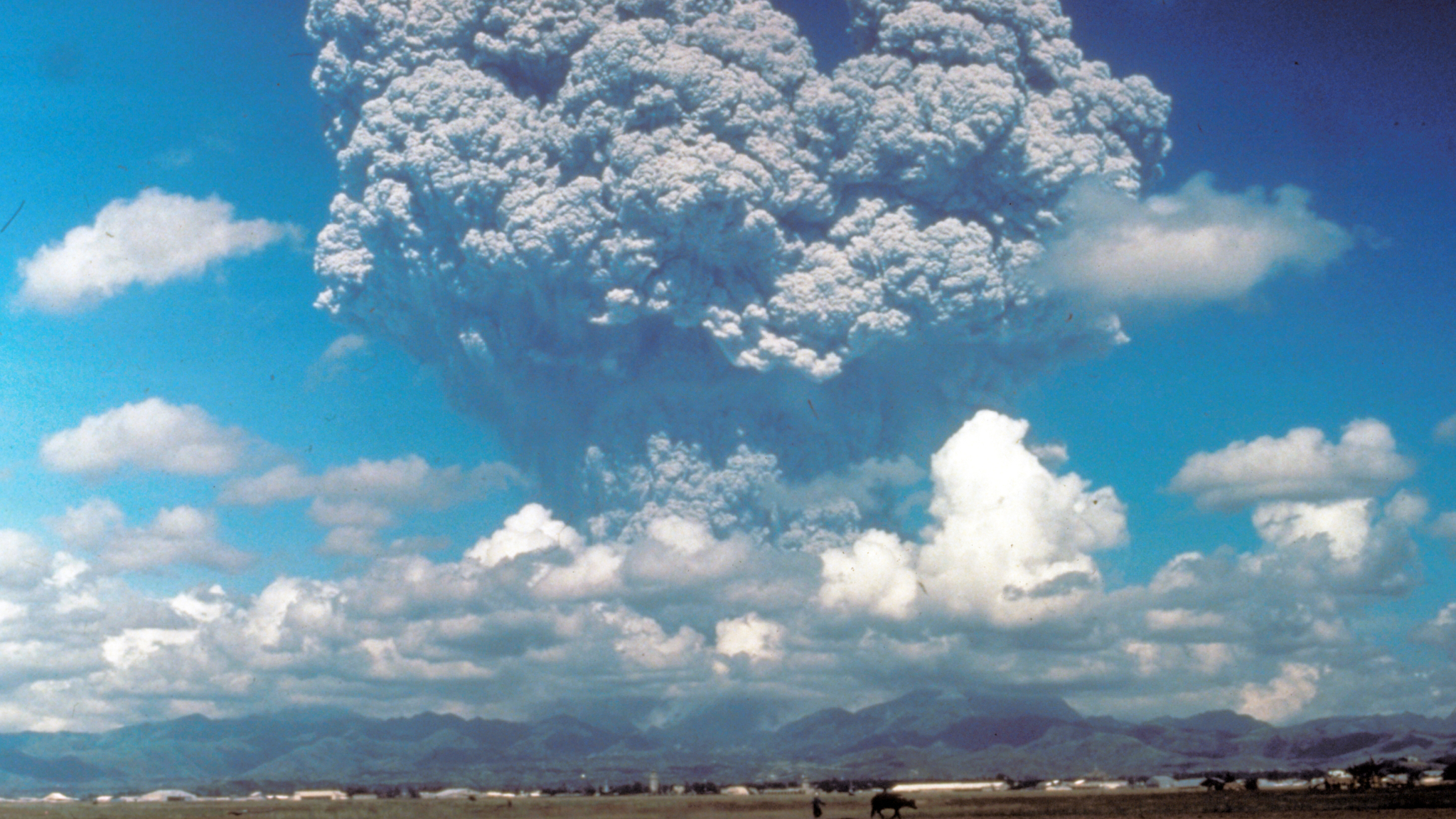 A modern volcanic eruption pales in comparison to the Toba eruption, which was the largest volcanic eruption of the past 2 million years, dispersing ash as far as southern Africa 9,000 km away. The total volume of erupted deposits may exceed 5,000 cubic kilometers. Credit: Steve Self, University of California-Berkeley (US).
A massive volcanic eruption in Indonesia about 74,000 years ago likely caused severe climate disruption in many areas of the globe, but early human populations were sheltered from the worst effects, according to a Rutgers-led study.
The findings appear in the journal PNAS.
The eruption of the Toba volcano was the largest volcanic eruption in the past two million years, but its impacts on climate and human evolution have been unclear. Resolving this debate is important for understanding environmental changes during a key interval in human evolution.
"We were able to use a large number of climate model simulations to resolve what seemed like a paradox," said lead author Benjamin Black, an assistant professor in the Department of Earth and Planetary Sciences at Rutgers University-New Brunswick. "We know this eruption happened and that past climate modeling has suggested the climate consequences could have been severe, but archaeological and paleoclimate records from Africa don't show such a dramatic response.
"Our results suggest that we might not have been looking in the right place to see the climate response. Africa and India are relatively sheltered, whereas North America, Europe and Asia bear the brunt of the cooling," Black said. "One intriguing aspect of this is that Neanderthals and Denisovans were living in Europe and Asia at this time, so our paper suggests evaluating the effects of the Toba eruption on those populations could merit future investigation."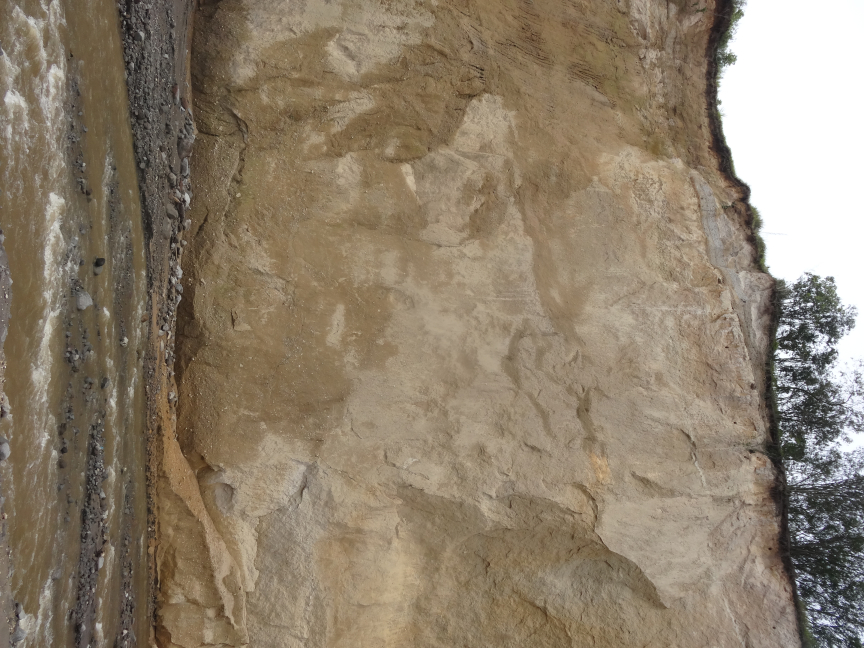 The researchers examined explosive ash deposits that are tens of meters thick about 35 km north of the Toba caldera in Indonesia. Credit Steve Self, University of California-Berkeley.
The researchers analyzed 42 global climate model simulations in which they varied magnitude of sulfur emissions, time of year of the eruption, background climate state and sulfur injection altitude to make a probabilistic assessment of the range of climate disruptions the Toba eruption may have caused. This approach let the team account for some of the unknowns related to the eruption.
"By using a probabilistic approach, we aim at understanding the likelihood that some regions were less impacted by Toba, considering the wide range of estimates of its size and timing, in addition to our lack of knowledge of the underlying climate state," said Black.
The results suggest there was likely significant regional variation in climate impacts. The simulations predict cooling in the Northern Hemisphere of at least 4°C, with regional cooling as high as 10°C depending on the model parameters. In contrast, even under the most severe eruption conditions, cooling in the Southern Hemisphere — including regions populated by early humans — was unlikely to exceed 4°C, although regions in southern Africa and India may have seen decreases in precipitation at the highest sulfur emission level.
The results explain independent archaeological evidence suggesting the Toba eruption had modest effects on the development of hominid species in Africa. According to the authors, their ensemble simulation approach could be used to better understand other past and future explosive eruptions.
"Our results reconcile the simulated distribution of climate impacts from the eruption with paleoclimate and archaeological records," according to the study. "This probabilistic view of climate disruption from Earth's most recent super-eruption underscores the uneven expected distribution of societal and environmental impacts from future very large explosive eruptions."
The study included researchers from the National Center for Atmospheric Research, University of Leeds and University of Cambridge, and was supported by the NSF National Center for Atmospheric Research (US) and the National Science Foundation (US).
See the full article here .

five-ways-keep-your-child-safe-school-shootings
Please help promote STEM in your local schools.
Rutgers, The State University of New Jersey (US), is a leading national research university and the state's preeminent, comprehensive public institution of higher education. Rutgers is dedicated to teaching that meets the highest standards of excellence; to conducting research that breaks new ground; and to providing services, solutions, and clinical care that help individuals and the local, national, and global communities where they live.
Founded in 1766, Rutgers teaches across the full educational spectrum: preschool to precollege; undergraduate to graduate; postdoctoral fellowships to residencies; and continuing education for professional and personal advancement.
Rutgers University (US) is a public land-grant research university based in New Brunswick, New Jersey. Chartered in 1766, Rutgers was originally called Queen's College, and today it is the eighth-oldest college in the United States, the second-oldest in New Jersey (after Princeton University (US)), and one of the nine U.S. colonial colleges that were chartered before the American War of Independence. In 1825, Queen's College was renamed Rutgers College in honor of Colonel Henry Rutgers, whose substantial gift to the school had stabilized its finances during a period of uncertainty. For most of its existence, Rutgers was a private liberal arts college but it has evolved into a coeducational public research university after being designated The State University of New Jersey by the New Jersey Legislature via laws enacted in 1945 and 1956.
Rutgers today has three distinct campuses, located in New Brunswick (including grounds in adjacent Piscataway), Newark, and Camden. The university has additional facilities elsewhere in the state, including oceanographic research facilities at the New Jersey shore. Rutgers is also a land-grant university, a sea-grant university, and the largest university in the state. Instruction is offered by 9,000 faculty members in 175 academic departments to over 45,000 undergraduate students and more than 20,000 graduate and professional students. The university is accredited by the Middle States Association of Colleges and Schools and is a member of the Big Ten Academic Alliance, the Association of American Universities (US) and the Universities Research Association (US). Over the years, Rutgers has been considered a Public Ivy.
Research
Rutgers is home to the Rutgers University Center for Cognitive Science, also known as RUCCS. This research center hosts researchers in psychology, linguistics, computer science, philosophy, electrical engineering, and anthropology.
It was at Rutgers that Selman Waksman (1888–1973) discovered several antibiotics, including actinomycin, clavacin, streptothricin, grisein, neomycin, fradicin, candicidin, candidin, and others. Waksman, along with graduate student Albert Schatz (1920–2005), discovered streptomycin—a versatile antibiotic that was to be the first applied to cure tuberculosis. For this discovery, Waksman received the Nobel Prize for Medicine in 1952.
Rutgers developed water-soluble sustained release polymers, tetraploids, robotic hands, artificial bovine insemination, and the ceramic tiles for the heat shield on the Space Shuttle. In health related field, Rutgers has the Environmental & Occupational Health Science Institute (EOHSI).
Rutgers is also home to the RCSB Protein Data bank, "…an information portal to Biological Macromolecular Structures' cohosted with the San Diego Supercomputer Center (US). This database is the authoritative research tool for bioinformaticists using protein primary, secondary and tertiary structures worldwide…."
Rutgers is home to the Rutgers Cooperative Research & Extension office, which is run by the Agricultural and Experiment Station with the support of local government. The institution provides research & education to the local farming and agro industrial community in 19 of the 21 counties of the state and educational outreach programs offered through the New Jersey Agricultural Experiment Station Office of Continuing Professional Education.
Rutgers University Cell and DNA Repository (RUCDR) is the largest university based repository in the world and has received awards worth more than $57.8 million from the National Institutes of Health (US). One will fund genetic studies of mental disorders and the other will support investigations into the causes of digestive, liver and kidney diseases, and diabetes. RUCDR activities will enable gene discovery leading to diagnoses, treatments and, eventually, cures for these diseases. RUCDR assists researchers throughout the world by providing the highest quality biomaterials, technical consultation, and logistical support.
Rutgers–Camden is home to the nation's PhD granting Department of Childhood Studies. This department, in conjunction with the Center for Children and Childhood Studies, also on the Camden campus, conducts interdisciplinary research which combines methodologies and research practices of sociology, psychology, literature, anthropology and other disciplines into the study of childhoods internationally.
Rutgers is home to several National Science Foundation (US) IGERT fellowships that support interdisciplinary scientific research at the graduate-level. Highly selective fellowships are available in the following areas: Perceptual Science, Stem Cell Science and Engineering, Nanotechnology for Clean Energy, Renewable and Sustainable Fuels Solutions, and Nanopharmaceutical Engineering.
Rutgers also maintains the Office of Research Alliances that focuses on working with companies to increase engagement with the university's faculty members, staff and extensive resources on the four campuses.
As a '67 graduate of University College, second in my class, I am proud to be a member of


Alpha Sigma Lamda, National Honor Society of non-tradional students.