via
20 JUNE 2021
CARLY CASSELLA

Credit: Anton Petrus/Getty Images.
Our traditional idea of a river, an endlessly flowing stream of water, needs a rethink, scientists argue in a new study.
Even when a river runs dry, they say, it's still a river. These winding watercourses shouldn't have to flow all year round to receive our attention and protection. In fact, most of them don't.
In new research, scientists found at least 51 percent of all rivers worldwide stop running for at least one day per year.
In colder climates, rivers may temporarily freeze up, and in warmer climates, water may evaporate to stall flow. In Australia, for instance, 70 percent of the rivers are thought to be non-perennial.
It's the first time researchers have attempted to map all the non-perennial waterways in the world, and as it turns out they're ubiquitous.
Almost every river network on our planet hosts a channel that periodically stops flowing, from Himalayan snow-fed creeks to occasionally water-filled Saharan wadis [Nature]. The nearest river or stream for more than half the world's population stops flowing at some point in the year.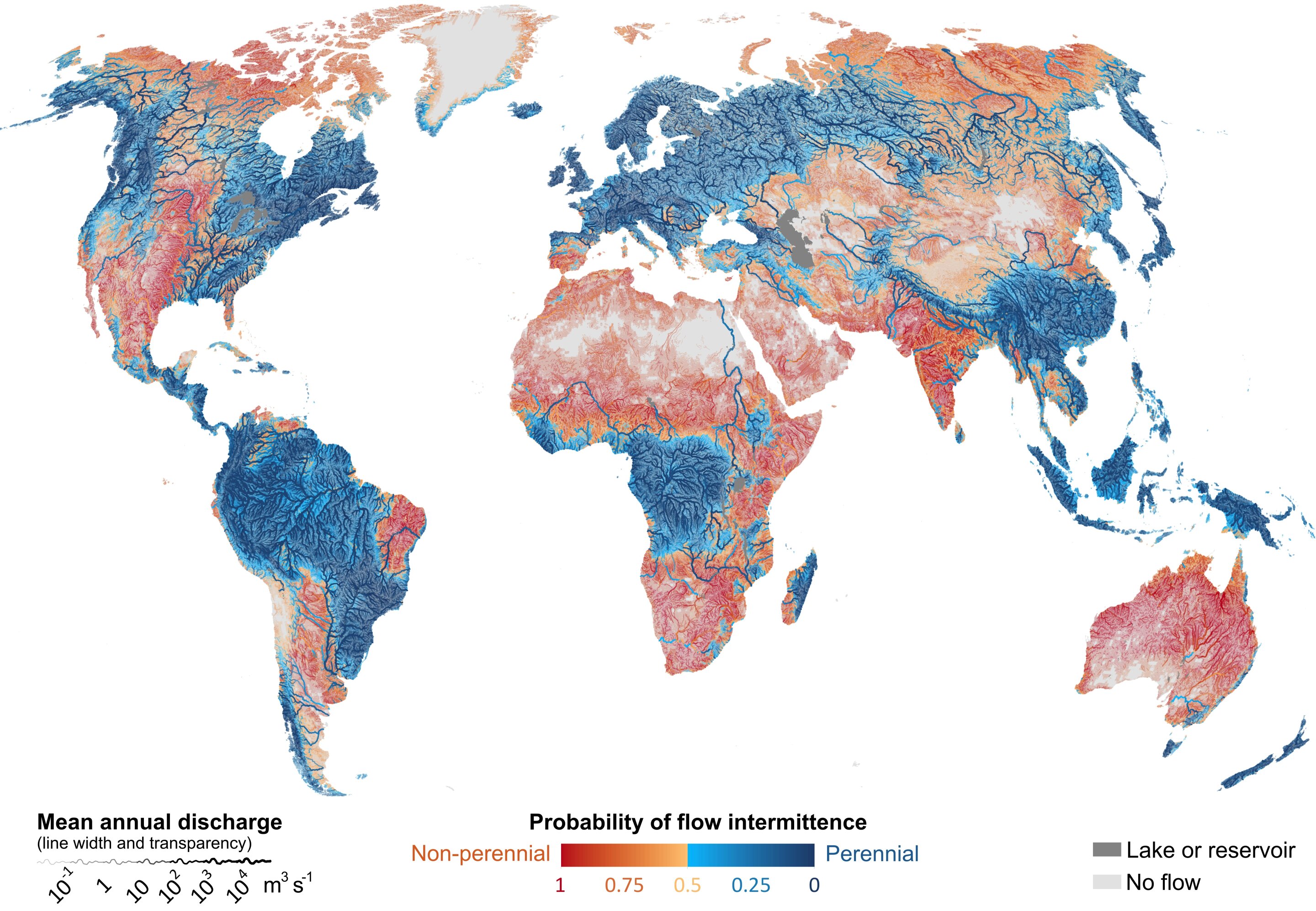 Global distribution of non-perennial rivers and streams. Credit: Messager et al., Nature, 2021.
"Non-perennial rivers and streams are very valuable ecosystems as they are home to many distinct species that are adapted to cycles of water presence and absence," says ecohydrologist Mathis Messager from McGill University in Canada.
"These rivers can provide critical water and food sources for people and they play an important role in controlling water quality. But more often than not they are mismanaged or altogether excluded from management actions and conservation laws as they are simply overlooked."
Previous studies have found non-perennial rivers are generally considered less valuable and less worthy of conservation. Today, many are unnamed and missing from maps [EPA], but that doesn't mean they aren't important.
Intermittent rivers and ephemeral streams combine to create much larger waterways, which are a major source of freshwater around the world. Headwaters help trap floodwaters, refill groundwater, reduce pollution, and provide important habitats for flora and fauna, making the timing of their flow an important factor in a variety of environmental activities.
Ignoring them, researchers say, is a mistake, especially in a time of rapid climate changes.
Over the past 50 years, global warming and land use changes have stopped the flow of more and more rivers and streams. Even parts of the Nile in Egypt, the Indus in Asia, the Yellow in China, and the Colorado River in North America have started to experience stops and starts of flow.
"Given continued global change, an increasingly large proportion of the global river network is expected to seasonally cease to flow over the coming decades," the authors warn.
Places where aridity is increasing are particularly at risk of seeing reduced river flow. In hot and dry regions like India, northern Australia, and equatorial Africa, researchers found 95 percent of rivers and streams are already intermittent.
Even the main stem of major rivers like the Niger River in West Africa and the Godavari in India can dry out under the right conditions.
Given these results, the authors are calling for a paradigm shift in river research and conservation. They say we need to incorporate non-perennial rivers and streams into our studies and afford them the same protections as constantly flowing rivers.
Many ephemeral streams are currently excluded from management and conservation laws, as well as scientific studies. As a result, we know very little about how these waterways are coping in a changing world. Very few people are monitoring their health.
"The foundational concepts of river hydrology, ecology, and biogeochemistry have been developed from and for perennial waterways, and as a result, have all traditionally assumed year-round surface channel flow," the authors write.
"Here we show that this assumption is invalid for most rivers on Earth, which bolsters previous appeals for bringing together aquatic and terrestrial disciplines into river science."
See the full article here .
five-ways-keep-your-child-safe-school-shootings
Please help promote STEM in your local schools.
All about
McGill Unversity (CA)

With some 300 buildings, more than 38,500 students and 250,000 living alumni, and a reputation for excellence that reaches around the globe, McGill has carved out a spot among the world's greatest universities.
Founded in Montreal, Quebec, in 1821, McGill (CA) is a leading Canadian post-secondary institution. It has two campuses, 11 faculties, 11 professional schools, 300 programs of study and some 39,000 students, including more than 9,300 graduate students. McGill attracts students from over 150 countries around the world, its 8,200 international students making up 21 per cent of the student body.
McGill University (CA) is a public research university in Montreal, Quebec, Canada. Founded in 1821 by royal charter granted by King George IV, the university bears the name of James McGill, a Scottish merchant whose bequest in 1813 formed the university's precursor, University of McGill College (or simply, McGill College); the name was officially changed to McGill University in 1885.
McGill's (CA) main campus is on the slope of Mount Royal in downtown Montreal, with a second campus situated in Sainte-Anne-de-Bellevue, also on Montreal Island, 30 kilometres (19 mi) west of the main campus. The university is one of two universities outside the United States which are members of the Association of American Universities (US), alongside the University of Toronto (CA), and it is the only Canadian member of the Global University Leaders Forum (GULF) within the World Economic Forum.
McGill (CA) offers degrees and diplomas in over 300 fields of study, with the highest average entering grades of any Canadian university. Most students are enrolled in the five largest faculties, namely Arts, Science, Medicine, Engineering, and Management. With a 32.2% international student body coming to McGill from over 150 countries, its student body is the most internationally diverse of any medical-doctoral research university in the country. Additionally, over 41% of students are born outside of Canada. In all major rankings, McGill consistently ranks in the top 50 universities in the world and among the top 3 universities in Canada. It has held the top position for the past 16 years in the annual Maclean's Canadian University Rankings for medical-doctoral universities.
McGill counts among its alumni and faculty 12 Nobel laureates and 147 Rhodes Scholars, both the most of any university in Canada, as well as 13 billionaires, the current prime minister and two former prime ministers of Canada, a former Governor General of Canada, at least eight foreign leaders, 28 foreign ambassadors and more than 100 members of national legislatures. McGill alumni also include eight Academy Award winners, 10 Grammy Award winners, at least 13 Emmy Award winners, four Pulitzer Prize winners, and 121 Olympians with over 35 Olympic medals. The inventors of the game of basketball, modern organized ice hockey, and the pioneers of gridiron football, as well as the founders of several major universities and colleges are also graduates of the university.
Notable researchers include Ernest Rutherford, who discovered the atomic nucleus and conducted his Nobel Prize-winning research on the nature of radioactivity while working as Professor of Experimental Physics at the university. Other notable inventions by McGillians include the world's first artificial cell, web search engine, and charge-couple device, among others.
McGill has the largest endowment per student in Canada. In 2019, it was the recipient of the largest single philanthropic gift in Canadian history, a $200 million donation to fund the creation of the McCall MacBain Scholarships programme.
Research
Research plays a critical role at McGill. McGill is affiliated with 12 Nobel Laureates and professors have won major teaching prizes. According to the Association of Universities and Colleges of Canada, "researchers at McGill are affiliated with about 75 major research centres and networks, and are engaged in an extensive array of research partnerships with other universities, government and industry in Quebec and Canada, throughout North America and in dozens of other countries." In 2016, McGill had over $547 million of sponsored research income, the second highest in Canada, and a research intensity per faculty of $317,600, the third highest among full-service universities in Canada. McGill has one of the largest patent portfolios among Canadian universities. McGill's researchers are supported by the McGill University Library, which comprises 13 branch libraries and holds over six million items.
Since 1926, McGill has been a member of the Association of American Universities (AAU), an organization of leading research universities in North America. McGill is a founding member of Universitas 21, an international network of leading research-intensive universities that work together to expand their global reach and advance their plans for internationalization. McGill is one of 26 members of the prestigious Global University Leaders Forum (GULF), which acts as an intellectual community within the World Economic Forum to advise its leadership on matters relating to higher education and research. It is the only Canadian university member of GULF. McGill is also a member of the U15, a group of prominent research universities within Canada.
McGill-Queen's University Press began as McGill in 1963 and amalgamated with Queen's in 1969. McGill-Queen's University Press focuses on Canadian studies and publishes the Canadian Public Administration Series.
McGill is perhaps best recognized for its research and discoveries in the health sciences. Sir William Osler, Wilder Penfield, Donald Hebb, Brenda Milner, and others made significant discoveries in medicine, neuroscience and psychology while working at McGill, many at the University's Montreal Neurological Institute. The first hormone governing the Immune System (later christened the Cytokine 'Interleukin-2') was discovered at McGill in 1965 by Gordon & McLean.
The invention of the world's first artificial cell was made by Thomas Chang while an undergraduate student at the university. While chair of physics at McGill, nuclear physicist Ernest Rutherford performed the experiment that led to the discovery of the alpha particle and its function in radioactive decay, which won him the Nobel Prize in Chemistry in 1908. Alumnus Jack W. Szostak was awarded the 2009 Nobel Prize in medicine for discovering a key mechanism in the genetic operations of cells, an insight that has inspired new lines of research into cancer.
William Chalmers invented Plexiglas while a graduate student at McGill. In computing, MUSIC/SP, software for mainframes once popular among universities and colleges around the world, was developed at McGill. A team also contributed to the development of Archie, a pre-WWW search engine. A 3270 terminal emulator developed at McGill was commercialized and later sold to Hummingbird Software. A team has developed digital musical instruments in the form of prosthesis, called Musical Prostheses.
Since 2017, McGill has partnered with the University of Montréal [Université de Montréal] (CA) on Mila (research institute), a community of professors, students, industrial partners and startups working in AI, with over 500 researchers making the institute the world's largest academic research center in deep learning.