From National Oceanic and Atmospheric Administration (US)
and
From Woods Hole Oceanographic Institution (US)
5.18.21
By
Rachel Gulbraa, Engagement Specialist, NOAA Ocean Exploration
Mike White, Physical Scientist/Expedition Coordinator (ROV), NOAA Ocean Exploration
From May 14-27 2021 NOAA Ocean Exploration will lead the 2021 Technology Demonstration on NOAA Ship Okeanos Explorer from Cape Canaveral Florida (US) to Norfolk Virginia (US). The expedition provides an opportunity to test several technologies that will allow the ocean exploration community to explore deeper, farther, and more comprehensively than previously possible. Expeditions like this are vital for the advancement of ocean exploration technologies that will benefit partners and the broader field of ocean exploration alike in our collective mission to explore, map, and understand the vast ocean realm.
The expedition will bring together NOAA's Northwest Fisheries Science Center (US), NASA's Jet Propulsion Laboratory (NASA JPL), the Woods Hole Oceanographic Institution (WHOI), and the Inner Space Center/University of Rhode Island (US) (ISC/URO) to advance new ocean technologies and sampling techniques. This is the first expedition for the NOAA Ocean Exploration Cooperative Institute (OECI) to take place on a NOAA ship. WHOI and ISC/URI are both partners of the OECI.
During the 2021 Technology Demonstration, 24-hour-a-day operations will focus on field engineering trials of WHOI's new Orpheus class of autonomous underwater vehicles (AUVs), piloting NOAA Ocean Exploration's environmental DNA (eDNA) sampling protocols, regular CTD rosette casts, and acoustic mapping of the seafloor and water column with the new EM 304 multibeam and deepwater sonar suite.
Collectively these projects support the NOAA Uncrewed Systems Strategy; the NOAA Artificial Intelligence Strategy; the NOAA 'Omics Strategy; the NOAA Cloud Strategy; NOAA's Atlantic Seafloor Partnership for Integrated Research and Exploration (ASPIRE) campaign, the National Strategy for Mapping, Exploring, and Characterizing the United States Exclusive Economic Zone, and Seabed 2030.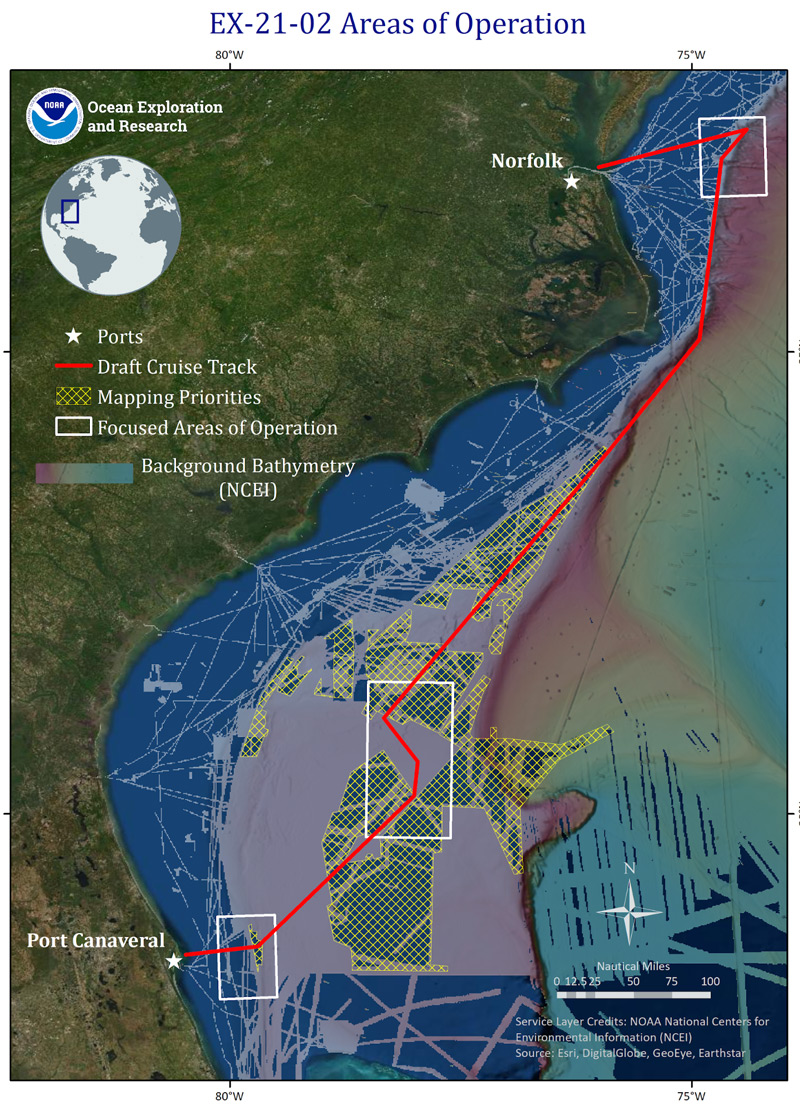 Map showing the general operating area for NOAA Ocean Exploration's 2021 Technology Demonstration. NOAA Ocean Exploration, 2021 Technology Demonstration.
Next-Generation Autonomous Underwater Vehicles
Supported in part by NOAA Ocean Exploration through the OECI, WHOI is testing the next generation of 11,000 meter (6.8 mile) rated Orpheus autonomous underwater vehicles (AUVs) which are designed to explore the deepest parts of the ocean — the "hadal zone," deeper than 6,000 meters (3.7 miles). Orpheus is the name of both the new class of AUVs, as well as the first vehicle of the class — its twin, Eurydice, will also be tested during the expedition.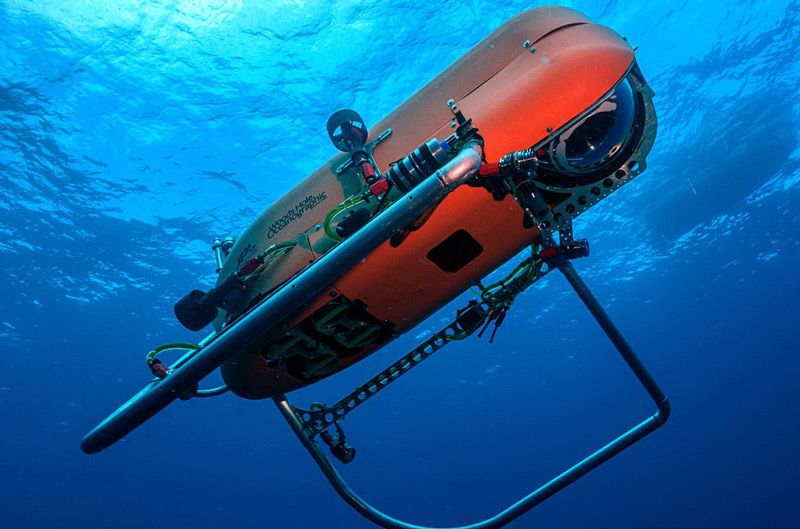 Orpheus AUVs will enable exploration of the ocean's greatest depths. Photo by Marine Imaging Technologies, LLC ©Woods Hole Oceanographic Institution.
These AUVs are lightweight, low-cost, deployable from research vessels and ships of opportunity of all sizes, and require minimal specialized technical support. AUVs can also act as force-multipliers during other simultaneous mapping and characterization operations. The Orpheus AUVs are able to work independently or as a networked "swarm" to survey and sample almost anywhere in the global ocean, including the largely unknown hadal zone.
WHOI has been partnering with NASA JPL to implement terrain relative navigation (TRN) software on the Orpheus AUVs to navigate the seafloor. NASA JPL used TRN systems on the Mars Perseverance rover and another on the Ingenuity helicopter to enable them to quickly and autonomously sense their location to avoid hazards. A similar system will also allow the AUVs to avoid hazards and recognize seafloor features that may be of scientific interest.
eDNA
Environmental DNA (eDNA) is the genetic material shed by organisms into the environment (in this case, the water column). By collecting samples of mucus, feces, or tissue particles, scientists can process eDNA to make new discoveries about marine life. eDNA sampling techniques are nondestructive and noninvasive and improve access to hard-to-reach ecosystems like the deep sea. In addition, they can provide comprehensive and accurate biological data with increased efficiency, resulting in timely public access to information. eDNA analysis can be used to establish a baseline of community structure and biodiversity in the marine ecosystem and to detect invasive species, harmful algal blooms, pathogens and parasites, migratory species, cryptic species, and endangered species, and more. The onboard team will be piloting eDNA sampling techniques for NOAA Ocean Exploration to potentially be incorporated into future operations.
Mapping the Unknown
Mapping operations will build upon previous efforts by NOAA Ocean Exploration and other partners to map the Blake Plateau and unmapped areas in the U.S. Southeast. Mapping operations will result in high-resolution maps of the seafloor and provide acoustic backscatter data information about the seabed and water column.

A survey area on the Central Blake Plateau, mapped during the first leg of the Windows to the Deep 2019 expedition. This area is home to distinct mound features, possibly giant mounds of stony corals. Some of these may be targets for AUV deployments. Image courtesy of NOAA Ocean Exploration, Windows to the Deep 2019 expedition.
Exploring Waters of the U.S. Southeast
The deep waters off of Florida; Georgia; South Carolina and North Carolina are home to the largest yet discovered contiguous coral mound province found in U.S. waters. However, the deep waters off the Southeastern U.S. remain the most poorly mapped and characterized of the East Coast, and contain a wide diversity of poorly explored deepwater habitats and geological features that are of interest to resource managers and scientists, including biogenic mounds, deep-sea coral and sponge habitats, and fish habitats.
This expedition builds on previous expeditions, including Windows to the Deep 2003, Windows to the Deep 2018, Windows to the Deep 2019, DEEP SEARCH (DEEP Sea Exploration to Advance Research on Coral/Canyon/Cold seep Habitats), and the 2019 Southeastern U.S. Deep-sea Exploration. These expeditions contributed greatly to what we now know about the deep-sea environment along the edge of the Southeastern U.S. continental margin. Every square kilometer of seafloor mapped, and every AUV deployment and CTD cast add to our collective knowledge of deep-sea environments and help to improve our understanding of this region.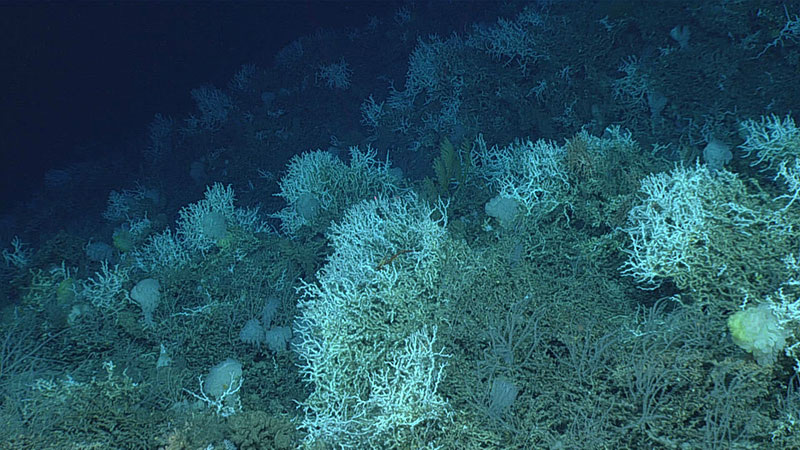 Deep-sea coral reefs like this one seen on Dive 06 of the 2019 Southeastern U.S. Deep-sea Exploration are created by stony corals, Lophelia pertusa, in this case, that form large geological structures over thousands of years. Image courtesy of NOAA Ocean Exploration, 2019 Southeastern U.S. Deep-sea Exploration.
Come Explore With Us
Anyone with an internet connection can follow along with the expedition. During the expedition, NOAA Ocean Exploration will share expedition news on social media and on the NOAA Ocean Exploration website. Highlight images, videos, and other information from the expedition will also be posted daily to the office's Facebook , Instagram , and Twitter accounts.
All standard NOAA Ocean Exploration data collected on this expedition will be available in NOAA's public data archives within 60-90 days of the conclusion of the cruise and accessible via the NOAA Ocean Exploration Digital Atlas.
See the full article here.
five-ways-keep-your-child-safe-school-shootings
Please help promote STEM in your local schools.
Mission Statement
The Woods Hole Oceanographic Institution (US) is dedicated to advancing knowledge of the ocean and its connection with the Earth system through a sustained commitment to excellence in science, engineering, and education, and to the application of this knowledge to problems facing society.
Vision & Mission
The ocean is a defining feature of our planet and crucial to life on Earth, yet it remains one of the planet's last unexplored frontiers. For this reason, WHOI scientists and engineers are committed to understanding all facets of the ocean as well as its complex connections with Earth's atmosphere, land, ice, seafloor, and life—including humanity. This is essential not only to advance knowledge about our planet, but also to ensure society's long-term welfare and to help guide human stewardship of the environment. WHOI researchers are also dedicated to training future generations of ocean science leaders, to providing unbiased information that informs public policy and decision-making, and to expanding public awareness about the importance of the global ocean and its resources.
The Institution is organized into six departments, the Cooperative Institute for Climate and Ocean Research, and a marine policy center. Its shore-based facilities are located in the village of Woods Hole, Massachusetts(US) and a mile and a half away on the Quissett Campus. The bulk of the Institution's funding comes from grants and contracts from the National Science Foundation(US) and other government agencies, augmented by foundations and private donations.
WHOI scientists, engineers, and students collaborate to develop theories, test ideas, build seagoing instruments, and collect data in diverse marine environments. Ships operated by WHOI carry research scientists throughout the world's oceans. The WHOI fleet includes two large research vessels (R/V Atlantis and R/V Neil Armstrong); the coastal craft Tioga; small research craft such as the dive-operation work boat Echo; the deep-diving human-occupied submersible Alvin; the tethered, remotely operated vehicle Jason/Medea; and autonomous underwater vehicles such as the REMUS and SeaBED.
WHOI offers graduate and post-doctoral studies in marine science. There are several fellowship and training programs, and graduate degrees are awarded through a joint program with the Massachusetts Institute of Technology(US). WHOI is accredited by the New England Association of Schools and Colleges. WHOI also offers public outreach programs and informal education through its Exhibit Center and summer tours. The Institution has a volunteer program and a membership program, WHOI Associate.
On October 1, 2020, Peter B. de Menocal became the institution's eleventh president and director.
History
In 1927, a National Academy of Sciences(US) committee concluded that it was time to "consider the share of the United States of America in a worldwide program of oceanographic research." The committee's recommendation for establishing a permanent independent research laboratory on the East Coast to "prosecute oceanography in all its branches" led to the founding in 1930 of the Woods Hole Oceanographic Institution(US).
A $2.5 million grant from the Rockefeller Foundation supported the summer work of a dozen scientists, construction of a laboratory building and commissioning of a research vessel, the 142-foot (43 m) ketch R/V Atlantis, whose profile still forms the Institution's logo.
WHOI grew substantially to support significant defense-related research during World War II, and later began a steady growth in staff, research fleet, and scientific stature. From 1950 to 1956, the director was Dr. Edward "Iceberg" Smith, an Arctic explorer, oceanographer and retired Coast Guard rear admiral.
In 1977 the institution appointed the influential oceanographer John Steele as director, and he served until his retirement in 1989.
On 1 September 1985, a joint French-American expedition led by Jean-Louis Michel of IFREMER and Robert Ballard of the Woods Hole Oceanographic Institution identified the location of the wreck of the RMS Titanic which sank off the coast of Newfoundland 15 April 1912.
On 3 April 2011, within a week of resuming of the search operation for Air France Flight 447, a team led by WHOI, operating full ocean depth autonomous underwater vehicles (AUVs) owned by the Waitt Institute discovered, by means of sidescan sonar, a large portion of debris field from flight AF447.
In March 2017 the institution effected an open-access policy to make its research publicly accessible online.
The Institution has maintained a long and controversial business collaboration with the treasure hunter company Odyssey Marine. Likewise, WHOI has participated in the location of the San José galleon in Colombia for the commercial exploitation of the shipwreck by the Government of President Santos and a private company.
In 2019, iDefense reported that China's hackers had launched cyberattacks on dozens of academic institutions in an attempt to gain information on technology being developed for the United States Navy. Some of the targets included the Woods Hole Oceanographic Institution. The attacks have been underway since at least April 2017.
National Oceanic and Atmospheric Administration (US) is an agency that enriches life through science. Our reach goes from the surface of the sun to the depths of the ocean floor as we work to keep the public informed of the changing environment around them.
From daily weather forecasts, severe storm warnings, and climate monitoring to fisheries management, coastal restoration and supporting marine commerce, NOAA's products and services support economic vitality and affect more than one-third of America's gross domestic product. NOAA's dedicated scientists use cutting-edge research and high-tech instrumentation to provide citizens, planners, emergency managers and other decision makers with reliable information they need when they need it.
The National Oceanic and Atmospheric Administration (NOAA /ˈnoʊ.ə/ NOH-ə) is an American scientific agency within the United States Department of Commerce that focuses on the conditions of the oceans, major waterways, and the atmosphere.
NOAA warns of dangerous weather, charts seas, guides the use and protection of ocean and coastal resources and conducts research to provide the understanding and improve stewardship of the environment.
NOAA's specific roles include:
Supplying Environmental Information Products. NOAA supplies to its customers and partners information pertaining to the state of the oceans and the atmosphere. This is clear through the production of weather warnings and forecasts via the National Weather Service, but NOAA's information products extend to climate, ecosystems, and commerce as well.
Providing Environmental Stewardship Services. NOAA is a steward of U.S. coastal and marine environments. In coordination with federal, state, local, tribal and international authorities, NOAA manages the use of these environments, regulating fisheries and marine sanctuaries as well as protecting threatened and endangered marine species.
Conducting Applied Scientific Research. NOAA is intended to be a source of accurate and objective scientific information in the four particular areas of national and global importance identified above: ecosystems, climate, weather and water, and commerce and transportation.
The five "fundamental activities" are:
Monitoring and observing Earth systems with instruments and data collection networks.
Understanding and describing Earth systems through research and analysis of that data.
Assessing and predicting the changes in these systems over time.
Engaging, advising, and informing the public and partner organizations with important information.
Managing resources for the betterment of society, economy, and environment.
National Ocean Service
The National Ocean Service (NOS) focuses on ensuring that ocean and coastal areas are safe, healthy, and productive. NOS scientists, natural resource managers, and specialists serve America by ensuring safe and efficient marine transportation, promoting innovative solutions to protect coastal communities, and conserving marine and coastal places.
The National Ocean Service is composed of eight program offices: the Center for Operational Oceanographic Products and Services, the Coastal Services Center, the National Centers for Coastal Ocean Science, the Office of Coast Survey, the Office of National Geodetic Survey, the Office of National Marine Sanctuaries the Office of Ocean and Coastal Resource Management and the Office of Response and Restoration.
There are two NOS programs, namely the Mussel Watch Contaminant Monitoring Program and the NOAA Integrated Ocean Observing System (IOOS) and two staff offices, the International Program Office and the Management and Budget Office.
National Environmental Satellite, Data, and Information Service
The National Environmental Satellite, Data, and Information Service (NESDIS) was created by NOAA to operate and manage the US environmental satellite programs, and manage NWS data and those of other government agencies and departments. NESDIS's National Centers for Environmental Information (NCEI) archives data collected by the NOAA, U.S. Navy, U.S. Air Force, the Federal Aviation Administration, and meteorological services around the world and comprises the Center for Weather and Climate (previously NOAA's National Climatic Data Center), National Coastal Data Development Center (NCDDC), National Oceanographic Data Center (NODC), and the National Geophysical Data Center (NGDC)).
In 1960, TIROS-1, NASA's first owned and operated geostationary satellite, was launched. Since 1966, NESDIS has managed polar orbiting satellites (POES) and since 1974 it has operated geosynchronous satellites (GOES). In 1979, NOAA's first polar-orbiting environmental satellite was launched. Current operational satellites include NOAA-15, NOAA-18, NOAA-19, GOES 13, GOES 14, GOES 15, Jason-2 and DSCOVR. In 1983, NOAA assumed operational responsibility for Landsat satellite system.
NOAA/DSCOVR. Launched in 2015.

Since May 1998, NESDIS has operated the Defense Meteorological Satellite Program (DMSP) satellites on behalf of the Air Force Weather Agency.
New generations of satellites are developed to succeed the current polar orbiting and geosynchronous satellites, the Joint Polar Satellite System) and GOES-R, which is scheduled for launch in March 2017.
NESDIS runs the Office of Projects, Planning, and Analysis (OPPA) formerly the Office of Systems Development, the Office of Satellite Ground Systems (formerly the Office of Satellite Operations) the Office of Satellite and Project Operations, the Center for Satellite Applications and Research (STAR)], the Joint Polar Satellite System Program Office the GOES-R Program Office, the International & Interagency Affairs Office, the Office of Space Commerce and the Office of System Architecture and Advanced Planning.
National Marine Fisheries Service
The National Marine Fisheries Service (NMFS), also known as NOAA Fisheries, was initiated in 1871 with a primary goal of the research, protection, management, and restoration of commercial and recreational fisheries and their habitat, and protected species. NMFS operates twelve headquarters offices, five regional offices, six fisheries science centers, and more than 20 laboratories throughout the United States and U.S. territories, which are the sites of research and management of marine resources. NMFS also operates the National Oceanic and Atmospheric Administration Fisheries Office of Law Enforcement in Silver Spring, Maryland, which is the primary site of marine resource law enforcement.