From Woods Hole Oceanographic Institution
April 20, 2021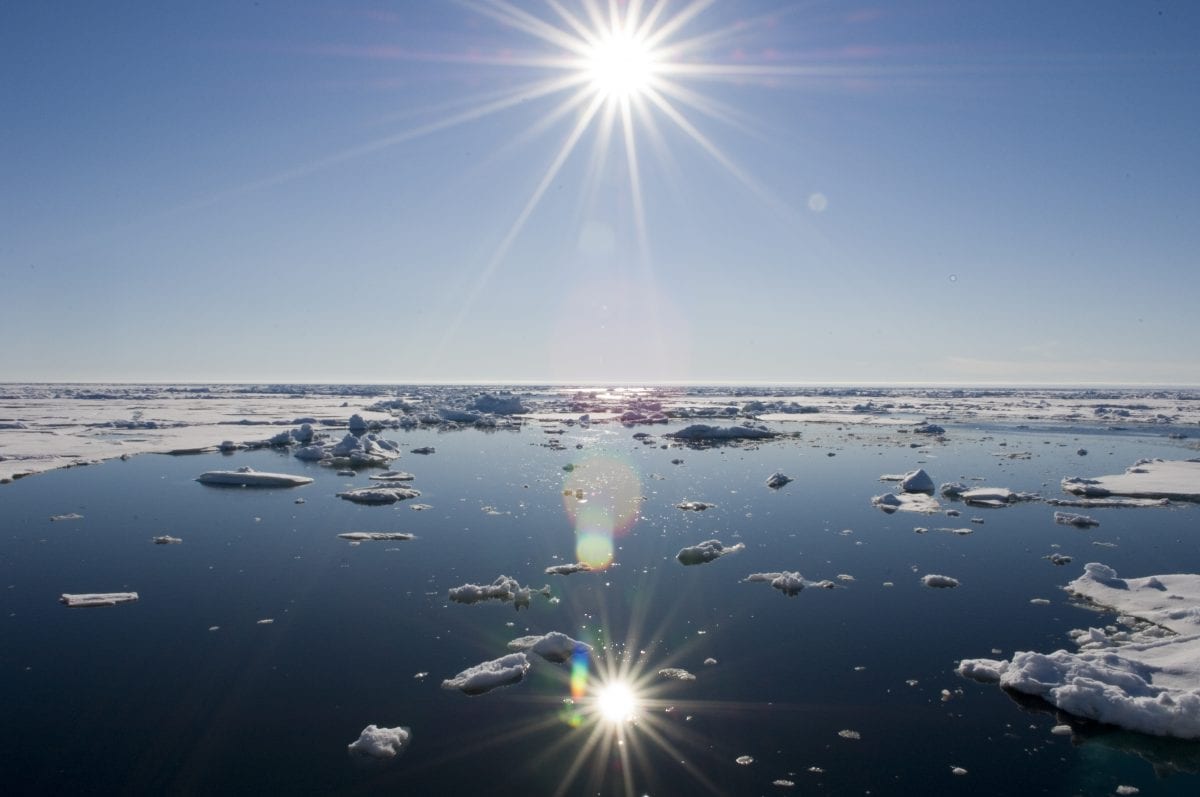 Today, WHOI and Analog Devices, Inc. (ADI) launched an Ocean and Climate Innovation Accelerator (OCIA) consortium, focused on the critical role of oceans in combatting climate change, and developing new solutions at the intersection of oceans and climate.
First-of-its-kind consortium focused on the critical role of oceans in combatting climate change.
Woods Hole Oceanographic Institution (WHOI) and Analog Devices, Inc. (Nasdaq: ADI) today launched the Ocean and Climate Innovation Accelerator (OCIA) consortium. ADI has committed $3 million over three years towards the consortium which will focus on advancing knowledge of the ocean's critical role in combatting climate change as well as developing new solutions at the intersection of oceans and climate.
"Carbon emissions feature as a centerpiece in global efforts to mitigate climate change. Oceans are among our most important defense mechanisms against a warming planet – yet their ability to continue to play this critically important role is being threatened by the effects of climate change," said Vincent Roche, CEO of Analog Devices. "Through the Ocean and Climate Innovation Accelerator, we are committed to engaging ADI's engineers and technologies to advance knowledge of the oceans, in order to gain a better understanding of how oceans are impacted by climate change and to develop solutions to restore ocean health. By doing so, we hope to drive meaningful impact on the global fight against climate change."
The OCIA consortium is designed to be a highly scalable collaboration leveraging the unique resources and capabilities of its partner organizations. Among its goals, the consortium will focus on the development of the "networked ocean" – placing sensors across oceanographic environments that will continuously monitor critical metrics related to ocean conditions with the aim of informing business and policy decision makers, enabling evidence-based stewardship of ocean health and driving more accurate climate and weather predictions with real-time data.
"On behalf of WHOI's entire community of ocean scientists and engineers, we are incredibly excited about this collaboration," said Dr. Peter de Menocal, president, and director of WHOI. "The formation of the OCIA consortium comes at a time when support for science and ocean research is at a critical juncture. We are building a research innovation ecosystem that will drive new understanding to tackle global challenges facing society. It provides a new, scalable model showing how corporations can engage deeply on the climate crisis."
The consortium will be jointly led by WHOI, a world leader in oceanographic research, technology, and education dedicated to understanding the ocean for the benefit of humanity, and ADI, a world leader in the design, manufacturing, and marketing of a broad portfolio of high-performance semiconductor solutions used in virtually all types of electronic equipment. Designed to act as an engine for continuous innovation and powered by some of the world's leading minds and businesses, the OCIA consortium is open to participation by a wide range of leading organizations across business, academia and non-profits that recognize the inextricable links between ocean and climate and wish to have a positive impact on the global climate crisis.
The OCIA consortium will also establish a robust, multi-stage innovation ecosystem, building on WHOI's existing strengths in education and research to drive solutions-thinking and allow scientists and engineers to focus on high-impact problems. This will include the launch of a new Climate Challenge Grant Program which will award seed-funding for smaller, competitively selected projects.
Initially, the OCIA will provide two types of awards:
Incubation Awards: comprised of seed-funding awarded to dynamic individuals and teams. Incubation Awards will support design, exploration, and early execution of new, cutting-edge scientific initiatives that foster new avenues of research and engineering and encourage and incentivize collaborative engagement.
Acceleration Awards: awarded to successful recipients of prior support for novel ideas and technologies, as well as other more mature projects, for the purpose of expanding these programs, increasing public engagement, and positioning and preparing projects to achieve lasting impact and receive durable outside support.
As the consortium grows over time, OCIA programs may expand to invest in people through the establishment of fellowships and other awards, along with a portfolio of other activities such as support for collaboration hubs to drive innovations in data processing, machine learning, and transdisciplinary science and engineering.
"Now more than ever, it is essential for people to understand that the ocean and climate are not two separate systems, but rather part of a single system that spans our entire ocean planet and affects the lives of people everywhere, even if they live far from the coast," said de Menocal. "Recognizing this, it is critical for organizations like ADI and WHOI to find common cause and work in shared-mission partnerships to help mitigate the rapidly advancing threats brought on by a warming planet."
See the full article here .
five-ways-keep-your-child-safe-school-shootings
Please help promote STEM in your local schools.
Vision & Mission
The ocean is a defining feature of our planet and crucial to life on Earth, yet it remains one of the planet's last unexplored frontiers. For this reason, WHOI scientists and engineers are committed to understanding all facets of the ocean as well as its complex connections with Earth's atmosphere, land, ice, seafloor, and life—including humanity. This is essential not only to advance knowledge about our planet, but also to ensure society's long-term welfare and to help guide human stewardship of the environment. WHOI researchers are also dedicated to training future generations of ocean science leaders, to providing unbiased information that informs public policy and decision-making, and to expanding public awareness about the importance of the global ocean and its resources.
Mission Statement
The Woods Hole Oceanographic Institution is dedicated to advancing knowledge of the ocean and its connection with the Earth system through a sustained commitment to excellence in science, engineering, and education, and to the application of this knowledge to problems facing society.
The Institution is organized into six departments, the Cooperative Institute for Climate and Ocean Research, and a marine policy center. Its shore-based facilities are located in the village of Woods Hole, Massachusetts(US) and a mile and a half away on the Quissett Campus. The bulk of the Institution's funding comes from grants and contracts from the National Science Foundation(US) and other government agencies, augmented by foundations and private donations.
WHOI scientists, engineers, and students collaborate to develop theories, test ideas, build seagoing instruments, and collect data in diverse marine environments. Ships operated by WHOI carry research scientists throughout the world's oceans. The WHOI fleet includes two large research vessels (R/V Atlantis and R/V Neil Armstrong); the coastal craft Tioga; small research craft such as the dive-operation work boat Echo; the deep-diving human-occupied submersible Alvin; the tethered, remotely operated vehicle Jason/Medea; and autonomous underwater vehicles such as the REMUS and SeaBED.
WHOI offers graduate and post-doctoral studies in marine science. There are several fellowship and training programs, and graduate degrees are awarded through a joint program with the Massachusetts Institute of Technology(US). WHOI is accredited by the New England Association of Schools and Colleges. WHOI also offers public outreach programs and informal education through its Exhibit Center and summer tours. The Institution has a volunteer program and a membership program, WHOI Associate.
On October 1, 2020, Peter B. de Menocal became the institution's eleventh president and director.
History
In 1927, a National Academy of Sciences(US) committee concluded that it was time to "consider the share of the United States of America in a worldwide program of oceanographic research." The committee's recommendation for establishing a permanent independent research laboratory on the East Coast to "prosecute oceanography in all its branches" led to the founding in 1930 of the Woods Hole Oceanographic Institution(US).
A $2.5 million grant from the Rockefeller Foundation supported the summer work of a dozen scientists, construction of a laboratory building and commissioning of a research vessel, the 142-foot (43 m) ketch R/V Atlantis, whose profile still forms the Institution's logo.
WHOI grew substantially to support significant defense-related research during World War II, and later began a steady growth in staff, research fleet, and scientific stature. From 1950 to 1956, the director was Dr. Edward "Iceberg" Smith, an Arctic explorer, oceanographer and retired Coast Guard rear admiral.
In 1977 the institution appointed the influential oceanographer John Steele as director, and he served until his retirement in 1989.
On 1 September 1985, a joint French-American expedition led by Jean-Louis Michel of IFREMER and Robert Ballard of the Woods Hole Oceanographic Institution identified the location of the wreck of the RMS Titanic which sank off the coast of Newfoundland 15 April 1912.
On 3 April 2011, within a week of resuming of the search operation for Air France Flight 447, a team led by WHOI, operating full ocean depth autonomous underwater vehicles (AUVs) owned by the Waitt Institute discovered, by means of sidescan sonar, a large portion of debris field from flight AF447.
In March 2017 the institution effected an open-access policy to make its research publicly accessible online.
The Institution has maintained a long and controversial business collaboration with the treasure hunter company Odyssey Marine. Likewise, WHOI has participated in the location of the San José galleon in Colombia for the commercial exploitation of the shipwreck by the Government of President Santos and a private company.
In 2019, iDefense reported that China's hackers had launched cyberattacks on dozens of academic institutions in an attempt to gain information on technology being developed for the United States Navy. Some of the targets included the Woods Hole Oceanographic Institution. The attacks have been underway since at least April 2017.