From Northwestern University(US): "Oceans were stressed preceding abrupt prehistoric global warming"
From Northwestern University(US)
March 08, 2021
Amanda Morris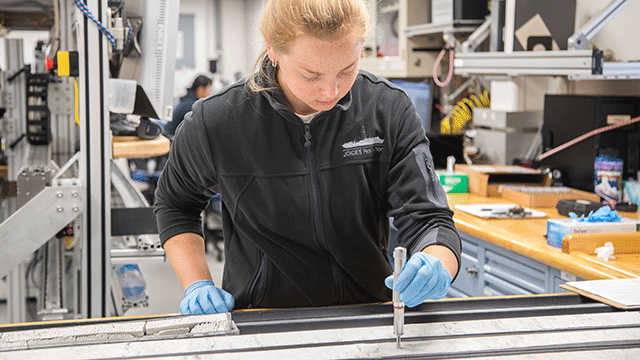 Gabriella Kitch works with samples from an ocean sediment core.
Microscopic fossilized shells are helping geologists reconstruct Earth's climate during the Paleocene-Eocene Thermal Maximum (PETM), a period of abrupt global warming and ocean acidification that occurred 56 million years ago. Clues from these ancient shells can help scientists better predict future warming and ocean acidification driven by human-caused carbon dioxide emissions.
Led by Northwestern University, the researchers analyzed shells from foraminifera, an ocean-dwelling unicellular organism with an external shell made of calcium carbonate. After analyzing the calcium isotope composition of the fossils, the researchers concluded that massive volcanic activity injected large amounts of carbon dioxide into the Earth system causing global warming and ocean acidification.
They also found that global warming and ocean acidification did not just passively affect foraminifera. The organisms also actively responded by reducing calcification rates when building their shells. As calcification slowed, the foraminifera consumed less alkalinity from seawater, which helped buffer increasing ocean acidity.
"The formation and dissolution of calcium carbonate help regulate the acidity and alkalinity of seawater," said Northwestern's Andrew Jacobson, a senior author of the study. "Our calcium isotope data indicate that reduced foraminiferal calcification worked to dampen ocean acidification before and across the PETM."
"This is a pretty new concept in the field," added Gabriella Kitch, the study's first author. "Previously, people thought that only the dissolution of carbonates at the sea floor could increase alkalinity of the ocean and buffer the effects of ocean acidification. But we are adding to existing studies that show decreased carbonate production has the same buffering effect."
The research was published online March 4 in the journal Geology Calcium isotope composition of Morozovella over the late Paleocene–early Eocene. This is the first study to examine the calcium isotope composition of foraminifera to reconstruct conditions before and across the PETM and the third recent Northwestern study to find that ocean acidification — due to volcanic carbon dioxide emissions — preceded major prehistoric environmental catastrophes, such as mass extinctions, oceanic anoxic events and periods of intense global warming.
Jacobson is a professor of Earth and planetary sciences at Northwestern's Weinberg College of Arts and Sciences. Kitch is a Ph.D. candidate and National Science Foundation Graduate Research Fellow in Jacobson's laboratory. Northwestern Earth science professors Bradley Sageman and Matthew Hurtgen, as well as collaborators from the University of California-Santa Cruz(US)(UCSC) and the University of Kansas(US), coauthored the paper with Jacobson and Kitch.
Sorting microscopic shells
To study oceanic conditions during the PETM, the researchers examined the calcium isotope composition of foraminiferal fossils collected from two sites — one in the southeast Atlantic Ocean and one in the Pacific Ocean — by the Ocean Drilling Program.

Scanning electron microscopy images of foraminifera from different angles. Credit: Northwestern University.

Scanning electron microscopy images of foraminifera from different angles Credit: Northwestern University.
Because each fossilized shell is about the size of a single grain of sand UCSC researchers physically collected the tiny specimens by first identifying them under a microscope. After sorting the shells from bulk sediments, the Northwestern team dissolved the samples and analyzed their calcium isotope composition using a thermal ionization mass spectrometer.
"The work is very challenging," Jacobson said. "To manipulate these tiny materials you have to pick them up-one by one-with a wet paintbrush tip under a microscope."
Stress prior to PETM
As the shells formed more than 56 million years ago, they responded to oceanic conditions. By examining these shells, the Northwestern team found that calcium isotope ratios increased prior to the onset of the PETM.
"We are looking at one group of organisms that built their shells in one part of the ocean, recording the seawater chemistry surrounding them," Kitch said. "We think the calcium isotope data reveal potential stress prior to the well-known boundary."
________________________________________________________________________________________________________
56 million years
Age of the sediment samples
________________________________________________________________________________________________________
Other archives indicate that the atmosphere-ocean system experienced a massive carbon dioxide release immediately before the PETM. When atmospheric carbon dioxide dissolves in seawater, it forms a weak acid that can inhibit calcium carbonate formation. Although it is still undetermined, Earth scientists believe the carbon release most likely came from volcanic activity or cascading effects, such as a release of methane hydrates from the seafloor as a result of ocean warming.
"My suspicion is that it's both of these factors or some sort of combination," Sageman said. "Most big events in Earth's history represent a confluence of many actors coming together at the same time."
Consistent pattern emerges
This is the third study led by Jacobson to find that ocean acidification precedes major environmental catastrophes that correlate with large igneous province eruptions. Last month, Jacobson's team published results finding that volcanic activity triggered a biocalcification crisis prior to an ocean anoxic event [Geology Stable Ca and Sr isotopes support volcanically triggered biocalcification crisis during Oceanic Anoxic Event 1a ] that occurred 120 million years ago. Just over a year ago, Jacobson's team published another study finding ocean acidification preceded the asteroid impact leading to the Cretaceous-Paleogene mass extinction event 66 million years ago [Geology], which included the demise of dinosaurs.
In all three studies, Jacobson's team used sophisticated tools in his laboratory to analyze the calcium isotope composition of calcium carbonate fossils and sediment. Jacobson said a clear pattern is emerging. Influxes of carbon dioxide led to global warming and ocean acidification and, ultimately, to massive environmental changes.
In all three studies, Jacobson's team used sophisticated tools in his laboratory to analyze the calcium isotope composition of calcium carbonate fossils and sediment. Jacobson said a clear pattern is emerging. Influxes of carbon dioxide led to global warming and ocean acidification and, ultimately, to massive environmental changes.
"In all of our studies, we consistently see an increase in calcium isotope ratios before the onset of major events or extinction horizons," Jacobson said. "This seems to point to similar drivers and common responses."
"Perhaps the calcium isotope system has a sensitivity to the earliest phases of these events," Sageman added.
Predictor for future ocean stress
Many researchers study the PETM because it provides the best analog for current-day, human-caused global warming. The carbon influx during the PETM is similar to the amount of carbon released during the past two centuries. The timescales, however, differ significantly. Temperatures during the PETM increased by 5 to 8 degrees Celsius over 170,000 years. With human-caused climate change, the same level of warming is projected to occur in less than 200 years, if carbon dioxide emissions remain unabated.
Frighteningly, terrestrial and ocean stress, including a major decrease in foraminiferal calcification, accompanied the PETM.
"The PETM is a model for what happens during major large carbon cycle perturbations," Jacobson said. "A lot of predictions for Earth's future climate rely on understanding what happened during the PETM."
See the full article here .
five-ways-keep-your-child-safe-school-shootings
Please help promote STEM in your local schools.

South Campus
Northwestern University(US) is a private research university in Evanston, Illinois. Founded in 1851 to serve the former Northwest Territory, the university is a founding member of the Big Ten Conference.
On May 31, 1850, nine men gathered to begin planning a university that would serve the Northwest Territory.
Given that they had little money, no land and limited higher education experience, their vision was ambitious. But through a combination of creative financing, shrewd politicking, religious inspiration and an abundance of hard work, the founders of Northwestern University were able to make that dream a reality.
In 1853, the founders purchased a 379-acre tract of land on the shore of Lake Michigan 12 miles north of Chicago. They established a campus and developed the land near it, naming the surrounding town Evanston in honor of one of the University's founders, John Evans. After completing its first building in 1855, Northwestern began classes that fall with two faculty members and 10 students.
Twenty-one presidents have presided over Northwestern in the years since. The University has grown to include 12 schools and colleges, with additional campuses in Chicago and Doha, Qatar.
Northwestern is known for its focus on interdisciplinary education, extensive research output, and student traditions. The university provides instruction in over 200 formal academic concentrations, including various dual degree programs. The university is composed of eleven undergraduate, graduate, and professional schools, which include the Kellogg School of Management, the Pritzker School of Law, the Feinberg School of Medicine, the Weinberg College of Arts and Sciences, the Bienen School of Music, the McCormick School of Engineering and Applied Science, the Medill School of Journalism, the School of Communication, the School of Professional Studies, the School of Education and Social Policy, and The Graduate School. As of fall 2019, the university had 21,946 enrolled students, including 8,327 undergraduates and 13,619 graduate students.
Valued at $12.2 billion, Northwestern's endowment is among the largest university endowments in the United States. Its numerous research programs bring in nearly $900 million in sponsored research each year.
Northwestern's main 240-acre (97 ha) campus lies along the shores of Lake Michigan in Evanston, 12 miles north of Downtown Chicago. The university's law, medical, and professional schools, along with its nationally ranked Northwestern Memorial Hospital, are located on a 25-acre (10 ha) campus in Chicago's Streeterville neighborhood. The university also maintains a campus in Doha, Qatar and locations in San Francisco, California, Washington, D.C. and Miami, Florida.
As of October 2020, Northwestern's faculty and alumni have included 1 Fields Medalist, 22 Nobel Prize laureates, 40 Pulitzer Prize winners, 6 MacArthur Fellows, 17 Rhodes Scholars, 27 Marshall Scholars, 23 National Medal of Science winners, 11 National Humanities Medal recipients, 84 members of the American Academy of Arts and Sciences, 10 living billionaires, 16 Olympic medalists, and 2 U.S. Supreme Court Justices. Northwestern alumni have founded notable companies and organizations such as the Mayo Clinic, The Blackstone Group, Kirkland & Ellis, U.S. Steel, Guggenheim Partners, Accenture, Aon Corporation, AQR Capital, Booz Allen Hamilton, and Melvin Capital.
The foundation of Northwestern University can be traced to a meeting on May 31, 1850, of nine prominent Chicago businessmen, Methodist leaders, and attorneys who had formed the idea of establishing a university to serve what had been known from 1787 to 1803 as the Northwest Territory. On January 28, 1851, the Illinois General Assembly granted a charter to the Trustees of the North-Western University, making it the first chartered university in Illinois. The school's nine founders, all of whom were Methodists (three of them ministers), knelt in prayer and worship before launching their first organizational meeting. Although they affiliated the university with the Methodist Episcopal Church, they favored a non-sectarian admissions policy, believing that Northwestern should serve all people in the newly developing territory by bettering the economy in Evanston.
John Evans, for whom Evanston is named, bought 379 acres (153 ha) of land along Lake Michigan in 1853, and Philo Judson developed plans for what would become the city of Evanston, Illinois. The first building, Old College, opened on November 5, 1855. To raise funds for its construction, Northwestern sold $100 "perpetual scholarships" entitling the purchaser and his heirs to free tuition. Another building, University Hall, was built in 1869 of the same Joliet limestone as the Chicago Water Tower, also built in 1869, one of the few buildings in the heart of Chicago to survive the Great Chicago Fire of 1871. In 1873 the Evanston College for Ladies merged with Northwestern, and Frances Willard, who later gained fame as a suffragette and as one of the founders of the Woman's Christian Temperance Union (WCTU), became the school's first dean of women (Willard Residential College, built in 1938, honors her name). Northwestern admitted its first female students in 1869, and the first woman was graduated in 1874.
Northwestern fielded its first intercollegiate football team in 1882, later becoming a founding member of the Big Ten Conference. In the 1870s and 1880s, Northwestern affiliated itself with already existing schools of law, medicine, and dentistry in Chicago. Northwestern University Pritzker School of Law is the oldest law school in Chicago. As the university's enrollments grew, these professional schools were integrated with the undergraduate college in Evanston; the result was a modern research university combining professional, graduate, and undergraduate programs, which gave equal weight to teaching and research. By the turn of the century, Northwestern had grown in stature to become the third largest university in the United States after Harvard University(US) and the University of Michigan(US).
Under Walter Dill Scott's presidency from 1920 to 1939, Northwestern began construction of an integrated campus in Chicago designed by James Gamble Rogers, noted for his design of the Yale University(US) campus, to house the professional schools. The university also established the Kellogg School of Management and built several prominent buildings on the Evanston campus, including Dyche Stadium, now named Ryan Field, and Deering Library among others. In the 1920s, Northwestern became one of the first six universities in the United States to establish a Naval Reserve Officers Training Corps (NROTC). In 1939, Northwestern hosted the first-ever NCAA Men's Division I Basketball Championship game in the original Patten Gymnasium, which was later demolished and relocated farther north, along with the Dearborn Observatory, to make room for the Technological Institute.
After the golden years of the 1920s, the Great Depression in the United States (1929–1941) had a severe impact on the university's finances. Its annual income dropped 25 percent from $4.8 million in 1930-31 to $3.6 million in 1933-34. Investment income shrank, fewer people could pay full tuition, and annual giving from alumni and philanthropists fell from $870,000 in 1932 to a low of $331,000 in 1935. The university responded with two salary cuts of 10 percent each for all employees. It imposed hiring and building freezes and slashed appropriations for maintenance, books, and research. Having had a balanced budget in 1930-31, the university now faced deficits of roughly $100,000 for the next four years. Enrollments fell in most schools, with law and music suffering the biggest declines. However, the movement toward state certification of school teachers prompted Northwestern to start a new graduate program in education, thereby bringing in new students and much needed income. In June 1933, Robert Maynard Hutchins, president of the University of Chicago(US), proposed a merger of the two universities, estimating annual savings of $1.7 million. The two presidents were enthusiastic, and the faculty liked the idea; many Northwestern alumni, however, opposed it, fearing the loss of their Alma Mater and its many traditions that distinguished Northwestern from Chicago. The medical school, for example, was oriented toward training practitioners, and alumni feared it would lose its mission if it were merged into the more research-oriented University of Chicago Medical School. The merger plan was ultimately dropped. In 1935, the Deering family rescued the university budget with an unrestricted gift of $6 million, bringing the budget up to $5.4 million in 1938-39. This allowed many of the previous spending cuts to be restored, including half of the salary reductions.
Like other American research universities, Northwestern was transformed by World War II (1939–1945). Regular enrollment fell dramatically, but the school opened high-intensity, short-term programs that trained over 50,000 military personnel, including future president John F. Kennedy. Northwestern's existing NROTC program proved to be a boon to the university as it trained over 36,000 sailors over the course of the war, leading Northwestern to be called the "Annapolis of the Midwest." Franklyn B. Snyder led the university from 1939 to 1949, and after the war, surging enrollments under the G.I. Bill drove dramatic expansion of both campuses. In 1948, prominent anthropologist Melville J. Herskovits founded the Program of African Studies at Northwestern, the first center of its kind at an American academic institution. J. Roscoe Miller's tenure as president from 1949 to 1970 saw an expansion of the Evanston campus, with the construction of the Lakefill on Lake Michigan, growth of the faculty and new academic programs, and polarizing Vietnam-era student protests. In 1978, the first and second Unabomber attacks occurred at Northwestern University. Relations between Evanston and Northwestern became strained throughout much of the post-war era because of episodes of disruptive student activism, disputes over municipal zoning, building codes, and law enforcement, as well as restrictions on the sale of alcohol near campus until 1972. Northwestern's exemption from state and municipal property-tax obligations under its original charter has historically been a source of town-and-gown tension.
Although government support for universities declined in the 1970s and 1980s, President Arnold R. Weber was able to stabilize university finances, leading to a revitalization of its campuses. As admissions to colleges and universities grew increasingly competitive in the 1990s and 2000s, President Henry S. Bienen's tenure saw a notable increase in the number and quality of undergraduate applicants, continued expansion of the facilities and faculty, and renewed athletic competitiveness. In 1999, Northwestern student journalists uncovered information exonerating Illinois death-row inmate Anthony Porter two days before his scheduled execution. The Innocence Project has since exonerated 10 more men. On January 11, 2003, in a speech at Northwestern School of Law's Lincoln Hall, then Governor of Illinois George Ryan announced that he would commute the sentences of more than 150 death-row inmates.
In the 2010s, a 5-year capital campaign resulted in a new music center, a replacement building for the business school, and a $270 million athletic complex. In 2014, President Barack Obama delivered a seminal economics speech at the Evanston campus.
Organization and administration
Governance
Northwestern is privately owned and governed by an appointed Board of Trustees, which is composed of 70 members and, as of 2011, has been chaired by William A. Osborn '69. The board delegates its power to an elected president who serves as the chief executive officer of the university. Northwestern has had sixteen presidents in its history (excluding interim presidents). The current president, economist Morton O. Schapiro, succeeded Henry Bienen whose 14-year tenure ended on August 31, 2009. The president maintains a staff of vice presidents, directors, and other assistants for administrative, financial, faculty, and student matters. Kathleen Haggerty assumed the role of interim provost for the university in April 2020.
Students are formally involved in the university's administration through the Associated Student Government, elected representatives of the undergraduate students, and the Graduate Student Association, which represents the university's graduate students.
The admission requirements, degree requirements, courses of study, and disciplinary and degree recommendations for each of Northwestern's 12 schools are determined by the voting members of that school's faculty (assistant professor and above).
Undergraduate and graduate schools
Evanston Campus:
Weinberg College of Arts and Sciences (1851)
School of Communication (1878)
Bienen School of Music (1895)
McCormick School of Engineering and Applied Science (1909)
Medill School of Journalism (1921)
School of Education and Social Policy (1926)
School of Professional Studies (1933)
Graduate and professional
Evanston Campus
Kellogg School of Management (1908)
The Graduate School
Chicago Campus
Feinberg School of Medicine (1859)
Kellogg School of Management (1908)
Pritzker School of Law (1859)
School of Professional Studies (1933)
Northwestern University had a dental school from 1891 to May 31, 2001, when it closed.
Endowment
In 1996, Princess Diana made a trip to Evanston to raise money for the university hospital's Robert H. Lurie Comprehensive Cancer Center at the invitation of then President Bienen. Her visit raised a total of $1.5 million for cancer research.
In 2003, Northwestern finished a five-year capital campaign that raised $1.55 billion, exceeding its fundraising goal by $550 million.
In 2014, Northwestern launched the "We Will" campaign with a fundraising goal of $3.75 billion. As of December 31, 2019, the university has received $4.78 billion from 164,026 donors.
Sustainability
In January 2009, the Green Power Partnership (sponsored by the EPA) listed Northwestern as one of the top 10 universities in the country in purchasing energy from renewable sources. The university matches 74 million kilowatt hours (kWh) of its annual energy use with Green-e Certified Renewable Energy Certificates (RECs). This green power commitment represents 30 percent of the university's total annual electricity use and places Northwestern in the EPA's Green Power Leadership Club. The Initiative for Sustainability and Energy at Northwestern (ISEN), supporting research, teaching and outreach in these themes, was launched in 2008.
Northwestern requires that all new buildings be LEED-certified. Silverman Hall on the Evanston campus was awarded Gold LEED Certification in 2010; Wieboldt Hall on the Chicago campus was awarded Gold LEED Certification in 2007, and the Ford Motor Company Engineering Design Center on the Evanston campus was awarded Silver LEED Certification in 2006. New construction and renovation projects will be designed to provide at least a 20% improvement over energy code requirements where feasible. At the beginning of the 2008–09 academic year, the university also released the Evanston Campus Framework Plan, which outlines plans for future development of the university's Evanston campus. The plan not only emphasizes sustainable building construction, but also focuses on reducing the energy costs of transportation by optimizing pedestrian and bicycle access. Northwestern has had a comprehensive recycling program in place since 1990. The university recycles over 1,500 tons of waste, or 30% of all waste produced on campus, each year. All landscape waste at the university is composted.
Academics
Education and rankings
Northwestern is a large, residential research university, and is frequently ranked among the top universities in the United States. The university is a leading institution in the fields of materials engineering, chemistry, business, economics, education, journalism, and communications. It is also prominent in law and medicine. Accredited by the Higher Learning Commission and the respective national professional organizations for chemistry, psychology, business, education, journalism, music, engineering, law, and medicine, the university offers 124 undergraduate programs and 145 graduate and professional programs. Northwestern conferred 2,190 bachelor's degrees, 3,272 master's degrees, 565 doctoral degrees, and 444 professional degrees in 2012–2013. Since 1951, Northwestern has awarded 520 honorary degrees. Northwestern also has chapters of academic honor societies such as Phi Beta Kappa (Alpha of Illinois), Eta Kappa Nu, Tau Beta Pi, Eta Sigma Phi (Beta Chapter), Lambda Pi Eta, and Alpha Sigma Lambda (Alpha Chapter).
The four-year, full-time undergraduate program comprises the majority of enrollments at the university. Although there is no university-wide core curriculum, a foundation in the liberal arts and sciences is required for all majors; individual degree requirements are set by the faculty of each school. The university heavily emphasizes interdisciplinary learning, with 72% of undergrads combining two or more areas of study. Northwestern's full-time undergraduate and graduate programs operate on an approximately 10-week academic quarter system with the academic year beginning in late September and ending in early June. Undergraduates typically take four courses each quarter and twelve courses in an academic year and are required to complete at least twelve quarters on campus to graduate. Northwestern offers honors, accelerated, and joint degree programs in medicine, science, mathematics, engineering, and journalism. The comprehensive doctoral graduate program has high coexistence with undergraduate programs.
Despite being a mid-sized university, Northwestern maintains a relatively low student to faculty ratio of 6:1.
Research
Northwestern was elected to the Association of American Universities in 1917 and is classified as an R1 university, denoting "very high" research activity. Northwestern's schools of management, engineering, and communication are among the most academically productive in the nation. The university received $887.3 million in research funding in 2019 and houses over 90 school-based and 40 university-wide research institutes and centers. Northwestern also supports nearly 1,500 research laboratories across two campuses, predominately in the medical and biological sciences.
Northwestern is home to the Center for Interdisciplinary Exploration and Research in Astrophysics, Northwestern Institute for Complex Systems, Nanoscale Science and Engineering Center, Materials Research Center, Center for Quantum Devices, Institute for Policy Research, International Institute for Nanotechnology, Center for Catalysis and Surface Science, Buffet Center for International and Comparative Studies, the Initiative for Sustainability and Energy at Northwestern, and the Argonne/Northwestern Solar Energy Research Center among other centers for interdisciplinary research.
Student body
Northwestern enrolled 8,186 full-time undergraduate, 9,904 full-time graduate, and 3,856 part-time students in the 2019–2020 academic year. The freshman retention rate for that year was 98%. 86% of students graduated after four years and 92% graduated after five years. These numbers can largely be attributed to the university's various specialized degree programs, such as those that allow students to earn master's degrees with a one or two year extension of their undergraduate program.
The undergraduate population is drawn from all 50 states and over 75 foreign countries. 20% of students in the Class of 2024 were Pell Grant recipients and 12.56% were first-generation college students. Northwestern also enrolls the 9th-most National Merit Scholars of any university in the nation.
In Fall 2014, 40.6% of undergraduate students were enrolled in the Weinberg College of Arts and Sciences, 21.3% in the McCormick School of Engineering and Applied Science, 14.3% in the School of Communication, 11.7% in the Medill School of Journalism, 5.7% in the Bienen School of Music, and 6.4% in the School of Education and Social Policy. The five most commonly awarded undergraduate degrees are economics, journalism, communication studies, psychology, and political science. The Kellogg School of Management's MBA, the School of Law's JD, and the Feinberg School of Medicine's MD are the three largest professional degree programs by enrollment. With 2,446 students enrolled in science, engineering, and health fields, the largest graduate programs by enrollment include chemistry, integrated biology, material sciences, electrical and computer engineering, neuroscience, and economics.
Athletics
Northwestern is a charter member of the Big Ten Conference. It is the conference's only private university and possesses the smallest undergraduate enrollment (the next-smallest member, the University of Iowa, is roughly three times as large, with almost 22,000 undergraduates).
Northwestern fields 19 intercollegiate athletic teams (8 men's and 11 women's) in addition to numerous club sports. 12 of Northwestern's varsity programs have had NCAA or bowl postseason appearances. Northwestern is one of five private AAU members to compete in NCAA Power Five conferences (the other four being Duke, Stanford, USC, and Vanderbilt) and maintains a 98% NCAA Graduation Success Rate, the highest among Football Bowl Subdivision schools.
In 2018, the school opened the Walter Athletics Center, a $270 million state of the art lakefront facility for its athletics teams.
Nickname and mascot
Before 1924, Northwestern teams were known as "The Purple" and unofficially as "The Fighting Methodists." The name Wildcats was bestowed upon the university in 1924 by Wallace Abbey, a writer for the Chicago Daily Tribune, who wrote that even in a loss to the University of Chicago, "Football players had not come down from Evanston; wildcats would be a name better suited to "[Coach Glenn] Thistletwaite's boys." The name was so popular that university board members made "Wildcats" the official nickname just months later. In 1972, the student body voted to change the official nickname to "Purple Haze," but the new name never stuck.
The mascot of Northwestern Athletics is "Willie the Wildcat". Prior to Willie, the team mascot had been a live, caged bear cub from the Lincoln Park Zoo named Furpaw, who was brought to the playing field on game days to greet the fans. After a losing season however, the team decided that Furpaw was to blame for its misfortune and decided to select a new mascot. "Willie the Wildcat" made his debut in 1933, first as a logo and then in three dimensions in 1947, when members of the Alpha Delta fraternity dressed as wildcats during a Homecoming Parade.
Traditions
Northwestern's official motto, "Quaecumque sunt vera," was adopted by the university in 1890. The Latin phrase translates to "Whatsoever things are true" and comes from the Epistle of Paul to the Philippians (Philippians 4:8), in which St. Paul admonishes the Christians in the Greek city of Philippi. In addition to this motto, the university crest features a Greek phrase taken from the Gospel of John inscribed on the pages of an open book, ήρης χάριτος και αληθείας or "the word full of grace and truth" (John 1:14).
Alma Mater is the Northwestern Hymn. The original Latin version of the hymn was written in 1907 by Peter Christian Lutkin, the first dean of the School of Music from 1883 to 1931. In 1953, then Director-of-Bands John Paynter recruited an undergraduate music student, Thomas Tyra ('54), to write an English version of the song, which today is performed by the Marching Band during halftime at Wildcat football games and by the orchestra during ceremonies and other special occasions.
Purple became Northwestern's official color in 1892, replacing black and gold after a university committee concluded that too many other universities had used these colors. Today, Northwestern's official color is purple, although white is something of an official color as well, being mentioned in both the university's earliest song, Alma Mater (1907) ("Hail to purple, hail to white") and in many university guidelines.
The Rock, a 6-foot high quartzite boulder donated by the Class of 1902, originally served as a water fountain. It was painted over by students in the 1940s as a prank and has since become a popular vehicle of self-expression on campus.
Armadillo Day, commonly known as Dillo Day, is the largest student-run music festival in the country. The festival is hosted every Spring on Northwestern's Lakefront.
Primal Scream is held every quarter at 9 p.m. on the Sunday before finals week. Students lean out of windows or gather in courtyards and scream to help relieve stress.
In the past, students would throw marshmallows during football games, but this tradition has since been discontinued.
Philanthropy
One of Northwestern's most notable student charity events is Dance Marathon, the most established and largest student-run philanthropy in the nation. The annual 30-hour event is among the most widely-attended events on campus. It has raised over $1 million for charity ever year since 2011 and has donated a total of $13 million to children's charities since its conception.
The Northwestern Community Development Corps (NCDC) is a student-run organization that connects hundreds of student volunteers to community development projects in Evanston and Chicago throughout the year. The group also holds a number of annual community events, including Project Pumpkin, a Halloween celebration that provides over 800 local children with carnival events and a safe venue to trick-or-treat each year.
Many Northwestern students participate in the Freshman Urban Program, an initiative for students interested in community service to work on addressing social issues facing the city of Chicago, and the university's Global Engagement Studies Institute (GESI) programs, including group service-learning expeditions in Asia, Africa, or Latin America in conjunction with the Foundation for Sustainable Development.
Several internationally recognized non-profit organizations were established at Northwestern, including the World Health Imaging, Informatics and Telemedicine Alliance, a spin-off from an engineering student's honors thesis.
Media
Print
Established in 1881, The Daily Northwestern is the university's main student newspaper and is published on weekdays during the academic year. It is directed entirely by undergraduate students and owned by the Students Publishing Company. Although it serves the Northwestern community, the Daily has no business ties to the university and is supported wholly by advertisers.
North by Northwestern is an online undergraduate magazine established in September 2006 by students at the Medill School of Journalism. Published on weekdays, it consists of updates on news stories and special events throughout the year. It also publishes a quarterly print magazine.
Syllabus is the university's undergraduate yearbook. It is distributed in late May and features a culmination of the year's events at Northwestern. First published in 1885, the yearbook is published by Students Publishing Company and edited by Northwestern students.
Northwestern Flipside is an undergraduate satirical magazine. Founded in 2009, it publishes a weekly issue both in print and online.
Helicon is the university's undergraduate literary magazine. Established in 1979, it is published twice a year: a web issue is released in the winter and a print issue with a web complement is released in the spring.
The Protest is Northwestern's quarterly social justice magazine.
The Northwestern division of Student Multicultural Affairs supports a number of publications for particular cultural groups including Ahora, a magazine about Hispanic and Latino/a culture and campus life; Al Bayan, published by the Northwestern Muslim-cultural Student Association; BlackBoard Magazine, a magazine centered around African-American student life; and NUAsian, a magazine and blog on Asian and Asian-American culture and issues.
The Northwestern University Law Review is a scholarly legal publication and student organization at Northwestern University School of Law. Its primary purpose is to publish a journal of broad legal scholarship. The Law Review publishes six issues each year. Student editors make the editorial and organizational decisions and select articles submitted by professors, judges, and practitioners, as well as student pieces. The Law Review also publishes scholarly pieces weekly on the Colloquy.
The Northwestern Journal of Technology and Intellectual Property is a law review published by an independent student organization at Northwestern University School of Law.
The Northwestern Interdisciplinary Law Review is a scholarly legal publication published annually by an editorial board of Northwestern undergraduates. Its mission is to publish interdisciplinary legal research, drawing from fields such as history, literature, economics, philosophy, and art. Founded in 2008, the journal features articles by professors, law students, practitioners, and undergraduates. It is funded by the Buffett Center for International and Comparative Studies and the Office of the Provost.
Web-based
Established in January 2011, Sherman Ave is a humor website that often publishes content on Northwestern student life. Most of its staff writers are current Northwestern undergraduates writing under various pseudonyms. The website is popular among students for its interviews of prominent campus figures, Freshman Guide, and live-tweeting coverage of football games. In Fall 2012, the website promoted a satiric campaign to end the Vanderbilt University football team's custom of clubbing baby seals.
Politics & Policy is dedicated to the analysis of current events and public policy. Established in 2010 by students at the Weinberg College of Arts and Sciences, School of Communication, and Medill School of Journalism, the publication reaches students on more than 250 college campuses around the world. Run entirely by undergraduates, it is published several times a week and features material ranging from short summaries of events to extended research pieces. The publication is financed in part by the Buffett Center.
Northwestern Business Review is a campus source for business news. Founded in 2005, it has an online presence as well as a quarterly print schedule.
TriQuarterly Online (formerly TriQuarterly) is a literary magazine published twice a year featuring poetry, fiction, nonfiction, drama, literary essays, reviews, blog posts, and art.
The Queer Reader is Northwestern's first radical feminist and LGBTQ+ publication.
Radio, film, and television
WNUR (89.3 FM) is a 7,200-watt radio station that broadcasts to the city of Chicago and its northern suburbs. WNUR's programming consists of music (jazz, classical, and rock), literature, politics, current events, varsity sports (football, men's and women's basketball, baseball, softball, and women's lacrosse), and breaking news on weekdays.
Studio 22 is a student-run production company that produces roughly ten films each year. The organization financed the first film Zach Braff directed, and many of its films have featured students who would later go into professional acting, including Zach Gilford of Friday Night Lights.
Applause for a Cause is currently the only student-run production company in the nation to create feature-length films for charity. It was founded in 2010 and has raised over $5,000 to date for various local and national organizations across the United States.
Northwestern News Network is a student television news and sports network, serving the Northwestern and Evanston communities. Its studios and newsroom are located on the fourth floor of the McCormick Tribune Center on Northwestern's Evanston campus. NNN is funded by the Medill School of Journalism.