From University of Washington College of Engineering: "'Eigensteve' Brunton: YouTubing math for engineers"
From University of Washington College of Engineering


College of Engineering
October 27, 2020
Andy Freeberg
With over four million views and 90,000 subscribers, Professor Steve Brunton's YouTube channel simplifies the mathematical fundamentals behind data-driven engineering concepts.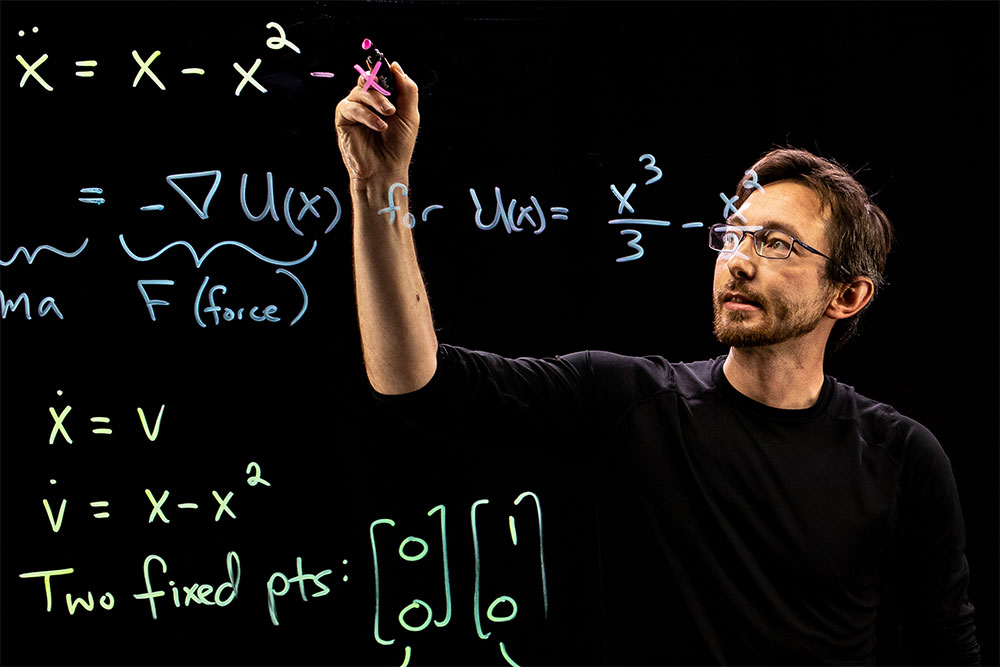 Credit: Dennis Wise / University of Washington.
In his small video studio tucked away in the Mechanical Engineering Building, ME professor Steve Brunton cleans his lightboard and prepares to record a lesson.
"People tend to trash everything on the internet, so I've been surprised by how overwhelmingly positive the reception has been," remarks Brunton, known by his online followers as "Eigensteve" (a reference to the linear algebra terms eigenvalue and eigenvector).
Brunton's comments are an understatement. With over four million views and 90,000 subscribers, the Eigensteve YouTube channel has very few haters. Most of the videos have a consistent style: Brunton draws figures and equations on a colorful lightboard set against a black backdrop. His tone is casual and accessible, but also measured and expedient.
The videos fill an important niche, simplifying the fundamentals of applied math for engineers around the world who are grappling with data-driven concepts like machine learning and dynamical systems. They've been so successful that Brunton gets 20 to 50 comments every day and now finds himself recognized by graduate students at conferences who treat him as a minor celebrity.

Control Theory and COVID-19
Brunton's videos cover a large number of math topics with an emphasis on real-world applications. In this, the first of a series, he ties the COVID-19 pandemic to a control theory perspective. Video by the Brunton Lab / University of Washington.
Flipping the classroom
Brunton began recording lessons after joining the UW as an acting assistant professor in applied mathematics. He and Nathan Kutz, professor of applied math, were responsible for teaching AMATH301: Beginning Scientific Computing, one of engineering's core classes taken by over a thousand students a year.
Because the class was taught repeatedly without much change to the curriculum, they decided to flip the class. The strategy of a flipped classroom is to reverse the typical lecture-then-homework model. Instead, students watch lecture material online ahead of class, and class time is spent engaged in problem solving activities.
In a two-day period they filmed every lecture for the entire course. "I even brought a bag of different shirts so I could swap them to make it look like it was a different day of the week," remembers Brunton.
The class was a success and continues in the flipped format today. To Brunton, it showed that recorded lessons were better at reaching more students. He also noticed how much students benefited from being able to watch the lectures at times that worked for them and being able to re-watch certain portions, spending as much or as little time as needed on a lesson.
A few years later, with seed funding from MathWorks, Kutz and Brunton set up a shoestring video studio in Lewis Hall. "It was tiny, cramped, had no windows and in the middle of summer would get to 120 degrees," says Brunton. "But that was our beta version of the lightboard studio and we had a ton of fun."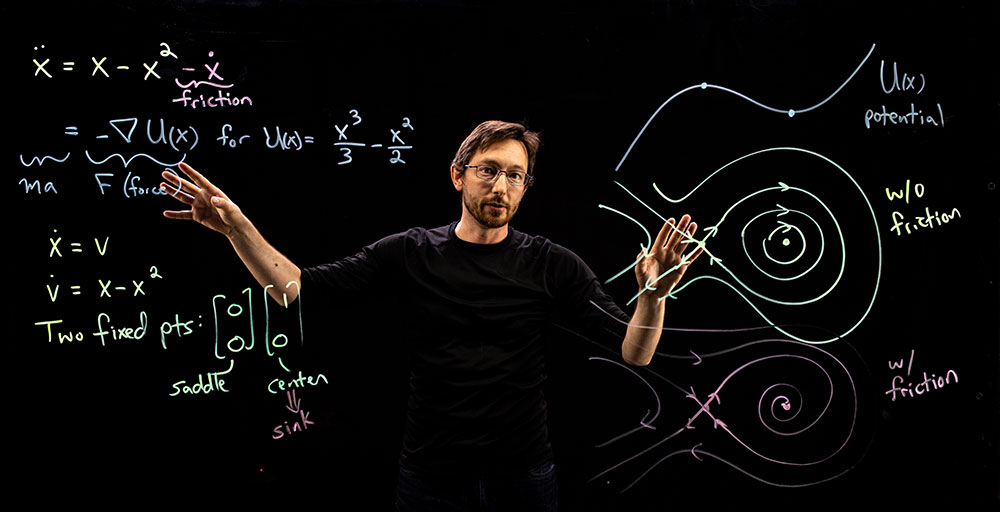 Brunton focuses his lectures on math concepts that are the most relevant to engineering. Credit: Dennis Wise / University of Washington.
Engineering in a data-driven world
________________________________________
Data driven
December 10, 2018
________________________________________
Today's lesson will be filmed in the new MEB studio Brunton's team designed and built in 2019 with support from The Boeing Company. With upgraded equipment and hundreds of videos now under his belt, the production value of the series has increased dramatically since the early days.
Back in the classroom, Brunton has also been key to bringing modern, data-driven concepts into the ME curriculum. Last year, ME added the option for students to take a data science degree track through the UW eScience Institute, where Brunton is a fellow.
Yet Brunton also takes a very pragmatic approach to the kinds of math that are useful to a career in engineering. "Ninety-nine percent of the people learning math are going to use the math in practice as engineers, not as pure math professors. So that's the perspective we take," he says.
The approach is working. The videos that first helped his YouTube channel take off were a "boot camp" series on controls. Brunton has heard from students who use the videos to brush up and prepare for tests and from professionals who watch them to help extend their knowledge. Other topics Eigensteve has covered include Fourier Analysis, Machine Learning, and Data-Driven Science and Engineering (with lessons in both MATLAB and Python programming languages).
For those interested in where to start among the channel's hundreds of videos, Brunton recommends picking a playlist on a topic that interests them and watching the first video, which typically starts with a high-level overview.
Simplifying the math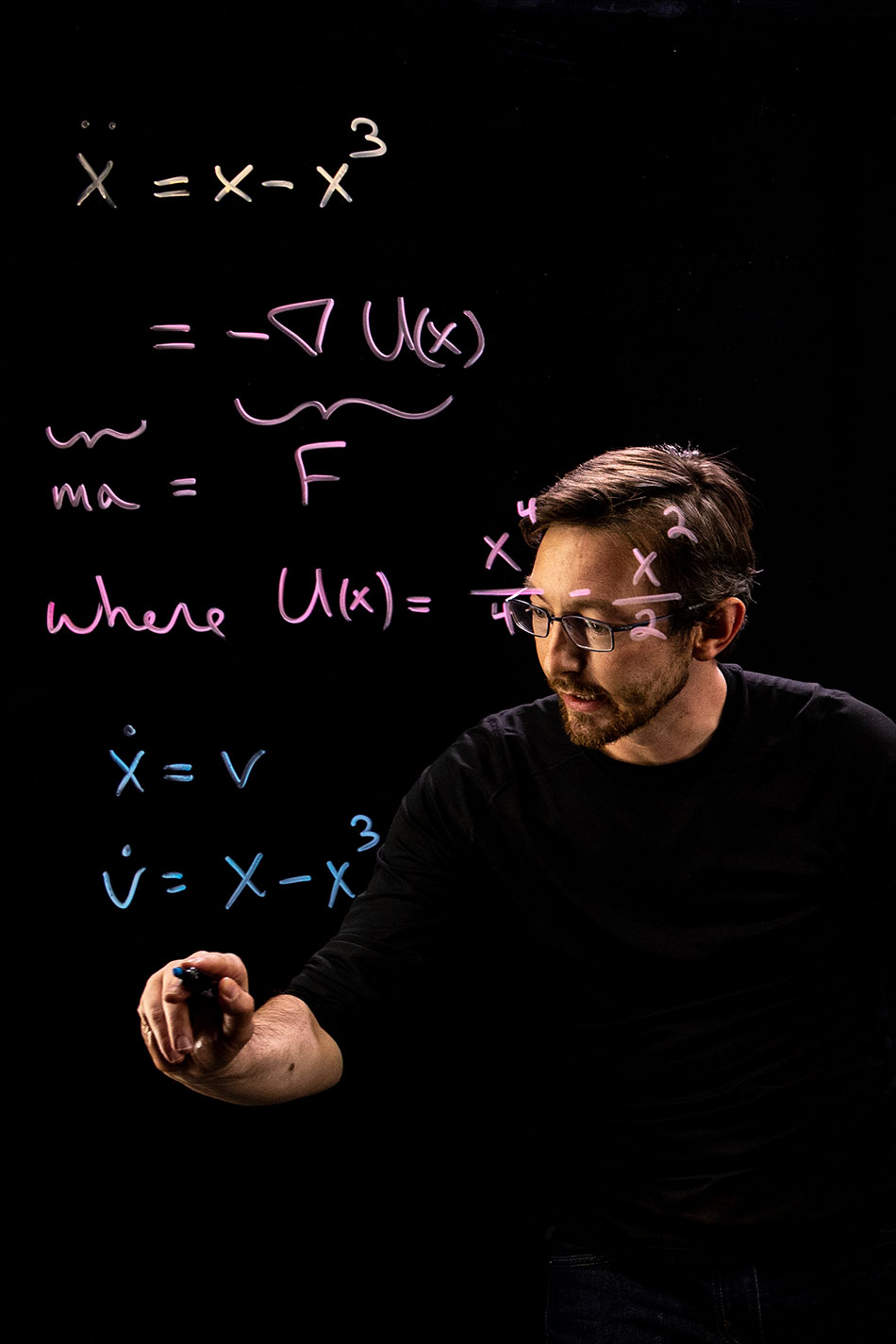 Because the camera is behind the glass lightboard, the videos have to be mirrored to make Brunton's writing appear correct to viewers. Brunton is actually left-handed. Credit: Dennis Wise / University of Washington.
"I think one of the reasons the YouTube videos have gone so well is because I'm very simple myself," he says. "I have a hard time understanding complicated concepts, so by the time I grasp it enough to explain it to someone else, it has to be simplified."
It's a humble statement coming from the James B. Morrison Endowed Professor of Mechanical Engineering and a 2019 winner of a Presidential Early Career Award for Scientists and Engineers, but Brunton insists the YouTube videos are largely a selfish pursuit.
"Part of what I enjoy about it is the immediate gratification," says Brunton. "On one hand, most of what we do in research has a very long timeframe. You work for years on a paper and get all of these negative comments, by the time you finally publish it's only after a long valley of delayed gratification. With the online medium you get immediate feedback and you know you're making an impact. People appreciate it and they ask fantastic questions."
Brunton says one of his favorite parts of the YouTube channel is looking at the audience demographics and seeing how far it reaches globally. "There are kids in rural India learning control theory, and that's awesome," he says. "My entire life and career have been defined by the great teachers who have invested their time to help me. I wouldn't want to do anything in my life that doesn't involve teaching and sharing knowledge, for me that's just very satisfying."
See the full article here .

five-ways-keep-your-child-safe-school-shootings
Please help promote STEM in your local schools.
About the U Washington College of Engineering
Mission, Facts, and Stats
Our mission is to develop outstanding engineers and ideas that change the world.
Faculty:
275 faculty (25.2% women)
Achievements:
128 NSF Young Investigator/Early Career Awards since 1984
32 Sloan Foundation Research Awards
2 MacArthur Foundation Fellows (2007 and 2011)
A national leader in educating engineers, each year the College turns out new discoveries, inventions and top-flight graduates, all contributing to the strength of our economy and the vitality of our community.
Engineering innovation
Engineers drive the innovation economy and are vital to solving society's most challenging problems. The College of Engineering is a key part of a world-class research university in a thriving hub of aerospace, biotechnology, global health and information technology innovation. Over 50% of UW startups in FY18 came from the College of Engineering.
Commitment to diversity and access
The College of Engineering is committed to developing and supporting a diverse student body and faculty that reflect and elevate the populations we serve. We are a national leader in women in engineering; 25.5% of our faculty are women compared to 17.4% nationally. We offer a robust set of diversity programs for students and faculty.
Research and commercialization
The University of Washington is an engine of economic growth, today ranked third in the nation for the number of startups launched each year, with 65 companies having been started in the last five years alone by UW students and faculty, or with technology developed here. The College of Engineering is a key contributor to these innovations, and engineering faculty, students or technology are behind half of all UW startups. In FY19, UW received $1.58 billion in total research awards from federal and nonfederal sources.

The University of Washington is one of the world's preeminent public universities. Our impact on individuals, on our region, and on the world is profound — whether we are launching young people into a boundless future or confronting the grand challenges of our time through undaunted research and scholarship. Ranked number 10 in the world in Shanghai Jiao Tong University rankings and educating more than 54,000 students annually, our students and faculty work together to turn ideas into impact and in the process transform lives and our world. For more about our impact on the world, every day.
So what defines us —the students, faculty and community members at the University of Washington? Above all, it's our belief in possibility and our unshakable optimism. It's a connection to others, both near and far. It's a hunger that pushes us to tackle challenges and pursue progress. It's the conviction that together we can create a world of good. Join us on the journey.