From Rochester Institute of Technology: "New mathematical method shows how climate change led to the fall of an ancient civilization"
From Rochester Institute of Technology
September 2, 2020
Luke Auburn
luke.auburn@rit.edu
Chaos paper by RIT Assistant Professor Nishant Malik applies method to Indus Valley Civilization.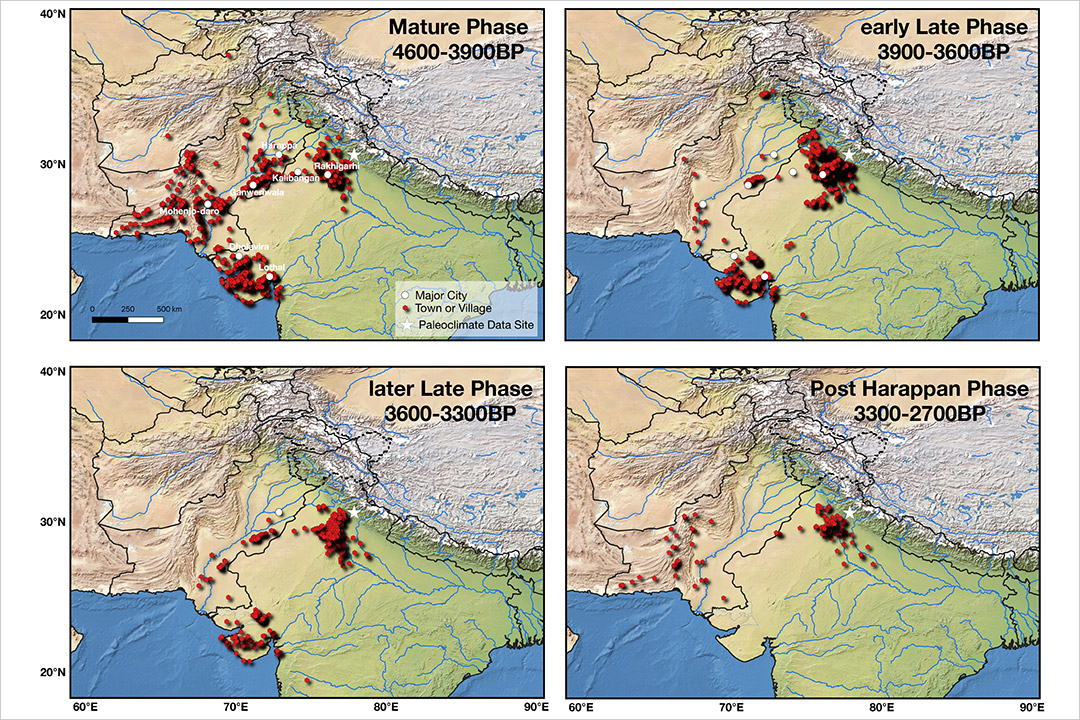 This figure shows the settlements of the Indus Valley Civilization during different phases of its evolution. RIT Assistant Professor Nishant Malik developed a mathematical method that shows climate change likely caused the rise and fall of the ancient civilization.
A Rochester Institute of Technology researcher developed a mathematical method that shows climate change likely caused the rise and fall of an ancient civilization. In an article recently featured in the journal Chaos: An Interdisciplinary Journal of Nonlinear Science, Nishant Malik, assistant professor in RIT's School of Mathematical Sciences, outlined the new technique he developed and showed how shifting monsoon patterns led to the demise of the Indus Valley Civilization, a Bronze Age civilization contemporary to Mesopotamia and ancient Egypt.
Malik developed a method to study paleoclimate time series, sets of data that tell us about past climates using indirect observations. For example, by measuring the presence of a particular isotope in stalagmites from a cave in South Asia, scientists were able to develop a record of monsoon rainfall in the region for the past 5,700 years. But as Malik notes, studying paleoclimate time series poses several problems that make it challenging to analyze them with mathematical tools typically used to understand climate.
"Usually the data we get when analyzing paleoclimate is a short time series with noise and uncertainty in it," said Malik. "As far as mathematics and climate is concerned, the tool we use very often in understanding climate and weather is dynamical systems. But dynamical systems theory is harder to apply to paleoclimate data. This new method can find transitions in the most challenging time series, including paleoclimate, which are short, have some amount of uncertainty and have noise in them."
There are several theories about why the Indus Valley Civilization declined—including invasion by nomadic Indo-Aryans and earthquakes—but climate change appears to be the most likely scenario. But until Malik applied his hybrid approach— rooted in dynamical systems but also drawing on methods from the fields of machine learning and information theory—there was no mathematical proof. His analysis showed there was a major shift in monsoon patterns just before the dawn of this civilization and that the pattern reversed course right before it declined, indicating it was in fact climate change that caused the fall.
Malik said he hopes the method will allow scientists to develop more automated methods of finding transitions in paleoclimate data and leads to additional important historical discoveries.
See the full article here .
five-ways-keep-your-child-safe-school-shootings
Please help promote STEM in your local schools.
Rochester Institute of Technology (RIT) is a private doctoral university within the town of Henrietta in the Rochester, New York metropolitan area.
RIT is composed of nine academic colleges, including National Technical Institute for the Deaf. The Institute is one of only a small number of engineering institutes in the State of New York, including New York Institute of Technology, SUNY Polytechnic Institute, and Rensselaer Polytechnic Institute. It is most widely known for its fine arts, computing, engineering, and imaging science programs; several fine arts programs routinely rank in the national "Top 10" according to US News & World Report.
The Institute as it is known today began as a result of an 1891 merger between Rochester Athenæum, a literary society founded in 1829 by Colonel Nathaniel Rochester and associates, and Mechanics Institute, a Rochester institute of practical technical training for local residents founded in 1885 by a consortium of local businessmen including Captain Henry Lomb, co-founder of Bausch & Lomb. The name of the merged institution at the time was called Rochester Athenæum and Mechanics Institute (RAMI). In 1944, the school changed its name to Rochester Institute of Technology and it became a full-fledged research university.