From Vanderbilt University: "Tiny tweezer developed at Vanderbilt can trap molecules on a nanoscale, creating powerful research capabilities into cancer metastasis, neurodegenerative diseases"
Aug. 31, 2020
Marissa Shapiro
In 2018, one-half of the Nobel Prize was awarded to Arthur Ashkin, the physicist who developed optical tweezers, the use of a tightly focused laser beam to isolate and move micron-scale objects (the size of red blood cells). Now Justus Ndukaife, assistant professor of electrical engineering at Vanderbilt University, has developed the first-ever opto-thermo-electrohydrodynamic tweezers, optical nanotweezers that can trap and manipulate objects on an even smaller scale.
The article, "Stand-off trapping and manipulation of sub-10 nm objects and biomolecules using opto-thermo-electrohydrodynamic tweezers" was published online in the journal Nature Nanotechnology on August 31, 2020.
The article was authored by Ndukaife and graduate students Chuchuan Hong and Sen Yang, who are conducting research in Ndukaife's lab.
Micron-scale optical tweezers represent a significant advancement in biological research but are limited in the size of the objects they can work with. This is because the laser beam that acts as the pincer of an optical tweezer can only focus the laser light to a certain diameter (about half the laser's wavelength). In the case of red light with a wavelength of 700 nanometers, the tweezer can focus on and manipulate only objects with a diameter of approximately 350 nanometers or greater using low power. Of course, size is relative, so while a size of 350 nanometers is extremely small, it leaves out the even smaller molecules such as viruses, which come in at 100 nanometers, or DNA and proteins that measure less than 10 nanometers.
The technique that Ndukaife established with OTET leaves several microns between the laser beam and the molecule it is trapping, another important element of how these new, tiny tweezers work. "We have developed a strategy that enables us to tweeze extremely small objects without exposing them to high-intensity light or heat that can damage a molecule's function," Ndukaife said. "The ability to trap and manipulate such small objects gives us the ability to understand the way our DNA and other biological molecules behave in great detail, on a singular level."
Before OTET, molecules such as extracellular vesicles could only be isolated using high-speed centrifuges. However, the technology's high cost has inhibited wide adoption. OTET, on the other hand, has the potential to become broadly available to researchers with smaller budgets. The tweezers can also sort objects based on their size, an approach that is important when looking for specific exosomes, extracellular vesicles secreted by cells that can cause cancers to metastasize. Exosomes range in size from 30 to 150 nanometers, and sorting and investigating specific exosomes has typically proven challenging.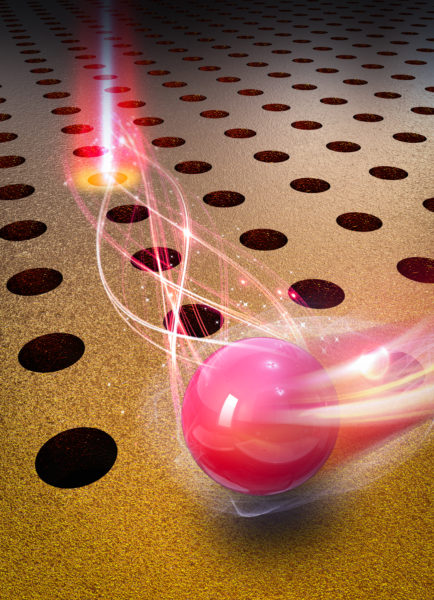 Nanotweezer (Justus Ndukaife).
Other applications of OTET that Ndukaife envisions include detecting pathogens by trapping viruses for study and researching proteins that contribute to conditions associated with neurodegenerative diseases such as Alzheimer's. Both applications could contribute to early detection of disease because the tweezers can effectively capture low levels of molecules, meaning a disease does not have to be full-blown before disease-causing molecules can be researched. OTET can also be combined with other research techniques such as biofluorescence and spectroscopy.
"The sky is the limit when it comes to the applications of OTET," said Ndukaife, who collaborated with the Center for Technology Transfer and Commercialization to file a patent on this technology. "I am looking forward to seeing how other researchers harness its capabilities in their work."
The research was funded by National Science Foundation (NSF) grant ECCS-1933109 and Vanderbilt University.
See the full article here .
five-ways-keep-your-child-safe-school-shootings
Please help promote STEM in your local schools.
Commodore Cornelius Vanderbilt was in his 79th year when he decided to make the gift that founded Vanderbilt University in the spring of 1873.
The $1 million that he gave to endow and build the university was the commodore's only major philanthropy. Methodist Bishop Holland N. McTyeire of Nashville, husband of Amelia Townsend who was a cousin of the commodore's young second wife Frank Crawford, went to New York for medical treatment early in 1873 and spent time recovering in the Vanderbilt mansion. He won the commodore's admiration and support for the project of building a university in the South that would "contribute to strengthening the ties which should exist between all sections of our common country."
McTyeire chose the site for the campus, supervised the construction of buildings and personally planted many of the trees that today make Vanderbilt a national arboretum. At the outset, the university consisted of one Main Building (now Kirkland Hall), an astronomical observatory and houses for professors. Landon C. Garland was Vanderbilt's first chancellor, serving from 1875 to 1893. He advised McTyeire in selecting the faculty, arranged the curriculum and set the policies of the university.
For the first 40 years of its existence, Vanderbilt was under the auspices of the Methodist Episcopal Church, South. The Vanderbilt Board of Trust severed its ties with the church in June 1914 as a result of a dispute with the bishops over who would appoint university trustees.
From the outset, Vanderbilt met two definitions of a university: It offered work in the liberal arts and sciences beyond the baccalaureate degree and it embraced several professional schools in addition to its college. James H. Kirkland, the longest serving chancellor in university history (1893-1937), followed Chancellor Garland. He guided Vanderbilt to rebuild after a fire in 1905 that consumed the main building, which was renamed in Kirkland's honor, and all its contents. He also navigated the university through the separation from the Methodist Church. Notable advances in graduate studies were made under the third chancellor, Oliver Cromwell Carmichael (1937-46). He also created the Joint University Library, brought about by a coalition of Vanderbilt, Peabody College and Scarritt College.
Remarkable continuity has characterized the government of Vanderbilt. The original charter, issued in 1872, was amended in 1873 to make the legal name of the corporation "The Vanderbilt University." The charter has not been altered since.
The university is self-governing under a Board of Trust that, since the beginning, has elected its own members and officers. The university's general government is vested in the Board of Trust. The immediate government of the university is committed to the chancellor, who is elected by the Board of Trust.
The original Vanderbilt campus consisted of 75 acres. By 1960, the campus had spread to about 260 acres of land. When George Peabody College for Teachers merged with Vanderbilt in 1979, about 53 acres were added.
Vanderbilt's student enrollment tended to double itself each 25 years during the first century of the university's history: 307 in the fall of 1875; 754 in 1900; 1,377 in 1925; 3,529 in 1950; 7,034 in 1975. In the fall of 1999 the enrollment was 10,127.
In the planning of Vanderbilt, the assumption seemed to be that it would be an all-male institution. Yet the board never enacted rules prohibiting women. At least one woman attended Vanderbilt classes every year from 1875 on. Most came to classes by courtesy of professors or as special or irregular (non-degree) students. From 1892 to 1901 women at Vanderbilt gained full legal equality except in one respect — access to dorms. In 1894 the faculty and board allowed women to compete for academic prizes. By 1897, four or five women entered with each freshman class. By 1913 the student body contained 78 women, or just more than 20 percent of the academic enrollment.
National recognition of the university's status came in 1949 with election of Vanderbilt to membership in the select Association of American Universities. In the 1950s Vanderbilt began to outgrow its provincial roots and to measure its achievements by national standards under the leadership of Chancellor Harvie Branscomb. By its 90th anniversary in 1963, Vanderbilt for the first time ranked in the top 20 private universities in the United States.
Vanderbilt continued to excel in research, and the number of university buildings more than doubled under the leadership of Chancellors Alexander Heard (1963-1982) and Joe B. Wyatt (1982-2000), only the fifth and sixth chancellors in Vanderbilt's long and distinguished history. Heard added three schools (Blair, the Owen Graduate School of Management and Peabody College) to the seven already existing and constructed three dozen buildings. During Wyatt's tenure, Vanderbilt acquired or built one-third of the campus buildings and made great strides in diversity, volunteerism and technology.
The university grew and changed significantly under its seventh chancellor, Gordon Gee, who served from 2000 to 2007. Vanderbilt led the country in the rate of growth for academic research funding, which increased to more than $450 million and became one of the most selective undergraduate institutions in the country.
On March 1, 2008, Nicholas S. Zeppos was named Vanderbilt's eighth chancellor after serving as interim chancellor beginning Aug. 1, 2007. Prior to that, he spent 2002-2008 as Vanderbilt's provost, overseeing undergraduate, graduate and professional education programs as well as development, alumni relations and research efforts in liberal arts and sciences, engineering, music, education, business, law and divinity. He first came to Vanderbilt in 1987 as an assistant professor in the law school. In his first five years, Zeppos led the university through the most challenging economic times since the Great Depression, while continuing to attract the best students and faculty from across the country and around the world. Vanderbilt got through the economic crisis notably less scathed than many of its peers and began and remained committed to its much-praised enhanced financial aid policy for all undergraduates during the same timespan. The Martha Rivers Ingram Commons for first-year students opened in 2008 and College Halls, the next phase in the residential education system at Vanderbilt, is on track to open in the fall of 2014. During Zeppos' first five years, Vanderbilt has drawn robust support from federal funding agencies, and the Medical Center entered into agreements with regional hospitals and health care systems in middle and east Tennessee that will bring Vanderbilt care to patients across the state.
Today, Vanderbilt University is a private research university of about 6,500 undergraduates and 5,300 graduate and professional students. The university comprises 10 schools, a public policy center and The Freedom Forum First Amendment Center. Vanderbilt offers undergraduate programs in the liberal arts and sciences, engineering, music, education and human development as well as a full range of graduate and professional degrees. The university is consistently ranked as one of the nation's top 20 universities by publications such as U.S. News & World Report, with several programs and disciplines ranking in the top 10.
Cutting-edge research and liberal arts, combined with strong ties to a distinguished medical center, creates an invigorating atmosphere where students tailor their education to meet their goals and researchers collaborate to solve complex questions affecting our health, culture and society.
Vanderbilt, an independent, privately supported university, and the separate, non-profit Vanderbilt University Medical Center share a respected name and enjoy close collaboration through education and research. Together, the number of people employed by these two organizations exceeds that of the largest private employer in the Middle Tennessee region.