From insideHPC: "ARCHER2 to be first Cray Shasta System in Europe"
October 22, 2019
Today Cray, a Hewlett Packard Enterprise company, announced a £48 million contract award in the UK to expand its high-performance computing capabilities with Cray's next-generation Shasta supercomputer. The new ARCHER2 supercomputer will be the first Shasta system announced in EMEA and the second system worldwide used for academic research. ARCHER2 will be the UK's most powerful supercomputer and will be equipped with the revolutionary Slingshot interconnect, Cray ClusterStor high-performance storage, the Cray Shasta Software platform, and 2nd Gen AMD EPYC processors. The new supercomputer will be 11X higher performance than its predecessor, ARCHER.

UK Research and Innovation (UKRI) has once again contracted the team at CRAY to build their follow-up to the Archer supercomputer. Archer 2 is reported to offer up to 11x the throughput of the previous Archer supercomputer put into service back in late 2013. Archer 2 is going to be powered by 12,000 EPYC Rome 64 Core CPUs with 5,848 compute nodes, each having two of the 64 core behemoths. The total core count is 748,544 ( 1,497,088 threads) and 1.57PB for the entire system. The CPU speed is listed as 2.2GHz, which we must assume they are running off of the base clock, so that would be EPYC 7742 CPUs with a 225W TDP. These sorts of specs are insane but also will make some significant heat. Archer 2 will be cooled by 23 Shasta Mountain direct liquid cooling and associated liquid cooling cabinets. The back end for connectivity is Cray's next-gen slingshot 100Gbps network compute groups. AMD GPUs are part of this array, but the information I have not found yet on which GPU units from AMD will be used. Estimated peak performance is 28 PFLOP/s and the transition for the Archer to the Archer 2 will begin in Q1 2020 and be completed late 1H 2020 as long as things go as planned.
"ARCHER2 will be an important resource for the UK's research community, providing them with the capability to pursue investigations which are not possible using current resources, said Lynn Gladden, executive chair, professor at the Engineering and Physical Sciences Research Council (ESPRC). "The new system delivered by Cray will greatly increase the potential for researchers to make discoveries across fields such as physics, chemistry, healthcare and technology development."
The new Cray Shasta-based ARCHER2 system will replace the existing ARCHER Cray XC30 in 2020 and be an even greater capability resource for academic researchers and industrial users from the UK, Europe and the rest of the world. At rates previously unattainable, the new supercomputer will achieve 11X higher performance with only a 27% increase in grid power. The ARCHER2 project provides resources for exploration in research disciplines including oil and gas, sustainability and natural resources, mental and physical health, oceanography, atomistic structures, and technology advancement.
"We're pleased to continue supporting UKRI's mission and provide the most advanced high-end computing resources for the UK's science and research endeavors," said Peter Ungaro, president and CEO at Cray, a Hewlett Packard Enterprise company. "As traditional modeling and simulation applications and workflows converge with AI and analytics, a new Exascale Era architecture is required. Shasta will uniquely provide this new capability and ARCHER2 will be the first of its kind in Europe, as its next-gen architecture will provide UK and neighboring scientists and researchers the ability to meet their research requirements across a broad range of disciplines, faster."
The new Shasta system will be the third Cray supercomputer delivered to UKRI, with the previous systems being HECToR and ARCHER. ARCHER2 will be supported by 2nd Gen AMD EPYC processors.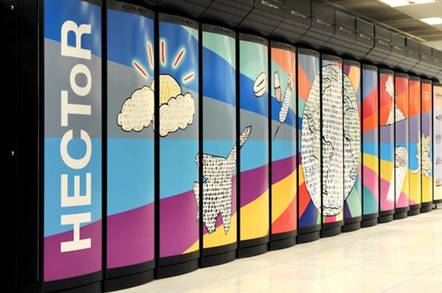 "AMD is incredibly proud to continue our collaboration with Cray to deliver what will be the most powerful supercomputer in the UK, helping to process data faster and reduce the time it takes to reach critical scientific conclusions," said Forrest Norrod, senior vice president and general manager, AMD Datacenter and Embedded Systems Group. "Investments in high-performance computing technology are imperative to keep up with today's increasingly complex problems and explosive data growth. The 2nd Gen AMD EPYC processors paired with Cray Shasta will provide a powerful resource for the next generation of research in the UK when ARCHER2 is delivered next year."
See the full article here .
five-ways-keep-your-child-safe-school-shootings
Please help promote STEM in your local schools.
Founded on December 28, 2006, insideHPC is a blog that distills news and events in the world of HPC and presents them in bite-sized nuggets of helpfulness as a resource for supercomputing professionals. As one reader said, we're sifting through all the news so you don't have to!
If you would like to contact me with suggestions, comments, corrections, errors or new company announcements, please send me an email at rich@insidehpc.com. Or you can send me mail at:
insideHPC
2825 NW Upshur
Suite G
Portland, OR 97239
Phone: (503) 877-5048