From Penn Today: "Where ethics, welfare, and sustainability meet swine"
September 3, 2019
Gina Vitale
Eric Sucar, Photographer
At New Bolton Center's model pig farm, free-roaming sows are implanted with RFID chips, nourished by organic feed, and powered by solar energy.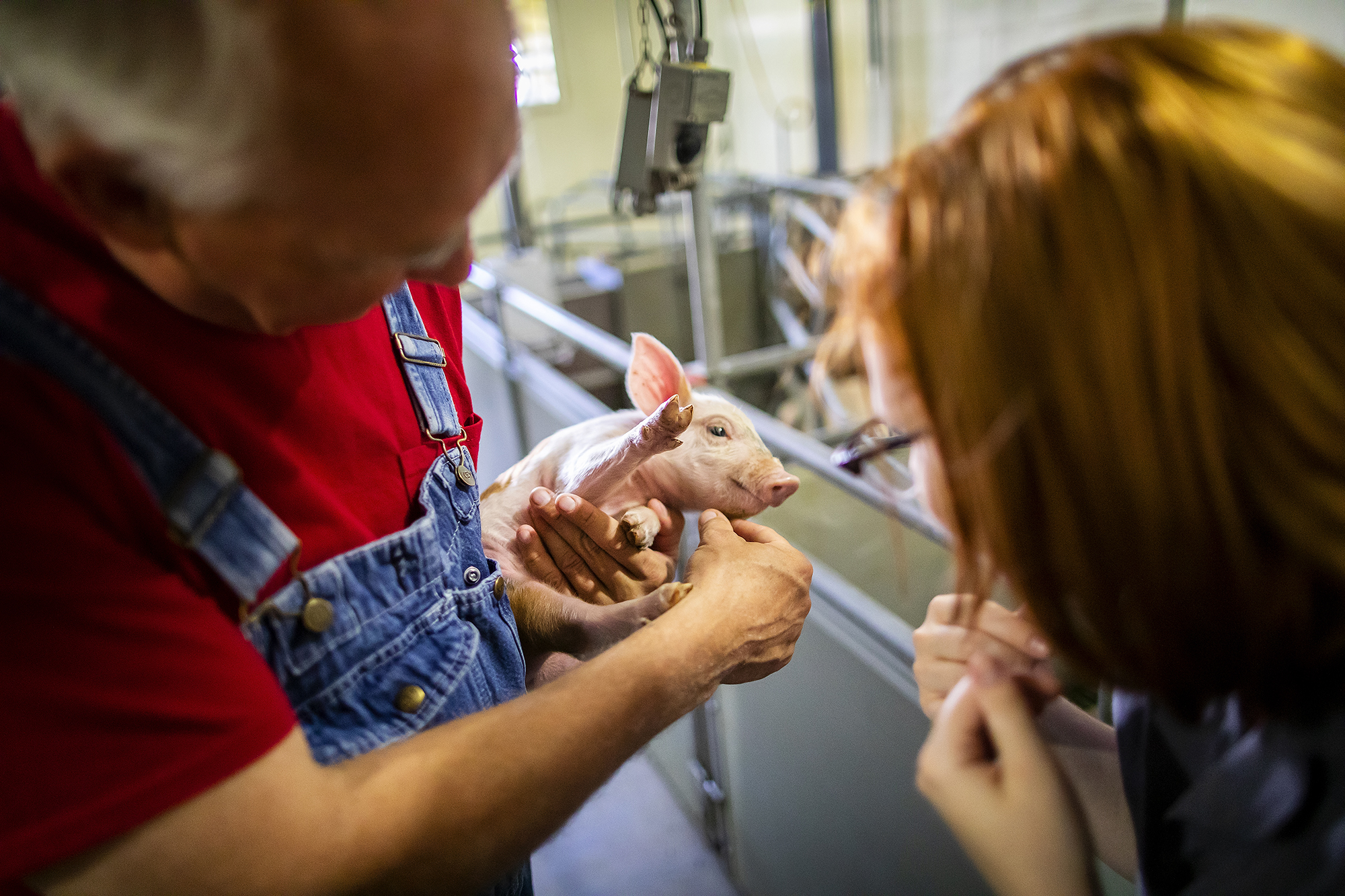 Thomas Parsons, director of Penn Vet's Swine Teaching and Research Center, cradles a piglet at the school's facility on the New Bolton Center campus. Parsons and colleagues have worked for years to improve animal welfare and environmental sustainability at the swine unit, and with recent improvements, are setting a new standard for the industry.
At Penn Vet's Swine Unit at New Bolton Center, 500-pound pigs squeal and strut in a sunny outdoor pen. Thomas Parsons, professor of swine production medicine and director of the Swine Teaching and Research Center, leans down to pat them on their sides as they sniff at his denim overalls.
Parsons and his colleagues have spent years crafting and refining their swine unit at Penn with the aim of making pig farms more sustainable nationwide. Their "farm of the future," with humane conditions and efficient use of resources, stands to reshape the environmental and social impacts of raising swine.
The way Parsons sees it, to define a pig farm as sustainable, it must be both socially acceptable and economically viable.
"For most farmers, farming is not a livelihood, it's a lifestyle," Parsons says. "And so if they lose that social license, not only do they lose their livelihood, but they lose their lifestyle."
See the full article here .
five-ways-keep-your-child-safe-school-shootings
Please help promote STEM in your local schools.
Academic life at Penn is unparalleled, with 100 countries and every U.S. state represented in one of the Ivy League's most diverse student bodies. Consistently ranked among the top 10 universities in the country, Penn enrolls 10,000 undergraduate students and welcomes an additional 10,000 students to our world-renowned graduate and professional schools.
Penn's award-winning educators and scholars encourage students to pursue inquiry and discovery, follow their passions, and address the world's most challenging problems through an interdisciplinary approach.