From ESOblog: "From comets to cosmology"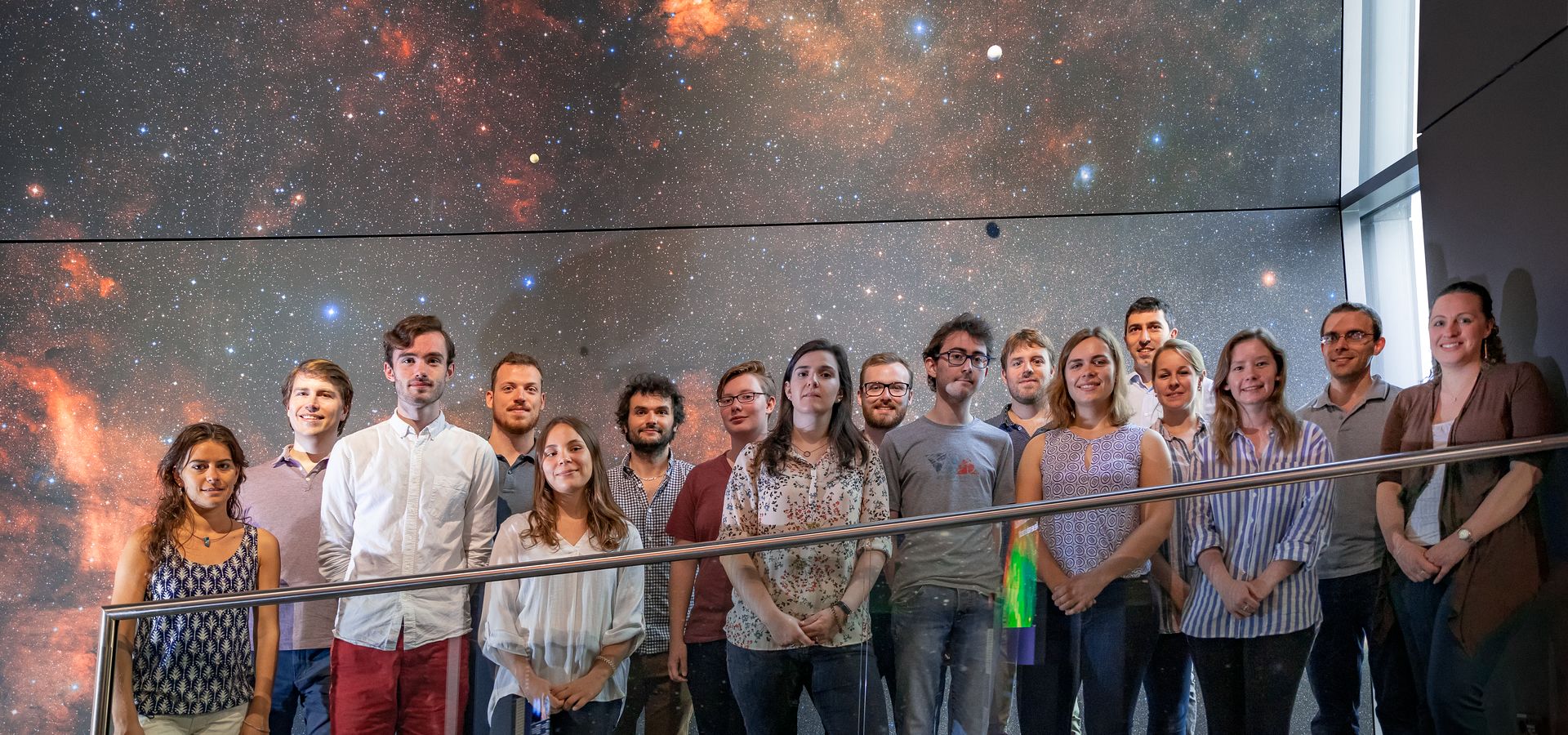 23 August 2019
People@ESO
This summer, ESO held its first ever Summer Research Programme, giving seven talented university students the opportunity to undertake a six-week long research project at ESO Headquarters. Each student worked on a different project, each of which covered a unique area of astronomy — from comets to cosmology. After six weeks packed with new experiences, new networks and new friendships, we speak to the students to find out how they felt about the programme, and what new knowledge and skills they will take back to their home countries.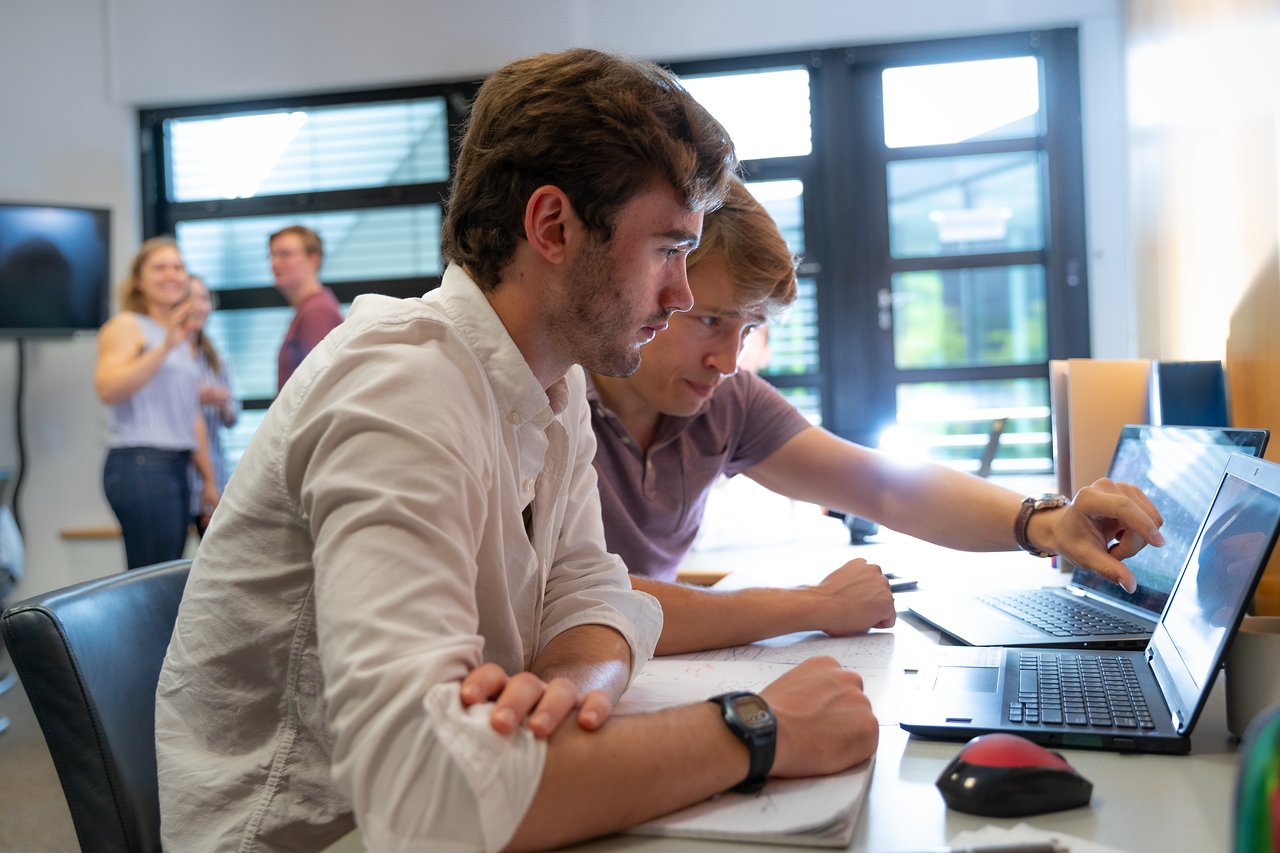 Samuel discovers that Cepheid Variable star X Sagittarii shows some strange variability patterns. Together with his advisor, he investigates what physical processes must be causing this.
Credit: ESO/M. Zamani
Name: Samuel Ward
Nationality: British
University: Durham University, United Kingdom
Project: Modulated variability: a new window into stellar pulsations
Q. What was the best part of the summer school for you, and why?
A. Being part of an active research environment has been such a unique experience and very different to usual university life. The debate and discussion after a presentation or talk on cutting edge astronomical discoveries gives an incredible insight into the scientific process; answers aren't always known and opposing ideas clash, but you can see how it all shapes our growing understanding of the cosmos. Contributing to this atmosphere, even for only a summer, has been such a privilege and it has made me excited to continue my academic career as I look into PhD positions for next year.
Q. What memory stands out from the summer school?
A. One thing I really appreciated was how friendly and welcoming all the advisors, Fellows and Students at ESO were. We were encouraged to make the most of our time in Munich and experience all that the region has to offer. My favourite memory was going hiking in the Alps with the other summer students ⁠— the route was longer than expected, but the views were absolutely spectacular.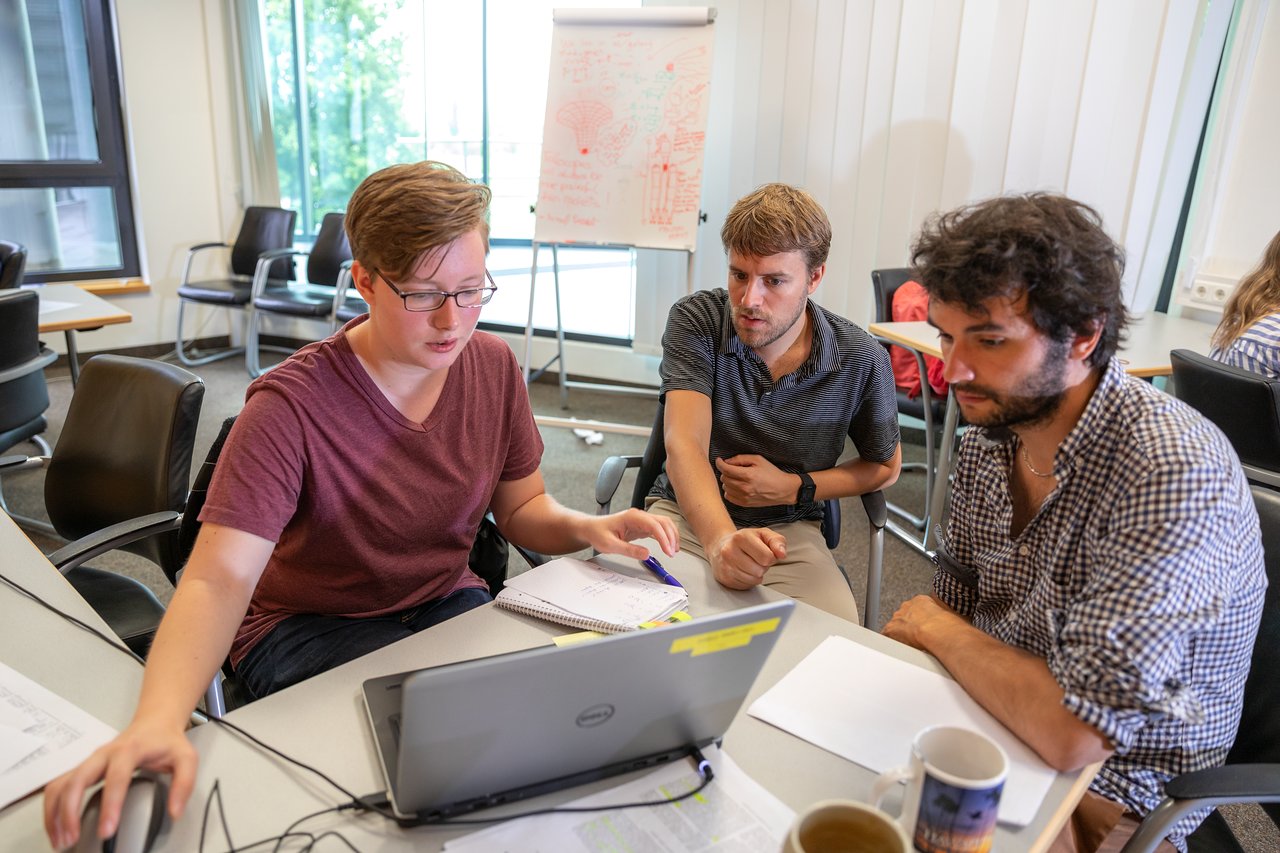 Aisha shows her advisors her new discovery of some of the most distant ultra-diffuse galaxies ever observed.
Credit: ESO/M. Zamani
Name: Aisha Bachmann
Nationality: German
University: Ruhr Universität Bochum, Germany
Project: Understanding the formation mechanism of galaxies at their (ghostly) extremes
Q. What did you enjoy most about the summer school?
A. It's hard to choose one thing, but I think meeting so many new people and working on a very interesting research project were definitely the best. Even if at some points in the project work was going slowly and frustration levels rose, solving problems and seeing the result was definitely worth it. The whole working atmosphere at ESO was amazing and I'm really glad I got to have this experience.
Q. How will you use the knowledge and experience you've gained this summer in the future?
A. The experience, knowledge and skills I gained in the Summer Research Programme will be super useful for upcoming research projects: first of all, my master thesis. Especially working with astronomical software I hadn't used before is an extremely helpful skill for future projects. Additionally gaining insight into many different research areas and topics through the lectures is helping me determine in which area I'd like to work later on in my career.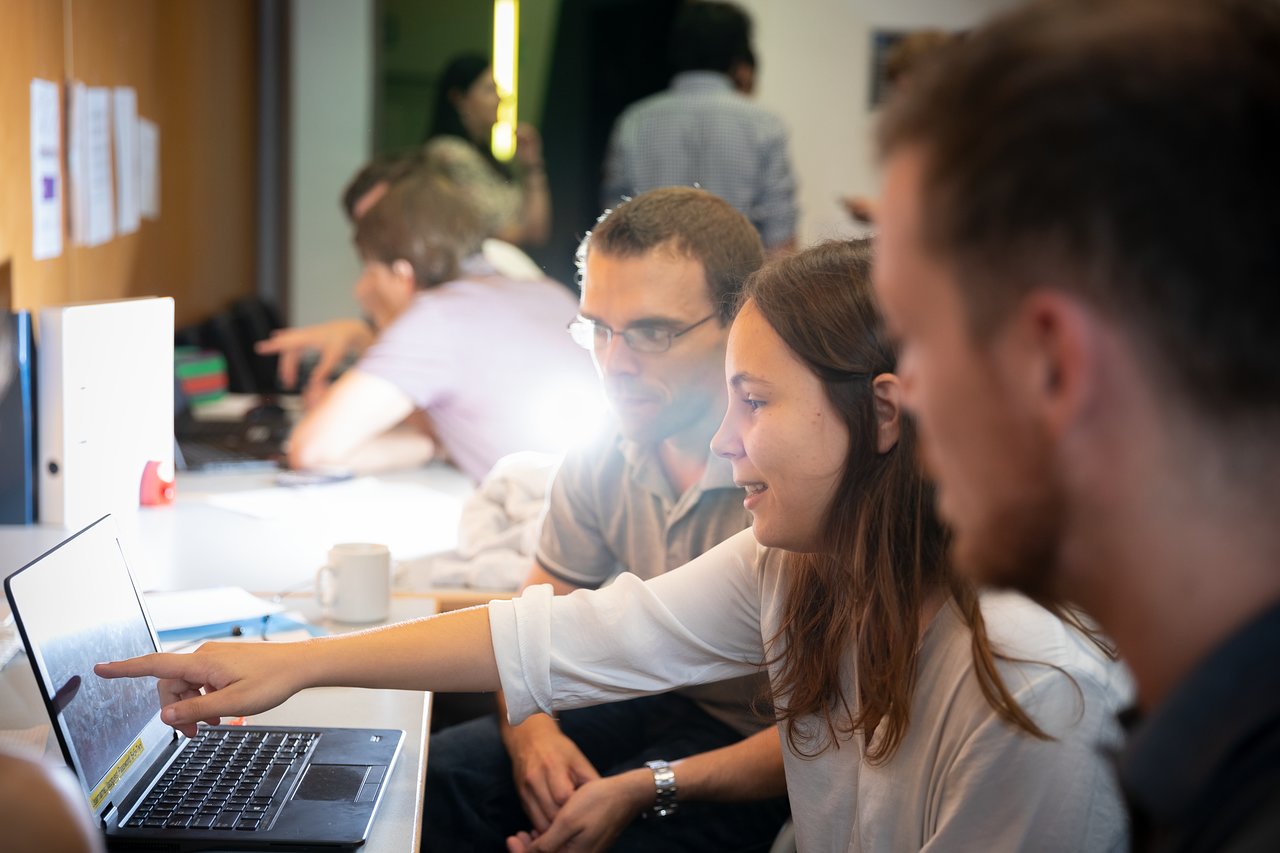 In preparation for using the world's biggest eye on the sky — the Extremely Large Telescope — Tania creates simulated observations of distant galaxies. She shows her advisors what they will look like when observed through the telescope.
Credit: ESO/M. Zamani
Name: Tania Sofia Gomes Machado
Nationality: Portuguese
University: University of Lisbon, Portugal
Project: Preparing for the Extremely Large Telescope : how will high-redshift star-forming galaxies appear with HARMONI ?
Q. What skills have you gained and developed over the course of the summer school?
A. I believe the most correct answer to this would be that my programming, data analysis and presentation skills have become so much better. However, that is the pretty picture, the real answer doesn't sound so worthy of a CV!
The truth is, I have learned the ups and downs of scientific research; I have learned how to interpret ugly graphs, and to take some real scientific information out of them even though in desperation they didn't seem to carry any information at all; I have learned that sometimes not detecting any source in the data can actually be a good result (one that even my advisors were not expecting!); I have accepted that every astronomer sometimes gets stuck, or that code doesn't work, or that data makes no sense, and in those times, spending ten minutes asking for help is better than spending five hours getting nowhere; I have learned that sometimes one starts the day with certain questions and ends up answering completely different questions. That is the not-so-pretty picture, but it has in fact made me a better student and astronomer.
Q. What was the most important thing about the summer school for you?
A. I think the most important part for me was the feeling of belonging. By this I mean the feeling of being part of a nice community of scientists, all with different career paths and specifications. I remember each day waking up and telling my housemate what was so exciting about the day ahead! For example, Tuesdays were Lunch Talk (which meant pizza after a great presentation), Wednesdays meant Board Games Club in the afternoon, Fridays were Journal Club day, and so on. Every morning, at 10:30 there was Science Coffee, and even though all of us were working on something important at that time, we would push each other to take that break and have a coffee with other amazing astronomers. This feeling of belonging to the ESO community, and belonging to it together with six other students that were in the same situation, was indeed unforgettable.
Please visit the full article for four more stories of a summer at ESO Headquarters.
See the full article here .

five-ways-keep-your-child-safe-school-shootings
Please help promote STEM in your local schools.


Stem Education Coalition
Visit ESO in Social Media-
ESO is the foremost intergovernmental astronomy organisation in Europe and the world's most productive ground-based astronomical observatory by far. It is supported by 16 countries: Austria, Belgium, Brazil, the Czech Republic, Denmark, France, Finland, Germany, Italy, the Netherlands, Poland, Portugal, Spain, Sweden, Switzerland and the United Kingdom, along with the host state of Chile. ESO carries out an ambitious programme focused on the design, construction and operation of powerful ground-based observing facilities enabling astronomers to make important scientific discoveries. ESO also plays a leading role in promoting and organising cooperation in astronomical research. ESO operates three unique world-class observing sites in Chile: La Silla, Paranal and Chajnantor. At Paranal, ESO operates the Very Large Telescope, the world's most advanced visible-light astronomical observatory and two survey telescopes. VISTA works in the infrared and is the world's largest survey telescope and the VLT Survey Telescope is the largest telescope designed to exclusively survey the skies in visible light. ESO is a major partner in ALMA, the largest astronomical project in existence. And on Cerro Armazones, close to Paranal, ESO is building the 39-metre European Extremely Large Telescope, the E-ELT, which will become "the world's biggest eye on the sky".
ESO/Cerro LaSilla 600 km north of Santiago de Chile at an altitude of 2400 metres.
ESO/Vista Telescope at Cerro Paranal, with an elevation of 2,635 metres (8,645 ft) above sea level.

ESO/NTT at Cerro LaSilla 600 km north of Santiago de Chile at an altitude of 2400 metres.

VLT Survey Telescope at Cerro Paranal with an elevation of 2,635 metres (8,645 ft) above sea level.
APEX Atacama Pathfinder 5,100 meters above sea level, at the Llano de Chajnantor Observatory in the Atacama desert.