From JHU HUB: "Evidence revealed for a new property of quantum matter"
June 12, 2018 [Where has this been? Just popped into JHU email.]
A theorized but never-before detected property of quantum matter has now been spotted in the lab, a team led by a Johns Hopkins scientist reports.
The study findings, published online in the journal Science, show that a particular quantum material first synthesized 20 years ago, called k-(BEDT-TTF)2Hg(SCN)2 Br, behaves like a metal but is derived from organic compounds. The material can demonstrate electrical dipole fluctuations—irregular oscillations of tiny charged poles on the material—even in extremely cold conditions, in the neighborhood of minus 450 degrees Fahrenheit.
"What we found with this particular quantum material is that, even at super-cold temperatures, electrical dipoles are still present and fluctuate according to the laws of quantum mechanics," said Natalia Drichko, associate research professor in physics at Johns Hopkins University and the study's senior author.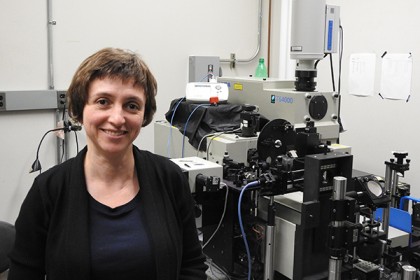 Natalia Drichko in her lab. Image credit: Jon Schroeder
"Usually we think of quantum mechanics as a theory of small things, like atoms, but here we observe that the whole crystal is behaving quantum-mechanically."
Classical physics describes most of the behavior of physical objects we see and experience in everyday life. In classical physics, objects freeze at extremely low temperatures, Drichko said. In quantum physics—science that primarily describes the behavior of matter and energy at the atomic level and smaller—there is motion even at those frigid temperatures, Drichko said.
"That's one of the major differences between classical and quantum physics that condensed matter physicists are exploring," she said.
An electrical dipole is a pair of equal but oppositely charged poles separated by some distance. Such dipoles can, for instance, allow a hair to "stick" to a comb through the exchange of static electricity: Tiny dipoles form on the edge of the comb and the edge of the hair.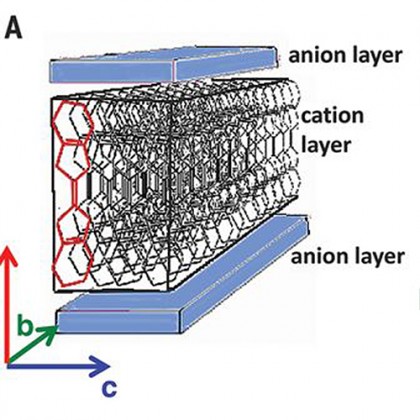 The structure of the crystal that was studied in the research; an individual molecule is highlighted in red. Image credit: Institute for Quantum Matter/JHU
Drichko's research team observed the new extreme-low-temperature electrical state of the quantum matter in Drichko's Raman spectroscopy lab, where the key work was done by graduate student Nora Hassan. Team members focused light on a small crystal of the material. Employing techniques from other disciplines, including chemistry and biology, they found proof of the dipole fluctuations.
The study was possible because of the team's home-built, custom-engineered spectrometer, which increased the sensitivity of the measurements 100 times.
The unique quantum effect the team found could potentially be used in quantum computing, a type of computing in which information is captured and stored in ways that take advantage of the quantum states of matter.
See the full article here .

five-ways-keep-your-child-safe-school-shootings
Please help promote STEM in your local schools.
About the Hub
We've been doing some thinking — quite a bit, actually — about all the things that go on at Johns Hopkins. Discovering the glue that holds the universe together, for example. Or unraveling the mysteries of Alzheimer's disease. Or studying butterflies in flight to fine-tune the construction of aerial surveillance robots. Heady stuff, and a lot of it.
In fact, Johns Hopkins does so much, in so many places, that it's hard to wrap your brain around it all. It's too big, too disparate, too far-flung.
We created the Hub to be the news center for all this diverse, decentralized activity, a place where you can see what's new, what's important, what Johns Hopkins is up to that's worth sharing. It's where smart people (like you) can learn about all the smart stuff going on here.
At the Hub, you might read about cutting-edge cancer research or deep-trench diving vehicles or bionic arms. About the psychology of hoarders or the delicate work of restoring ancient manuscripts or the mad motor-skills brilliance of a guy who can solve a Rubik's Cube in under eight seconds.
There's no telling what you'll find here because there's no way of knowing what Johns Hopkins will do next. But when it happens, this is where you'll find it.
The Johns Hopkins University opened in 1876, with the inauguration of its first president, Daniel Coit Gilman. "What are we aiming at?" Gilman asked in his installation address. "The encouragement of research … and the advancement of individual scholars, who by their excellence will advance the sciences they pursue, and the society where they dwell."
The mission laid out by Gilman remains the university's mission today, summed up in a simple but powerful restatement of Gilman's own words: "Knowledge for the world."
What Gilman created was a research university, dedicated to advancing both students' knowledge and the state of human knowledge through research and scholarship. Gilman believed that teaching and research are interdependent, that success in one depends on success in the other. A modern university, he believed, must do both well. The realization of Gilman's philosophy at Johns Hopkins, and at other institutions that later attracted Johns Hopkins-trained scholars, revolutionized higher education in America, leading to the research university system as it exists today.