From SLAC Lab: "X-Ray Experiment Confirms Theoretical Model for Making New Materials"
July 2, 2018
Glennda Chui

In an experiment at SLAC, scientists loaded ingredients for making a material into a thin glass tube and used X-rays (top left) to observe the phases it went through as it was forming (shown in bubbles). The experiment verified theoretical predictions made by scientists at Berkeley Lab with the help of supercomputers (right). (Greg Stewart/SLAC National Accelerator Laboratory)
By observing changes in materials as they're being synthesized, scientists hope to learn how they form and come up with recipes for making the materials they need for next-gen energy technologies.
Over the last decade, scientists have used supercomputers and advanced simulation software to predict hundreds of new materials with exciting properties for next-generation energy technologies.
Now they need to figure out how to make them.
To predict the best recipe for making a material, they first need a better understanding of how it forms, including all the intermediate phases it goes through along the way – some of which may be useful in their own right.
Now experiments at the Department of Energy's SLAC National Accelerator Laboratory have confirmed the predictive power of a new computational approach to materials synthesis. Researchers say that this approach, developed at the DOE's Lawrence Berkeley National Laboratory, could streamline the creation of novel materials for solar cells, batteries and other sustainable technologies.
"In the last 10 years, computational scientists have gotten really good at predicting the properties of new materials, but not so good at telling experimentalists like me how to make them," said Michael Toney, a distinguished staff scientist at SLAC. "The theoretical framework developed at Berkeley Lab can help guide us in thinking about ways to synthesize and test these promising materials."
This team described their findings June 29 in Nature Communications.
Metastable Materials
"Most theoretical approaches are great for predicting the endpoints of a reaction – what chemicals you start with, and what material you get at the end," said study co-author Laura Schelhas, an associate staff scientist with SLAC's Applied Energy Program. "But other interesting materials that form along the reaction pathway are often overlooked."
These intermediate materials are said to exist in a state of metastability.
"Materials always want to be in their lowest-energy phase or ground state," Schelhas explained. "Materials in a metastable state are higher in energy and will eventually transition to the more stable ground state. A diamond, for example, is a metastable state of carbon that will revert to its ground state, graphite, over millions of years."
During synthesis, materials can crystallize into a series of metastable phases – some lasting only a few minutes, others persisting for hours. Some of these phases have properties that are potentially useful for technological applications. Others may block the formation of a material you want to make. Scientists want to isolate the useful phases and avoid creating the undesirable ones.
Co-authors Wenhao Sun and Gerbrand Ceder at Berkeley Lab and Daniil Kitchaev of the Massachusetts Institute of Technology recently developed a theoretical model to predict which metastable phases a material will form during synthesis.
"The key insight is to consider influences other than temperature and pressure that can affect a material's formation," Sun said. "For example, at a very small scale, surface energy is important, and impurities that materials take up from the surrounding environment can stabilize some types of crystalline structures. We developed a theory to quantify how these factors govern the formation of metastable phases, and then worked with SLAC to design an experiment to test it."
The experiment, conducted at SLAC's Stanford Synchrotron Radiation Lightsource (SSRL), focused on manganese oxide, a compound whose formation can involve a variety of metastable crystalline structures. Some of these metastable structures are useful for battery applications or catalysis.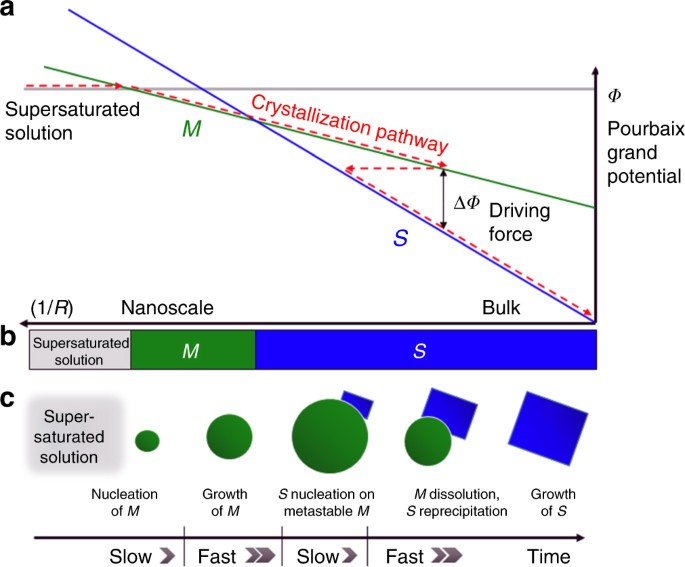 Schematic representation of remnant metastability in a crystallization pathway. a Free-energy of three phases (supersaturated solution (gray), M (green), S (blue)) as a function of the surface-area-to-volume ratio, 1/R (R is a particle radius). The gray line corresponds to the free-energy of a supersaturated solution, green is a metastable phase M that is size-stabilized by a low surface energy (given by the slope), and blue is the bulk equilibrium phase S, with high surface energy. b Phase diagram in the 1/R axis created from the projection of lowest free-energy phases. c A multistage crystallization pathway (red arrow in a ) proceeds downhill in energy, but phase transformations are limited by nucleation. Crystal growth of M prior to the induction of S means M can grow into a size-regime where phase M is metastable. S will then nucleate, and quickly grow by consuming M via dissolution-reprecipitation. The characteristic length scale of size-driven phase transitions lies in the 2 nm–50 nm range. Nature Communications
"Although manganese oxide has been widely studied, we still don't have a good understanding of how to make specific metastable phases of the material," Toney said. "Figuring out why certain recipes favor certain metastable structures will help us predict recipes for synthesizing not just this material, but others as well."
Theory vs. Experiment
Sun and Schelhas designed an experiment to carefully manipulate a single ingredient in a recipe for making manganese oxide and track its effect on the formation of metastable crystals.
SLAC scientists led by postdoctoral researcher Bor-Rong Chen used powerful X-ray beams at SSRL to observe the chemical reaction as it happened.
"It's pretty simple," Schelhas said. "We load up manganese salts and other reaction materials into a small glass capillary, seal it and heat it. Then we shoot X-rays through the capillary while the reaction is occurring and watch the signal that reflects off the crystals. That signal allows us to determine the atomic structure of each metastable phase as it forms."
At first, the metastable phases identified by X-ray diffraction didn't seem to match the theoretical predictions, Chen said.
"We worked with the theorists at Berkeley Lab to retool the model," she said, "and arrived at some explanations for why certain metastable phases might be skipped in a reaction, or why they might persist longer than we anticipated."
To continue developing their understanding of synthesis, the researchers plan to conduct experiments on more complicated materials.
"This work marks only the initial steps in a much longer journey towards a predictive theory of materials synthesis," Sun said. "Our goal is to build a powerful toolkit to design recipes for making exactly the materials we want."
The team also found that they could stop the reaction at the point where a metastable material has formed, which will make it possible to test those materials for desirable properties in future studies, Schelhas said.
"We're starting to push science into a new space in terms of understanding how you go about synthesis," she added. "Predictive models have the potential to profoundly alter the way that materials design is done. That could greatly speed up the adoption of more advanced materials in areas like photovoltaics, batteries, thermoelectrics and a whole host of other sustainable technologies."
Other co-authors of the study are from the Colorado School of Mines and the DOE's National Renewable Energy Laboratory.
SSRL is a DOE Office of Science user facility. Funding for this work came from the Center for Next Generation of Materials Design, an Energy Frontier Research Center led by DOE's National Renewable Energy Laboratory and funded by the DOE Office of Science.
See the full article here .

five-ways-keep-your-child-safe-school-shootings
Please help promote STEM in your local schools.

SLAC is a multi-program laboratory exploring frontier questions in photon science, astrophysics, particle physics and accelerator research. Located in Menlo Park, California, SLAC is operated by Stanford University for the DOE's Office of Science.