From astrobites: "Triple Threat: Uncovering Triple Systems with Gravitational Waves"
Apr 17, 2018
Lisa Drummond
Title: Detecting triple systems with gravitational wave observations
Authors: Yohai Meiron, Bence Kocsis, Abraham Loeb
Status: The Astrophysical Journal, open access
The Laser Interferometer Gravitational-Wave Observatory (LIGO) collaboration has been receiving a lot of press in recent years, with a run of groundbreaking gravitational wave (GW) detections (most recently, a neutron star binary!), capturing the excitement of the astrophysics community and general public alike.
All of the gravitational waves detected so far have been produced by compact binary mergers. This series of LIGO discoveries begs the question – where are the gravitational waves produced by triples? Triple systems are not uncommon in astrophysics – but how would we distinguish a standard compact binary coalescence signal from one produced by a tight binary in orbit around a triple companion? Todays' paper tackles this question by identifying signatures of the triple that are apparent in the GW signal.
What is a hierarchical triple system?
Triple systems consist of three celestial bodies orbiting each other simultaneously. A physical triple system usually exhibits a hierarchical structure. Two of the objects form a close binary, called the inner binary, and the third companion lies on the outskirts, orbiting at distance that far exceeds the length of the inner binary separation.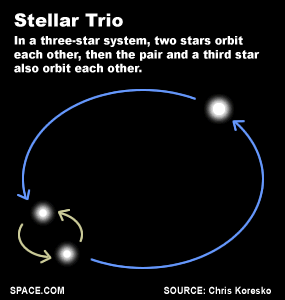 Figure 1: A schematic of a stellar triple system. The inner binary (denoted with yellow arrows) orbits a third companion (blue arrows). Image from http://wondergressive.com/triple-star-system-new-gravity/.
See the full article here .
Please help promote STEM in your local schools.
What do we do?
Astrobites is a daily astrophysical literature journal written by graduate students in astronomy. Our goal is to present one interesting paper per day in a brief format that is accessible to undergraduate students in the physical sciences who are interested in active research.
Why read Astrobites?
Reading a technical paper from an unfamiliar subfield is intimidating. It may not be obvious how the techniques used by the researchers really work or what role the new research plays in answering the bigger questions motivating that field, not to mention the obscure jargon! For most people, it takes years for scientific papers to become meaningful.
Our goal is to solve this problem, one paper at a time. In 5 minutes a day reading Astrobites, you should not only learn about one interesting piece of current work, but also get a peek at the broader picture of research in a new area of astronomy.