From ESOblog: "ESO's Training Programmes: Investing in the Future of Astronomy"
23 February 2018
With most of 2018 ahead of us, many people choose to condense their hopes, aims and regrets into firm statements of resolution. In this year's first instalment of Letters from the DG, Xavier Barcons uses this period of reflection to talk about ESO's training programmes set up to achieve the values and aims that underpin our work here, and to help foster collaboration in astronomy — one of ESO's missions.
Greetings and welcome back to the ESOBlog!
Besides building and operating world-class astronomical facilities, ESO's mission also includes fostering cooperation in astronomy, across our Member States and beyond. Attracting early-career scientists and engineers interested in astronomy and training them in the unique international environment that ESO represents is an incredibly successful recipe to promote cooperation, particularly when these talented people continue their professional careers elsewhere. Many internationally-renowned astronomical institutions around the world are now home to ESO's former students, fellows and trainees, and in some cases, our alumni have leading responsibilities.
Lifelong training
Astronomy is constantly evolving, and ESO strives to ensure that not only astronomers, but also engineers, support staff and interested members of the public are kept at the forefront of this exciting and dynamic field of research.
For this reason, we maintain an arsenal of fellowships, studentships, internships and training programmes for a diverse range of people. ESO's multinational environment means we are in a unique position to provide varied and complex development and support, sustained by a diverse set of people, and this cannot start too young.

Find out about the ESO Studentship Programme and hear students share stories of their time at ESO.
Credit: ESO. Music: STAN DART (www.stan-dart.com)

A group of PhD students at the IMPRS Workshop 2017
Credit: IMPRS on Astrophysics at the Ludwig-Maximilians Universität München
Many of our in-house programmes focus on nurturing young astronomers as they progress from their studies into research and academia. The ever-popular Studentship Programme has been running since 1990, giving PhD students the opportunity to spend up to two years of their PhD programme at ESO to get hands-on research experience. So far, more than 200 students have participated in the programme either in Germany or Chile, remaining under the formal supervision of their home university, but with the benefit of co-supervision by an ESO staff astronomer and the mentorship of an ESO Fellow. Leading scientists, instrument experts and other professionals are all within easy reach, providing students with opportunities and skills invaluable to their future careers.
Located at the renowned Garching Forschungszentrum campus near Munich in Germany, ESO is in a prime position to offer unique opportunities through partnerships with some of our incredible neighbouring institutions. Together, ESO, the MPE, MPA and USM have joined forces to coordinate a PhD programme: the IMPRS (International Max-Planck Research School on Astrophysics). Every year ESO hosts two to four PhD students within the IMPRS programme at Garching.
But astronomers are not the only ones who benefit from lifelong training — astronomical research is ultimately funded by society and it appeals innately to people of all ages and cultures. ESO currently offers a range of unique learning experiences for school students. This includes visits to ESO during our annual Open House Days and participation in Germany's "Girls' Day", when ESO opens its doors to female school students with tours of the main laboratories, as well as hands-on workshops in astronomy and engineering.
ESO is also thrilled to be opening the new ESO Supernova Planetarium & Visitor Centre in April 2018, which will be a beacon of science education and outreach here at ESO Headquarters in Garching. School students and the general public will visit to learn about the Universe, and teachers will be offered training to keep up with advances in astronomy.

The participants of Girls' Day 2014 at ESO Headquarters in Garching, Germany
Credit: ESO
High school students can also have life-changing experiences at the summer and winter astronomy camps, of which ESO is a proud partner. These camps include night-time observations with professional astronomers, lectures and social activities, and can be a formative part of young people's academic and personal lives.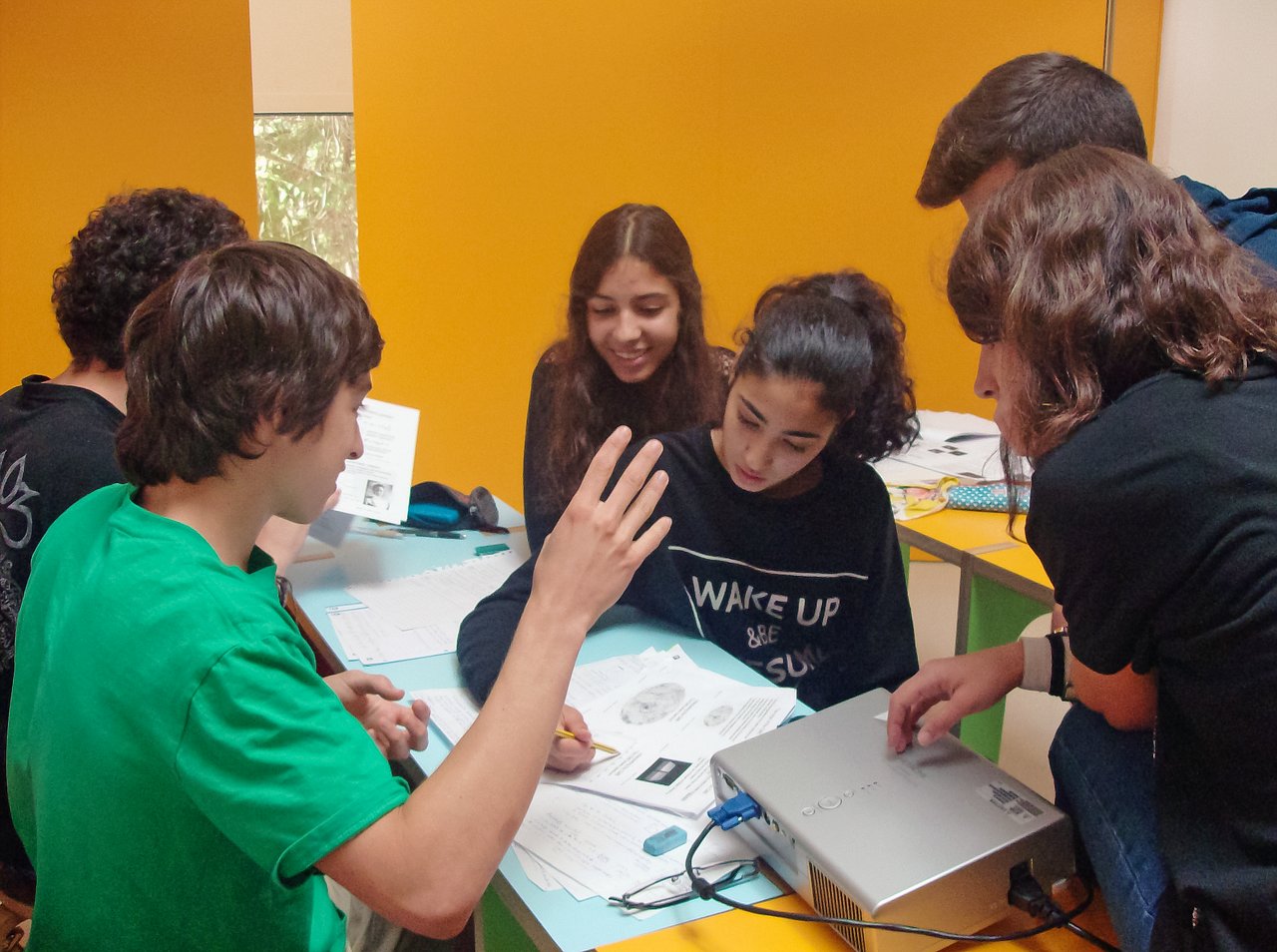 Students participating in the Summer AstroCamp 2016.
Credit: ESO/C. Martins
In 2016, the first ESO/NEON Observing School was held at the La Silla Observatory for postdoctoral researchers, PhD students, and advanced master's students. This school provided hands-on real-life experience in the full astronomical research cycle, from proposal preparation to data reduction, as well as career advice for future astronomers. Thanks to the success of the first edition, a second edition will take place in February–March 2018.
Supporting the Leaders of Tomorrow
ESO Fellowships are another incredibly rewarding part of ESO's training arsenal. Several postdoctoral fellowships are awarded to scientists with a PhD each year in Germany and in Chile. ESO Fellows can conduct independent research in a supportive and highly-motivating world-class scientific environment. The years spent at ESO enrich Fellows with invaluable practical experience in supporting instrumentation, science data archive developments, public outreach activities, or science operations at ESO's observatories in Chile. Previous Fellows have found these duties to be much more rewarding and helpful in their career than anticipated.
In Germany, Fellows spend up to 25% of their time on such functional activities during their three-year fellowship; in Chile they spend 50%. For this reason, Fellows in Chile have a fourth year to work purely on their own research, which can be spent in any institute in Chile or in an ESO Member State.
The fellowship programme has recently been expanded to other areas of expertise at ESO; in 2018 we are excited to kickstart the ESO Engineering and Technology Research Fellowship. This programme offers early-career researchers with a PhD in an engineering-related discipline the opportunity to take part in ESO projects.
Some of the most encouraging feedback from young ESO Fellows has been the sense of community, friendship and collaboration they felt while working at ESO. The wide variety of people encountered at ESO makes it a great place to forge connections and develop key skills for the future. Many former ESO Fellows are now in leading positions at top astronomical research institutions around the world. In my first six months at ESO, I have seen a fabulous diaspora of our former early-career professionals coming back to ESO for short visits, maintaining valuable links with colleagues at their alma mater. To learn more about our impressive range of Fellows, past and present, I recommend this brochure.
Encouraging Collaboration and Exchange
A focus on community and international collaboration is at the heart of ESO's ethical framework. Our goal is to foster strong and enjoyable relationships between everybody who passes through our doors, and we understand that no astronomer is an island. A scientific or technical career in astronomy involves teamwork, supervising other people, writing job and grant applications, collaborations between different countries and cultures, as well as some sleepless nights, stressful deadlines and great emotional investment. Diversity is a highly treasured asset at ESO, where people from more than 40 countries share a workplace and a great enthusiasm for their field. The fact that no one at ESO is a clone of any other makes our work especially enjoyable and productive.

Three Telescope and Instrument Operators joining forces to set up the complex system of the VLTI for an interferometric observation.
Credit: ESO/H.H.Heyer
Astronomy, like many other fields, requires a great deal of written and verbal communication. ESO has links with organisations such as the renowned Astronomy and Astrophysics journal, which is a partner in training schools for writing scientific papers. Specific to science communication, over the years ESO has also offered 3–6 month internships in graphic design and science communication to more than a hundred young people from ESO Member States and beyond.
Astronomy is a fluid and dynamic field, where people move between organisations and learn new skills along the way. ESO trains people knowing they will at some point move to new pastures, and we benefit from people joining us with fresh perspectives and ideas. Ultimately, ESO aims to nurture people who will become ambassadors when they leave, promoting not just the work that we do but the values we hold dear.
See the full article here .
Please help promote STEM in your local schools.

Stem Education Coalition
Visit ESO in Social Media-
ESO is the foremost intergovernmental astronomy organisation in Europe and the world's most productive ground-based astronomical observatory by far. It is supported by 16 countries: Austria, Belgium, Brazil, the Czech Republic, Denmark, France, Finland, Germany, Italy, the Netherlands, Poland, Portugal, Spain, Sweden, Switzerland and the United Kingdom, along with the host state of Chile. ESO carries out an ambitious programme focused on the design, construction and operation of powerful ground-based observing facilities enabling astronomers to make important scientific discoveries. ESO also plays a leading role in promoting and organising cooperation in astronomical research. ESO operates three unique world-class observing sites in Chile: La Silla, Paranal and Chajnantor. At Paranal, ESO operates the Very Large Telescope, the world's most advanced visible-light astronomical observatory and two survey telescopes. VISTA works in the infrared and is the world's largest survey telescope and the VLT Survey Telescope is the largest telescope designed to exclusively survey the skies in visible light. ESO is a major partner in ALMA, the largest astronomical project in existence. And on Cerro Armazones, close to Paranal, ESO is building the 39-metre European Extremely Large Telescope, the E-ELT, which will become "the world's biggest eye on the sky".

ESO/Cerro LaSilla 600 km north of Santiago de Chile at an altitude of 2400 metres.

VLT at Cerro Paranal, with an elevation of 2,635 metres (8,645 ft) above sea level.

ESO/Vista Telescope at Cerro Paranal, with an elevation of 2,635 metres (8,645 ft) above sea level.

ESO/NTT at Cerro LaSilla 600 km north of Santiago de Chile at an altitude of 2400 metres.

VLT Survey Telescope at Cerro Paranal with an elevation of 2,635 metres (8,645 ft) above sea level.

ALMA on the Chajnantor plateau at 5,000 metres.

ESO/E-ELT to be built at Cerro Armazones at 3,060 m.

APEX Atacama Pathfinder 5,100 meters above sea level, at the Llano de Chajnantor Observatory in the Atacama desert.