From JHU HUB- "Mission to the sun: Special delivery – Parker Solar Probe heads to NASA's Goddard Space Flight Center for environmental testing"
12.20.17
Hub staff report
Spacecraft designed, built at JHU's Applied Physics Lab is scheduled for launch in 2018.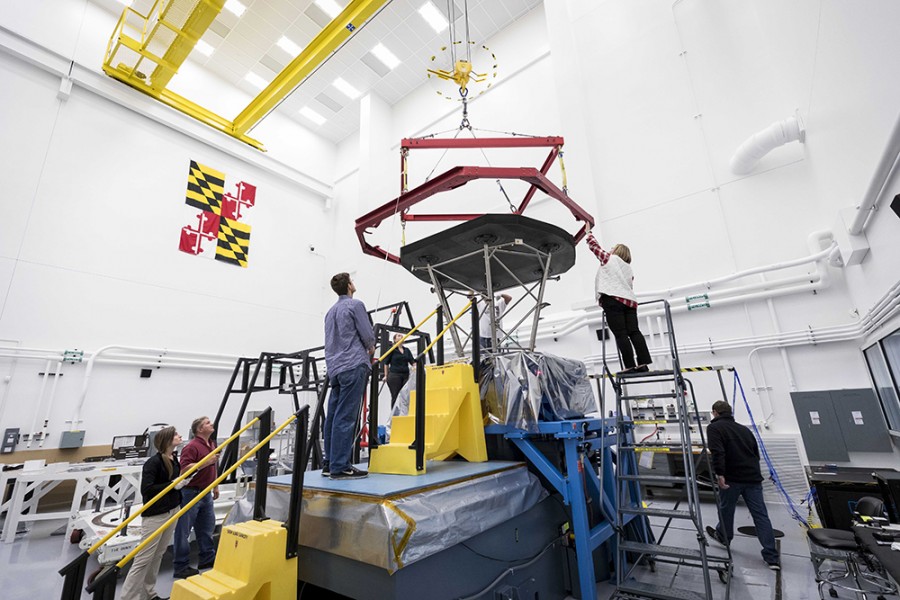 The Parker Solar Probe team at Johns Hopkins APL prepares to lift the heat shield in preparation for shipment to NASA's Goddard Space Flight Center. Image credit: NASA / Johns Hopkins APL / Ed Whitman.
How do you prepare to move the first spacecraft to touch the sun? The same way you would move anything else: carefully wrap it, pack it, rent a truck, and perform a nitrogen purge.
Last month, the Parker Solar Probe spacecraft traveled from the Johns Hopkins Applied Physics Laboratory, where it was designed and built, to NASA's Goddard Space Flight Center in Greenbelt, Maryland. It's a short drive, but it took significant preparation.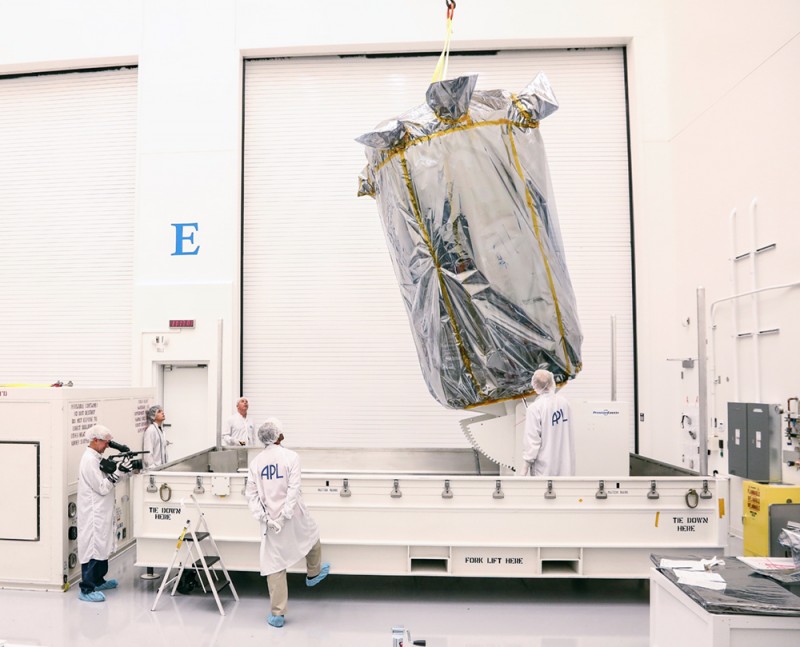 NASA's Parker Solar Probe, shown in protective bagging to prevent contamination, is mounted on a rotating pedestal. Image credit: NASA / Johns Hopkins APL / Ed Whitman
First, the spacecraft was wrapped in a special protective layer to prevent dust or dirt from reaching the probe. Then it was bolted to a specially designed pedestal that carefully tilted the probe onto its side to fit it inside a shipping container. If kept upright, the probe would have been too tall to pass under highway bridges during transport.
Once boxed and loaded onto a truck bed, the scientists performed a nitrogen purge, slowly sucking air and moisture out of the container and replacing it with ultra-dry nitrogen with an extremely low dew point. A nitrogen purge is a common practice among military and commercial aerospace projects to prevent corrosive moisture and condensation from reaching sensitive electronics.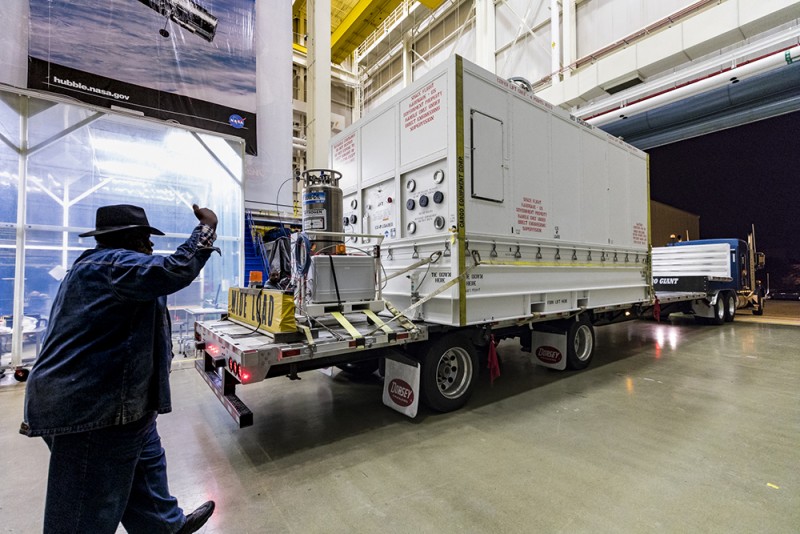 Image credit: NASA / Johns Hopkins APL / Ed Whitman
The move, accompanied by a state police escort, took place at 4 a.m.—to avoid traffic, of course.

No, it's not a still from the movie E.T., it's members of the testing team preparing the Parker Solar Probe for environmental testing in the Acoustic Test Chamber at NASA's Goddard Space Flight Center. Image credit: NASA / Johns Hopkins APL / Ed Whitman.
At Goddard, the Parker Solar Probe has undergone extensive testing and simulations to ensure it's ready for its historic mission next year (launch is scheduled for between July 31 and Aug. 19).
It underwent an acoustic test, which subjected the probe to sound forces like those generated during a rocket launch. Goddard's Acoustic Test Chamber is a 42-foot-tall chamber that uses 6-foot-tall speakers that can reach 150 decibels to simulate the extreme noise of the Delta IV Heavy, the highest-capacity rocket currently in operation and the vehicle that will carry the probe into space.
The spacecraft's specially designed Thermal Protection System, or TPS, has also gone through thorough testing. The heat shield, developed by scientists at APL and the Whiting School of Engineering, is made of carbon-carbon composite material to protect the probe from the intense heat of the sun's atmosphere, which can reach temperatures of almost 2,500 degrees Fahrenheit. As the spacecraft hurtles through the hot solar atmosphere and back out into outer space, the TPS will keep the instruments on the spacecraft at approximately room temperature.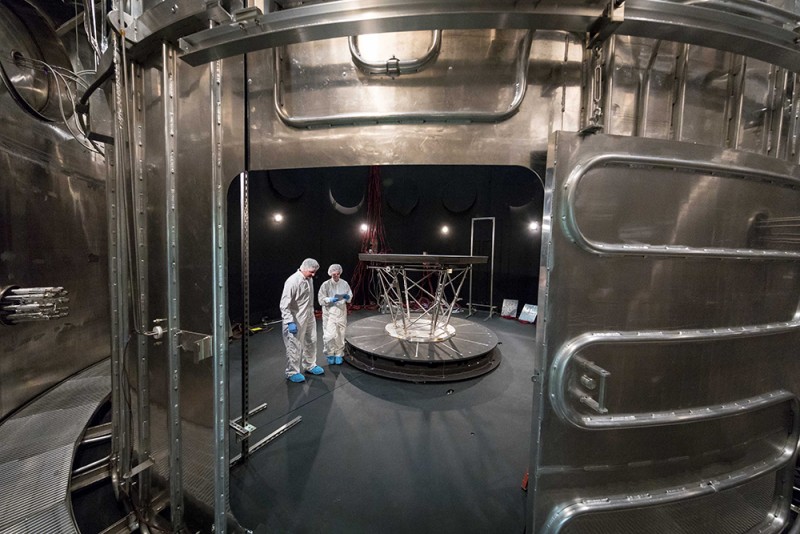 The probe's Thermal Protection System is lowered into the Thermal Vacuum Chamber at NASA's Goddard Space Flight Center in preparation for environmental testing. Image credit: NASA / Johns Hopkins APL / Ed Whitman.
The heat shield was tested in Goddard's Thermal Vacuum Chamber, which simulated the harsh conditions that it will endure during the mission.
During its mission, the Parker Solar Probe will use seven Venus flybys over the course of nearly seven years to gradually shrink its orbit around the sun, coming as close as 3.7 million miles—about eight times closer to the sun than any spacecraft has come before. Upon its closest orbit, the Parker Solar Probe will be traveling at about 450,000 miles per hour. That's fast enough to get from Philadelphia to Washington, D.C., in one second.
The solar probe, named for Eugene Parker, the astrophysicist who predicted the existence of the solar wind in 1958, is a "true mission of exploration," the scientists write on the mission homepage. "Still, as with any great mission of discovery, Parker Solar Probe is likely to generate more questions than it answers."
See the full article here .
Please help promote STEM in your local schools.

About the Hub
We've been doing some thinking — quite a bit, actually — about all the things that go on at Johns Hopkins. Discovering the glue that holds the universe together, for example. Or unraveling the mysteries of Alzheimer's disease. Or studying butterflies in flight to fine-tune the construction of aerial surveillance robots. Heady stuff, and a lot of it.
In fact, Johns Hopkins does so much, in so many places, that it's hard to wrap your brain around it all. It's too big, too disparate, too far-flung.
We created the Hub to be the news center for all this diverse, decentralized activity, a place where you can see what's new, what's important, what Johns Hopkins is up to that's worth sharing. It's where smart people (like you) can learn about all the smart stuff going on here.
At the Hub, you might read about cutting-edge cancer research or deep-trench diving vehicles or bionic arms. About the psychology of hoarders or the delicate work of restoring ancient manuscripts or the mad motor-skills brilliance of a guy who can solve a Rubik's Cube in under eight seconds.
There's no telling what you'll find here because there's no way of knowing what Johns Hopkins will do next. But when it happens, this is where you'll find it.
The Johns Hopkins University opened in 1876, with the inauguration of its first president, Daniel Coit Gilman. "What are we aiming at?" Gilman asked in his installation address. "The encouragement of research … and the advancement of individual scholars, who by their excellence will advance the sciences they pursue, and the society where they dwell."
The mission laid out by Gilman remains the university's mission today, summed up in a simple but powerful restatement of Gilman's own words: "Knowledge for the world."
What Gilman created was a research university, dedicated to advancing both students' knowledge and the state of human knowledge through research and scholarship. Gilman believed that teaching and research are interdependent, that success in one depends on success in the other. A modern university, he believed, must do both well. The realization of Gilman's philosophy at Johns Hopkins, and at other institutions that later attracted Johns Hopkins-trained scholars, revolutionized higher education in America, leading to the research university system as it exists today.