From WCG: "Plans for Future Development Discussed at BOINC Workshop 2017"
22 Sep 2017 [Just appeared in RSS]
Summary
A group of BOINC developers, project managers, researchers, and volunteers recently participated in a workshop where they exchanged information and ideas that will help set the direction for the future development of the BOINC open source project.
The BOINC Workshop 2017 was held in Paris on September 6-8. This was the first such gathering since BOINC (the software on which World Community Grid and other distributed computing projects are built) transitioned to a community governance model in 2015. World Community Grid technical team members Kevin Reed and Keith Uplinger represented World Community Grid at the event.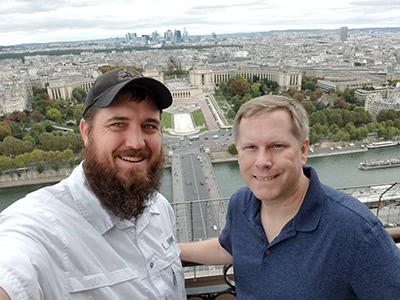 World Community Grid's Keith Uplinger (left) and Kevin Reed (right) were able to see a few of the iconic sights of Paris when they attended the BOINC Workshop 2017.
The workshop's primary purposes were to connect members of the BOINC community, share information about the various projects that use BOINC, and discuss future plans for the continued development of the platform. Some of the items discussed were:
Demonstration of a proof-of-concept that enables communication between a user's browser and the BOINC client, which could potentially be used to simplify how volunteers register and attach to World Community Grid
The progress of a new National Science Foundation grant to enable the use of BOINC with resources such as Purdue University's nanoHUB
Rapidly setting up a BOINC project using docker (a system that lets developers create apps in the environment of their choice)
Running a research application within a docker container
Automated testing of BOINC server code, which will help improve code quality
World Community Grid's Keith Uplinger gave the group an update about how World Community Grid uses DevOps (a software development method that helps communication and collaboration between software developers and IT personnel). Kevin Reed, who serves as Chair of the BOINC Working Committee, gave a report on the committee's current tasks and goals, which include increasing the number of volunteer developers who contribute regularly to the development of BOINC.
Other presentations included an update on BOINC project climateprediction.net, which is the world's largest climate modelling experiment; and a talk about the BOINC Pentathlon, a 14-day online event which brings in new volunteers from all over the world.
See the full article here.
Ways to access the blog:
https://sciencesprings.wordpress.com
http://facebook.com/sciencesprings
Please help promote STEM in your local schools.

"World Community Grid (WCG) brings people together from across the globe to create the largest non-profit computing grid benefiting humanity. It does this by pooling surplus computer processing power. We believe that innovation combined with visionary scientific research and large-scale volunteerism can help make the planet smarter. Our success depends on like-minded individuals – like you."
WCG projects run on BOINC software from UC Berkeley.

BOINC is a leader in the field(s) of Distributed Computing, Grid Computing and Citizen Cyberscience.BOINC is more properly the Berkeley Open Infrastructure for Network Computing.
CAN ONE PERSON MAKE A DIFFERENCE? YOU BET!!
My BOINC


"Download and install secure, free software that captures your computer's spare power when it is on, but idle. You will then be a World Community Grid volunteer. It's that simple!" You can download the software at either WCG or BOINC.
Please visit the project pages-
Help Stop TB


Outsmart Ebola together
Discovering Dengue Drugs – Together

World Community Grid is a social initiative of IBM Corporation
IBM Corporation

IBM – Smarter Planet