From UK Space Agency Blog: "Newton's apple seeds"
6 November 2017
Steven Watson
I've just met some remarkable seedlings at Wakehurst Place in West Sussex, where Kew Gardens keeps its Millennium Seed Bank. They are the experts when it comes to anything to do with storing and growing plant seeds.
The seeds in question were flown on the International Space Station with Tim Peake and were collected from the apple tree in Isaac Newton's mother's orchard where Newton saw the famous apple fall, which helped him figure out the laws of gravity. Isaac Newton (born in 1643) was a physicist and mathematician who developed the principles of modern physics including the laws of gravity and motion.
The tree is still flourishing at Woolsthorpe Manor, Newton's home near Grantham, 330 years after he wrote his great work Philosophiae Naturalis Principia Mathematica, which set out the laws of gravitation on which every space mission depends. This was the great work that Tim Peake's Principia mission was named after.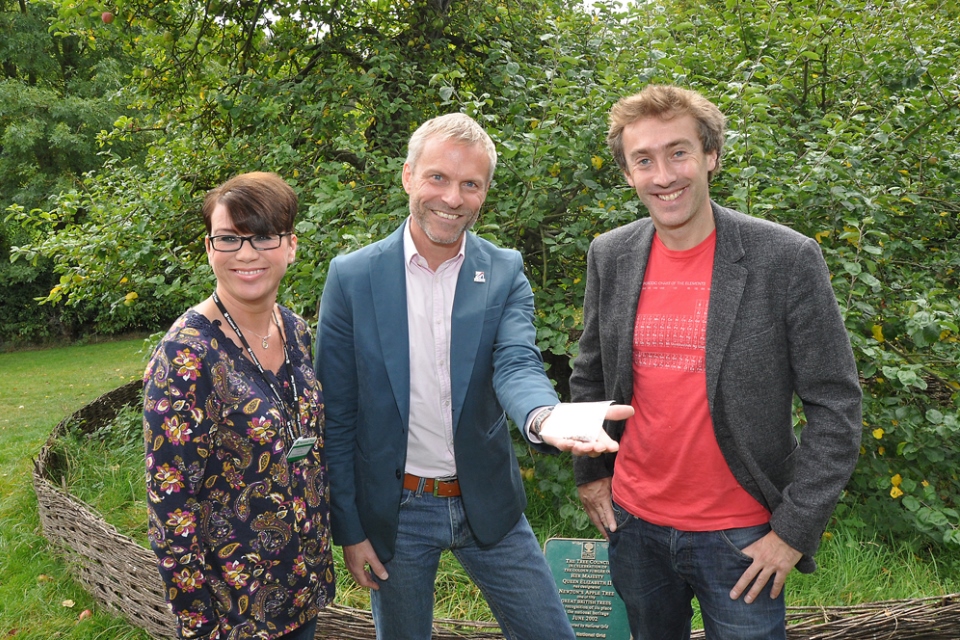 Newton's apple tree – and the seeds being presented by Dallas Campbell and Jannette Warrener to the Agency's Head of Education and Skills, Jeremy Curtis.
The National Trust's Operations Manager at Woolsthorpe Manor, Jannette Warrener, and her team harvested the seeds and presented them to the UK Space Agency during Grantham's annual Gravity Fields festival in October 2014. We then delivered them to Wakehurst Place to dry and pack them for their epic journey into space.
The seeds were delivered to space in SpaceX-8, a cargo supply to the International Space Station, on the 16 April 2016 and spent 198 days in space before returning to Earth with SpaceX-9 on 26 August 2016.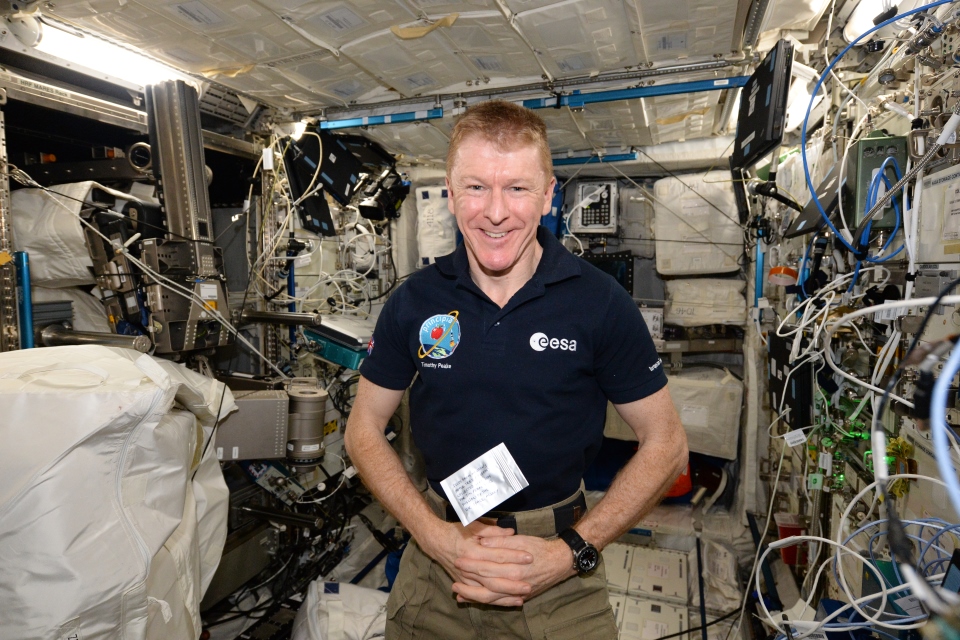 Tim with seeds on ISS. No image credit.
On their return from space, the well-travelled seeds then went back to Wakehurst Place where they spent 90 days sitting on a bed of agar jelly at 5°C to simulate the winter cold needed to break dormancy. Spring arrived for them in May 2017 when they were warmed to 15°C and the young seedlings started to emerge.
Since then they have grown fast and we now have ten healthy young plants. The Kew staff, led by Hugh Pritchard (Head of Comparative Seed Biology) and Anne Visscher (Career Development Fellow), will continue to nurture them until they are large enough to fend for themselves.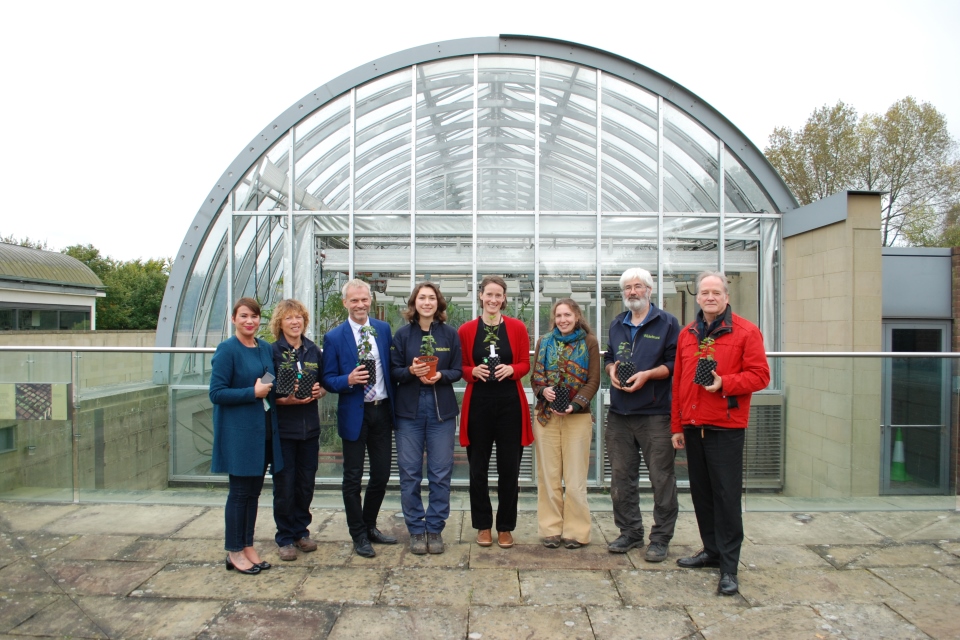 The healthy young apple trees with the Kew team. From left to right: Jannette Warrener, Joanna Walmisley, Jeremy Curtis, Eliana Van Der Schraft, Anne Visscher, Cristina Blandino, David Cleeve, Hugh Pritchard.
The next step will be to find suitable welcoming homes for the young trees so that they can help tell the intertwining stories of Newton, seed science and space travel. Watch this space for details of how to make your bid to host one of these precious plants.
See the full article here .
Please help promote STEM in your local schools.
The UK Space Agency is responsible for all strategic decisions on the UK civil space programme and provides a clear, single voice for UK space ambitions.
At the heart of UK efforts to explore and benefit from space, we are responsible for ensuring that the UK retains and grows a strategic capability in space-based systems, technologies, science and applications. We lead the UK's civil space programme in order to win sustainable economic growth, secure new scientific knowledge and provide benefit to all citizens.
We work to:
co-ordinate UK civil space activity
encourage academic research
support the UK space industry
raise the profile of UK space activities at home and abroad
increase understanding of space science and its practical benefits
inspire our next generation of UK scientists and engineers
licence the launch and operation of UK spacecraft
promote co-operation and participation in the European Space programme
We're an executive agency of the Department for Business, Innovation and Skills, made up of about 70 staff based in Swindon, London and the UK Space Gateway in Oxfordshire.
We are responsible for:
leading the UK civil space policy and increasing the UK contribution to European initiatives
building a strong national space capability, including scientific and industrial centres of excellence
co-ordinating strategic investment across industry and academia
working to inspire and train a growing, skilled UK workforce of space technologists and scientists
working on national and international space projects in co-operation with industry and academia
regulating the UK civil space activities and ensuring we meet international treaty obligations
The categories menu to the right will give you an idea of what we're currently working on and you can also join in the conversation on Twitter. Please also sign up for email alerts, delivered straight to your inbox too.
When posting comments, please observe our blog participation guidelines and moderation policy.