From Centauri Dreams: "'Red Edge' Biomarkers on M-dwarf Planets"
September 19, 2017
Paul Gilster
When we think about the markers of possible life on other worlds, vegetation comes to mind in an interesting way. We'd like to use transit spectroscopy to see biosignatures, gases that have built up in the atmosphere because of ongoing biological activity. But plants using photosynthesis offer us an additional option. They absorb sunlight from the visible part of the spectrum, but not longer-wavelength infrared light. The latter they simply reflect.
What we wind up with is a possible observable for a directly imaged planet, for if you plot the intensity of light against wavelength, you will find a marked drop known as the 'red edge.' It shows up when going from longer infrared wavelengths into the visible light region. The red-edge position for Earth's vegetation is fixed at around 700–760 nm. What we'd like to do is find a way to turn this knowledge into a practical result while looking at exoplanets. Where would we find the red edge on planets circling stars of a different class than our own?
Led by Kenji Takizawa, researchers at the Astrobiology Center (ABC) of National Institutes of Natural Science (NINS) in Japan have taken up the question with regard to M-dwarfs. These stars have lower surface temperatures than the Sun and emit more strongly at near-infrared wavelengths than at visible wavelengths. Assuming vegetation in such an environment evolves to use the most abundant photons for photosynthesis, shouldn't we expect the red edge to shift accordingly? Perhaps not, argue the authors, as only blue-green light penetrates beyond a few meters of water. Visible light, in other words, may play a larger role than we imagine.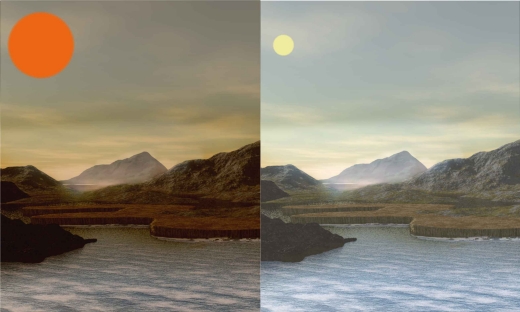 Image: Artist's impressions of a habitable planet around M-dwarfs (left) and primordial Earth (right). Credit: ABC/NINS.
See the full article
here
.
Please help promote STEM in your local schools.
Tracking Research into Deep Space Exploration
Alpha Centauri and other nearby stars seem impossible destinations not just for manned missions but even for robotic probes like Cassini or Galileo. Nonetheless, serious work on propulsion, communications, long-life electronics and spacecraft autonomy continues at NASA, ESA and many other venues, some in academia, some in private industry. The goal of reaching the stars is a distant one and the work remains low-key, but fascinating ideas continue to emerge. This site will track current research. I'll also throw in the occasional musing about the literary and cultural implications of interstellar flight. Ultimately, the challenge may be as much philosophical as technological: to reassert the value of the long haul in a time of jittery short-term thinking.