From ESO: "Xavier Barcons Starts as New ESO Director General"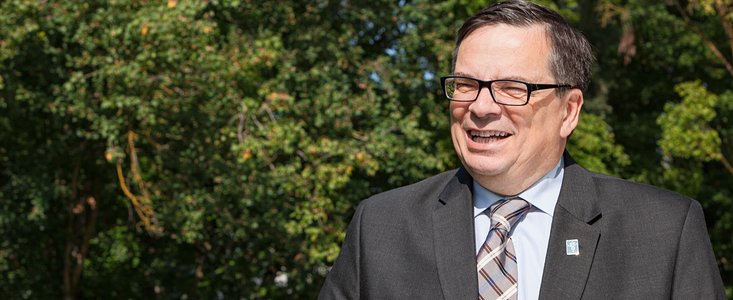 On 1 September 2017, Xavier Barcons became ESO's eighth Director General, succeeding Tim de Zeeuw who has served since 2007. Barcons begins his tenure at an exciting time for ESO. Construction of the Extremely Large Telescope is progressing rapidly and it is set to see first light in 2024.
ESO's new Director General Xavier Barcons has a wealth of experience in both the academic world and international organisations. He has served ESO in many different roles for over 10 years, including as ESO Council President from 2012–2014. He contributed significantly to several major ESO projects including the Atacama Large Millimeter/submillimeter Array (ALMA) and the Extremely Large Telescope (ELT), which was approved during his period as ESO Council President.
During his tenure, Xavier Barcons plans to continue to push towards the ultimate goal of enabling exciting scientific discoveries by astronomers in ESO's Member States, confident that ESO is ready to meet the challenges of technological and observational advances of the future.
"Astronomy is one of the most lively sciences, its objectives changing every day," said Barcons. "ESO is a unique organisation in the astronomical world and is well equipped to respond to these changes."
With ESO successfully running or supporting dozens of telescopes with numerous instruments, the new Director General anticipates continuing to support La Silla, Paranal, APEX and ALMA, while moving forward with the ELT.
"I want to thank Tim de Zeeuw and the entire ESO staff for helping to bring ESO into the very strong position it now holds as the most productive ground-based observatory in the world," said Xavier Barcons."I'm honoured to take up this position, but I realise this is a very important step in my life. I am looking forward to taking on the responsibility of the Director General role and responding to the challenges it presents."
He continues "We will concentrate on building and delivering the ELT, which will be the largest optical telescope in the world, and keep the La Silla–Paranal and ALMA observatories operational and updated as our current workhorses, to ensure the remain very much at the forefront of worldwide astronomical infrastructures. We expect ever more spectacular multi-wavelength observations as we continue to push the technological boundaries with our current and future telescopes here at ESO."
ESO's new Director General gives his perspective on ESO and his new position in the latest ESOcast and writes about the importance of ESO as a multi-wavelength observatory in the ESOblog.
Greetings and welcome to the ESOblog!
"Today, 1 September 2017, is my first day as the new Director General of the European Southern Observatory and also the Friday chosen for the start of a new weekly channel of communication from ESO, the ESOblog (which will contain much more than just my musings). I am very excited to be taking the helm of this world-leading astronomical organisation at such a thrilling time — a time of scientific aspirations, progress and challenges. I will be using this blog to occasionally share some of my thoughts with you as ESO continues to push into this new era of astronomical research.
To begin, I would like to discuss a topic close to my heart, coming as I do from X-ray astronomy but having also spent many dozens of nights observing with optical telescopes in ground-based observatories: why astronomers need so many different types of telescopes. The banner image of the Centaurus A galaxy accompanying this text illustrates it nicely: in visible light (partly obscured by cold molecular gas) we see where its stars are, but when it is observed in radio, submillimetre or X-rays we can see the effects of a growing super-massive black hole lurking at the centre of the galaxy. These observations require different types of telescopes, both on the ground and in space.
If you follow ESO on social media or read our press releases, you'll be familiar with the names of Paranal, La Silla and Chajnantor, our three current observatory sites in the mountainous part of Chile's Atacama Desert. These three sites support, or will in the near future support, an amazing number of unique telescopes — no fewer than 22, depending on how you count them. Many are already in operation and some are under construction (see this page for an overview). Each has instruments designed to capture a different wavelength range of the many types of light that astronomical objects emit. Some of the telescopes have glass or glass-ceramic mirrors, and some have parabolic metal antennas. Some are single, while some are arrays of 4 (like the VLT or the ATs) or even 66 (like ALMA) individual telescopes or antennas that combine to function as one large telescope . Some are small, and some are much larger — the Extremely Large Telescope will be simply enormous. Some are operated by ESO, and some by national entities or by partnerships which include ESO. They are all part of the ESO family, each looking at a specific face (or wavelength range) of the Universe. Together with other telescopes on the ground and in space — particularly those operated by our sister organisation the European Space Agency — these facilities allow astronomers to retrieve information about the huge variety of physical phenomena that occur in celestial objects, enabling them to make astounding discoveries."
See the full article here .
Please help promote STEM in your local schools.

Stem Education Coalition
Visit ESO in Social Media-
ESO is the foremost intergovernmental astronomy organisation in Europe and the world's most productive ground-based astronomical observatory by far. It is supported by 16 countries: Austria, Belgium, Brazil, the Czech Republic, Denmark, France, Finland, Germany, Italy, the Netherlands, Poland, Portugal, Spain, Sweden, Switzerland and the United Kingdom, along with the host state of Chile. ESO carries out an ambitious programme focused on the design, construction and operation of powerful ground-based observing facilities enabling astronomers to make important scientific discoveries. ESO also plays a leading role in promoting and organising cooperation in astronomical research. ESO operates three unique world-class observing sites in Chile: La Silla, Paranal and Chajnantor. At Paranal, ESO operates the Very Large Telescope, the world's most advanced visible-light astronomical observatory and two survey telescopes. VISTA works in the infrared and is the world's largest survey telescope and the VLT Survey Telescope is the largest telescope designed to exclusively survey the skies in visible light. ESO is a major partner in ALMA, the largest astronomical project in existence. And on Cerro Armazones, close to Paranal, ESO is building the 39-metre European Extremely Large Telescope, the E-ELT, which will become "the world's biggest eye on the sky".

ESO/Cerro LaSilla 600 km north of Santiago de Chile at an altitude of 2400 metres.

VLT at Cerro Paranal, with an elevation of 2,635 metres (8,645 ft) above sea level.

ESO/Vista Telescope at Cerro Paranal, with an elevation of 2,635 metres (8,645 ft) above sea level.

ESO/NTT at Cerro LaSilla 600 km north of Santiago de Chile at an altitude of 2400 metres.

VLT Survey Telescope at Cerro Paranal with an elevation of 2,635 metres (8,645 ft) above sea level.

ALMA on the Chajnantor plateau at 5,000 metres.

ESO/E-ELT to be built at Cerro Armazones at 3,060 m.

APEX Atacama Pathfinder 5,100 meters above sea level, at the Llano de Chajnantor Observatory in the Atacama desert.