From Northwestern: "Sugar-coated nanomaterial excels at promoting bone growth"
June 19, 2017 [Really quick out of the gate on this one.]
Megan Fellman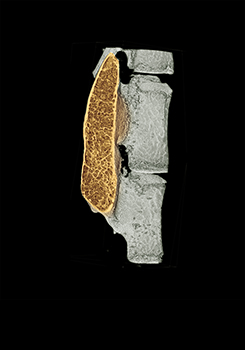 The colored region in a micro-CT image shows regenerated high-quality bone in the spine with minimal use of growth factor. No image credit.
There hasn't been a gold standard for how orthopaedic spine surgeons promote new bone growth in patients, but now Northwestern University scientists have designed a bioactive nanomaterial that is so good at stimulating bone regeneration it could become the method surgeons prefer.
While studied in an animal model of spinal fusion, the method for promoting new bone growth could translate readily to humans, the researchers say, where an aging but active population in the U.S. is increasingly receiving this surgery to treat pain due to disc degeneration, trauma and other back problems. Many other procedures could benefit from the nanomaterial, ranging from repair of bone trauma to treatment of bone cancer to bone growth for dental implants.
"Regenerative medicine can improve quality of life by offering less invasive and more successful approaches to promoting bone growth," said Samuel I. Stupp, who developed the new nanomaterial. "Our method is very flexible and could be adapted for the regeneration of other tissues, including muscle, tendons and cartilage."
Stupp is director of Northwestern's Simpson Querrey Institute for BioNanotechnology and the Board of Trustees Professor of Materials Science and Engineering, Chemistry, Medicine and Biomedical Engineering.
For the interdisciplinary study, Stupp collaborated with Dr. Wellington K. Hsu, associate professor of orthopaedic surgery, and Erin L. K. Hsu, research assistant professor of orthopaedic surgery, both at Northwestern University Feinberg School of Medicine. The husband-and-wife team is working to improve clinically employed methods of bone regeneration.
Sugar molecules on the surface of the nanomaterial provide its regenerative power. The researchers studied in vivo the effect of the "sugar-coated" nanomaterial on the activity of a clinically used growth factor, called bone morphogenetic protein 2 (BMP-2). They found the amount of protein needed for a successful spinal fusion was reduced to an unprecedented level: 100 times less of BMP-2 was needed. This is very good news, because the growth factor is known to cause dangerous side effects when used in the amounts required to regenerate high-quality bone, and it is expensive as well.
The findings were published today (June 19) in the journal Nature Nanotechnology.
See the full article here .
Please help promote STEM in your local schools.

South Campus
On May 31, 1850, nine men gathered to begin planning a university that would serve the Northwest Territory.
Given that they had little money, no land and limited higher education experience, their vision was ambitious. But through a combination of creative financing, shrewd politicking, religious inspiration and an abundance of hard work, the founders of Northwestern University were able to make that dream a reality.
In 1853, the founders purchased a 379-acre tract of land on the shore of Lake Michigan 12 miles north of Chicago. They established a campus and developed the land near it, naming the surrounding town Evanston in honor of one of the University's founders, John Evans. After completing its first building in 1855, Northwestern began classes that fall with two faculty members and 10 students.
Twenty-one presidents have presided over Northwestern in the years since. The University has grown to include 12 schools and colleges, with additional campuses in Chicago and Doha, Qatar.
Northwestern is recognized nationally and internationally for its educational programs.