From Hopkins APL: "NASA plans to test asteroid deflection technique designed to prevent Earth impact"
7.3.17
Geoff Brown
JHU's Applied Physics Lab will manage DART mission, which is moving from concept development to preliminary design phase.
NASA is moving forward with a plan to develop a refrigerator-sized spacecraft capable of deflecting asteroids and preventing them from colliding with Earth.
The Double Asteroid Redirection Test, or DART, is being designed and would be built and managed by scientists at the Johns Hopkins Applied Physics Laboratory. NASA approved a move from concept development to the preliminary design phase on June 23.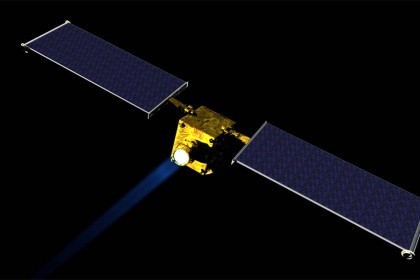 NASA/ESA DART
Artist concept of NASA's DART spacecraft, part of NASA's first mission to demonstrate an asteroid deflection technique for planetary defense. Image credit: NASA/JHUAPL
DART would use what is known as a kinetic impactor technique—striking the asteroid to shift its orbit. The impact would change the speed of a threatening asteroid by a small fraction of its total velocity, but by doing so well before the predicted impact, this small nudge will add up over time to a big shift of the asteroid's path away from Earth.
A test with a small, nonthreatening asteroid is planned for 2024.
"DART is a critical step in demonstrating we can protect our planet from a future asteroid impact," said Andy Cheng, who is co-leading the DART investigation at APL along with Andy Rivkin. "Since we don't know that much about their internal structure or composition, we need to perform this experiment on a real asteroid. With DART, we can show how to protect Earth from an asteroid strike with a kinetic impactor by knocking the hazardous object into a different flight path that would not threaten the planet."
Small asteroids hit Earth almost daily, breaking up harmlessly in the upper atmosphere. Objects large enough to do damage at the surface are much rarer.
The target for DART's first test is an asteroid that will have a distant approach to Earth in October 2022, and then again in 2024. The asteroid is called Didymos—Greek for "twin"—because it's an asteroid binary system that consists of two bodies: Didymos A, about one-half mile in size; and a smaller asteroid orbiting it called Didymos B, about 530 feet in size. DART would impact only the smaller of the two bodies, Didymos B.
The Didymos system has been closely studied since 2003. The primary body is a rocky S-type object, with composition similar to that of many asteroids. The composition of its small companion, Didymos B, is unknown, but the size is typical of asteroids that could potentially create regional effects should they impact Earth.
After launch, DART would fly to Didymos and use an APL-developed onboard autonomous targeting system to aim itself at Didymos B. Then the spacecraft would strike the smaller body at a speed about nine times faster than a bullet, approximately 3.7 miles per second. Earth-based observatories would be able to see the impact and the resulting change in the orbit of Didymos B around Didymos A, allowing scientists to better determine the capabilities of kinetic impact as an asteroid mitigation strategy.
Objects larger than 0.6 miles in diameter—large enough to cause global effects—have been the focus of NASA's ground-based search for potentially hazardous objects with orbits that bring them near the Earth. About 93 percent of these sized objects have already been found, NASA says.
DART would test technologies to deflect objects in the intermediate size range—large enough to do regional damage yet small enough that there are many more that have not been observed and could someday hit Earth. NASA-funded telescopes and other assets continue to search for these objects, track their orbits, and determine if they are a threat.
To assess and formulate capabilities to address these potential threats, NASA in 2016 established its Planetary Defense Coordination Office, which is responsible for finding, tracking, and characterizing potentially hazardous asteroids and comets coming near Earth; issuing warnings about possible impacts; and assisting plans and coordination of U.S. government response to an actual impact threat.
ESA/AIM will work in concert with DART.
See the full article here .
Please help promote STEM in your local schools.

Founded on March 10, 1942—just three months after the United States entered World War II—APL was created as part of a federal government effort to mobilize scientific resources to address wartime challenges.
APL was assigned the task of finding a more effective way for ships to defend themselves against enemy air attacks. The Laboratory designed, built, and tested a radar proximity fuze (known as the VT fuze) that significantly increased the effectiveness of anti-aircraft shells in the Pacific—and, later, ground artillery during the invasion of Europe. The product of the Laboratory's intense development effort was later judged to be, along with the atomic bomb and radar, one of the three most valuable technology developments of the war.
On the basis of that successful collaboration, the government, The Johns Hopkins University, and APL made a commitment to continue their strategic relationship. The Laboratory rapidly became a major contributor to advances in guided missiles and submarine technologies. Today, more than seven decades later, the Laboratory's numerous and diverse achievements continue to strengthen our nation.
APL continues to relentlessly pursue the mission it has followed since its first day: to make critical contributions to critical challenges for our nation.
The Johns Hopkins University opened in 1876, with the inauguration of its first president, Daniel Coit Gilman. "What are we aiming at?" Gilman asked in his installation address. "The encouragement of research … and the advancement of individual scholars, who by their excellence will advance the sciences they pursue, and the society where they dwell."
The mission laid out by Gilman remains the university's mission today, summed up in a simple but powerful restatement of Gilman's own words: "Knowledge for the world."
What Gilman created was a research university, dedicated to advancing both students' knowledge and the state of human knowledge through research and scholarship. Gilman believed that teaching and research are interdependent, that success in one depends on success in the other. A modern university, he believed, must do both well. The realization of Gilman's philosophy at Johns Hopkins, and at other institutions that later attracted Johns Hopkins-trained scholars, revolutionized higher education in America, leading to the research university system as it exists today.