From ESO: 2016 Annual Report will be available in the ESOShop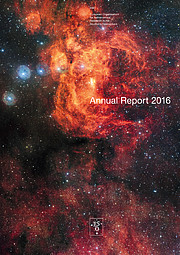 The contents include:
Research highlights from ESO facilities, with the latest results across many fields of astronomy stretching from high-redshift galaxies to the discovery of an Earth-mass planet in the habitable zone around Proxima Centauri, the nearest star.
A summary of operations at ESO's observatories in Chile.
The latest news from the Extremely Large Telescope (ELT) and Atacama Large Millimeter/submillimeter Array (ALMA) projects.
News about ESO staff and buildings — including the ALMA Residencia and the ESO Supernova Planetarium & Visitor Centre.
This product will soon be available for sale in the ESOshop €4.99
See the full article here .
Please help promote STEM in your local schools.

Stem Education Coalition
Visit ESO in Social Media-
ESO is the foremost intergovernmental astronomy organisation in Europe and the world's most productive ground-based astronomical observatory by far. It is supported by 16 countries: Austria, Belgium, Brazil, the Czech Republic, Denmark, France, Finland, Germany, Italy, the Netherlands, Poland, Portugal, Spain, Sweden, Switzerland and the United Kingdom, along with the host state of Chile. ESO carries out an ambitious programme focused on the design, construction and operation of powerful ground-based observing facilities enabling astronomers to make important scientific discoveries. ESO also plays a leading role in promoting and organising cooperation in astronomical research. ESO operates three unique world-class observing sites in Chile: La Silla, Paranal and Chajnantor. At Paranal, ESO operates the Very Large Telescope, the world's most advanced visible-light astronomical observatory and two survey telescopes. VISTA works in the infrared and is the world's largest survey telescope and the VLT Survey Telescope is the largest telescope designed to exclusively survey the skies in visible light. ESO is a major partner in ALMA, the largest astronomical project in existence. And on Cerro Armazones, close to Paranal, ESO is building the 39-metre European Extremely Large Telescope, the E-ELT, which will become "the world's biggest eye on the sky".

ESO/Cerro LaSilla 600 km north of Santiago de Chile at an altitude of 2400 metres

VLT at Cerro Paranal, with an elevation of 2,635 metres (8,645 ft) above sea level

ESO/Vista Telescope at Cerro Paranal, with an elevation of 2,635 metres (8,645 ft) above sea level

ESO/NTT at Cerro LaSilla 600 km north of Santiago de Chile at an altitude of 2400 metres

VLT Survey Telescope at Cerro Paranal with an elevation of 2,635 metres (8,645 ft) above sea level

ALMA on the Chajnantor plateau at 5,000 metres

ESO/E-ELT to be built at Cerro Armazones at 3,060 m

APEX Atacama Pathfinder 5,100 meters above sea level, at the Llano de Chajnantor Observatory in the Atacama desert