From NIST: "NIST Invents Fundamental Component for 'Spintronic' Computing"
April 26, 2017
Media Contact
Ben Stein
benjamin.stein@nist.gov
(301) 975-2763
Technical Contact
Curt A. Richter
curt.richter@nist.gov
(301) 975-2082
NIST has been granted a patent for technology that may hasten the advent of a long-awaited new generation of high-performance, low-energy computers.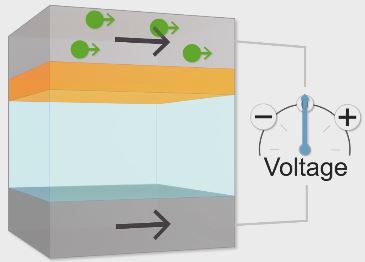 Conventional microelectronic devices, for the most part, work by manipulating and storing electrical charges in semiconductor transistors and capacitors. Doing so requires a lot of energy and generates a lot of heat, especially as process engineers keep finding ways to pack more and smaller features into integrated circuits. Power consumption has become one of the principal obstacles to much higher performance.
One highly promising alternative approach, called "spintronics," utilizes the quantum spin* of the electron to hold information in addition to the charge. The two different spin orientations (typically designated "up" and "down") are analogous to positive and negative electrical charges in conventional electronics. Because changing an electron's spin requires very little energy and can happen very fast, spintronics offers the possibility of significant energy reduction.
See the full article here.
Please help promote STEM in your local schools.
NIST Mission, Vision, Core Competencies, and Core Values
NIST's mission
To promote U.S. innovation and industrial competitiveness by advancing measurement science, standards, and technology in ways that enhance economic security and improve our quality of life.
NIST's vision
NIST will be the world's leader in creating critical measurement solutions and promoting equitable standards. Our efforts stimulate innovation, foster industrial competitiveness, and improve the quality of life.
NIST's core competencies
Measurement science
Rigorous traceability
Development and use of standards
NIST's core values
NIST is an organization with strong values, reflected both in our history and our current work. NIST leadership and staff will uphold these values to ensure a high performing environment that is safe and respectful of all.
Perseverance: We take the long view, planning the future with scientific knowledge and imagination to ensure continued impact and relevance for our stakeholders.
Integrity: We are ethical, honest, independent, and provide an objective perspective.
Inclusivity: We work collaboratively to harness the diversity of people and ideas, both inside and outside of NIST, to attain the best solutions to multidisciplinary challenges.
Excellence: We apply rigor and critical thinking to achieve world-class results and continuous improvement in everything we do.