From Hopkins: "New cellular target may put the brakes on cancer's ability to spread"
5.26.17
Phil Sneiderman
Johns Hopkins-led team finds promising way to disrupt signals that trigger metastasis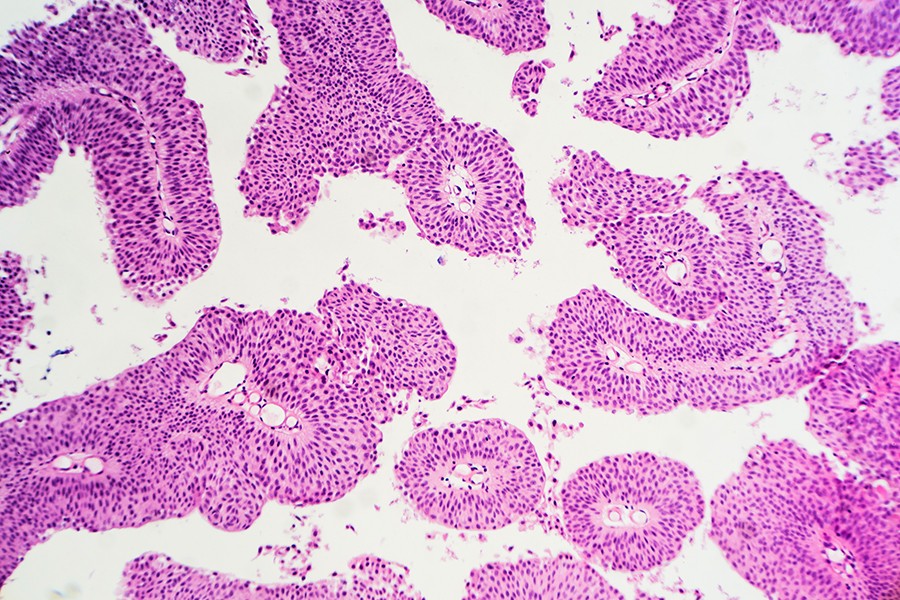 Bladder cancer, transitional cell carcinoma. Image credit: rightdx
A team led by Johns Hopkins researchers has discovered a biochemical signaling process that causes densely packed cancer cells to break away from a tumor and spread the disease elsewhere in the body.
In their study, published online today in Nature Communications, the team also reported that the combined use of two existing drugs disrupts this process and appears to significantly slow cancer's tendency to travel, a behavior called metastasis.
The new findings are important, the researchers said, because 90 percent of cancer deaths are caused by metastasis, and anything that derails this activity could improve the prognosis for patients. The crucial new signaling process turned up when the team took a closer look at cellular events that promote metastasis.
See the full article here .
Please help promote STEM in your local schools.

The Johns Hopkins University opened in 1876, with the inauguration of its first president, Daniel Coit Gilman. "What are we aiming at?" Gilman asked in his installation address. "The encouragement of research … and the advancement of individual scholars, who by their excellence will advance the sciences they pursue, and the society where they dwell."
The mission laid out by Gilman remains the university's mission today, summed up in a simple but powerful restatement of Gilman's own words: "Knowledge for the world."
What Gilman created was a research university, dedicated to advancing both students' knowledge and the state of human knowledge through research and scholarship. Gilman believed that teaching and research are interdependent, that success in one depends on success in the other. A modern university, he believed, must do both well. The realization of Gilman's philosophy at Johns Hopkins, and at other institutions that later attracted Johns Hopkins-trained scholars, revolutionized higher education in America, leading to the research university system as it exists today.