From Hopkins: "FDA approves cancer drug for personalized immunotherapy approach"
5.25.17
Vanessa Wasta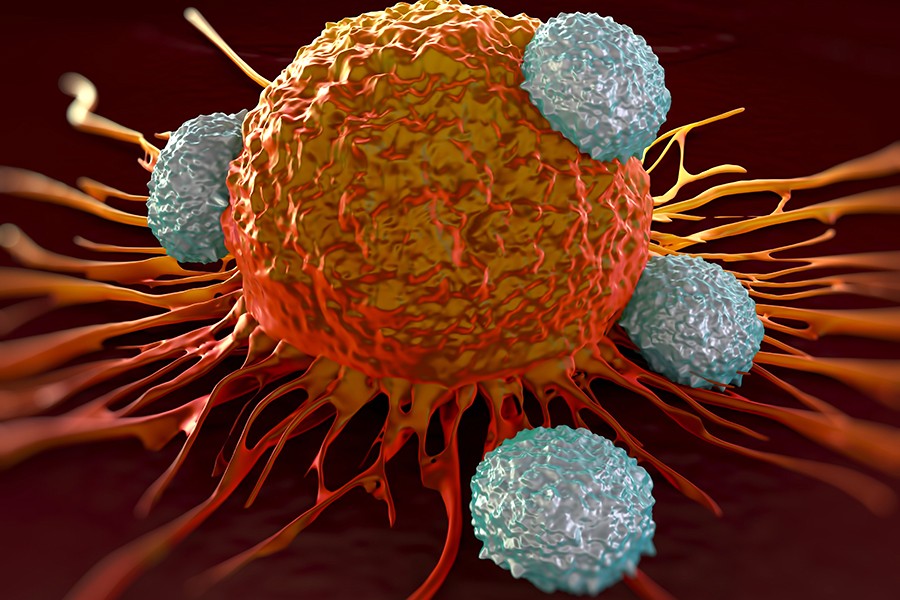 T-cells attacking a cancer cell. Image credit: istock
Earlier this week, for the first time, a drug was FDA-approved for cancer based on disease genetics rather than type.
Developed from 30 years of basic research at Johns Hopkins and its Bloomberg–Kimmel Institute, the drug, pembroluzimab, now can be used for colon, pancreatic, stomach, ovarian, and other cancers if genetic testing reveals defects in so-called mismatch repair genes.
Experts at the Bloomberg–Kimmel Institute designed the first clinical trial to test the theory that patients whose tumors have defects in mismatch repair genes may respond better to immunotherapy. Results of the trial were presented and published in 2015 at the American Society of Clinical Oncology Annual Meeting and published online by The New England Journal of Medicine.
See the full article here .
Please help promote STEM in your local schools.

The Johns Hopkins University opened in 1876, with the inauguration of its first president, Daniel Coit Gilman. "What are we aiming at?" Gilman asked in his installation address. "The encouragement of research … and the advancement of individual scholars, who by their excellence will advance the sciences they pursue, and the society where they dwell."
The mission laid out by Gilman remains the university's mission today, summed up in a simple but powerful restatement of Gilman's own words: "Knowledge for the world."
What Gilman created was a research university, dedicated to advancing both students' knowledge and the state of human knowledge through research and scholarship. Gilman believed that teaching and research are interdependent, that success in one depends on success in the other. A modern university, he believed, must do both well. The realization of Gilman's philosophy at Johns Hopkins, and at other institutions that later attracted Johns Hopkins-trained scholars, revolutionized higher education in America, leading to the research university system as it exists today.