From EPFL: "A simplified fabrication process for high efficiency solar cells"
École Polytechnique Fédérale de Lausanne EPFL
25.04.17
Author:Mediacom / CSEM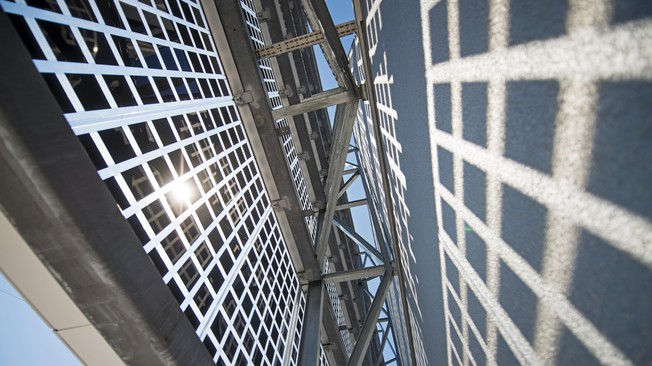 © 2017 CSEM / David Marchon
A team of EPFL and CSEM researchers in Neuchâtel has featured in Nature Energy with an astonishing new method for the creation of crystalline solar cells. These cells have electrical contacts at the back, which removes all shadowing at the front. Thanks to this new inexpensive approach, the fabrication process is greatly simplified, with efficiencies in the laboratory already surpassing 23%.
In the quest for more efficient crystalline silicon solar cells with low manufacturing costs, one of the most promising approaches is to bring all electrical contacts to the back of the device. This removes all shadowing at the front, increasing the current and the efficiency. This approach generally requires several delicate processing steps. Well-defined narrow negative and positive contact lines need to be created, which will then collect the electrons (negative charges) and holes (positive charges). This usually requires several steps of photolithography masking, to create the alternate positive (+) and negative (-) areas.
The teams at the EPFL Photovoltaics laboratory and at the CSEM PV-center succeeded in establishing an innovative process in which the positive and negative contacts align automatically. This is made possible by depositing the first "negative" contact by a plasma process through a mask. Subsequently, a second layer (positive) is deposited over the full surface. The growth of this layer is such that the negative contact, even when placed under the positive contact, remains negative.
Using this simple process, 25 cm2 solar cells have already reached 23.2% efficiency, with a potential to reach close to 26% efficiency. The researchers are working with the Meyer Burger Company, leading equipment makers for solar cell production lines, to work out industrial solutions for this kind of solar cells, and at the same time valorizing the so-called silicon heterojunctions technology, which served as the basis for this work.
The research was funded by the Meyer Burger Company, the Commission for Technology and Innovation (CTI) and the Swiss Federal Office of Energy (SFOE). The work will continue within the European project H2020 Nextbase.
See the full article here .
Please help promote STEM in your local schools.
EPFL is Europe's most cosmopolitan technical university with students, professors and staff from over 120 nations. A dynamic environment, open to Switzerland and the world, EPFL is centered on its three missions: teaching, research and technology transfer. EPFL works together with an extensive network of partners including other universities and institutes of technology, developing and emerging countries, secondary schools and colleges, industry and economy, political circles and the general public, to bring about real impact for society.