From Eos: "NSF Director Cautions Against Politicizing Science"
France Córdova says that elected officials are generally supportive of science and technology but that the political environment can be challenging.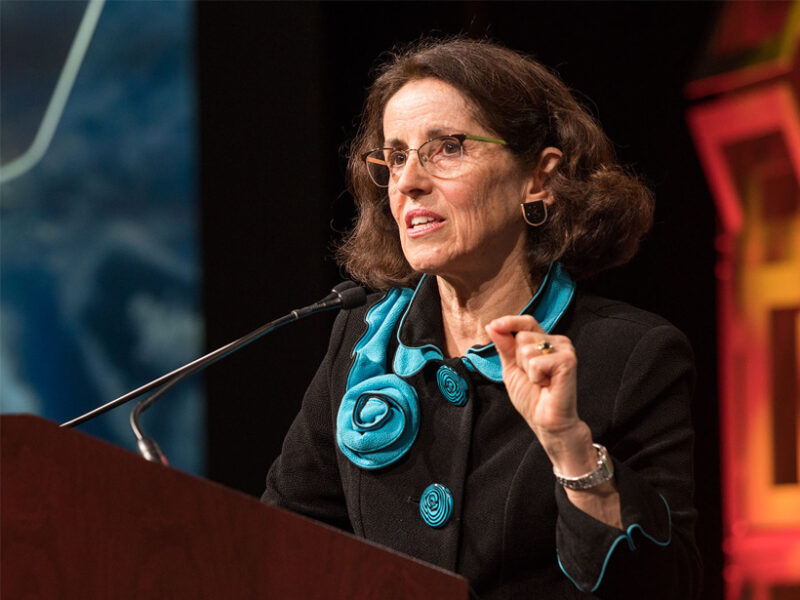 National Science Foundation Director France Córdova, who spoke at the American Geophysical Union's Fall Meeting on 15 December, called for scientists to continue setting their own priorities for goals and challenges to meet in the sciences. Credit: Gary Wagner
17 December 2015
Randy Showstack
"It has been a tough time for geosciences on [Capitol] Hill," National Science Foundation (NSF) Director France Córdova said in a 15 December speech at the American Geophysical Union's (AGU) Fall Meeting in San Francisco, Calif.
Earlier in 2015, for instance, some members of Congress had proposed restricting funding for geosciences within NSF and questioned climate change.
However, a bipartisan omnibus spending bill for fiscal year (FY) 2016 introduced by the House Appropriations Committee in the early morning hours of 16 December—less than a day after Córdova's lecture—would help to provide additional support for the geosciences at NSF. The bill would increase NSF's funding by 1.6% above the FY 2015 enacted level.
During a media availability following her AGU speech, Córdova said that the appropriations package that was then in the works includes a number of NSF priorities, "and just about all of them have to do with the geosciences."
Challenges to the Geosciences
"Some would challenge [geosciences'] goal to understand our planet as not of the highest priority for the science agencies,"Córdova said during the Union Agency Lecture. "Some would find a hypothetical ocean on a distant moon of more interest than our own ocean, whose mysteries have barely been tapped."
"It is your challenge as scientists to ride this questioning tide with your best tools: your quest for truth; your application of the scientific method to increase our knowledge about our planet; and your ability to communicate in all directions the beauty, the value, the importance of the geosciences," she said. Her speech also touched on NSF's priorities, funding, investments, and instruments.
Setting Priorities for Discovery
During the media availability following her speech, Córdova elaborated on her concerns. Elected officials are "very enamored of science and technology, innovation in particular, and very supportive in general," she said, adding, "They do have individual predilections about what they think is important to do."
The NSF director said it is "helpful to have the perspective that our major discoveries over history, over time, have been multidisciplinary discoveries. So, leaving out one branch of science in favor of others is just not a good thing to do for the progress of science. We have to appreciate that it's interdisciplinary."
"Science and scientists should be setting the priorities for what are the big goals, the big challenges in the discovery space," she said. "If that decision about what to prioritize becomes political, then who knows where it will all end. It will be unstable and certainly not flexible for the disciplines. And we can't raise the next generation of scientists and engineers unless we do have support and flexibility."
Citation: Showstack, R. (2015), NSF director cautions against politicizing science, Eos, 96, doi:10.1029/2015EO042063. Published on 17 December 2015.
See the full article here .
Please help promote STEM in your local schools.
Eos is the leading source for trustworthy news and perspectives about the Earth and space sciences and their impact. Its namesake is Eos, the Greek goddess of the dawn, who represents the light shed on understanding our planet and its environment in space by the Earth and space sciences.