From Brown: "'Bootstrap' math/computer science curriculum gets $1.5M from NSF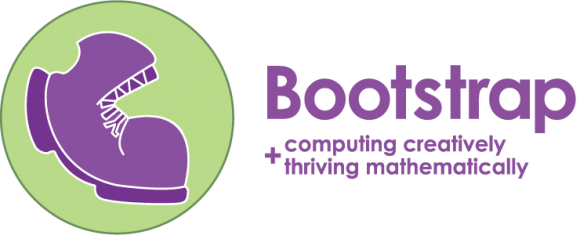 A curriculum that helps middle and high school students learn algebra by creating their own video games is getting a $1.5-million boost from the National Science Foundation.
The curriculum, called Bootstrap, is a 10-week classroom module in which each student programs her own working game using key algebra concepts including variables, functions, and the Pythagorean theorem. Bootstrap is the latest in 20 years of similar projects and has now grown into an in-school curriculum used in more than 150 schools across the country. Curriculum provider Code.org recently began offering a curriculum based on Bootstrap nationally. Computer literacy advocate CSNYC is bringing Bootstrap to schools throughout New York City.
The three-year grant from the NSF will support research aimed at assessing and improving the pedagogical tools Bootstrap uses to connect math skills and computer coding. The funding will also be used to set up workshops around the country aimed at training 600 additional teachers to use the curriculum in their classrooms. The award comes at a crucial time for Bootstrap, says Shriram Krishnamurthi, professor of computer science at Brown University and principal investigator on the grant.
"School districts around the country are coming to recognize that computer science instruction is critical for their students," Krishnamurthi said. "However, many schools don't have dedicated computer science teachers, and finding time in the curriculum for CS instruction can be a problem. Bootstrap offers a unique solution. We can train math teachers to do a good job of teaching basic computing, and it can be done as part of the mathematics curriculum."
Bootstrap is aligned with both Common Core and state mathematics standards, which is a selling point for math teachers. For students, the allure of the curriculum is clearly the idea of creating a video game.
"Once we tell students that they're going to make their own video game, we've got their attention," said Kathi Fisler, professor of computer science at Worcester Polytechnic Institute and co-investigator on the grant. "It provides them with the motivation to learn the algebra concepts required to make the game work."
(Read about one teacher's experience with Bootstrap: https://news.brown.edu/articles/2014/04/bootstrap).
The curriculum is aimed at students ages 12 to 16. Emmanuel Schanzer, Bootstrap's program director, says this is an ideal time to reach students.
"For so many students, this is the age when they decide if math is something they like or don't like, and that ultimately can be a career-shaping decision," Schanzer said. "By showing students that math is useful and that understanding it is within their grasp, we hope to keep that door open for students who may have otherwise closed it."
Bootstrap materials and other information, including a list of upcoming workshops for teachers, are available at boostrapworld.org.
See the full article here .
Please help promote STEM in your local schools.
Stem Education Coalition
Welcome to Brown

Located in historic Providence, Rhode Island and founded in 1764, Brown University is the seventh-oldest college in the United States. Brown is an independent, coeducational Ivy League institution comprising undergraduate and graduate programs, plus the Alpert Medical School, School of Public Health, School of Engineering, and the School of Professional Studies.
With its talented and motivated student body and accomplished faculty, Brown is a leading research university that maintains a particular commitment to exceptional undergraduate instruction.
Brown's vibrant, diverse community consists of 6,000 undergraduates, 2,000 graduate students, 400 medical school students, more than 5,000 summer, visiting and online students, and nearly 700 faculty members. Brown students come from all 50 states and more than 100 countries.
Undergraduates pursue bachelor's degrees in more than 70 concentrations, ranging from Egyptology to cognitive neuroscience. Anything's possible at Brown—the university's commitment to undergraduate freedom means students must take responsibility as architects of their courses of study.