From Jefferson Lab: "University of Regina completes milestone in major international physics project"
Researchers from the University of Regina and the Thomas Jefferson National Accelerator Facility (Jefferson Lab) in the United States, along with provincial and federal government representatives celebrated the completion of a significant milestone today in the international physics project called GlueX.
Researchers in this experiment are looking to answer one of the most fundamental questions in science today: Why does matter stay together? University of Regina researchers have developed, constructed and recently delivered the largest and one of the most critical components of the project – the $9 million barrel calorimeter (BCAL), which will be installed in Jefferson Lab's Hall D and used to study the interaction of quarks, the basic building blocks of matter, in the GlueX project.
The United States Department of Energy (US DOE) has classified the GlueX project as a Discovery Potential experiment meaning that it has Nobel Prize-winning potential.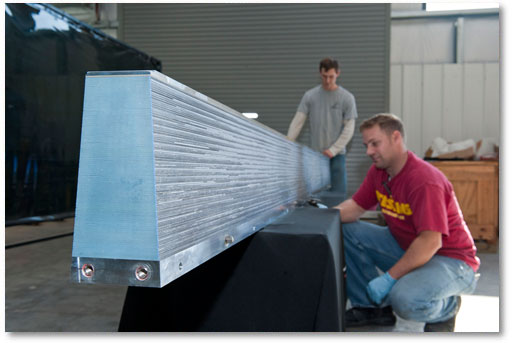 One module of the 48 that were developed and constructed by approximately 60 researchers at the University of Regina. The entire system contains more than 750,000 optic fibers that channel light along their 3.9 meter length to detectors that amplify the light so it can be digitized and measured.
See the full article here.
Thomas Jefferson National Accelerator Facility is managed by Jefferson Science Associates, LLC for the U.S. Department of Energy