September 2014
Web Publishing Services

Results: Two bright yellow buoys – each worth $1.3 million – are being deployed by Pacific Northwest National Laboratory in Washington State's Sequim Bay. The massive, 20,000-pound buoys are decked out with the latest in meteorological and oceanographic equipment to enable more accurate predictions of the power-producing potential of winds that blow off U.S. shores. Starting in November, they will be commissioned for up to a year at two offshore wind demonstration projects: one near Coos Bay, Oregon, and another near Virginia Beach, Virginia.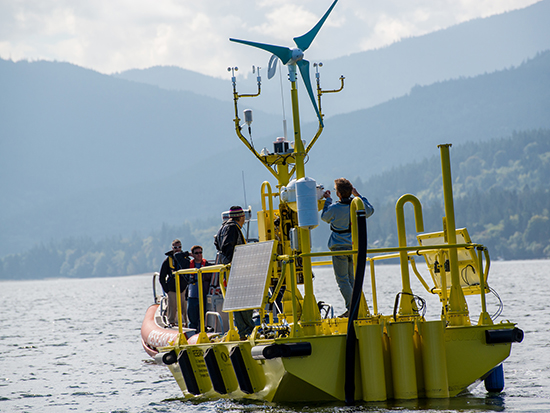 PNNL staff conduct tests in Sequim Bay, Washington, while aboard one of two new research buoys being commissioned to more accurately predict offshore wind's power-producing potential.
"We know offshore winds are powerful, but these buoys will allow us to better understand exactly how strong they really are at the heights of wind turbines," said PNNL atmospheric scientist Dr. William J. Shaw. "Data provided by the buoys will give us a much clearer picture of how much power can be generated at specific sites along the American coastline – and enable us to generate that clean, renewable power sooner."
Why It Matters: Offshore wind is a new frontier for U.S. renewable energy developers. There's tremendous power-producing potential, but limited information is available about ocean-based wind resources. A recent report estimated the U.S. could power nearly 17 million homes by generating more than 54 gigawatts of offshore wind energy, but more information is needed.
See the full article here.
Pacific Northwest National Laboratory (PNNL) is one of the United States Department of Energy National Laboratories, managed by the Department of Energy's Office of Science. The main campus of the laboratory is in Richland, Washington.
PNNL scientists conduct basic and applied research and development to strengthen U.S. scientific foundations for fundamental research and innovation; prevent and counter acts of terrorism through applied research in information analysis, cyber security, and the nonproliferation of weapons of mass destruction; increase the U.S. energy capacity and reduce dependence on imported oil; and reduce the effects of human activity on the environment. PNNL has been operated by Battelle Memorial Institute since 1965.
ScienceSprings relies on technology from


MAINGEAR computers