May 15, 2014
Jason Wang
Yesterday, we had a chance to see the telescope in all of its glory. And it is HUGE!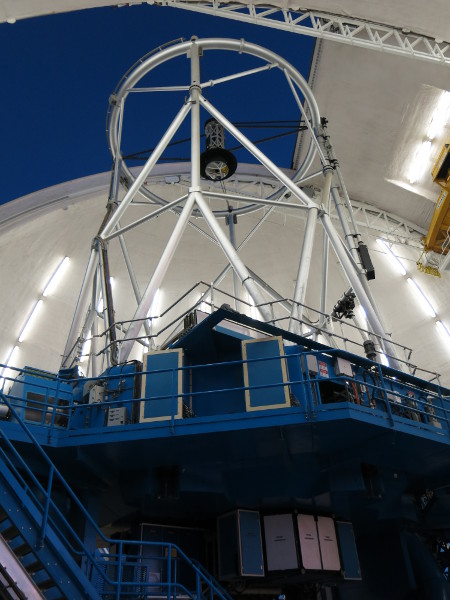 The Gemini South Telescope with the dome lights on.
It really makes you appreciate the amount of equipment you need to directly image these faint extrasolar planets that are orbiting other stars. Andrew, the telescope operator, then pointed the telescope down so that we could get some nice photographs with the 8-meter mirror. Here's my telescope selfie: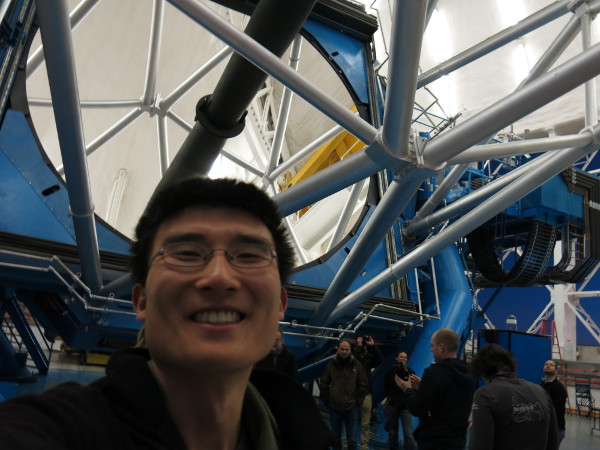 Telescope selfie!
The 8 meter mirror is so big it's hard to fit into one single shot. This was the best I could do. Although some others are a bit more serious about their photography…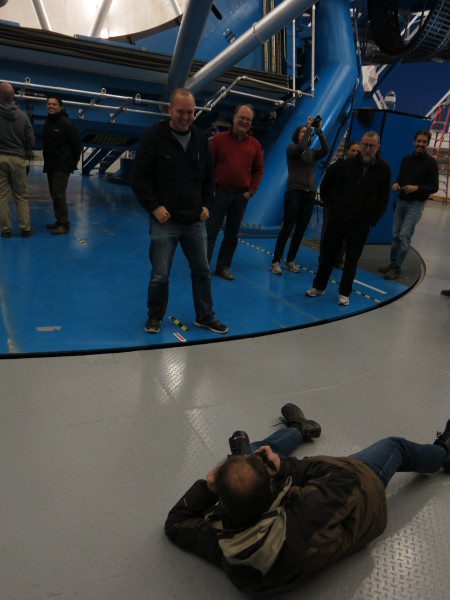 Markus sprawling out to get a nice shot of Lee, a journalist visiting us, with the telescope.
Before the sun fully set, I ran outside to grab this image of the telescope dome open.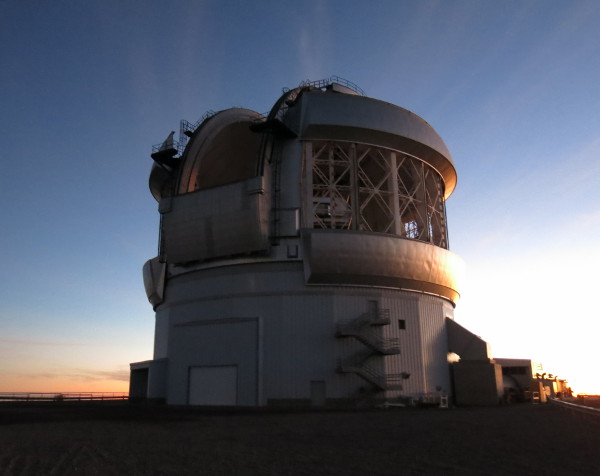 The telescope dome open at sunset .
Now back to observing!
About Jason Wang
Jason is a graduate student at the University of California, Berkeley. He is currently working with Professor James Graham on the Gemini Planet Imager (GPI). He works on GPI astrometry, the image reduction pipeline, and high contrast imaging techniques.
See the full article here.
The Gemini Observatory consists of twin 8.1-meter diameter optical/infrared telescopes located on two of the best observing sites on the planet. From their locations on mountains in Hawai'i and Chile, Gemini Observatory's telescopes can collectively access the entire sky.
Gemini was built and is operated by a partnership of six countries including the United States, Canada, Chile, Australia, Brazil and Argentina. Any astronomer in these countries can apply for time on Gemini, which is allocated in proportion to each partner's financial stake.

ScienceSprings is powered by MAINGEAR computers