From PNNL Lab: "Listening to Life"

Pacific Northwest National Laboratory (PNNL)
New chemical imaging method probes the communications of live microbial colonies
July 2012
Suraiya Farukhi
Christine Sharp
"Results: Once impossible, scientists can now eavesdrop on microbes, thanks to a new technique from scientists at Pacific Northwest National Laboratory and three universities. Microbes converse by releasing simple and complex molecules, called metabolites. The metabolites interact with and alter their environment and nearby cells. To listen in, the team combined nanospray desorption electrospray ionization mass spectrometry, or nanoDESI, and a new bioinformatics technique. This approach allows scientists to identify and quantify, in time and space, the metabolites around living bacterial colonies.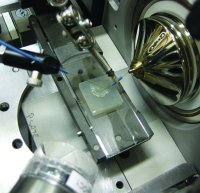 Image of the nanoDESI setup with a microbial colony grown on an agar surface
'This is a real discovery tool—showing us how microbial communities interact,' said Dr. Julia Laskin, a PNNL chemist who has been successfully advancing the frontiers of nanoDESI for three years.
Why It Matters: Understanding the timing and distribution of metabolite exchanges will help interpret and potentially manipulate microbial communities. For example, by studying how Shewanella oneidensis colonies respond to their environment and other strains of bacteria, scientists can gain insights into how the microbe makes mobile uranium stationary. Another example, scientists can determine how brain cells respond to nicotine and other toxins. The new nanoDESI-based technique offers the insights scientists want.
'Microbial biology covers topics from biofuel production to bioremediation to health to defense,' said Laskin. 'And, it is all of these different areas of research that the tool may impact—that's why it is so exciting.'"
See the full article here.