From PNNL Lab: "Mother Nature as a Wire Manufacturer"

Pacific Northwest National Laboratory (PNNL)
With computational models, scientists see how microbe directs electrons
July 2012
Suraiya Farukhi
Christine Sharp
"Results: For the first time, each step an electron takes as it moves along a "wire" from a microbe's interior to the outside world is known, thanks to modeling by University College London and Pacific Northwest National Laboratory. The wire is a twisted molecule, known as a cytochrome. The cytochrome is made of 10 iron-based clusters, called hemes, held in a particular arrangement by a protein that serves as a backbone. The hemes are positioned end-to-end in a staggered cross, to comprise the electron transfer interface between the interior of Shewanella oneidensis, a bacteria found in the soil, and metals and minerals beyond the cell's wall.


Scientists elucidated the molecular details of electron transport along the 10-heme chains in the Shewanella oneidensis' cytochrome (right) using complex, dynamic molecular simulations.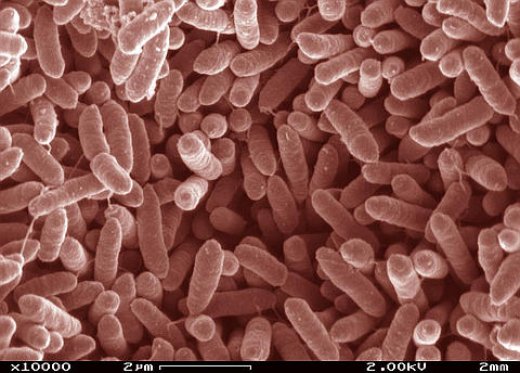 Shewanella may send out tiny wires that contact metals and minerals. Within these wires are thought to be proteins containing hemes that pass electrons outward. In 2011, a collaborative team from the University of East Anglia and Pacific Northwest National Laboratory determined the structure of the first of these protein components. This research expands on that study, showing how the electrons hopscotch across the tiny wires.
'This is the first look at how nature would design a molecular wire for transport on nanometer length scales,' said Dr. Kevin Rosso, a geochemist at PNNL and a corresponding author on the study.
Why It Matters: To understand how these microbes influence contaminated water and soil, as well as to answer the clamor for smaller and smaller computer circuits, scientists are looking to bacteria. Optimized over eons, bacteria are very proficient at moving electrons using molecular complexes. This study provides details about the molecules that move the electrons and how they work. It is opening doors to designing molecule-sized circuits and to research related to how these microbes affect contaminated water and soil."
See the full article here.